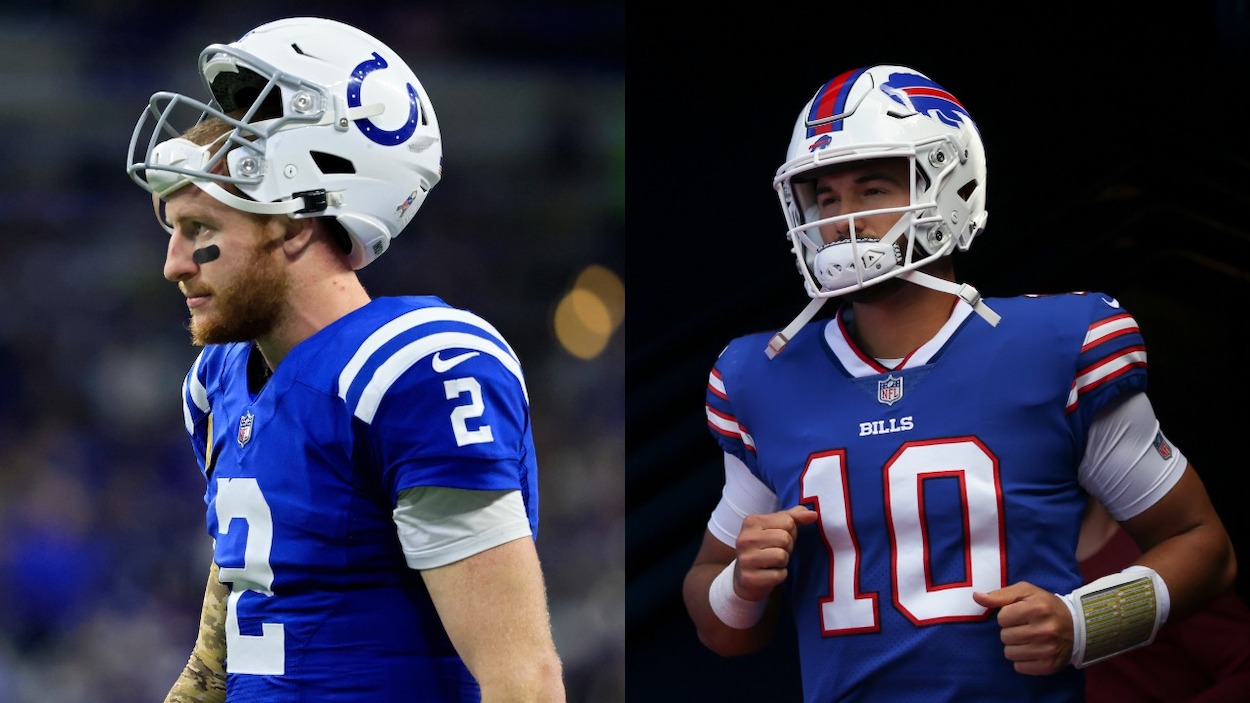 Indianapolis Colts: Colin Cowherd Shocks With His 2022 Starting QB Prediction
Colin Cowherd's surprising pick for the Indianapolis Colts' starting quarterback in Week 1 of the 2022 NFL season might make more sense than you think.
The Indianapolis Colts should have made the playoffs in 2021. Not doing so was an epic fail, and fans, media, and possibly even the team's front office are placing the blame for this failure squarely on quarterback Carson Wentz.
As the 2022 offseason kicks off, there could be an unprecedented amount of QB movement in the league. Speculation about who will be the Colts' Week 1 starter next season is rampant. Sports media personality Colin Cowherd has a prediction about who it will be, and it's not as outlandish as it may seem at first.
If not Carson Wentz, then who? 
After just one season as the team's starting quarterback, most Indianapolis Colts fans have seen enough of Carson Wentz.  
Wentz started all 17 games for the Colts in 2021 and threw for 3,563 yards with a 62.4% completion rate, 27 touchdowns, and just seven interceptions. The problem is, all those average to good numbers only produced a 9-8 record, even with a top 10 scoring defense and the league's leading rusher in Jonathan Taylor.
The former Philadelphia Eagles QB will make $28.2 million in 2022, which is now a relative bargain on the upper echelon signal-caller market. However, his dead cap number is down to $15 million, which means cutting (or trading him) could save over $10 million.
The problem is while jettisoning Wentz would surely make some Colts fans smile, it leaves a major hole at the most important position in football.
If Indy replaces Wentz with Aaron Rodgers or Russell Wilson, that's great. It will also cost an incredible amount of draft capital for a team that's drafted relatively well in the last five or six seasons.
Free agency is another option, and with the eighth-most cap space in the NFL right now, the Colts can afford whoever the front office wants. The issue with the 2022 free agent QB class is, are the passers on that market better than Wentz, or simply not Wentz?
FOX Sports Radio host Colin Cowherd has a prediction for the Colts in the 2022 season that doesn't involve Wentz, but fans might not love the idea.
Colin Cowherd predicts Mitchell Trubisky will be the Indianapolis Colts 2022 starting quarterback
Colin Cowher loves dispensing hot takes on his daily radio show, The Herd with Colin Cowherd. However, he recently predicted his Week 1 starting quarterbacks for the 2022 season, and it's a pretty chalk list.
He has Aaron Rodgers, Russell Wilson, Baker Mayfield, Daniel Jones, Taysom Hill, and Jalen Hurts all staying where they are. The other QB needy teams either signing a mid-level free agent (Teddy Bridgewater to the Washington Commanders), promoting a backup (Trey Lance for the San Francisco 49ers), or drafting a QB (Pittsburgh Steelers take Pitt's Kenny Pickett).
The most interesting predictions are with the Indianapolis Colts and Carson Wentz. Cowherd has The Denver Broncos — a team loaded up with cap space and tradeable assets to go after Rodgers or Wilson — settling for Wentz. Replacing him in Indy is the much-maligned Mitchell Trubisky.
This is a controversial call from Cowherd, but is it the right one for the Colts?
Would Mitchell Trubisky be a good fit with the Colts?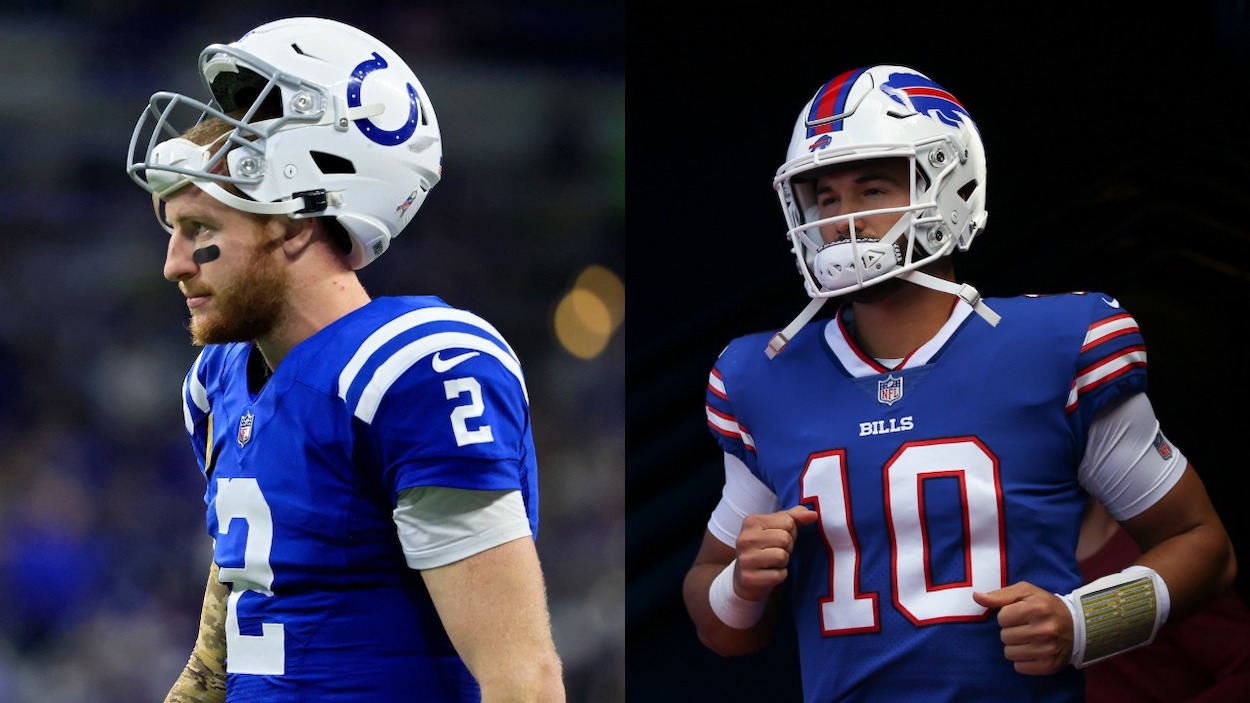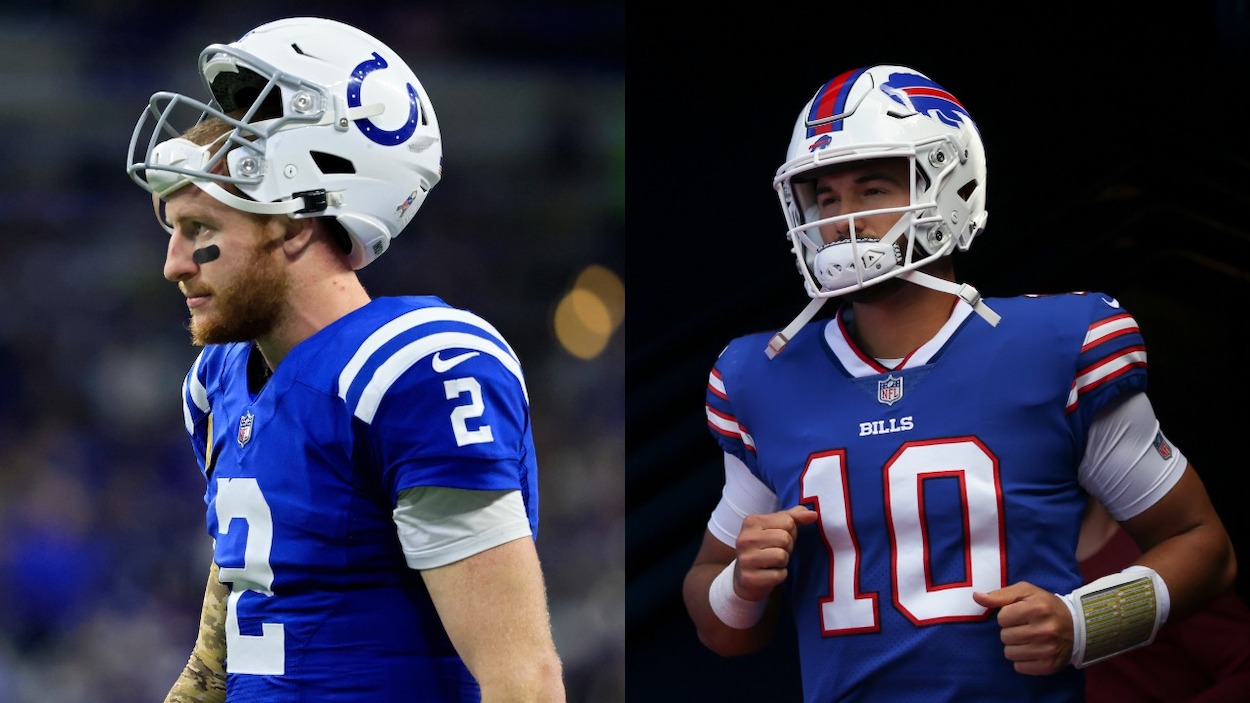 Mitchell Trubisky will always be the quarterback that the Chicago Bears traded up one spot in the 2017 NFL Draft and took ahead of Deshaun Watson and Patrick Mahomes.
However, his legacy is a little more complicated than that.
In four seasons in the Windy City, he started 50 of the 57 games he played and produced a winning record (29-21). He threw for 10,652 yards with a 62.1% completion rate, ran for 1,057 yards, and had 64 TDs to 38 INTs. Trubisky made the Pro Bowl in 2018 and led the Bears to the postseason twice.
As those numbers and 2021 may have proved, Matt Nagy may have been the problem with Trubisky from the start.
Now, after rehabilitating his image (and getting away from Nagy) for a year in Buffalo, it seems like several tames might be willing to give the No. 2 overall pick a second chance.
Colin Cowherd's prediction might be shocking at first, but it makes some sense. Trading Wentz will add even more (albeit a small amount of) draft capital, and with Frank Reich at the helm, there's a real chance Trubisky can become a legit starting NFL QB.
And, if the worst-case scenario happens and Trubisky is awful, the QB draft class of 2023 projects to be better than this year's crop.
Unless Indianapolis Colts fans are hoping for another year of Wentz, Trubisky may be the best the franchise can do, and that's not a horrible thing.
All stats courtesy of Pro Football Reference and contract figures courtesy of Spotrac