Isiah Thomas Once Bashed Michael Jordan For Indirectly Preventing the Players Association From Raising Money for a Good Cause
The rivalry between the Detroit Pistons and Chicago Bulls served as the ultimate platform highlighting the individual feud between Isiah Thomas and Michael Jordan. But Zeke also used his role as president of the National Basketball Players Association to take shots at MJ.
Players received benefits whenever the NBA used player likenesses on league apparel. But Jordan's loyalty to his partners at Nike prevented potentially sizable contributions to the player pension fund.
Michael Jordan refused to allow the NBA to use his likeness on league apparel and insisted Nike had exclusive rights
As former president of the NBPA, Isiah Thomas always had to keep the players' best interests in mind. That often entailed ways to bolster the player pension fund. However, Michael Jordan's business pursuits with Nike did not align with Thomas' wishes.
Jordan established an empire at Nike. His Air Jordan sneakers sold like wildfire almost as soon as Nike launched his first signature shoe. Anything with his visage or name became an instant money-maker, and that notion remains true today. However, Jordan refused to let the NBA use his likeness on league apparel, saying Nike had exclusive rights. Mike thus indirectly prevented his peers from receiving benefits.
The NBPA player pension fund received a percentage of profits anytime the NBA used player likenesses on league apparel. That fund, created in 1965, distributed money to players to attain health and education benefits. Naturally, the players all stood to see a good deal of money if Jordan permitted the NBA to use his likeness.
Alas, Mike would not give in to the NBA. Thomas expressed his frustration with Jordan ahead of All-Star weekend in 1992.
Isiah Thomas alluded to Jordan being selfish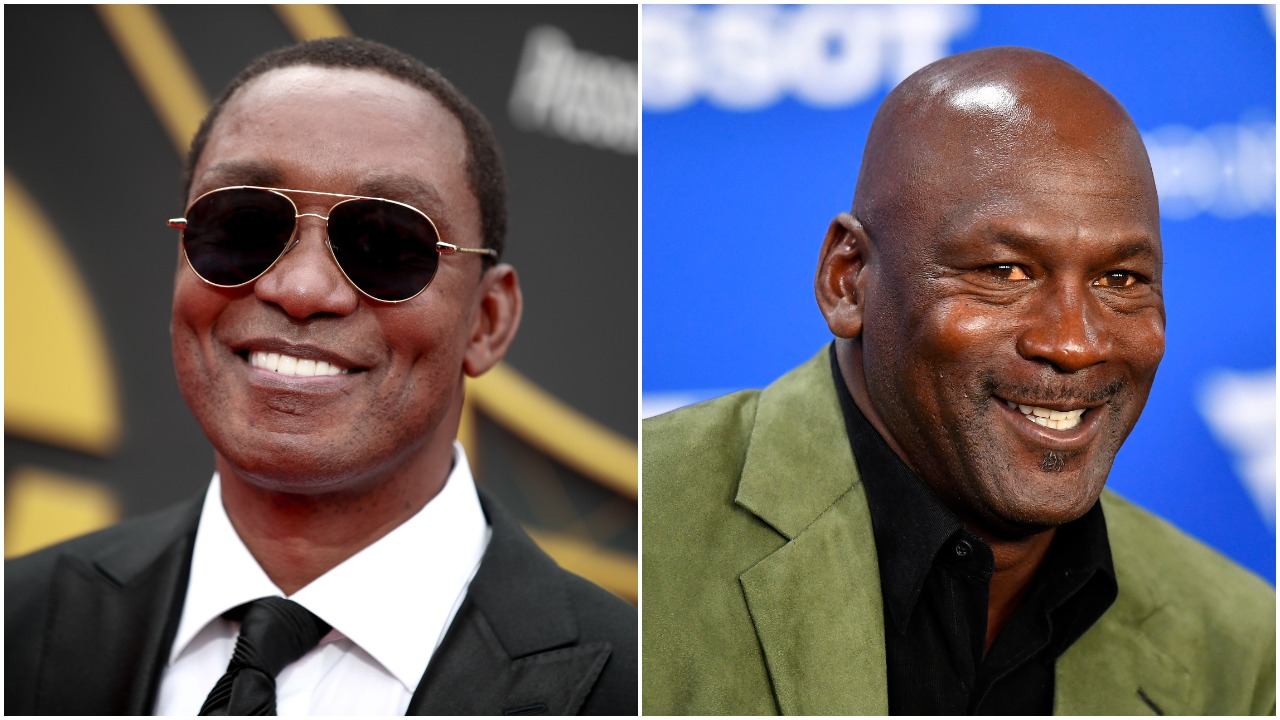 Isiah Thomas believed Michael Jordan disrespected the players who came before their era by not contributing to the player pension fund.
The players never even had a union before 1954, when Bob Cousy helped forge the NBPA. Thomas suggested (h/t the Baltimore Sun) he and his peers disservice the NBA stars of old by not accounting for the wellbeing of players around the league.
"People who made it possible for me to make the money I command didn't have this opportunity. I have to respect the guys who came before me."

–Isiah Thomas (1992), via the Baltimore Sun
It's unknown whether Jordan explicitly felt it unfair for other players to profit off his image. Many of MJ's peers showed hesitancy regarding the league using their likeness, as the Sun noted 89 different player reps sent letters saying they would not allow the NBA to use their client's faces on merchandise.
For his part, Thomas seemed to think actively contributing to the NBPA — which is currently led by Michele Roberts — served as an homage to the history and evolution of the NBA.
What Thomas failed to understand, however, is that Jordan went to absurd lengths to promote his brand. This became clear later in 1992, when MJ and the Dream Team captured the gold medal at the Barcelona Olympics.
Jordan made a statement by covering up the Reebok logo with the American flag at the 1992 Olympics
Michael Jordan's decision to drape himself with the American flag at the 1992 Olympics had almost nothing to do with patriotism.
Jordan intentionally wore the flag to cover up the Reebok logo on Team USA's warmups. That's how seriously he took his affiliation with Nike. Interestingly, Tampa Bay Buccaneers quarterback Tom Brady took a similar approach after winning the Super Bowl this past February.
Isiah Thomas tried to execute his NBPA duties to the best of his abilities, but Jordan never gave an inch when it came to his partnership with Nike, even if that meant costing other players some benefits.
[Correction: An earlier version of this article incorrectly stated the founding of the NBPA took place in 1964.]