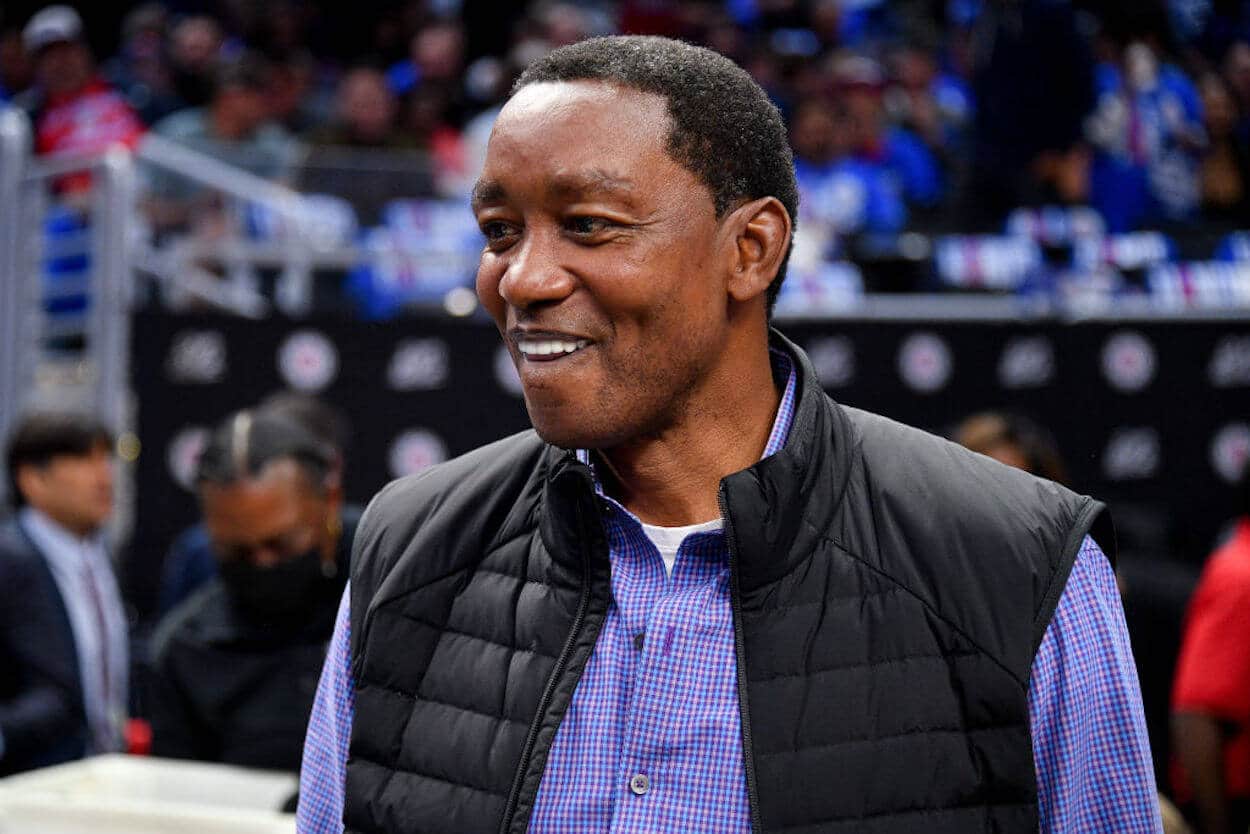 Isiah Thomas Offers a Unique Historical Endorsement of Victor Wembanyama
Isiah Thomas is never shy about talking about Michael Jordan, but on this occasion, he's addressing a more timely topic.
While it's been quite a while since Isiah Thomas hit the NBA hardwood, he isn't shy about sharing his basketball opinions. Many of those have to do with Michael Jordan, but the former Detroit Piston isn't a one-trick pony. Take, for example, his comments about Victor Wembanyama.
During a TMZ interview, Zeke was asked if the French Phenom could hang with the Bad Boys of NBA lore. And while things did sound a bit half-hearted — which makes sense given the context around the question — Thomas did throw his support behind Wemby's NBA future.
Isiah Thomas thinks that Victor Wembanyama could hang tough with the old-school Detroit Pistons
Over the years, certain NBA teams have earned a place in history. The Detroit Pistons' Bad Boys are one of those squads. And, as a key part of that unit, Isiah Thomas is still happy to talk about those days in the Motor City.
In fact, during an interview with TMZ, the former point guard was wearing a hoodie that read, "The Original Bad Boy." When the questions started flowing, he was also asked a question related to the topic: How would Victor Wembanyama fare against the Bad Boy Pistons?
"He actually would be able to stand up," Thomas explained before joking that he had to send the teenager some gear. "But nah, he's gonna do fine. We're excited to have him in the NBA. He's gonna be great."
While that might sound half-hearted, it is quite the compliment when you consider that those Piston teams won two titles and slowed down some of the biggest names in NBA history.
And when you consider the quotes came from Isiah Thomas himself, the endorsement is even more impressive.
Thomas' take wasn't exactly groundbreaking, but it will be interesting to see how Wemby handles physical challenges
As mentioned above, Isiah's response wasn't exactly an in-depth response breaking down the hypotheticals of how Wembanyama could have matched up against his Pistons. That's understandable — being grabbed on the street for an impromptu interview doesn't produce the best answers — but the question does raise an interesting parallel to the current day.
While the NBA has changed since the Bad Boys era, the Association can still take a physical toll on players. Given that Wemby is still relatively slight for his height and stepping into the North American game for the first time, it's fair to wonder how he'll hold up across an entire season. It's also fair to assume that defenders will try to bully the teenager, at least until he proves that he can withstand the rough treatment.
It is worth considering, though, that the French teenager could be well-equipped to handle that physicality. Beyond the fact that he'll surely bulk up during his first few years in San Antonio, Wembanyama isn't an old-school big man who's content to sit on the block. He can float to the perimeter, drain jump shots, and handle the ball like someone half his size. Is that a magic bullet to avoid physicality? Of course not, but being able to "stick and move" will probably ease the burden.
At the same time, though, it's still possible that the center's massive body could betray him. Think back to someone like Greg Oden. Did he do something wrong? Not really; he just placed a huge amount of strain on his lower body.
At this point, though, everything is waiting to unfold. Will the teenager stay healthy and dominate NBA defenses? Or will Victor Wembanyama struggle to adjust to life in the Association? For better or worse, all we can do is wait and see how things plan out.