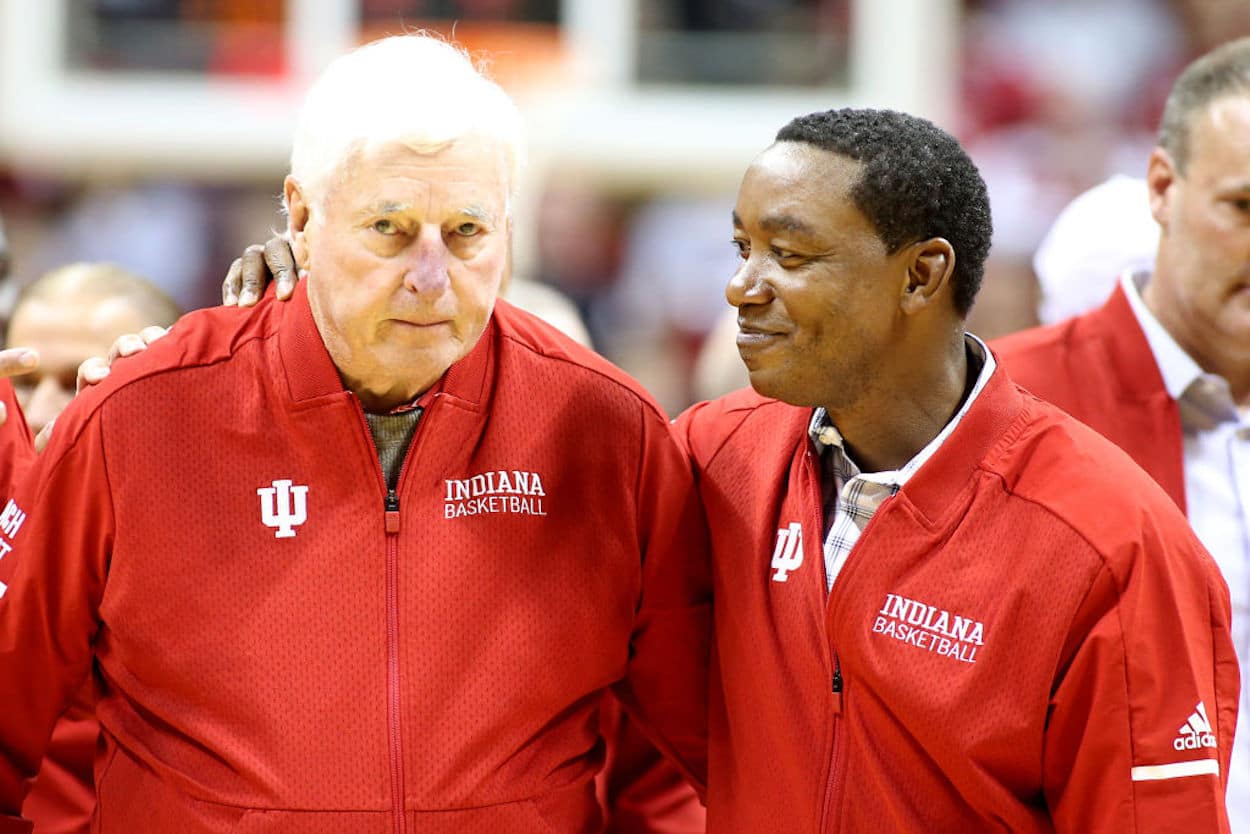 Isiah Thomas Told Kevin McHale That He Was Nervous About Playing for Bob Knight Before Heading to Indiana
Bob Knight and Isiah Thomas had a productive relationship, but that didn't mean the guard didn't feel a bit anxious before heading to Bloomington.
When you think of intimidating characters from the world of basketball, plenty of NBA players come to mind. Someone like Michael Jordan, for example, could crush your spirit and handle his business on the court. The likes of Shaquille O'Neal or Wilt Chamberlain would overwhelm you with their sheer size and strength.
Then there was Bob Knight. Despite spending the majority of his career on the sidelines, the coach was certainly someone who you didn't want to cross. Isiah Thomas certainly understood that reality.
In fact, the guard made a confession to Kevin McHale the summer before starting college: He was afraid to join the Hoosiers and play under Knight.
Isiah Thomas and Kevin McHale both experienced Bob Knight's coaching firsthand during the Pan Am Games
While the Pan American Games might not be the pinnacle of basketball competition, Bob Knight wasn't one to slack off. He took the competition seriously and put his young roster, which featured the likes of Kevin McHale and Isiah Thomas, through some intense practices.
"First time I met [Thomas] was in '79, and we were playing in the Pan Am Games," the forward remembered in an NBA 75 Stories segment honoring Zeke. "And Isiah and I were roommates. And Coach Knight was coaching the team. Isiah going to Indiana, so Isiah was … Isiah had just from graduated from high school and was going to go to Indiana the following year."
While that meant the guard was theoretically familiar with Knight and knew what he had signed up for, Thomas was still feeling a bit stressed. At night, he'd confide that reality to his roomie.
"I'd be in my room, and I'd be trying to sleep, and Zeke would say, 'Kev, I can't sleep,'" the big man continued. "And, I'd be like, 'I know you can't sleep, you're waking me up.' I'm exhausted because Coach Knight is killing us with practicing. We're having two-hour, two-and-a-half-hour [practices] twice a day, just, wow. We were really practicing hard. I just want to go to sleep. He's like, 'Coach Knight yells a lot.' I go, 'Yeah, he does yell.' He goes, 'I'm nervous about coming here next year.' I go, 'You know, Isiah, I'm going to Minnesota. … That's your issue. Quit waking me up.'"
While we don't know how Thomas responded, it's safe to assume that McHale's words probably didn't help.
By that point in time, Thomas had already gotten a good look at Knight's temper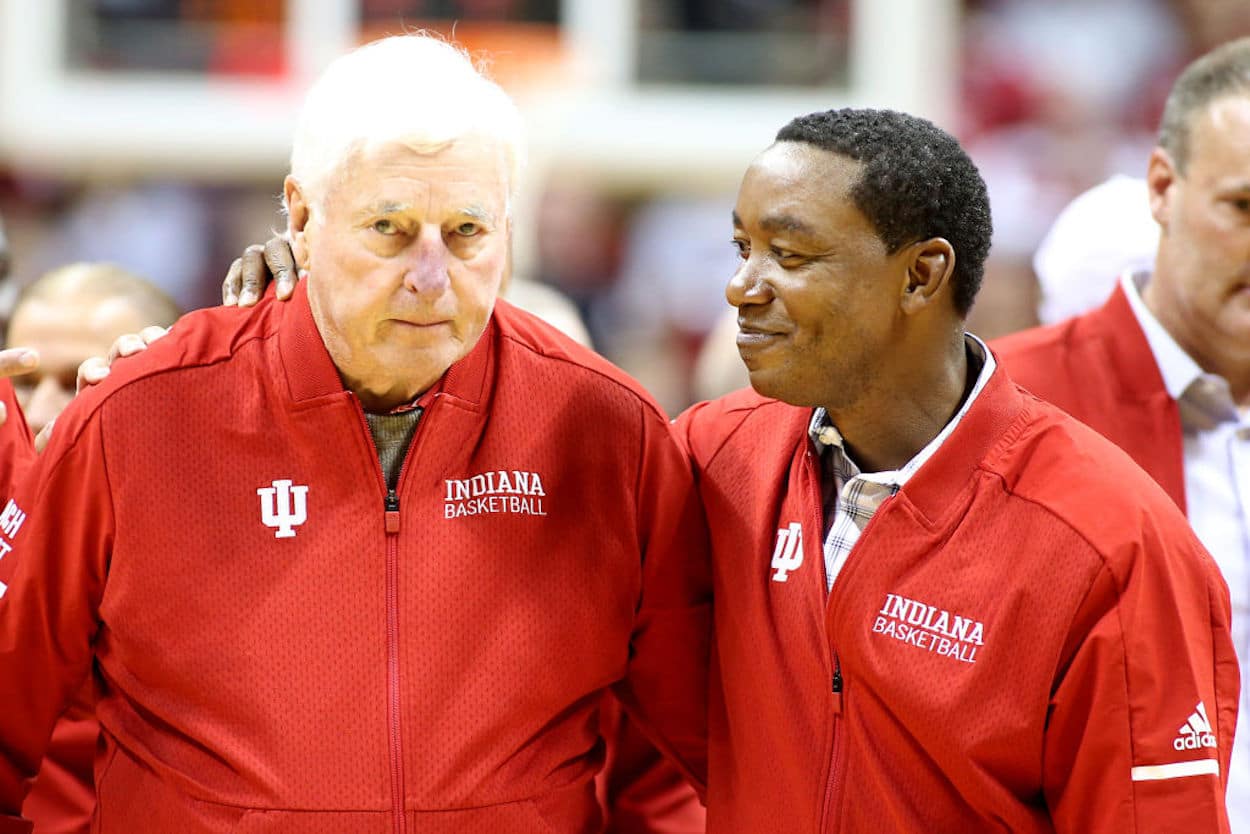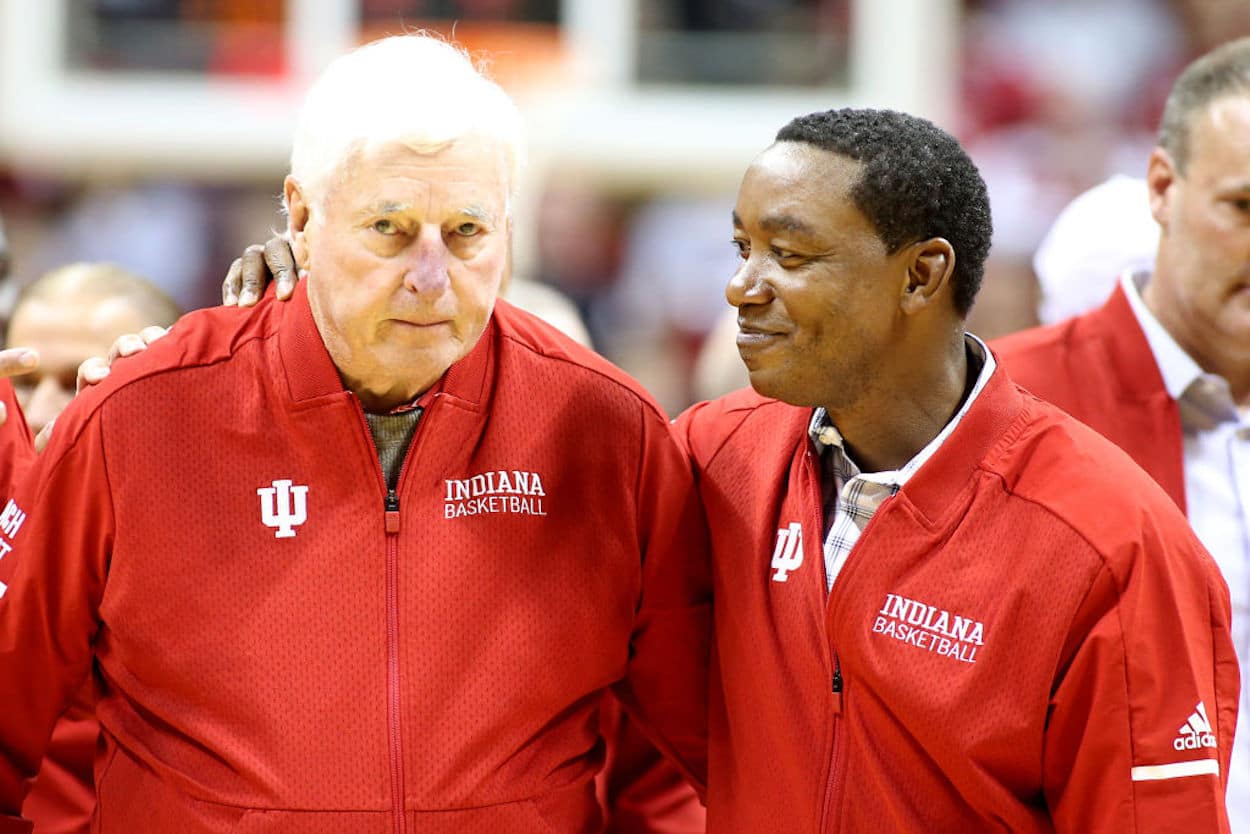 While it might sound a bit silly for a player to be nervous about playing for a specific coach, Thomas' take isn't that unreasonable. Beyond the fact that he was a teenager setting out on his own for the first time, the guard had already gotten a good look at Knight's volatile temperature.
During a recruiting visit, for example, the coach made a questionable choice. While most bench bosses would have been on their best behavior to try to sell his program, Knight almost got into a fight with Thomas' brother. Things cooled down before they came to blows, though, and Isiah did commit to Indiana.
And, during the 1979 Pan Am Games, the coach found himself in a bit of legal trouble. As Mike Puma spelled out in an ESPN Classic biography, "Knight made more news off the court in Puerto Rico, as he was charged with striking a police officer before a practice session. Knight was tried and convicted in absentia and sentenced to six months in jail. Finally, in 1987, the Puerto Rican government gave up trying to extradite him."
While it's not clear if that incident took place before or after Isaiah's conversation with McHale, it's unlikely that Knight's behavior was drastically different during the entire tournament.
With all of that being said, though, Thomas did go to Indiana and, despite some early issues, blossomed. He and Knight won an NCAA title together, and the guard went on to become the second overall pick of the 1981 NBA draft.
Did Isiah get over his fear? Or did fear simply prove to be the best motivator of all? Either way, things ultimately worked out.
Like Sportscasting on Facebook. Follow us on Twitter @sportscasting19 and subscribe to our YouTube channel.