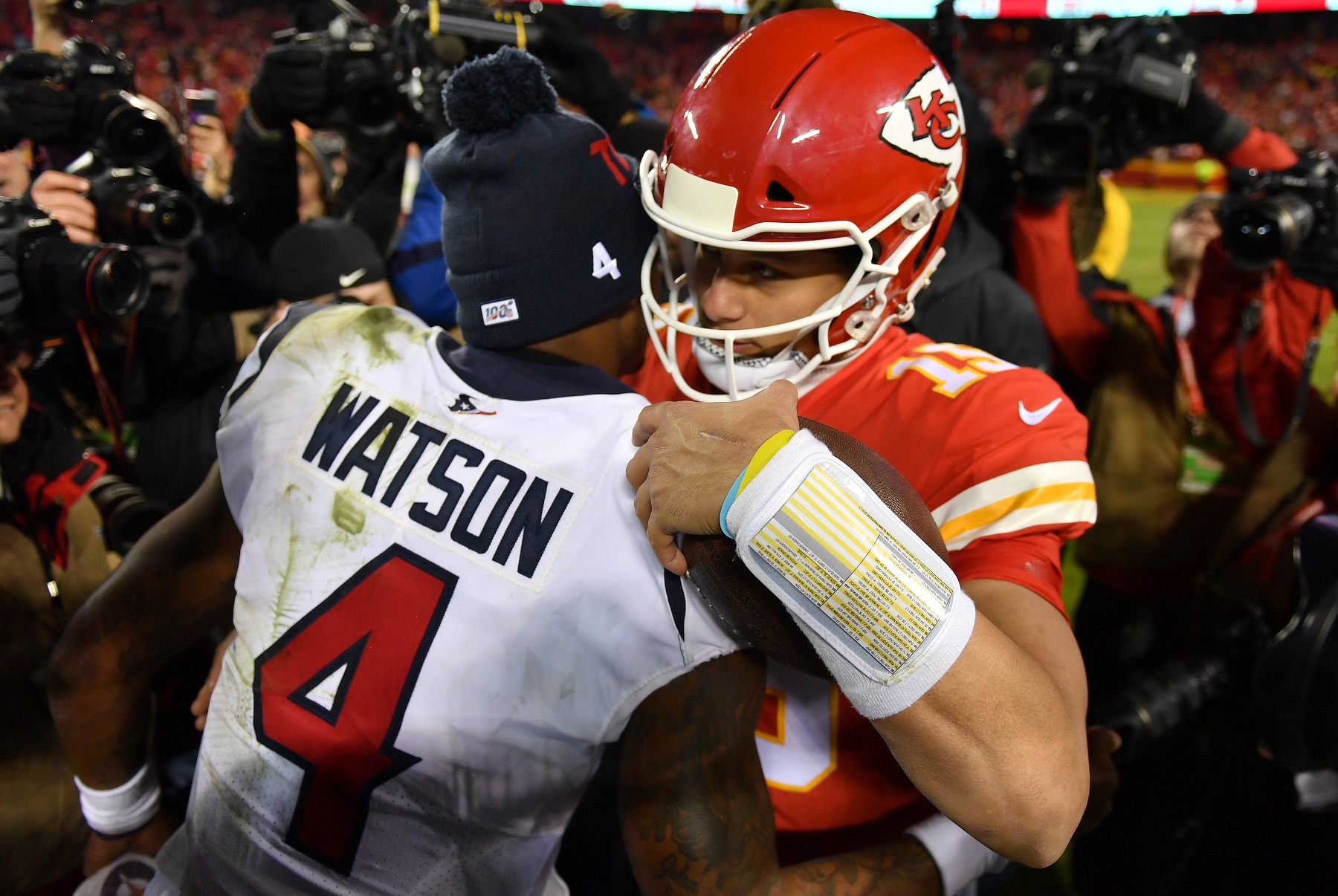 It's Not Just You. Your Friends Are Fed up With Sports, Too
Despite the presence of Deshaun Watson and Patrick Mahomes, the debut game of the NFL season didn't fare well in TV ratings.
Sharply lower television ratings one game into the NFL season can't be construed as a sign of trouble for the NFL. Granted, a head-to-head matchup between Deshaun Watson and Patrick Mahomes as the Kansas City Chiefs began defense of their Super Bowl championship should have done better, but there were also extenuating circumstances as Thursday Night Football made its season debut.
No, the real concern for the National Football League and other pro sports came earlier in the week in the form of a poll that was largely overlooked.
The TV audience for the Kansas City Chiefs game was smaller
After months of uncertainty over whether the COVID-19 pandemic would prevent the NFL from playing as planned in 2020, the Kansas City Chiefs and Houston Texans did kick off the season on Sept. 10 at Arrowhead Stadium.
With a defending Super Bowl champion, two star quarterbacks who'd recently agreed to huge contract extensions, and much discussion about the implications of the social justice issues the game seemingly should have been a ratings bonanza for NBC.
The game attracted an audience of 19.3 million viewers on NBC, a 12.3% falloff from when the Green Bay Packers and Chicago Bears opened the 2019 season, according to Deadline.com.  After adjusting for digital platforms, viewership was down 11%.
A Chiefs touchdown with 12:10 to play extended the Kansas City lead to 31-7, likely meaning that a lot of fans tuning in late may have looked at the score and flipped the channel. But there are other explanations to consider.
Factors to consider regarding the ratings
Keeping in mind that TV numbers from one game don't tell anything close to a full story, there is already a discussion over what the plunge in opening-night ratings means.
The good news for the NFL is that there are unusual circumstances to consider. A year ago, there was a normal Major League Baseball season in progress, and tennis' U.S. Open was down to the semifinals. Both those sports were also on TV up against the latest NFL opener. It can even be argued that having big-name tennis players Naomi Osaka and Serena Williams in back-to-back evening matches ate into viewership more than might otherwise be expected.
In addition, the COVID-19 pandemic created an unprecedented logjam of sports options. NFL openers in the past were never up against the NBA and NHL playoffs in the competition for viewer eyeballs.
On the other hand, there's the undeniable possibility that social justice fatigue has set in. After weeks of televised NBA games during which "Black Lives Matter" has been painted on the court and players have been wearing social justice messages on their backs, some potential viewers may have felt worn out. The feeling may have been further exasperated by an NBC pregame show that was heavy on societal concerns and light on football talk.
Throw in the pandemic and the question some people might have is this: Can't I just watch a game without having to be reminded again of what's going on in the world?
A Gallup Poll shows why leagues should be worried
A Gallup Poll released early in the week shows that more Americans hold a negative view of the sports industry than a positive one in a huge turnaround from when the question was posed in 2019.
According to Gallup, only 30% view the industry positively while 40% see it negatively. In 2019, the numbers were 45% and 25%, respectively. That makes for a 30-point net dropoff in just 12 months.
The Gallup analysts said no conclusions could be drawn regarding the potential effect of the life-altering COVID-19 pandemic or the social justice movement. However, an ideological schism is apparent.
The sports industry lost substantially more support from Republicans and independents than from Democrats. A net favorability rating of plus-11 points in 2019 by Republicans has turned into a minus-35 figure in polling conducted July 30 through Aug. 12. Independents went from plus-26 to minus 10, and Democrats slipped from plus-16 to plus-11.
In addition, the dropoff in favorable perceptions is more drastic in women and in adults over the age of 35. Gallup also said the sports industry has also lost more support from non-white Americans.