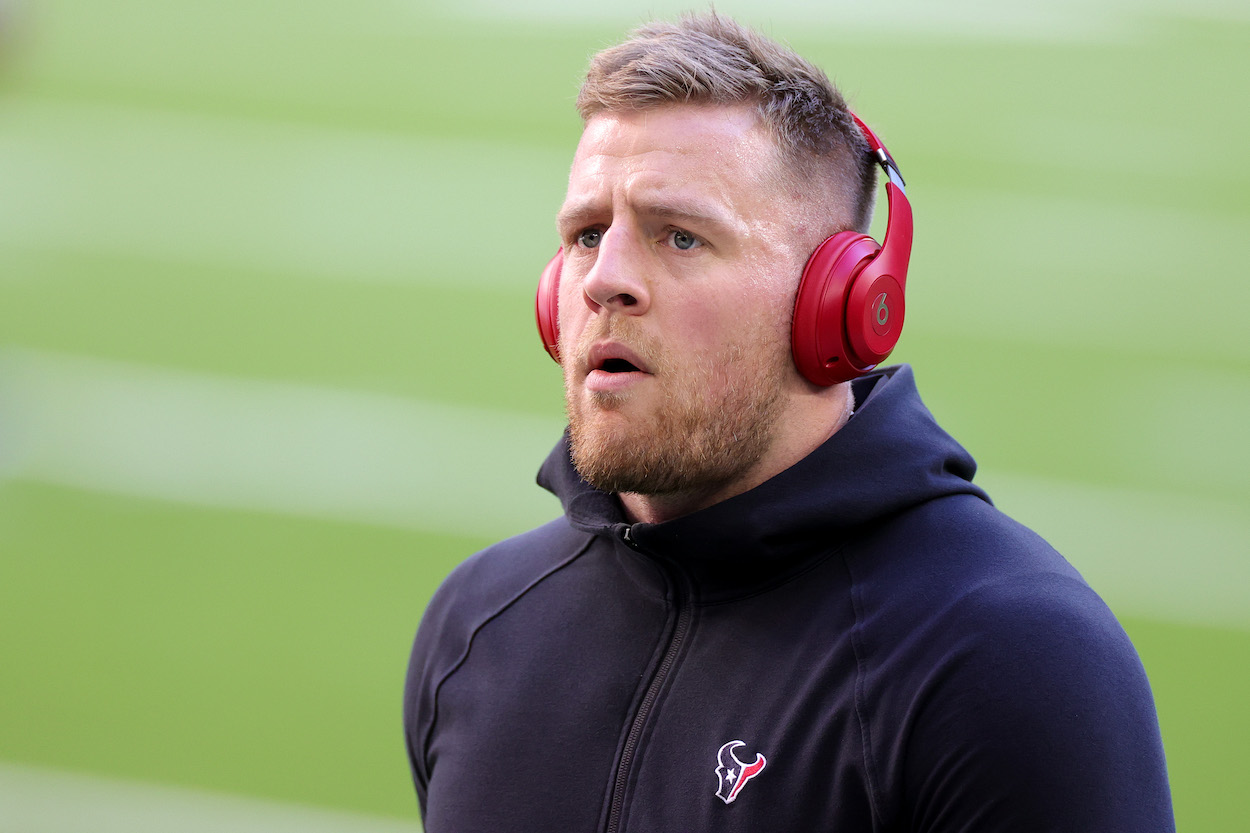 J.J. Watt Just Sent a Chilling Message to the Arizona Cardinals and Their Fans
J.J. Watt has been with the Arizona Cardinals just a couple of days and has already sent a very chilling message to the team and its fans.
On March 1, the day before Texas Independence Day, future NFL Hall of Famer J.J. Watt declared his independence from the Houston Texans — the only team he's played for in his decade-long career — when he agreed to terms with the Arizona Cardinals. And now, only a few days after signing, Watt has already sent an extremely chilling message to his new team and its fans in the desert. 
J.J. Watt had Hall of Fame career before signing with Cardinals
For the last decade, J.J. Watt has been one of the most feared defensive linemen in the NFL. During his 10 seasons in Houston, the now 31-year-old defensive end was a dominant force for a large part of his tenure in Texas, spending a lot of time behind the line of scrimmage terrorizing the opposing team's backfield. 
His numbers are eye-popping. From 2012-15, Watt made four consecutive All-Pro and Pro Bowl teams. During that stretch, he led the league in sacks on two separate occasion, including 20.5 in 2012 and 17.5 in 2015. He led the league in three of those years in tackles for loss. 
J.J. Watt earned his last All-Pro/Pro Bowl combined honor in 2018, when he led the NFL in forced fumbles at seven, and recorded 16 sacks. His production has dropped off dramatically the last two seasons, due in large part to the 2019 season when he missed half of the year because of injury. 
After a frustrating 2020 season where the team went 4-12 and he recorded just five sacks, Watt requested and was granted his release by the Texans. On March 1, he signed a two-year, $28 million deal with the Arizona Cardinals. 
J.J. Watt and brothers take unorthodox ice baths
Just a couple of days after signing with the Arizona Cardinals, where he'll be playing in the desert, J.J. Watt and his brothers sent an incredibly chilling message to the Cardinal faithful. The Watt brothers posted pictures of themselves having winter fun on and in a frozen lake.
In Watt's four-photo tweet, he included photos of the three brothers standing on a frozen lake trying to dig out a hole; the finalized hole with crystal-clear water; Watt sitting inside the ice cold water up to his neck; and finally a picture of a sauna. "post-workout recovery," Watt wrote. "(more like second workout, after the chainsaw wouldn't work)"
Derek Watt posted a tweet with three different photos of him sitting in the water. T.J. Watt included a single photo of himself submerged in the frigid water. 
Football fans wonder how the three brothers could not only make it to the NFL, but become as successful as they have in their respective careers. The unorthodox ice baths prove their mental fortitude is unrivaled. And that same mental toughness combined with physical strength bears itself out on the field each Sunday in the fall.  
What kind of success will he have in Arizona?
J.J. Watt joins an Arizona Cardinals squad that is known for its offensive attack with quarterback Kyler Murray and head coach Kliff Kingsbury and his background. The Cardinals, however, had the 12th-ranked defense in points allowed last season. 
Watt's ability to get behind the line of scrimmage and pressure the quarterback will be welcomed in Arizona. Last season, Haason Reddick led the defense with 12.5 sacks. The next closest was four. His presence alone will force opposing offenses to specifically gameplan for him. 
If he can regain his form of just a few seasons ago before his injury, J.J. Watt could potentially find himself recording another All-Pro/Pro Bowl season. He will then be able to reflect back on how it all started in the offseason workout program and those frigid ice baths with his brothers in a frozen lake.
All stats courtesy of Pro Football Reference.