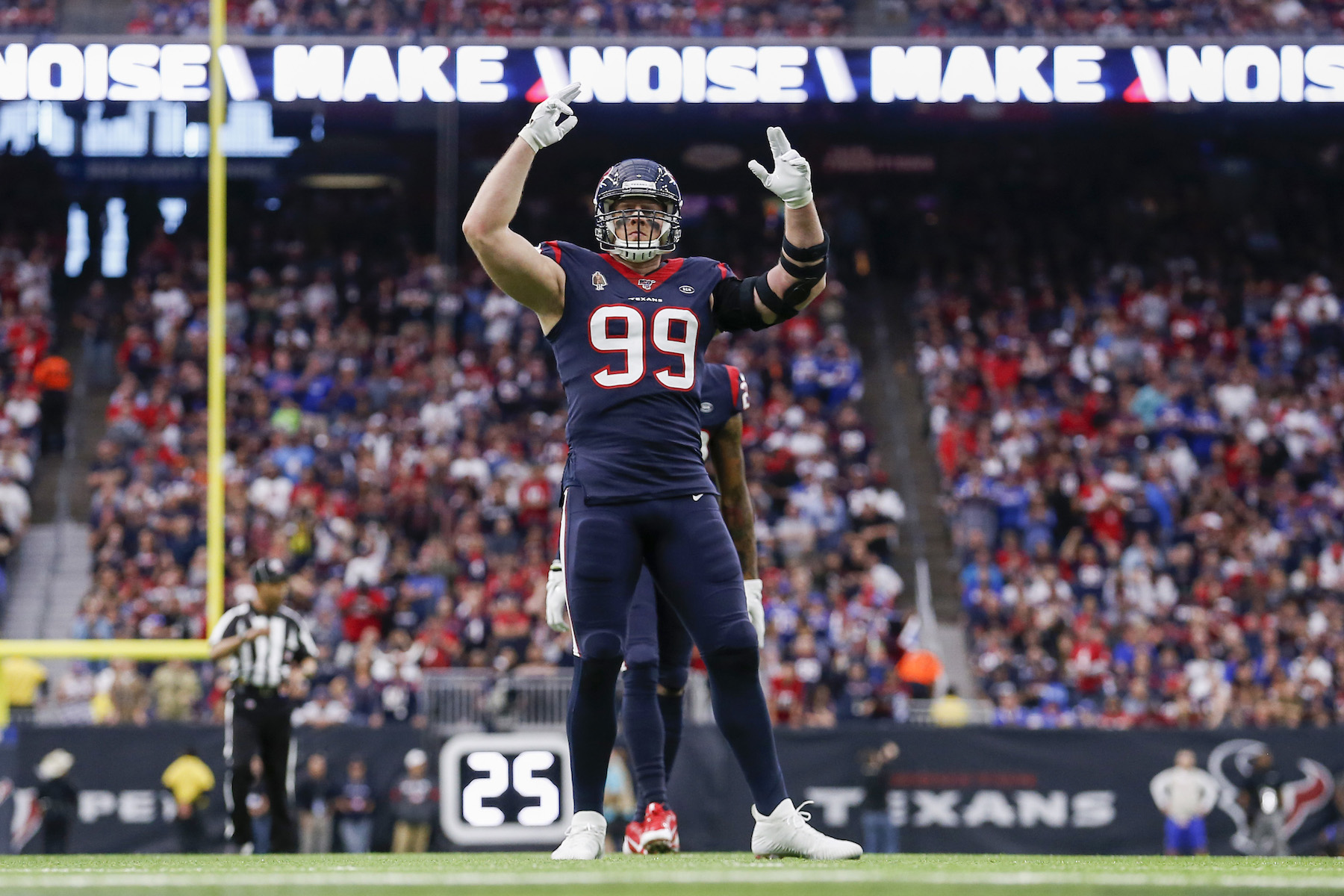 J.J. Watt Just Told Houston Texans Fans Exactly What They Wanted to Hear Ahead of the 2020 NFL Season
While 2020 hasn't had too much positive news, J.J. Watt just told Houston Texans fans exactly what they were hoping to hear.
As any sports fan can tell you, no amount of talent can save an athlete from the injury bug. Unfortunately, J.J. Watt seems to be proving that point. While no one can argue with the pass rusher's talent, he simply hasn't been able to stay healthy. The defensive end, however, just gave Houston Texans fans some good news.
After struggling to stay on the field for the past several seasons, J.J. Watt told everyone affiliated with the Texans exactly what they've been hoping to hear. Not only is he back, but he's feeling pretty healthy ahead of the 2020 campaign.
J.J. Watt is incredibly talented but has a brutal injury history
During his time on the gridiron, J.J. Watt has proven himself to be one of the fiercest pass rushers around. In recent years, though, he's struggled to stay on the field and use that natural talent.
After bursting onto the scene as a defensive standout at the University of Wisconsin, Watt entered the 2011 NFL draft. The Houston Texans selected him with the 11th overall pick. That decision immediately looked like a great piece of business; Watt helped the club make the playoff during his rookie campaign and, in 2012, piled up 20.5 sacks en route to a Defensive Player of the Year title.
While Watt had his share of injuries—like most NFL players, he battled through various bumps and bruises—he started every game during his first five professional seasons. In 2016, however, back problems limited him to three appearances; since then, he's struggled to stay healthy.
Watt returned to action in 2017 but missed most of the season with a tibial plateau fracture. He then played all 16 games in 2018, recording 16 sacks and looking like his old self. The defensive end's injury issues returned in 2019, however, as a torn pectoral muscle limited Watt to eight regular-season starts before an improbable return for the playoffs.
The Houston Texans star is feeling healthy again
Due to the coronavirus pandemic, 2020 has been an unusual year for everyone. J.J. Watt, however, has found a silver lining during his quarantine.
"You can't go out, you can't go to the movies, you can't go to eat," Watt told Sarah Barshop of ESPN. "So the workout program for me this offseason has been awesome because I've had a full offseason to do my workouts exactly how I needed to do them. I've been able to focus on my nutrition every single day. I've counted every single calorie the whole way. Basically tried to fully transform my body from the beginning of the offseason until now."
For a player who's missed significant time due to injury during three of the past four seasons, that opportunity has been worth its weight in gold. Watt went on to explain that he's feeling as good as he's felt in several years.
"It truly has been one of the best offseasons from a workout standpoint that I've ever had, and I'm very, very pleased about it. My body feels as good as it has felt since probably 2014, 2015, somewhere around there. So I'm really looking forward to getting into camp and just getting to work."
Is good offseason enough for J.J. Watt to return to form?
On paper, it's easy to write J.J. Watt as injury-prone. If you take a deeper look at his history, however, it seems like bad luck is as much to blame as anything else.
For the most part, the defensive end's injuries have been random one-off issues rather than recurring problems. While he did reaggravate his back in 2016, surgery seems to have put that in the past. A torn pectoral and a tibial fracture are both brutal injuries, but they shouldn't be long-term worries; continued knees, hips, and ankles woes are generally what tend to end careers.
With all of that being said, though, injuries have become a trend for Watt in recent years; at a certain point, things can't simply be bad luck anymore. It's also worth taking the defensive end's quotes with a grain of salt. Even the most forthcoming player isn't going to tell ESPN that he feels a bit unsure of himself and doesn't know how healthy he'll be this year.
At this point, we'll just have to wait for the 2020 NFL season to see if J.J. Watt is back to his best. As we saw when he returned to for the 2019 playoffs, though, you can underestimate the Houston Texans star pass rusher's will to play at your own risk.
Stats courtesy of Pro-Football-Reference