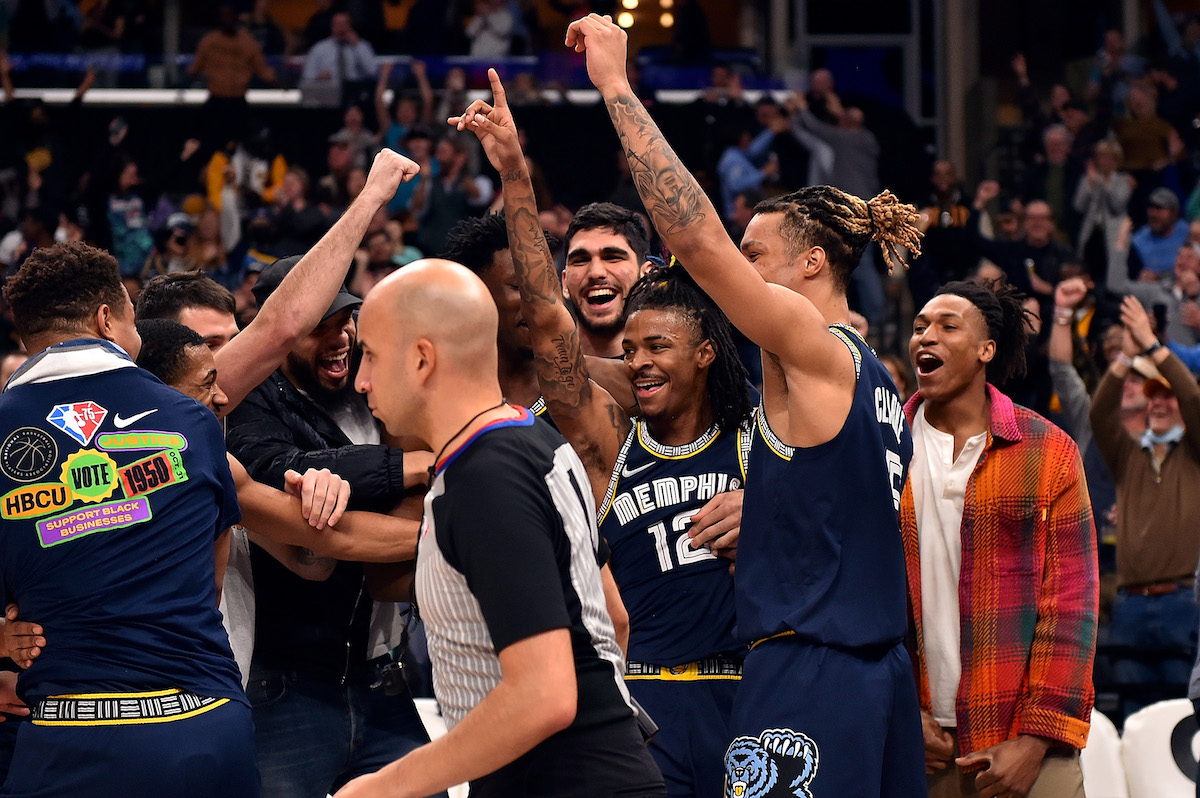 Ja Morant, Memphis Grizzlies Both Entering Uncharted Territory
Ja Morant is entering the top tier of the MVP conversation, and the Memphis Grizzlies are competing for home-court advantage in the Western Conference. This is new territory for the franchise on both fronts.
Ja Morant might as well be a superhero for the Memphis Grizzlies given his gravity-defying athleticism, his remarkable shot-making skill, and his insatiable thirst for highlight-reel plays.
Precious few players enter "stop whatever you're doing and make sure you see this" territory even when operating at the peaks of their powers. Stephen Curry in 2015-16 might be the best example as he shattered the single-season record for three-pointers while putting on nightly displays of unmistakable heroics for the Golden State Warriors.
Morant has entered the club.
Averaging 27.6 points, 5.9 rebounds, and 6.6 assists during his age-22 season and coming off a 52-point performance against the San Antonio Spurs in which he hit a ridiculous first-half buzzer-beater off a full-court pass from Steven Adams, drained a three from just inside the timeline, and dunked so hard on Jakob Poeltl that the reverberations are still rippling, he's left little doubt of both his superstardom and his newfound status as must-watch television.
In doing so, he's also put both himself and the Grizzlies in uncharted territory. While leading a squad that may very well be the best in organizational history (dating back to 1995-96), he's ascending higher than any other individual has while playing home games in Vancouver or Memphis.
Ja Morant poised for franchise's best MVP finish
Marc Gasol tied Kevin Garnett, Ty Lawson, David Lee, and Joakim Noah for 12th place in the 2012-13 MVP race by receiving just a single voting point. One year later, Mike Conley finished 17th, again receiving a mere point in the competition. Gasol rose into a tie for eighth with Blake Griffin in 2014-15, upping his output to a whopping three voting points.
That's it.
Throughout the Grizzlies' franchise history, Gasol and Conley are the only two players to receive even a single back-of-the-ballot MVP vote. Then again, that's not too surprising when only Gasol and Zach Randolph have received All-NBA recognition and those two, Pau Gasol, and Morant are the lone All-Star representatives.
But Morant is set to change that in a big way at the end of the 2021-22 campaign.
He might trail the true front-runners for the most prestigious individual award (Nikola Jokic, Joel Embiid, and Giannis Antetokounmpo), but each standout performance is moving him closer to that top tier. Plus, he's heating up for the stretch run, which tends to curry more favor than similar performances during the January doldrums of a long, grueling NBA season.
Since missing a Feb. 15 contest against the New Orleans Pelicans, Morant has dropped 44 points against the Portland Trail Blazers, fought his way to 20 points against the Minnesota Timberwolves, exploded for 46 points against the Chicago Bulls, and set a new personal and franchise record with the 52-spot against San Antonio. He's gone from heating up to achieving full-fledged supernova status.
Purely from a statistical standpoint, Morant has missed a few too many games and gone through too many stretches of sub-superstar play to be deemed a true favorite for MVP. For example, Basketball Reference's NBA MVP Award Tracker has him checking in at No. 8 with a 2.7% chance of hoisting the Maurice Podoloff Trophy.
But that eschews the narrative element.
Morant's relentlessly entertaining style and status as the unquestioned leader of an up-and-coming Grizzlies squad competing for one of the top spots in the Western Conference will give him a boost, and that's already reflected in the betting odds. Per the latest updates on DraftKings, the 6-foot-3 human pogo stick is already up to No. 4 in the pecking order:
Joel Embiid, Philadelphia 76ers: -110
Nikola Jokic, Denver Nuggets: +260
Giannis Antetokounmpo, Milwaukee Bucks: +550
Ja Morant, Memphis Grizzlies: +1000
DeMar DeRozan, Chicago Bulls: +1200
Stephen Curry, Golden State Warriors; Devin Booker, Phoenix Suns: +2000
If Morant continues on his current trajectory, posting bigger and better scoring performances in games with heightened levels of import, then he might have a realistic shot of pushing his way into a podium finish for a squad that is similarly becoming the best in franchise history.
2021-22 Memphis Grizzlies becoming the best in franchise history
Typically, NBA MVP cases hinge on three different factors: personal success, team success, and narrative. Winners of the award almost always play for one of the best squads in the Association, throw up marvelous statistics on a nightly basis, and have a compelling storyline that wins over voters.
Morant might still be facing an uphill battle to actually win MVP, but he's checking all three boxes thanks to a Memphis team arriving as a true contender far quicker than most expected.
At 43-20, the Grizzlies trail only the Golden State Warriors (43-18) and Phoenix Suns (49-12) in the Western Conference standings and enjoy a significant edge over the Utah Jazz (38-22), Dallas Mavericks (36-25), and Denver Nuggets (36-25) in the quest to earn home-court advantage in the playoffs' opening round. For good measure, the Eastern Conference boasts exactly zero teams with a record superior to Memphis'.
Desmond Bane has arrived as a three-and-D marksman capable of creating for himself off the bounce. Steven Adams is enjoying a resurgent season and doing all the dirty work. Jaren Jackson Jr. is a point-preventing menace with a legitimate chance to win Defensive Player of the Year. Brandon Clarke's floater has returned during a strong bounce-back effort following a rough sophomore campaign.
The list of high-quality players goes on and on for a team that has legitimate star power at the top and plenty of depth at just about every position.
While making postseason appearances is nothing new for a Grizzlies organization that served as a playoff mainstay during the grit-'n'-grind era, this is something different entirely. No team in franchise history has been this effective, and that's great news for a squad older than only the Oklahoma City Thunder, Orlando Magic, and Detroit Pistons, who have combined to win just six more games than Memphis has alone.
The Grizzlies have never before won the Southwest Division, coming in second four times but always falling just short of the divisional title. That's set to change in 2021-22 thanks to their six-game lead over the Mavericks. They've topped out at 56 wins in 2012-13 behind the two-way excellence of Marc Gasol, and they're on pace to match that exact total this year.
But digging a bit deeper, the underlying metrics don't have those two squads as truly comparable.
Simple rating system (SRS) combines net rating and strength of schedule to evaluate team quality with a single number, and it pegs the current iteration of the Grizzlies as the best in franchise history:
2021-22 Memphis Grizzlies: 4.72 SRS
2012-13 Memphis Grizzlies: 4.32
2005-06 Memphis Grizzlies: 3.74
2014-15 Memphis Grizzlies: 3.62
2003-04 Memphis Grizzlies: 2.95
Only the Jazz (6.6), Warriors (6.93), and Suns (7.38) have superior SRS figures in 2021-22. Nine years earlier, Memphis checked in at No. 6 on the SRS pecking order, trailing the Nuggets (5.37), Los Angeles Clippers (6.43), Spurs (6.67), Miami Heat (7.03), and Thunder (9.15).
Memphis has had highly competitive squads before. That much is abundantly clear. The 2011-12 outfit earned the franchise's only top-four finish before falling in the first round, and the 2012-13 group actually advanced to the Western Conference Finals before the Spurs got out the broomsticks.
But it's never had a team this effective, and the youthfulness pervading the roster means the best might still be yet to come. Between that and the presence of a true superstar in Morant sure to factor prominently into the MVP conversation, 2021-22 is setting up to be a norm-shattering, unforgettable season for the Grizzlies.
All stats, unless otherwise indicated, courtesy of Basketball Reference.