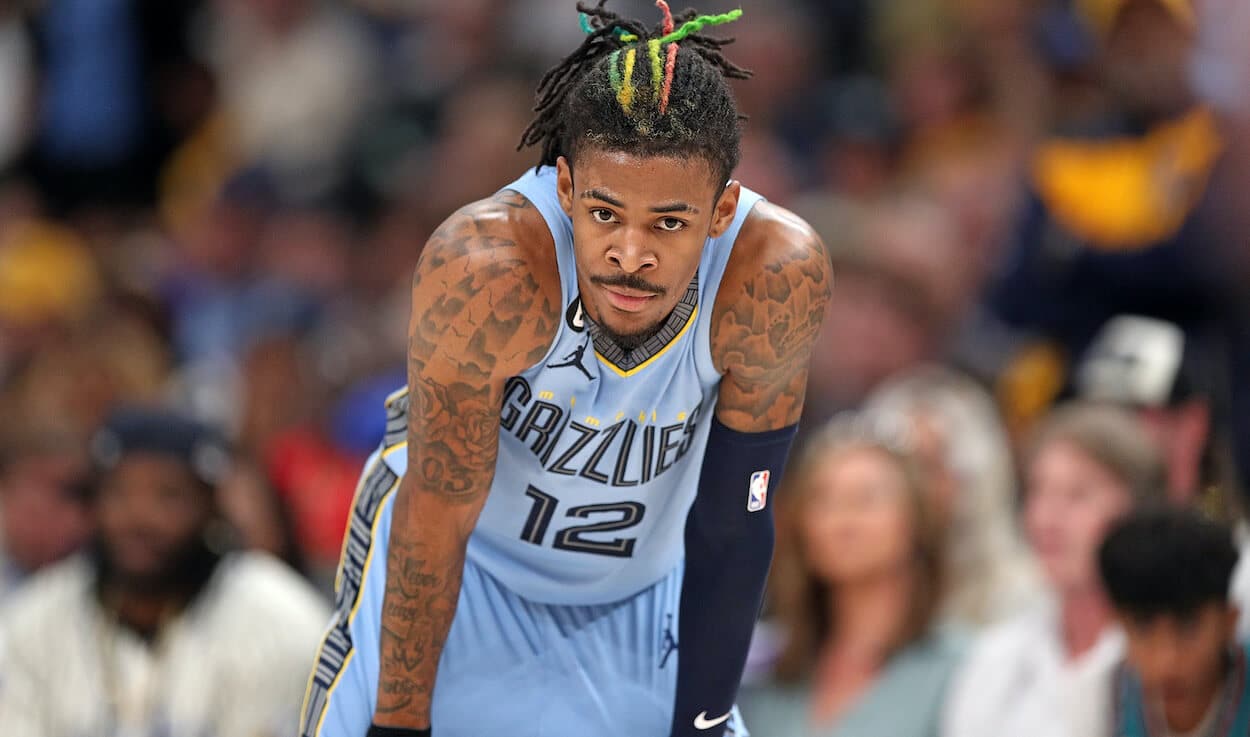 Woj Says 'Lengthy' Ja Morant Suspension Coming for Latest Gun Antics
For the second time in two months, Grizzlies star Ja Morant seemingly flashed a gun on social media, and if he did, a long suspension could be next.
Ja Morant already served an eight-game suspension in the 2022-23 NBA season for his actions off the court. But after apologizing and telling everyone – from fans to NBA commissioner Adam Silver — that he's seen the error of his ways, the superstar Memphis Grizzlies guard once again flashed a gun on social media. After this latest boneheaded offense, NBA insider Adrian Wojnarowski says a "lengthy" Ja Morant suspension is coming for the 2023-24 season.
Grizzlies star Ja Morant drew an 8-game suspension during the 2022-23 season
In early March, Ja Morant posted an Instagram Live video of himself dancing in a Denver-area club, seemingly intoxicated, and waving a firearm.
That was just the latest in a series of concerning incidents allegedly involving Morant that the NBA was investigating.
Prior to the first gun-waving incident, Morant and his associates reportedly had run-ins with a mall security guard, a Memphis-area high school basketball prospect, and Morant's younger sister's "adversary" at a high school volleyball game, according to the New York Post.
Members of the Indiana Pacers organization also accused the Grizzlies star and "his associates of pointing a red laser at them following a confrontation."
After all this, the Denver gun incident was the final straw for Adam Silver and the NBA. The league suspended him for what amounted to eight games in the end, and Morant spent time in a "counseling program" in Florida.
In announcing the initial Ja Morant suspension, Silver called the Grizzlies star's action "irresponsible, reckless and potentially very dangerous" in a statement. He also chided the 2020 Rookie of the Year for being a bad role model for young NBA fans.
However, Silver also noted that "He has expressed sincere remorse for his behavior. Ja has also made it clear to me that he has learned from this incident and that he understands his obligations and responsibility to the Memphis Grizzlies and the broader NBA community extend well beyond his play on the court."
Weeeellll, about that…
A 'significant' Ja Morant suspension is coming soon
A little more than two months — and one massive Grizzlies playoff flameout — removed from the first gun-related Ja Morant suspension, the star was at it again.
In another Instagram Live video, Morant once again seemingly flashed a firearm while singing along to music in a car driven by an associate. This video — which Morant or a person close to him willingly posted and didn't just leak out — immediately caught the attention of the entire basketball world, especially the NBA office.
On Monday, NBA insider Adrian Wojnarowski joined the ESPN morning show Get Up! to discuss what the league might do to Morant.
"If the league finds out this is not a doctored video," Wojnarowski told host Mike Greenberg. "If that is indeed a gun in his hand, he is facing a significant suspension to start next season."
Woj explained "there was some leniency in that eight-game suspension" from Adam Silver last season due to Morant's contrition about the previous incidents.
"I think Ja Morant is facing a lengthy, a significant suspension to start next season if indeed that was a firearm in his hand in that video," Woj predicted. "I don't think Adam Silver is going to take this one lightly."
Woj also noted that there will be pressure from other NBA teams to drop the hammer on a Ja Morant suspension as his actions are hurting the image of the league as a whole.
And as any NBA fans know, no one is more plugged into what's really going on in the league than Mr. Woj-bomb himself.
What's next for the Grizzlies?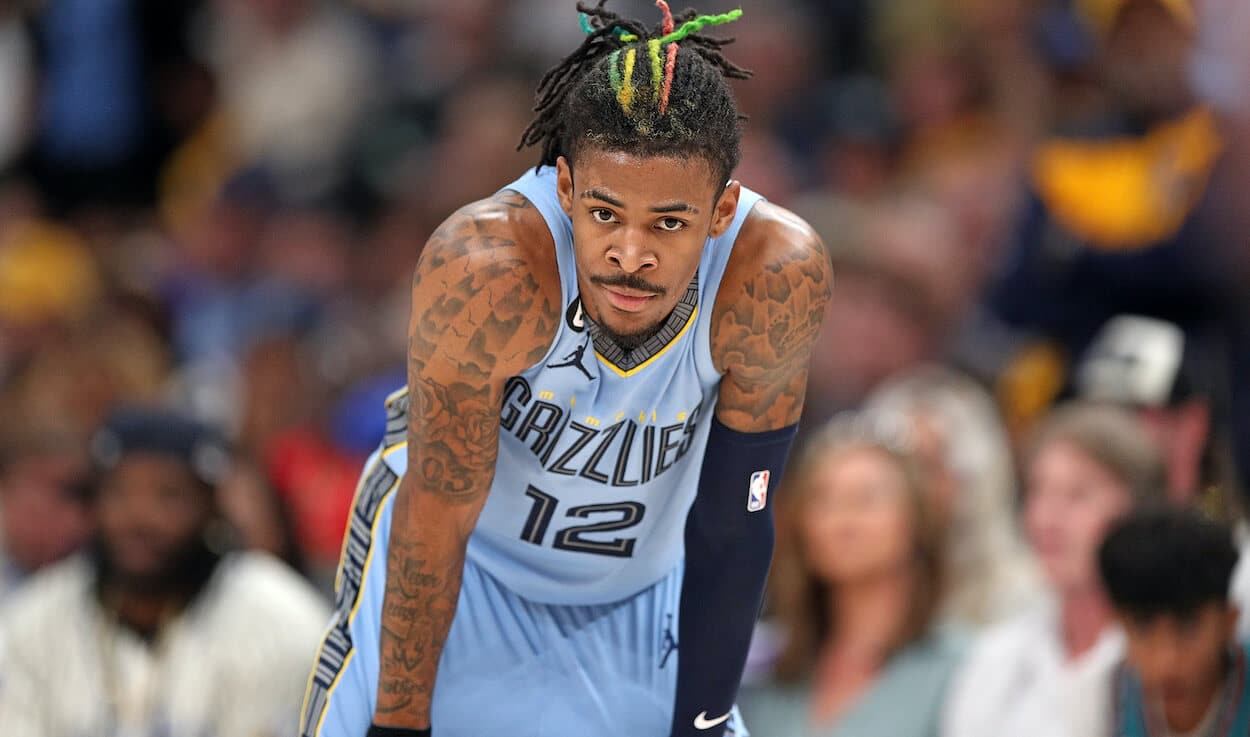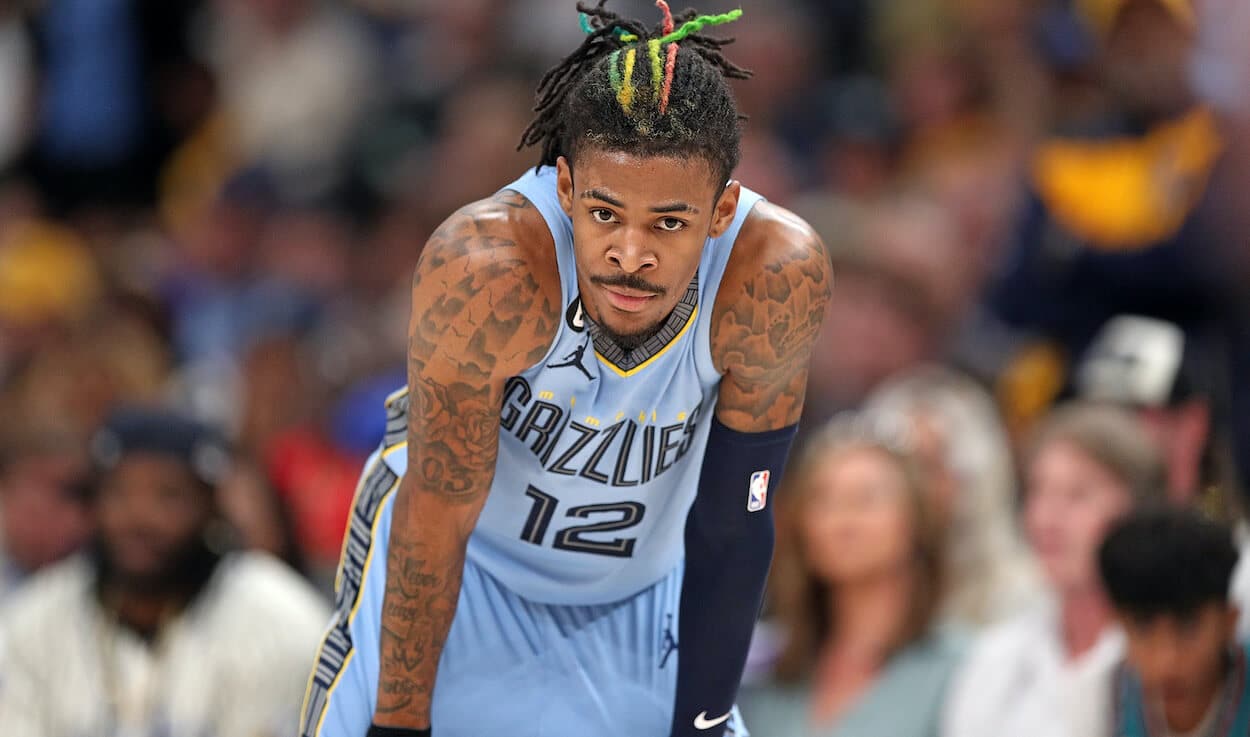 When the 2-seed Memphis Grizzlies lost to the 7-seed Los Angeles Lakers to exit the 2023 NBA playoffs, the team was at a crossroads.
Down one path was continuing in the direction they were going, and hoping the team got better with age, experience, and maturity. The other path involved sweeping changes within the organization.
While it looked like the team would (mostly) opt for Path A, with Morant continuing to lead the team (sans Dillon Brooks), a new, lengthy Ja Morant suspension might push Memphis down Path B.
After trash-talking LeBron James, awakening the aging beast, then getting suspended for punching LeBron in the groin, and then refusing to talk to the media about it after losses, the Grizzlies have made it clear free agent Dillon Brooks will no longer be a Grizzlies player next season.
Outside of Brooks, though, the rest of the Grizzlies' core is locked up for at least the next two seasons, and most make $12.5 million or more per season. Those players include Morant, Jaren Jackson Jr., Steven Adams, Luke Kennard, Tyus Jones, and Brandon Clarke.
Additionally, several players on their rookie deals will start making double-digit millions in the next few seasons if the Grizzlies hope to keep them. This list includes Desmond Bane, Zaire Williams, David Roddy, and Xavier Tillman.
To make significant changes to the team, the Grizzlies would have to start trading key players. And with a new Ja Morant suspension on the horizon, it would be a total shock if the trades begin with him.