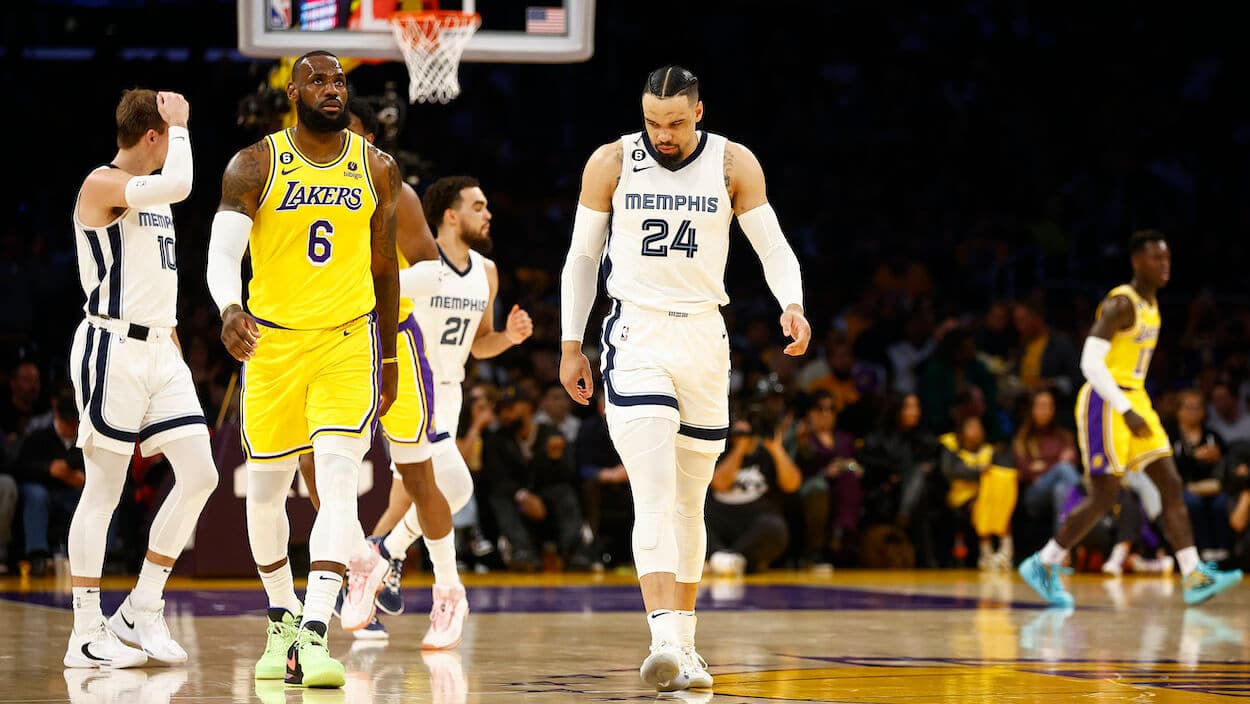 Dillon Brooks Proves He's a Baby Yet Again After Latest Grizzlies Loss to Lakers
Grizzlies forward Dillon Brooks had a lot to say about Lakers superstar LeBron James after his team's win but hasn't talked much after that.
Memphis Grizzlies forward Dillon Brooks was relatively unknown by the casual NBA fan heading into the 2023 NBA playoffs. However, after Game 2, where Brooks helped slow down LeBron James (holding him to "only" 28 points and 12 rebounds) and get his team the win over the Los Angeles Lakers, he took the opportunity to talk trash to and about James on and off the court. Now, the Lakers have built a commanding 3-1 series lead, and Brooks isn't talking so much anymore, or really at all.
Dillon Brooks can dish it out, but he can't take it
"I don't care. He's old," Dillon Brooks said of LeBron James after Game 2 while wearing mirrored sunglasses and a giant chain with his initials on it. "I poke bears. I don't respect no one until they come and give me 40 [points]."
Well, in Game 3, he literally poked the bear, hitting James below the belt and earning a flagrant-2 ejection. Brooks refused to speak to the media after that game.
The NBA declined to suspend Brooks for the hit, and he played in Game 4. During that contest, the Lakers beat the Grizzlies in overtime to take a commanding 3-1 series lead, and Brooks — as well as Grizzlies superstar Ja Morant — declined to talk to reporters after that loss as well.
James didn't drop 40 in that loss, but you'd think with 22 points and 20 rebounds, "The King" may have earned a little of Brooks' respect.
We'll never know, though, because Dillon Brooks is acting like a baby.
The Grizzly's emotional leader, Brooks, age 27, and the on-court leader, Morant, age 23, have shown a stunning lack of maturity this season. This is one of the major reasons the Lakers are about to knock the Grizzlies out of the NBA playoffs by a team that won eight fewer games this season.
And when Brooks has talked as things fall apart for the Grizzlies, all he's done is whine about how the media and fans are making him out to be a villain, not taking any responsibility for his words or actions' role in that perception.
NBA history is filled with iconic agitators, many of whom have helped their teams win championships. But the one thing Draymond Green, Dennis Rodman, and Bill Laimbeer all had in common is that they would own their actions after the game, win or lose.
Until Brooks learns to do this, the Grizzlies will never have what it takes to win it all.
Why the Lakers will win Game 5 and move on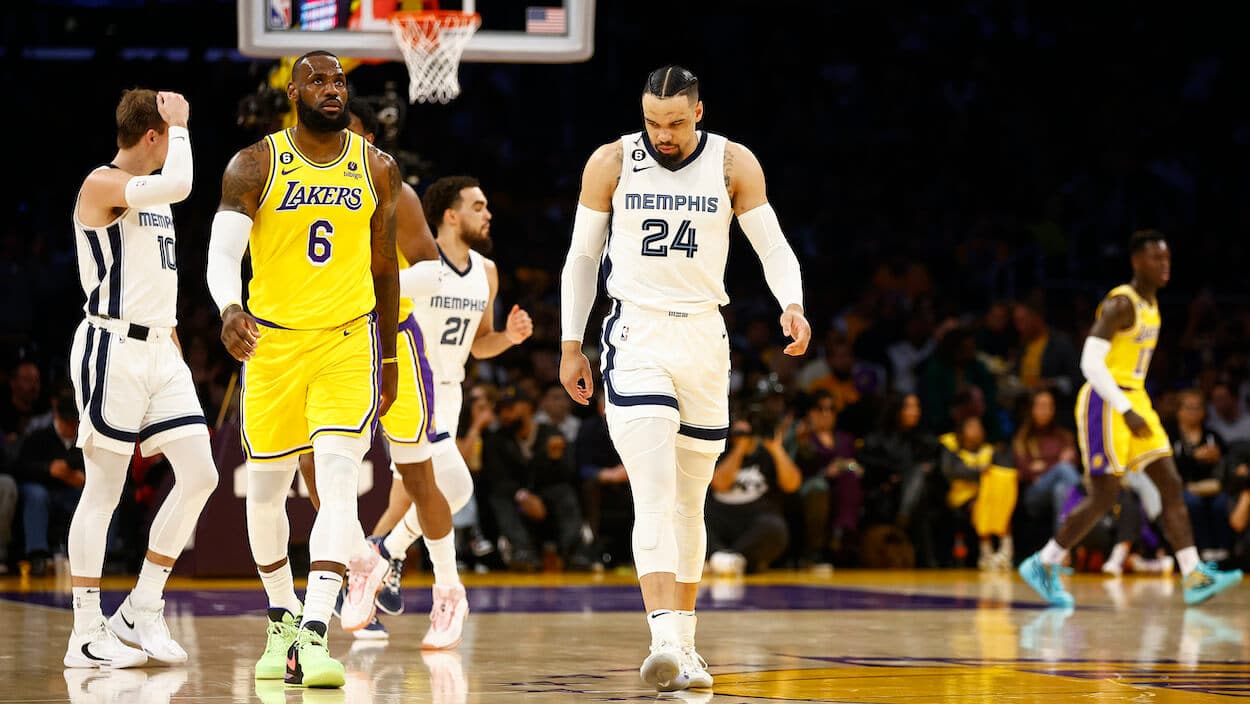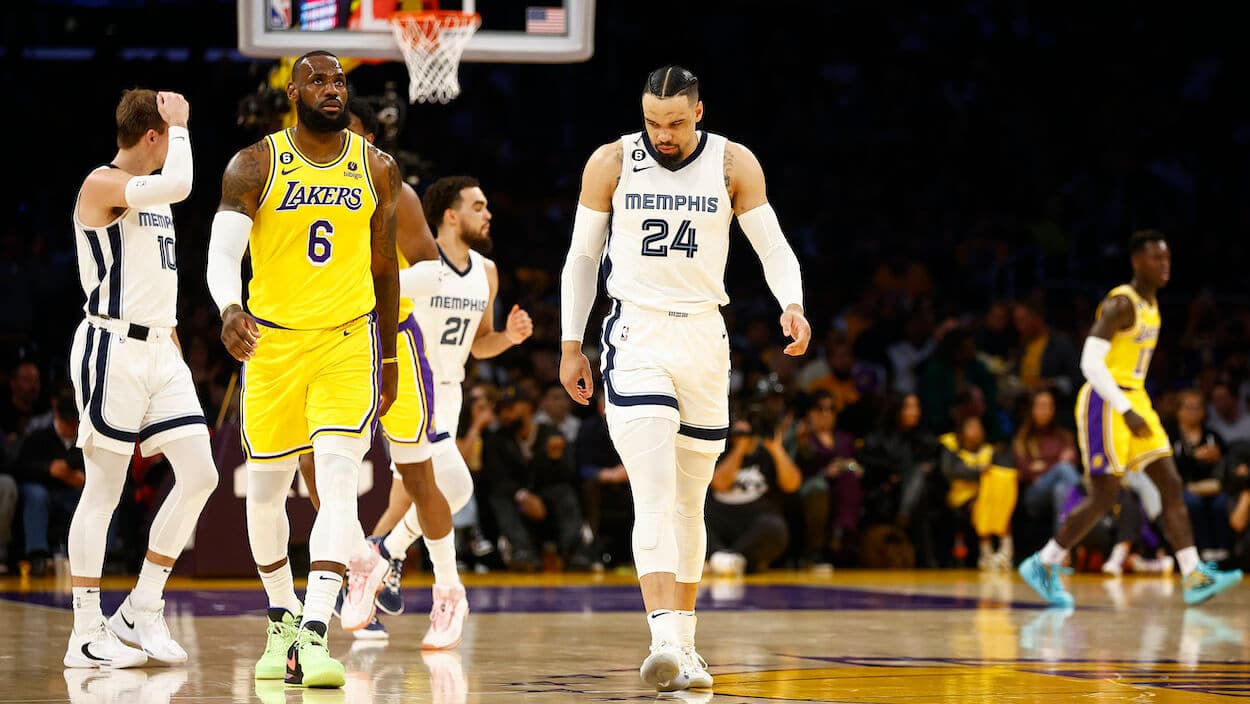 Aside from the maturity factor, there are several other reasons the Lakers are the better team in this series, despite needing to win in the play-in tournament to even get into the NBA playoffs.
One big issue for the Grizzlies is the loss of Steven Adams. The big man's injury leaves Jaren Jackson Jr. on an island against Anthony Davis while still having defensive help responsibilities. Even the Defensive Player of the Year can't overcome this lack of another big to help carry some of the weight.
Also, the Lakers' supporting cast has stepped up in a big way after general manager Rob Pelinka remade the roster midseason. Trade deadline acquisitions Rui Hachimura, D'Angelo Russell, and Jarred Vanderbilt have all been terrific at points in this series, and with less defensive attention, Austin Reaves has, too.
Finally, the Lakers will win Game 5 and move on to Round 2 because LeBron James is LeBron James, and Ja Morant isn't.
Morant is a fantastic player capable of incredible things. But he isn't able to meet the moment quite like James and can't lift his entire team to be better at all like James.
Maybe Morant and Dillon Brooks will be able to scrap and agitate and get one more win against the Lakers. But chances are, this series is already over.
And if it is, we probably won't get to hear Brook talk much about it after the final game.