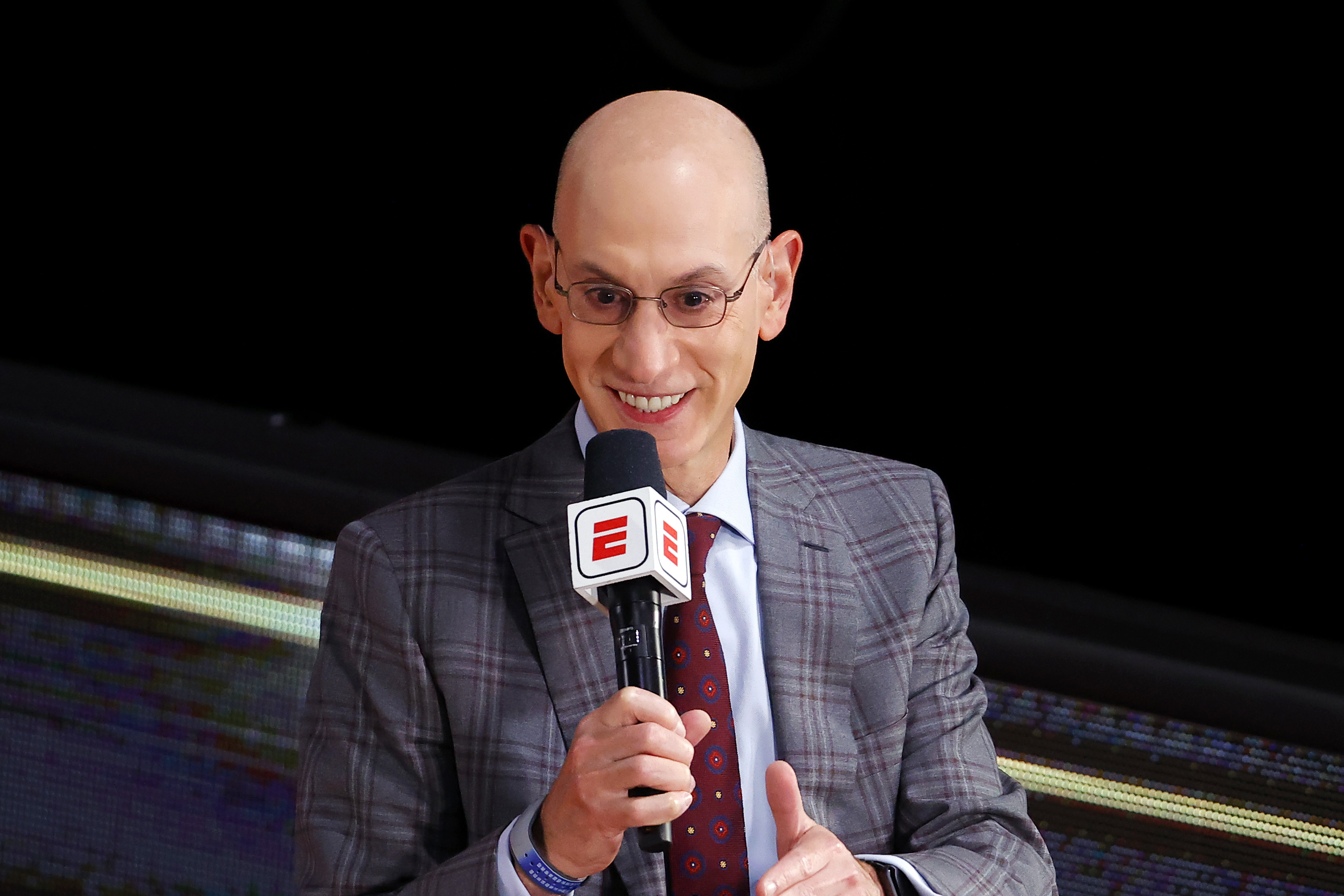 Did NBA Commissioner Adam Silver Ever Play Basketball?
Did NBA Commissioner Adam Silver, who stands 6-foot-3, ever play basketball at any significant level?
Adam Silver has emerged as one of the best, if not the best, commissioners in all of sports. Silver took over for the legendary David Stern in February of 2014 and has quickly made his mark in the game of basketball. As the NBA draft kicks off Wednesday, Silver has become one of the most prominent figures in the NBA. But did the 6-foot-3 Silver ever play basketball?
Adam Silver took charge right away when he became commissioner
Adam Silver replaced David Stern in February of 2014. Less than three months into his role as NBA Commissioner, Silver made a historic move. Silver banned former Los Angeles Clippers owner Donald Sterling for life.
A video of Sterling had been posted in April of him making racial comments during a conversation with his girlfriend. Silver took immediate action and banned Sterling for life, in addition to fining him the maximum $2.5 million. He also made it clear later in 2014 that he was in favor of legalized betting as long as it was properly regulated.
Silver is well-liked around the league. "Two things come across," said Spurs coach Gregg Popovich, according to Bleacher Report. "That he's sharp as a tack, like David (Stern), and secondly, I think he really loves the game. Those are two pretty good positions to begin from."
Silver was instrumental in saving the 2019-2020 season
When the coronavirus (COVID-19) struck in March, shutting down the NBA for four months, Adam Silver took charge once again. He brought the league into a 'bubble' in Orlando, Florida, to eliminate travel and help minimize the spread of the virus. Under his direction, the NBA had no positive COVID-19 cases while being secluded for the second part of the season.
Silver also helped raise awareness of social injustice. After the death of George Floyd on May 25, many NBA players voice their concern about re-starting the season for fear of taking attention away from the messages regarding racial inequality. Silver and the NBA allowed the players to be a voice in the fight against social injustice.
While in Orlando, the NBA courts had "Black Lives Matter" written down the sideline. Silver allowed players to have league-approved messages on the back of their jerseys regarding social justice. He also scrapped an old NBA rule that stated players must stand for the national anthem. Silver, citing changing times, allowed players to kneel during the anthem to protest the injustices if they wanted to.
Did Adam Silver ever play basketball?
Adam Silver is tall. He's the commissioner of the NBA. The logical question is: did he ever play basketball? Silver has always been a fan of the sport. He would attend New York Knicks games with his father, a season ticket holder, while growing up. Watching and playing, however, are two completely different things.
"I would come down from Rye and watch the games with him and we had great times together at the Garden. That was something we did together." Silver told Page Six in 2018. But did he play? "I am tall. I did play, but not well." Silver never played at any significant level.
Instead, he became a lawyer. Although Silver became the league's commissioner in 2014, he's been involved with the NBA since 1992. He was the league's chief operating officer and deputy commissioner under David Stern.