Jaeson Maravich, Son of Pete Maravich, 'Sick to My Stomach' Over How His Father's Record Could be Broken
Jaeson Maravich isn't a social media guy. The son of Pete Maravich posted to Facebook for the first time last week in order to get something off his chest. Last Thursday, Pete Maravich's 53-year-old college basketball scoring mark appeared to be safe after Detroit Mercy's fifth-year guard Antoine Davis fell three points shy of tying it in a season-ending loss. Detroit Mercy finished 14-19 and had no shot of qualifying for the NCAA tourney or the NIT.
Enter the College Basketball Invitational. The CBI is a little-known 16-team tournament that is made up of NCAA leftovers. Teams must pay $27,500 to enter, but they must be invited. With no requirement stating a team must be above .500, Detroit Mercy could get an invite because Davis could break Maravich's record on the CBI's watch and provide it with the publicity it desperately needs. The younger Maravich recently took to Facebook, stating he was "sick to my stomach" that his father's long-standing record could be bought.
Pete Maravich set his NCAA mark in three years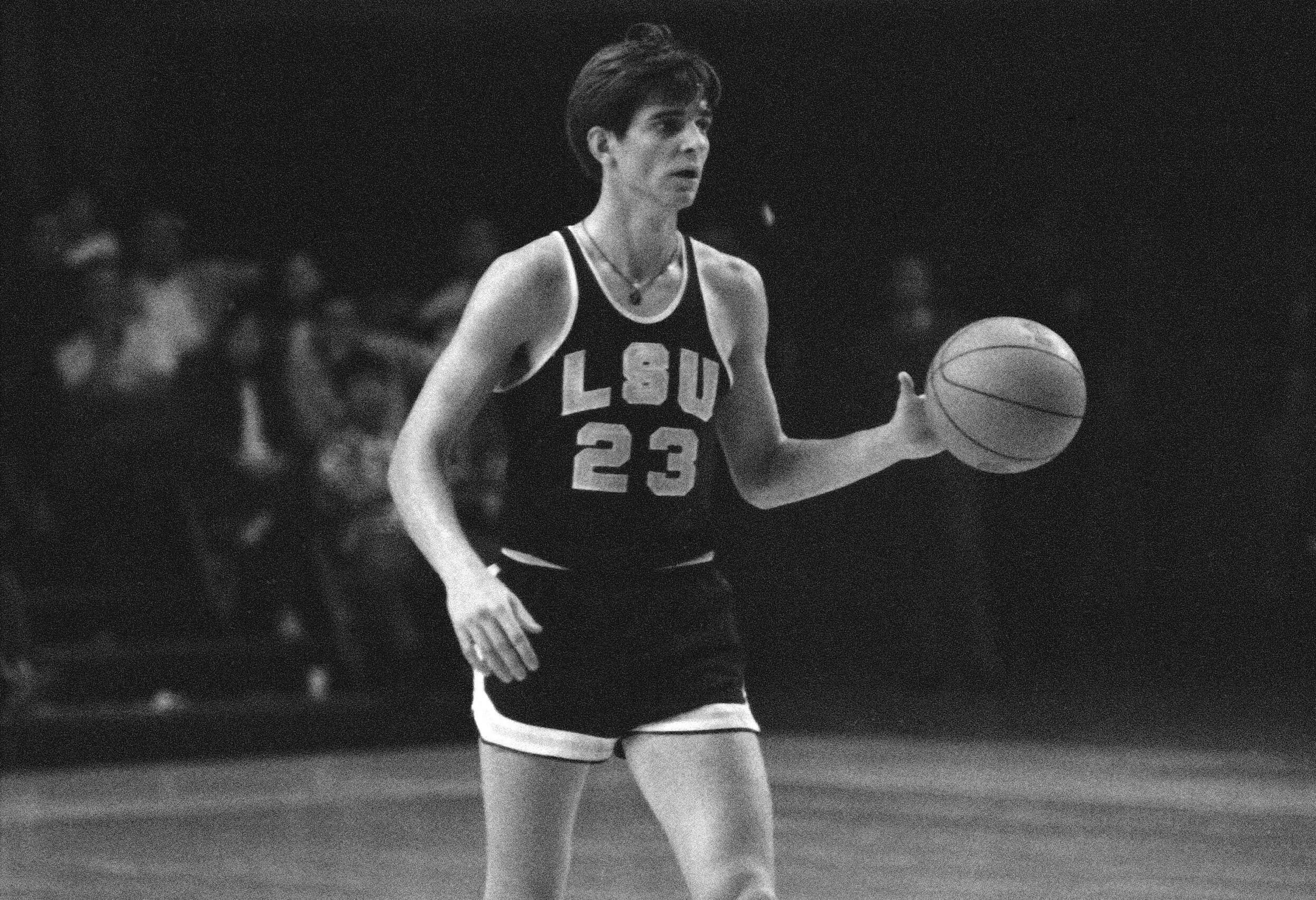 Anyone who knows college basketball knows Antoine Davis is no Pete Maravich. That is no knock on Davis. It just shows how dominant "Pistol Pete" was.
It took Maravich 83 games to collect his 3,667 points, an NCAA Division I men's basketball record he set in 1970. Davis needed a fifth season, one granted because of the COVID-19 pandemic, and 144 games to rack up 3,664 points. Not to mention, Maravich never had the benefit of a three-point line. There was also no shot clock, which would allow opposing teams to milk the clock, giving Maravich fewer possessions.
The CBI could give Davis a 145th game. An invitation to Detroit Mercy would be good for the CBI for about 10 minutes. Fans would likely tune in to see a 53-year-old record unjustly fall. Maravich would become No. 2 and Davis No. 1 on paper only. Paying for a record to be broken in a low-level tournament would be doing college basketball a disservice.
"It would be setting a bad precedent," Jaeson Maravich told Sportscasting on Wednesday. "What about the eight teams that finished ahead of them in their conference? They don't get an invite?
"I don't understand how the NCAA even counts these stats. How does this count when my dad's freshman stats don't count?"
Jaeson Maravich has been asked about this all week. In every interview, he has never put down Davis. And why should he? It's not Davis' fault he was given a fifth year.
"I haven't ripped the kid at all," he said. "I'm happy he's had a good run."
Playing a 145th game, however, would be a disgrace. At 14-19, you shouldn't be invited to any tournament. It's greed on the part of the CBI, and it's selfishness on Detroit Mercy's part if it accepts.
Jaeson Maravich posted he was 'sick to his stomach'
The only reason Jaeson has Facebook is because he lost a bet with his friend. He signed up for it years ago and never used it — until this week.
"It's my first post in about 15 years," he said. "My first ever. I had to get this off my chest. I posted it and someone told me it was going viral, and I didn't even know what that meant."
In his post, he wrote in part:
This is about a BS tournament called the CBI college basketball invitational which is basically an AAU tournament where teams can pay $50,000 to get in or they can be invited and it still counts towards their statistics from the regular season it has nothing to do with the NCAA or nit. I feel like this record he is about to break of my dad's is being given to him and not earned which is just like society today things are not earned they are just given. This supposed joke of a tournament had 16 teams in it last year and not one team with a losing record was invited yet now they will invite Detroit Mercy who has a record of 14 and 19 I wonder why they are being invited at all but we really know why the idiot running the tournament wants the publicity.
He ended the post by saying he believed paying to play in a tournament they wouldn't normally be invited to is "a sham" and "makes me sick to my stomach."
Jaeson admitted to Sportscasting that it's been an incredibly frustrating week for him, but he also said that he's at peace with whatever happens because there is nothing he can do about it.