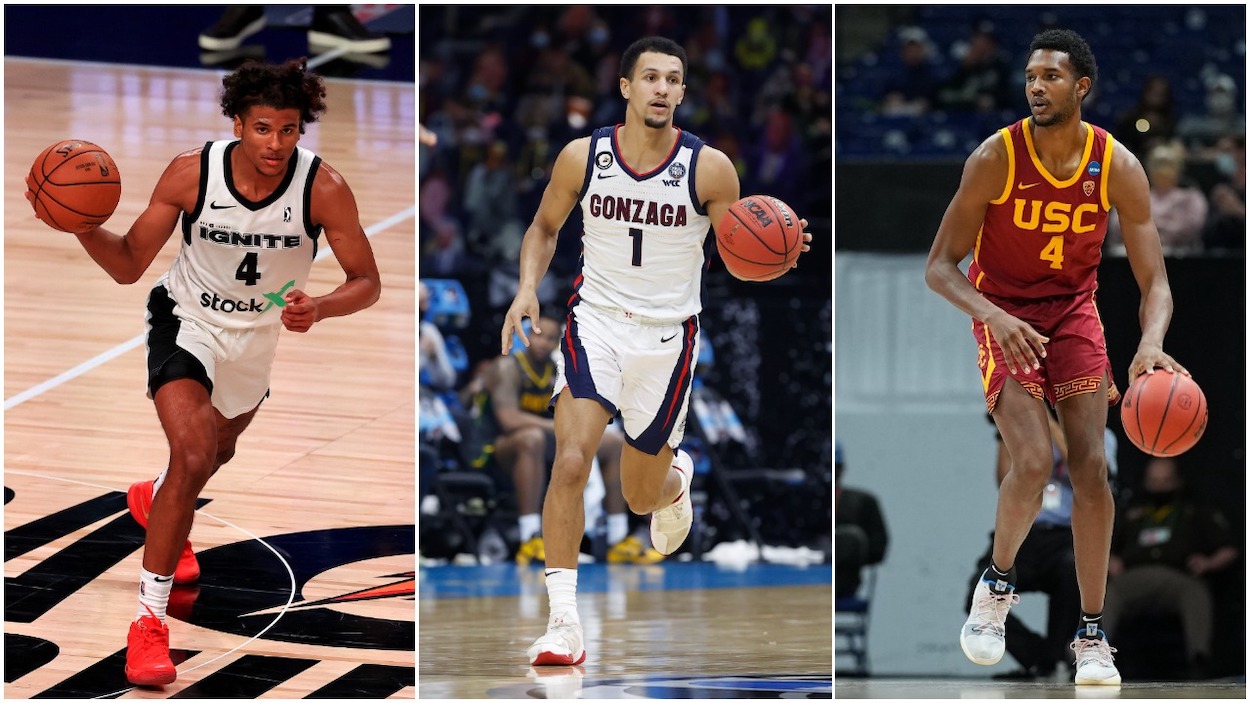 Jalen Green, Jalen Suggs, and Evan Mobley Sign Deals to Team up With Damian Lillard, James Harden, and Trae Young
Jalen Green, Jalen Suggs, and Evan Mobley will be top picks in the 2021 NBA draft but they also have something else in common. The three stars signed deals to endorse Adidas. They join other athletes representing the brand like James Harden, Damian Lillard, Trae Young, Candace Parker, Patrick Mahomes, Aaron Rodgers, and Lionel Messi.
Jalen Green from G League Ignite, USC's Evan Mobley, and Gonzaga's Jalen Suggs are still hours away from finding out who their NBA teammates will be. However, these three budding superstars already know who their teammates will be in the sneaker wars. Green, Mobley, and Suggs signed multi-year deals to rep Adidas, spurning other popular brands like Nike, Reebok, and Converse. 
The addition of Green, Suggs, and Mobley to the Adidas family is a massive coup for the footwear and apparel brand. Signing three of the top five prospects in the 2021 NBA draft adds even more young, impressive pitch-men to the company's growing stable. 
Jalen Green, Jalen Suggs, and Evan Mobley all signed multi-year deals with Adidas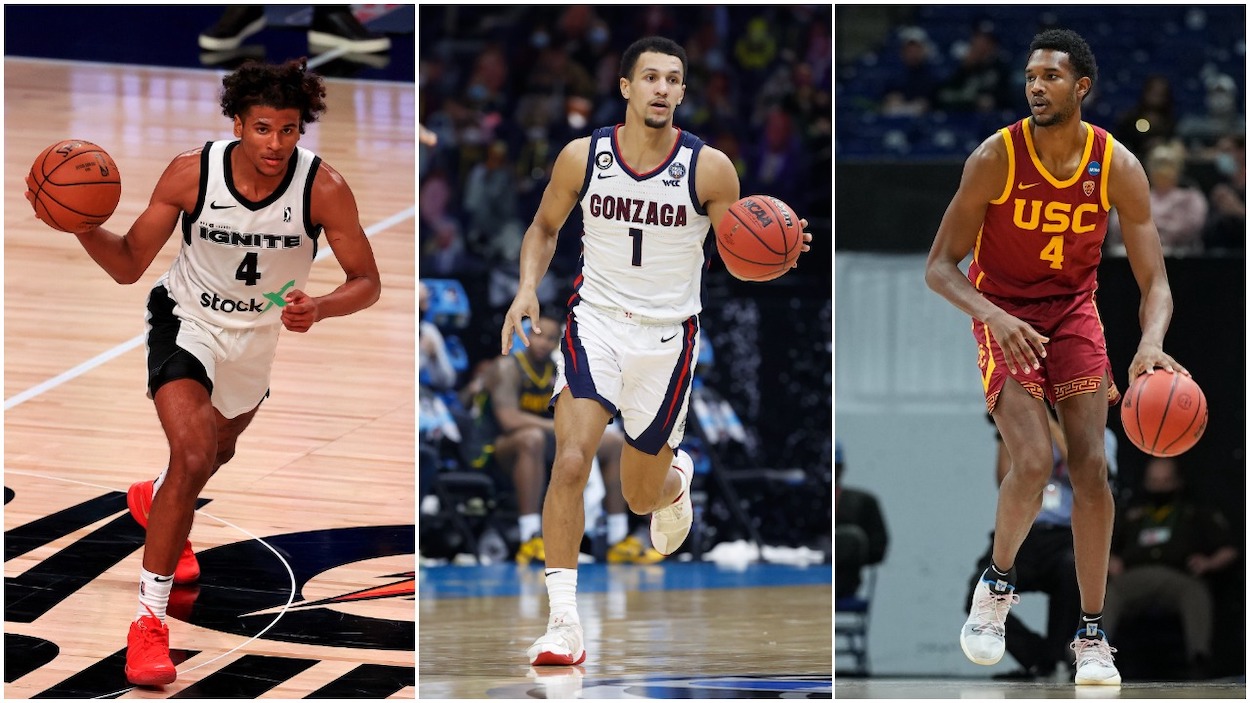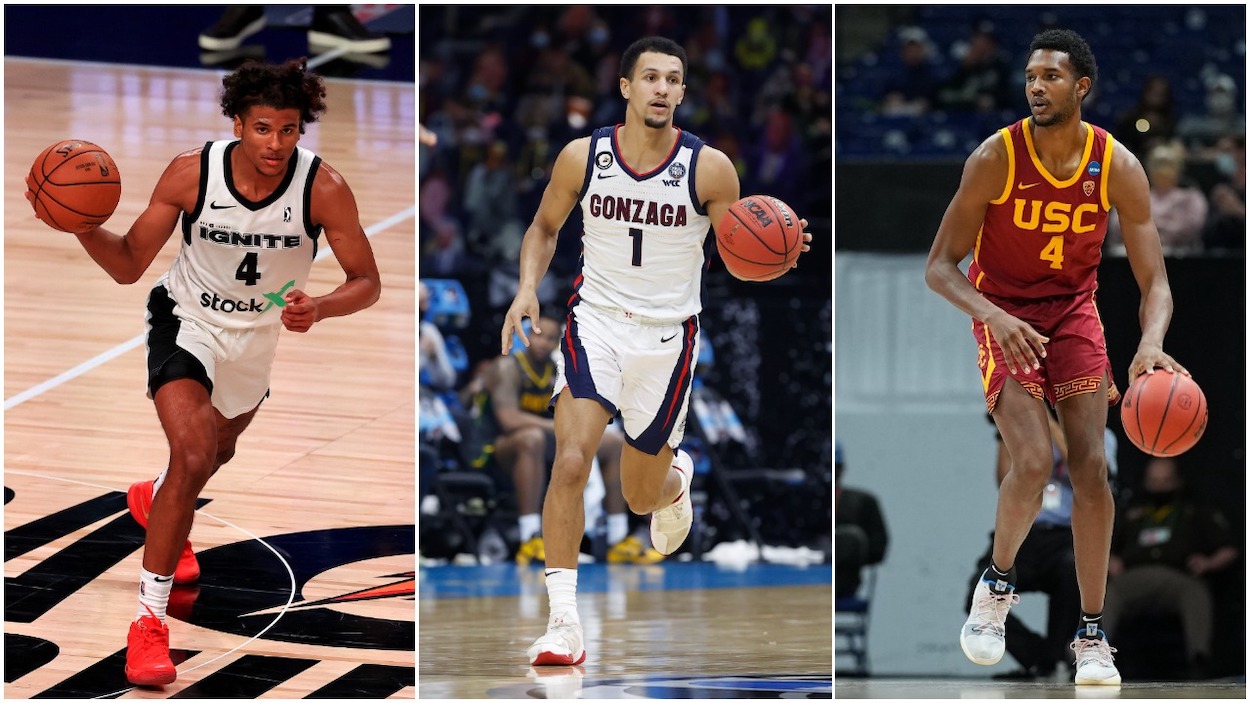 Jalen Green, Jalen Suggs, and Evan Mobley all signed endorsement deals with Adidas, per ESPN. These three players will all go at the top of the 2021 NBA draft. This should help bring young fans into the brand. Auburn guard and mid-to-late first-round pick Sharife Cooper will also join the team. 
Each individual brings something unique to our team. From their talent and work ethic on the court, to a community-first mindset, values and openness to collaboration, we cannot wait to see where this week takes them.

Eric Wise, global general manager of basketball at Adidas on Jalen Green, Jalen Suggs, and Evan Mobley
Several factors are drawing young stars to Adidas in 2021. The brand recently merged their Originals and Basketball departments. This is helping give players more shoe and marketing opportunities in the off-the-court sneaker culture space as well as the pure basketball realm. The company also has iconic designer Jerry Lorenzo leading its creative and business strategy, which is appealing to young talent. 
Adidas has a young, talented roster of NBA endorsers
Adidas can't compete with Nike for pure NBA star power. Michael Jordan, LeBron James, Kevin Durant, and Giannis Antetokounmpo are all Nike stars. Presumed No. 1 overall pick in 2021 Cade Cunningham is now a Nike athlete too. 
That isn't to say Adidas doesn't have a tremendous roster of its own. While the Germany-based company doesn't have the Face of the League-type players, it does have an incredible list of younger, slightly edgier NBA stars. 
The signature Adidas NBA players in 2021 include James Harden, Damian Lillard, Trae Young, Donovan Mitchell, Derrick Rose. The company also has last year's No. 1 overall pick, Anthony Edwards. This mix of players fits nicely with Adidas' brand image, an image led by rapper Kanye West and his wildly popular Yeezy shoes. 
Jalen Green, Jalen Suggs, and Evan Mobley could all be stars in the NBA which will help the overall profile of the Adidas brand get closer to their biggest rival.
Adidas is a diverse and global brand with top endorsers in many sports 
While Nike may win the basketball battle in the NBA, Adidas' stable of athlete endorsers in other sports and around the world compares very favorably to Nike. It even bests the Oregon shoe monolith in some cases. 
Adidas is heavily invested in WNBA players and some of the biggest stars, rep the brand. This includes Candace Parker, Liz Cambage, Tina Charles, Chiney Ogwumike, and Chelsea Gray. 
In the NFL, Adidas is growing its brand there too. The company focuses on young stars here, too, evidenced by the NFL's 2021 No. 1 overall pick Trevor Lawrence's Adidas deal and the signing of the biggest young star in the league, Patrick Mahomes. The football roster also includes Tyreek Hill, Myles Garrett, and Aaron Rodgers.
Adidas' most prominent play, though, may be in international soccer. The company has jersey sponsorship deals with some of the biggest clubs in the world, including Juventus (Italy), Manchester United (England), and Bayern Munich (Germany). 
On the player side, Adidas sponsors one of the best players in the world and possibly the greatest of all time, Lionel Messi. Additionally, the brand has deals with international stars like Paul Pogba, Mohamed Salah, Joao Felix, Toni Kross, and teenage phenoms Gio Reyna and Jude Bellingham. 
Jalen Green, Jalen Suggs, and Evan Mobley are perfect fits for this global Adidas team and should help grow the brand overall and in the NBA space. 
Like Sportscasting on Facebook. Follow us on Twitter @sportscasting19