You know Duke and Kentucky and Michigan and even Gonzaga. In addition to prospects from these NCAA schools and others, you'll also see international prospects from Turkey and Spain and Serbia, and France in the 2021 NBA draft. The one name you may not know next to some top NBA prospects is G League Ignite. 
This team of young, high-potential players is a new concept the NBA developed to provide a home for top post-high school basketball players who don't want to (or can't) go to college or play professionally overseas. 
NBA G League Ignite develops top prospects on and off the court.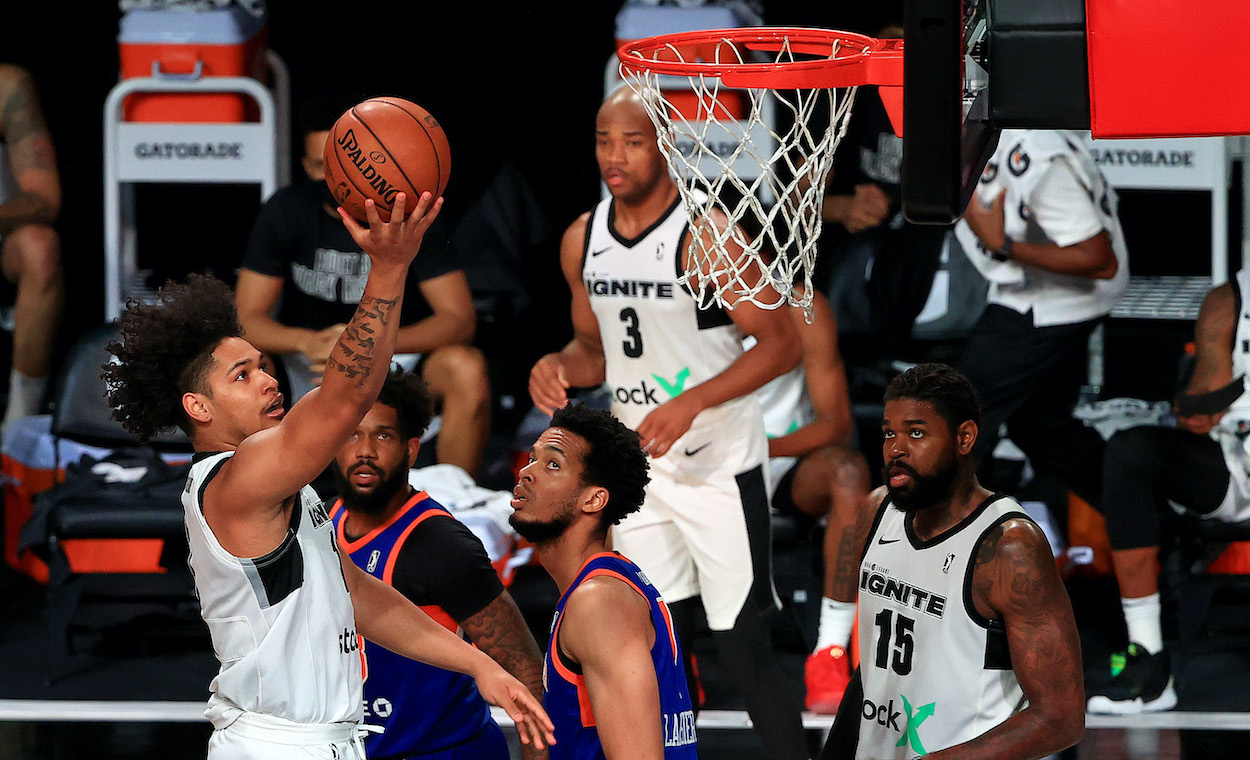 G League Ignite is one of the 30 teams in the NBA G League based in Walnut Creek, California. This developmental basketball league is similar to the minor leagues in baseball or hockey. Many of the teams have NBA affiliates, and they act as a feeder system for the NBA. 
The G League's website explains the Ignite squad as: 
NBA G League Ignite is a first-of-its-kind team dedicated to developing top young prospects in preparation for the NBA Draft. Based in the San Francisco Bay Area, the roster includes elite players who are eligible for the NBA Draft as well as NBA and NBA G League veterans who serve as mentors to the team's young talent. The program focuses on high-level competition and accelerated on-court development for players who are beginning their professional careers.

About G League Ignite from official website
In addition to the on-court development, the team's mission also includes helping prospects develop some of the off-court skills they'd theoretically learn in college. This includes "financial literacy education, community service involvement, and scholarship opportunities."
In 2018, the G League began offering a "Select Contract" for elite high school players before becoming eligible for the draft, per Forbes. These $125,000 contracts didn't catch on. In 2020, the NBA tried again, creating Ignite and offering contracts up to $500,000 plus bonuses. This started attracting top talent.  
The first crop of G League Ignite stars are coming out in the 2021 NBA draft
After the Select Contract idea crashed and burned, the dedicated team (and higher paychecks) caught the eye of some of the top talent in the country. Specifically, No. 1 overall 2020 recruit Jalen Green. 
The five-star prospect told Sports Illustrated, "I want to play in the NBA. I want to be Rookie of the Year. To me, this was the best way to do that."
Several other top prospects joined Green on the inaugural team. Forward Jonathan Kuminga should be a top 10 pick in this draft. Center Isiah Todd and guard Daishen Nix will be second-round picks. 
Several top 2022 prospects are committing to Ignite
Green, Kuminga, Todd, and Nix may be trendsetters in the basketball world. While this G League Ignite season was challenging – it was 13 games in a bubble in Orlando due to COVID-19 – other players are looking at this team as a legitimate option now. 
Three five-star recruits have already committed to Ignite for the 2021-22 season. This includes Scoot Henderson, the top point guard in the country from Marietta, Georgia. There's also Jaden Hardy, the top shooting guard from Detroit, Michigan, and Michael Foster Jr., the fourth-ranked power forward from Milwaukee, Wisconsin. 
In addition to these three stateside G League Ignite players, the team also announced that Dyson Daniels, a top guard prospect from Australia, will also be joining next year's squad. 
As more of these players find NBA draft success and then success in the league, more and more players may opt for this professional option over college basketball. 
Like Sportscasting on Facebook. Follow us on Twitter @sportscasting19