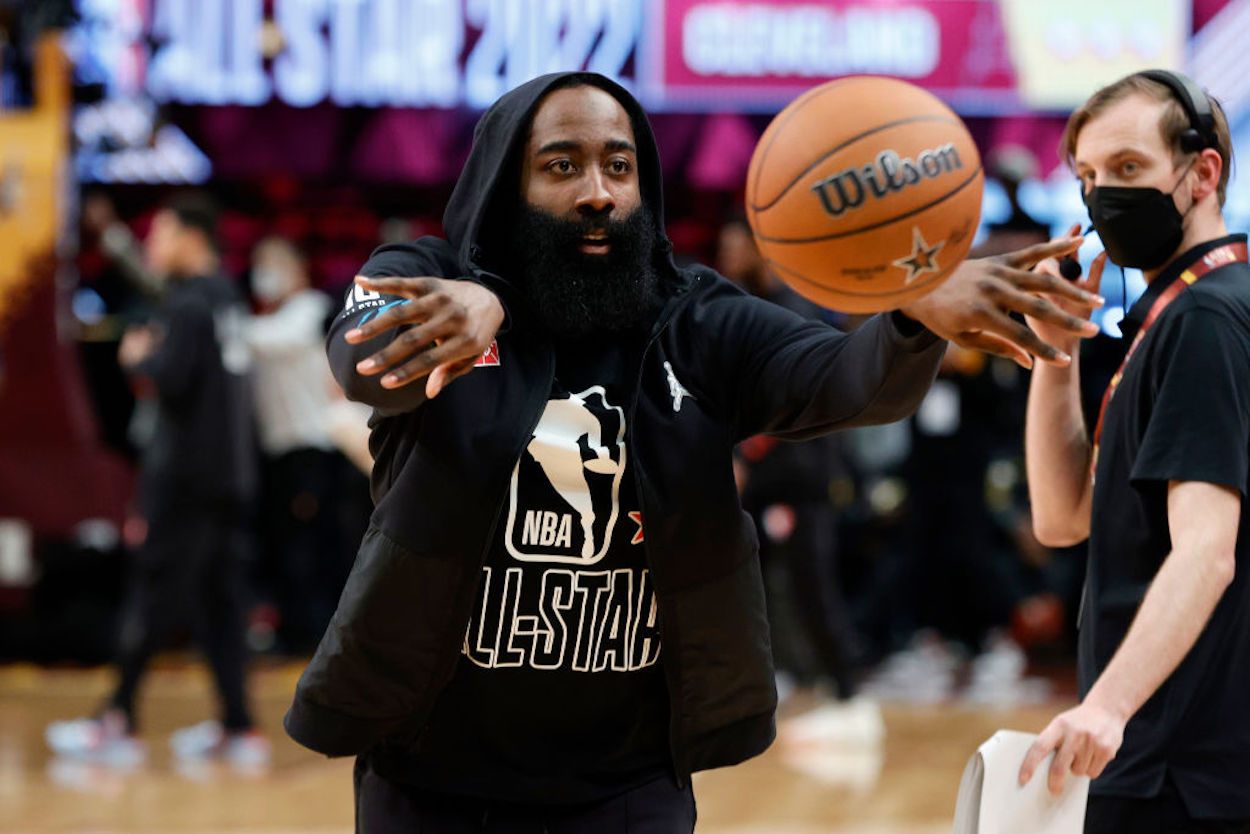 James Harden's Underrated Skill is the Biggest Thing to Watch in His 76ers Debut
James Harden's scoring touch may get most of the headlines, but pay attention to his passing when he makes his 76ers debut.
Assuming there's no last-minute change, a new era of Philadelphia 76ers basketball will begin on Friday night. Ben Simmons has officially headed north to Brooklyn, and James Harden will step into the starting lineup. For those in the City of Brotherly Love, the date with the Timberwolves will understandably be must-see TV.
It's safe to assume that Harden will shine offensively — for all of his flaws, the beaded guard is one of basketball's purest scorers — but you should pay attention to something a bit less striking. His passing will be something to watch, as it could indicate exactly how far the 76ers can go this season.
James Harden is an explosive scorer and an underrated passer
Even in a high-scoring game like basketball, putting points on the board is an invaluable skill. That explains why James Harden keeps finding a home, despite some well-publicized attitude issues.
At this point, it's almost worthless to go over the finer points of the guard's offensive game. Harden is an elite isolation scorer, capable of doing almost anything he wants on the offensive end. He's a capable three-point shooter, averaging 36.2% from deep over the course of his career, and has a knack for making his way to the free-throw line, despite the NBA's best efforts. Even if his game isn't the most aesthetically pleasing, few players can score with the same level of ease and regularity.
While that scoring touch understandably steals most of the headlines, Harden can do more than simply put the ball in the basket. He's a decent rebounder for a guard (5.6 per game for his career, although that number has been higher in recent seasons) and is a much better passer than you might expect. Despite his reputation as somewhat of a ball-stopper, the new 76er has averaged more than 10 assists per outing across four different campaigns; assuming nothing changes too drastically in Philadelphia, he'll add a fifth at the end of the 2021-22 regular season.
That passing skill is something to watch in Harden's Philadelphia 76ers debut
It goes without saying that James Harden will help the 76ers win by putting the ball in the basket. During his debut, though, his passing could be the more interesting thing to watch.
While the bearded one probably hasn't built up much chemistry with his new teammates, things seem pretty mouth-watering on paper. Joel Embiid is obviously the biggest part of Philly's offense, and it's easy to see how he compliments Harden in a slightly modernized version of the classic "big man-little man" partnership. When we zoom out even further, though, the possibilities multiply.
With Harden handling the ball, Furkan Korkmaz can take on a bit less responsibility and play as more of a pure shooter. Danny Green should also have a field day as defenders either try to force the ball out of the guard's hands or collapse onto Embiid in the post. Tobias Harris is also a capable scorer who will get fewer touches but should also find himself in more beneficial situations.
On Friday night and during the rest of his adjustment period, keep an eye on where James Harden passes the ball. Not only will it give you a new appreciation of his game — he really is more than an isolation scorer — but it will provide an early glimpse into how Philly will run things for the rest of the year. Who gets the touches? Where does the ball go when Harden is forced to pass? At this point, there's nothing more than exciting hypotheticals.
If things work properly, they should be able to assemble one of the league's elite offensive units. In practice, though, things can be a bit more complicated. Just ask the Brooklyn Nets how things went when James Harden, Kyrie Irving, and Kevin Durant were supposed to lead them to a championship.
Stats courtesy of Basketball-Reference