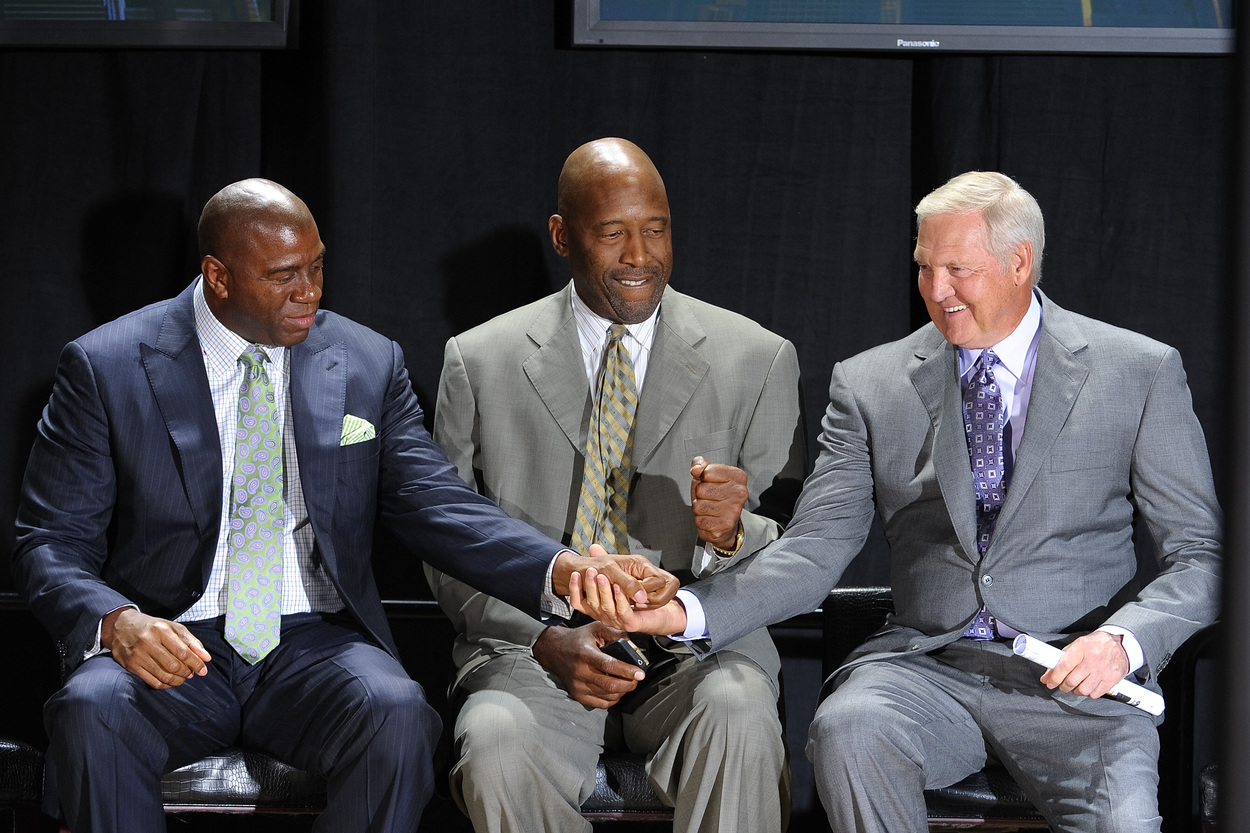 James Worthy's Lakers Career Was Almost Cut Short After a Puzzling Suggestion by Magic Johnson
Magic Johnson nearly sunk the Showtime Lakers by suggesting a trade involving future Hall of Famer James Worthy.
The "Showtime" Los Angeles Lakers more or less dominated the 1980s. With legends Magic Johnson and Kareem Abdul-Jabbar along with Hall of Famer James Worthy, LA participated in eight of a possible 10 NBA Finals from 1980 through 1989.
So in those rare exceptions when the Lakers fell short of expectations, swift changes came knocking. Following a first-round exit in 1981, LA added Bob McAdoo and Kurt Rambis and fired head coach Paul Westhead just days into the 1981-82 season. And after a bad loss to the Houston Rockets in the 1986 Western Conference Finals, Magic convinced owner Jerry Buss to make a move that would've had devastating consequences.
Magic Johnson pitched an idea that involved trading James Worthy
Worthy, the first-overall pick of the 1982 NBA Draft, started his Lakers career as a talented-yet-raw role player. But by his fourth season, the UNC star averaged 20.0 points and earned his first All-Star appearance. He carried his success over to the playoffs, averaging 20.2 points in the Western Conference Finals.
However, Worthy's efforts weren't enough to carry LA. They weren't close, in fact, as Houston's big man combo of Hakeen Olajuwon and Ralph Sampson wiped the floor with the defending champs in a five-game drubbing.
Facing a longer-than-usual offseason, the Lakers were wondering what improvements they could make to a roster that won 62 games. Enter Johnson, who planted an idea in Buss' mind of how to take the Purple and Gold to the next level.
Over the years, Magic became good friends with Dallas Mavericks star Mark Aguirre. A Midwest kid just like Johnson, Aguirre was the draft's top pick out of DePaul in 1981, one year ahead of Worthy. The 6-foot-6 forward averaged over 22 points in four straight seasons, including a whopping 29.5 in 1983-84. He also averaged 27.2 points, 7.7 rebounds, and 6.2 assists in Dallas' six-game loss to LA in '86.
Johnson and Aguirre were close friends. Johnson and Buss were very close, as well. So it makes sense that Magic would sell the successful owner on the idea of the talented Aguirre being the missing piece for LA. Even if it meant parting with the improved Worthy to make it happen.
Jerry West was able to stop the deal from going through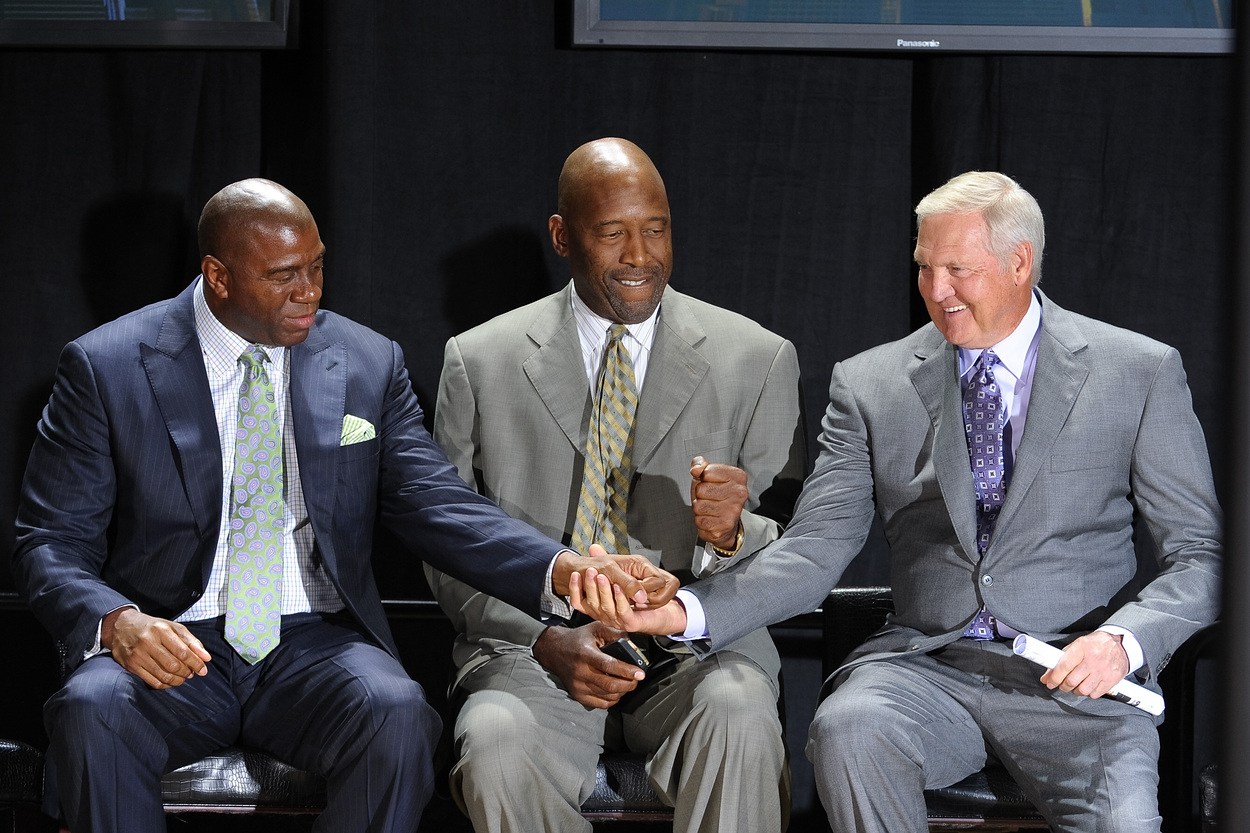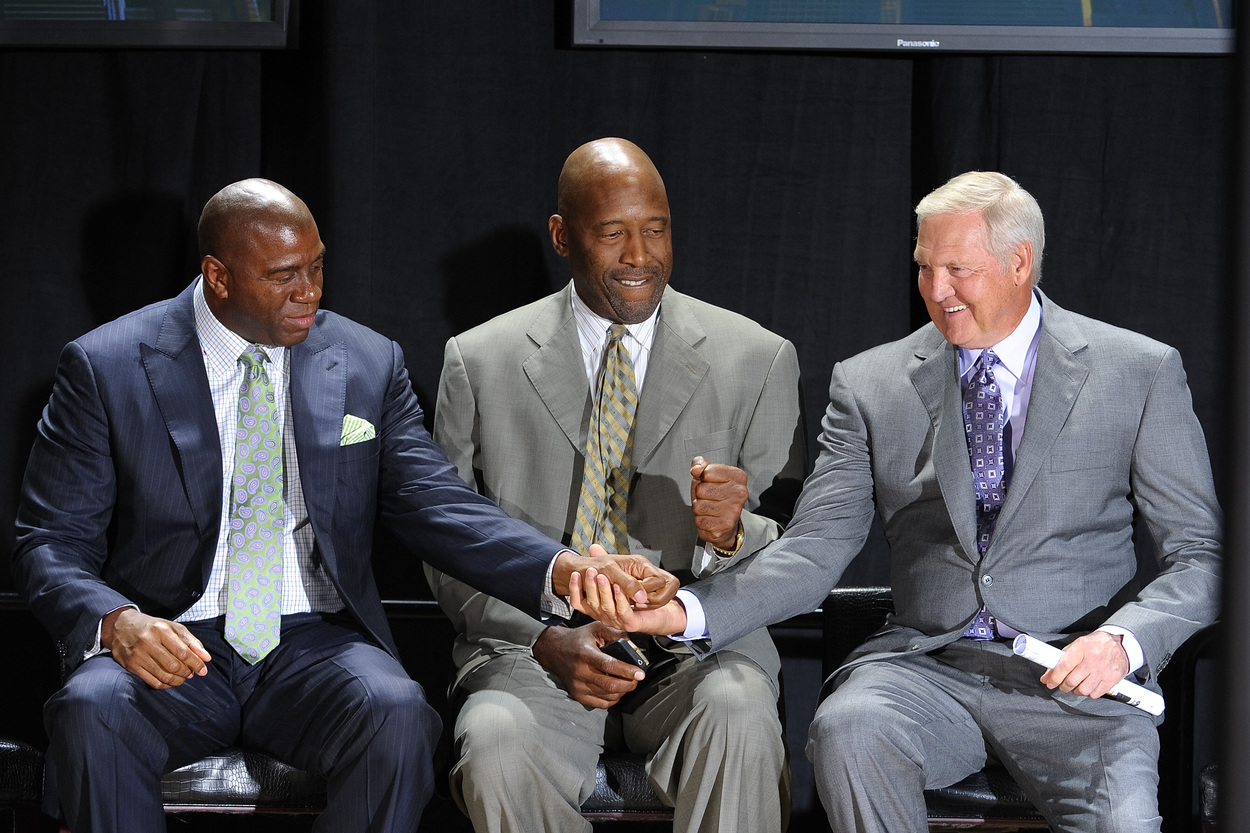 At Johnson's recommendation, Buss called Dallas' owner Donald Carter a few days before the '86 Draft. The two men were able to work out a deal to send Worthy to the Mavs in exchange for Aguirre and the seventh overall pick, which was used on Michigan big man Roy Tarpley. The trade was ready to go all the way up until draft day.
Then Jerry West found out.
West, the team's GM, was never consulted by Magic or Buss about the trade. Once he heard the details, he called Buss to voice his complaints.
"[West] called Buss and told him the trade was an enormous blunder and that Aguirre — while talented — was a me-first player who would destroy the Lakers' chemistry," Jeff Pearlman wrote in the book Showtime: Magic, Kareem, Riley, and the Los Angeles Lakers Dynasty of the 1980s. "Worthy, he explained, could do 20 different things to help a team win. If Aguirre wasn't receiving the ball and scoring, he was useless."
The Logo then made his position crystal clear. If Buss sided with Magic and executed this deal, he'd be forced to find a new general manager (h/t: Showtime).
Buss informed West that he and Carter had already finalized the transaction. Had papers been signed? No. Had players been alerted? No. The media? No. "Then," West said, "it's not done." The general manager gave the owner and ultimatum: "If this goes through, I quit."

Buss caved.

Jeff Pearlman
Thanks to West's strong plea, Buss called Carter to back out of the deal. While they wouldn't be getting a high scorer and a top pick, the All-Star Worthy was staying right where he belonged.
James Worthy helped lead Magic and the Lakers to two more championships
Sometimes, the best moves are the ones you don't make. Aguirre was never able to win until taking more of a complementary role with the "Bad Boy" Detroit Pistons in 1989. Meanwhile, Tarpley's NBA career was limited to 280 games across 10 years due to problems with substance abuse.
As for Worthy? The All-Star was just about to hit his prime.
Following his breakthrough 1985-86 campaign, Worthy would go on to make six consecutive All-Star teams. He started all 82 games in 1986-87, helping the Lakers defeat the hated Boston Celtics in the NBA Finals. The next year, Big Game James lived up to his nickname by dropping 36 points, 16 rebounds, and 10 assists in LA's Game 7 win over the Pistons. His performance in the series-clinching game earned the 27-year-old Finals MVP honors.
Even after Kareem's retirement in '89 and Magic's HIV diagnosis in '91, Worthy's Laker career continued. The 6-foot-9 forward played all the way through the 1993-94 season, averaging 10.2 points in 20.0 minutes while serving as the last remnant of Showtime.
Part of what made the Lakers so dominant was their willingness to add new pieces into the mix in order to strike the right balance of talent and chemistry. By trading Worthy, LA's dynasty would've expired several years too early.
All statistics courtesy of Basketball Reference.