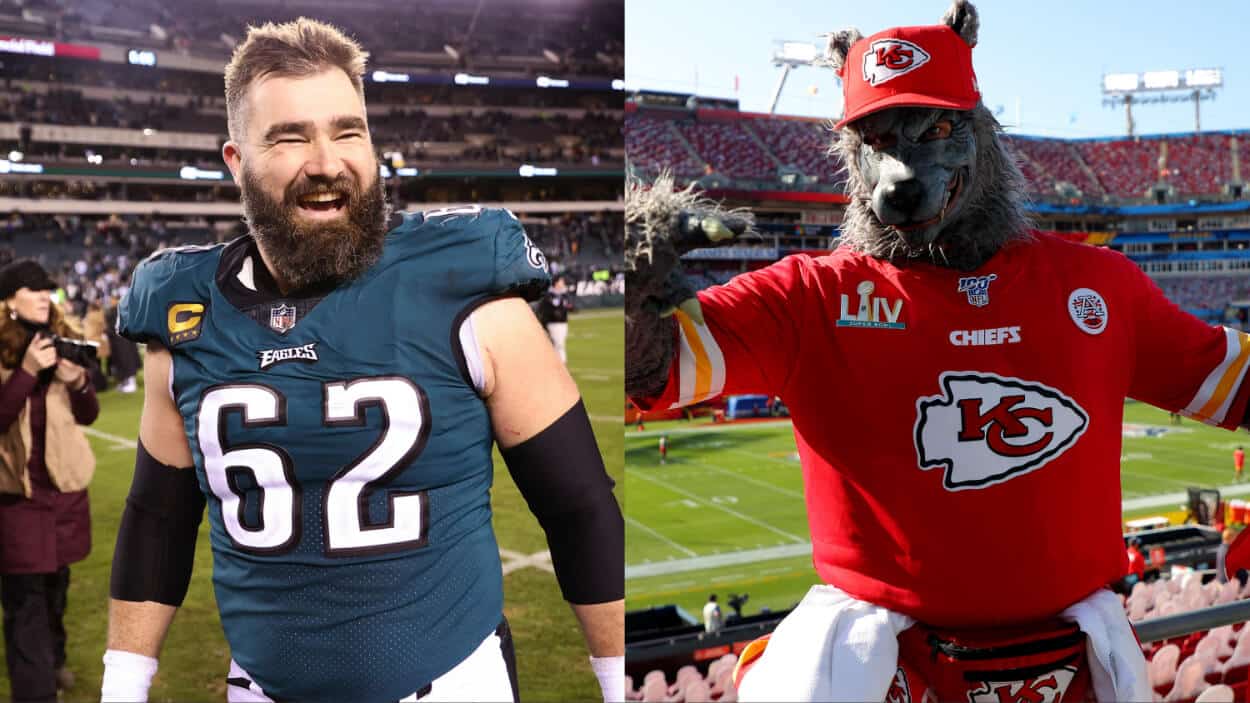 Jason Kelce Reaches out to On-The-Lamb Fugitive for Podcast Appearance, and Fans Aren't Happy
Jason Kelce sent an invite for Chiefs superfan, alleged bank robber, and fugitive 'Chiefsaholic' to come on his podcast and fans aren't happy.
An infamous Kansas City Chiefs fan is on the run from the law, wanted on charges of bank robbery. And Philadelphia Eagles center Jason Kelce wants "Chiefsaholic" to come on the New Heights podcast to tell his side of the story to Jason and his brother, Chiefs tight end Travis Kelce. What could go wrong?
Jason Kelce invited alleged bank-robbing fugitive 'Chiefsaholic' on his podcast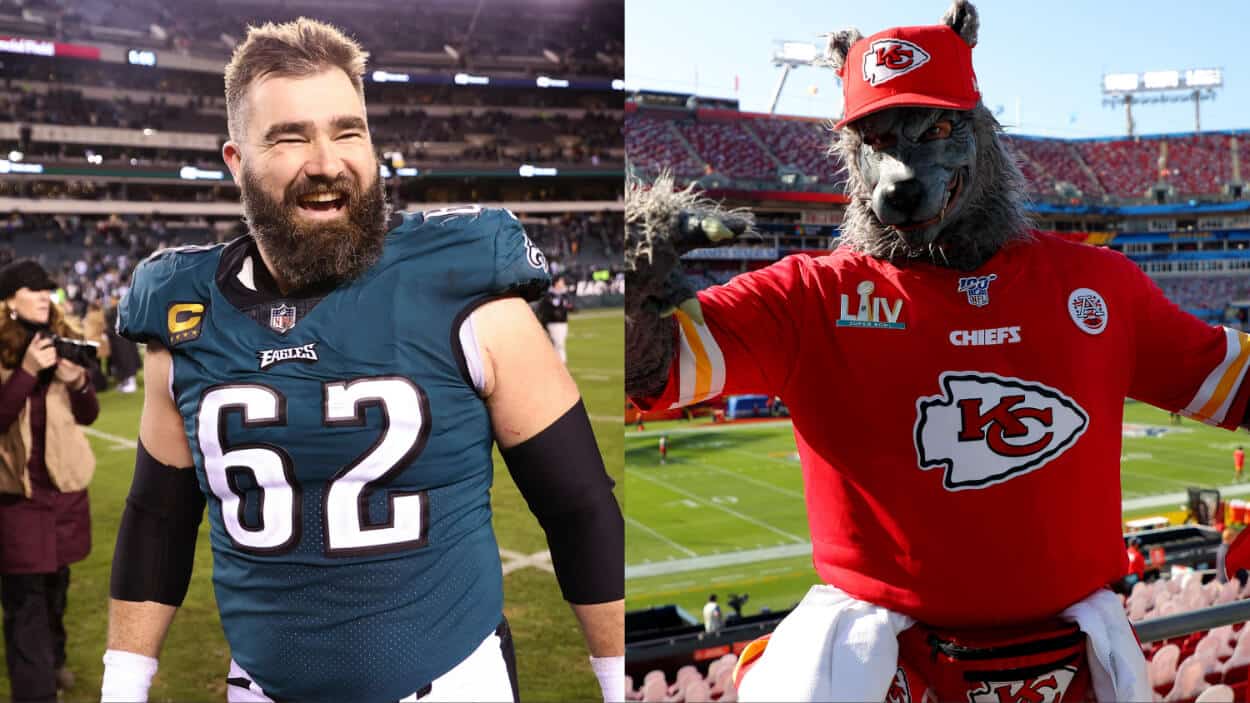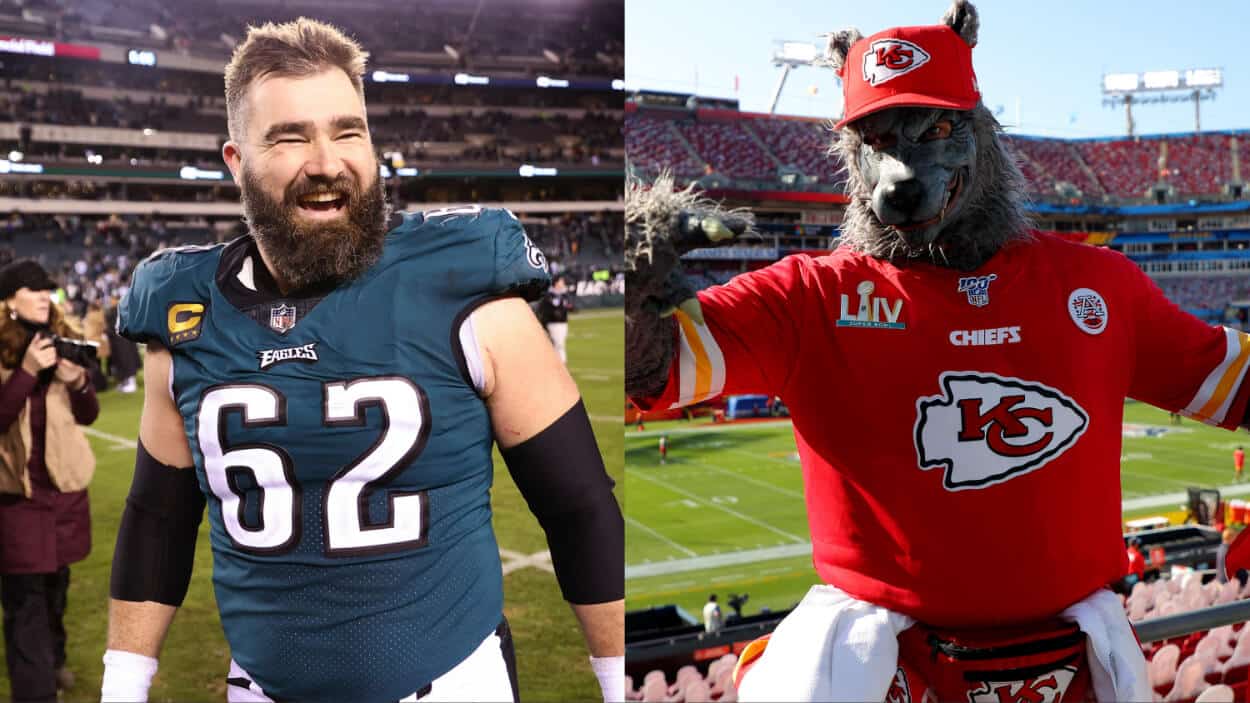 One of the most recognizable Chiefs fans in the world is Xaviar Babudar. While you may not know that name, you may know his "Chiefsaholic" character, a furry werewolf dressed head to toe in Chiefs gear.
In addition to his outlandish getup, "Chiefsaholic" also gained notoriety on social media thanks in part to posting about massive sports bets and a high-roller lifestyle. However, when fans questioned how Babudar afforded this lifestyle and the media started digging, things didn't add up.
Ultimately, Tulsa, Oklahoma police arrested the Kansas City native in December 2022 for robbing a local Tulsa bank with a "CO2 pistol," according to the New York Times.
Since then, Babudar has been out of jail awaiting trial but was required to stay in Tulsa and wear a GPS monitor on his ankle. On Saturday, March 25, Babudar cut off his ankle monitor and is now a fugitive.
Several days after Babudar went on the lamb, Jason Kelce reached out via Twitter to "Chiefsaholic" to book him as a guest on the Kelce brothers' podcast, New Heights.
"Chiefsaholic, I don't know where you are, but my brother and I would love to have you on @newheightshow to tell your story. We will go wherever, and disclose nothing for the sake of journalism."
The reaction to the post was swift on social media, with many fans voicing their displeasure with what they saw as Jason Kelce glorifying an alleged bank robber.
One Twitter user chastised the center, "Don't make a hero out of a person who pointed a gun at another person's head. Cmon, your better than that @JasonKelce."
"I appreciate this, I certainly would never make him a hero," Kelce responded.
Another fan tweeted, "This isn't going the way you thought it would, is it?"  
"No, I thought it was funny, guess this one's a miss," Kelce admitted. "I'll make my anti-bank robbing stance more known from here on out."
There is no word as to whether or not either Jason Kelce or Travis Kelce has heard from "Chiefsaholic" yet. Still, even if they do, it sounds like the podcast invitation may no longer be valid after Jason got destroyed for this initial offer.