Jason Kidd Cruelly Forced Milwaukee Bucks Players to Cancel Their Holiday Flights and Come to Practice to Run Sprints on Christmas Eve: 'We Didn't Have Energy Left to Open Gifts'
The Dallas Mavericks might already be regretting their decision to hire Jason Kidd as their next head coach.
Mirin Fader's newly published book, Giannis: The Improbable Rise of an NBA MVP, details a story from Kidd's tenure with the Milwaukee Bucks in which he made his players cancel their holiday flights and come to practice on Christmas Eve after one bad game. It was a puzzing move that fractured his relationship with the team for good, and now the Mavericks are just hoping Kidd doesn't do the same in Dallas.
Jason Kidd's disappointing tenure with the Bucks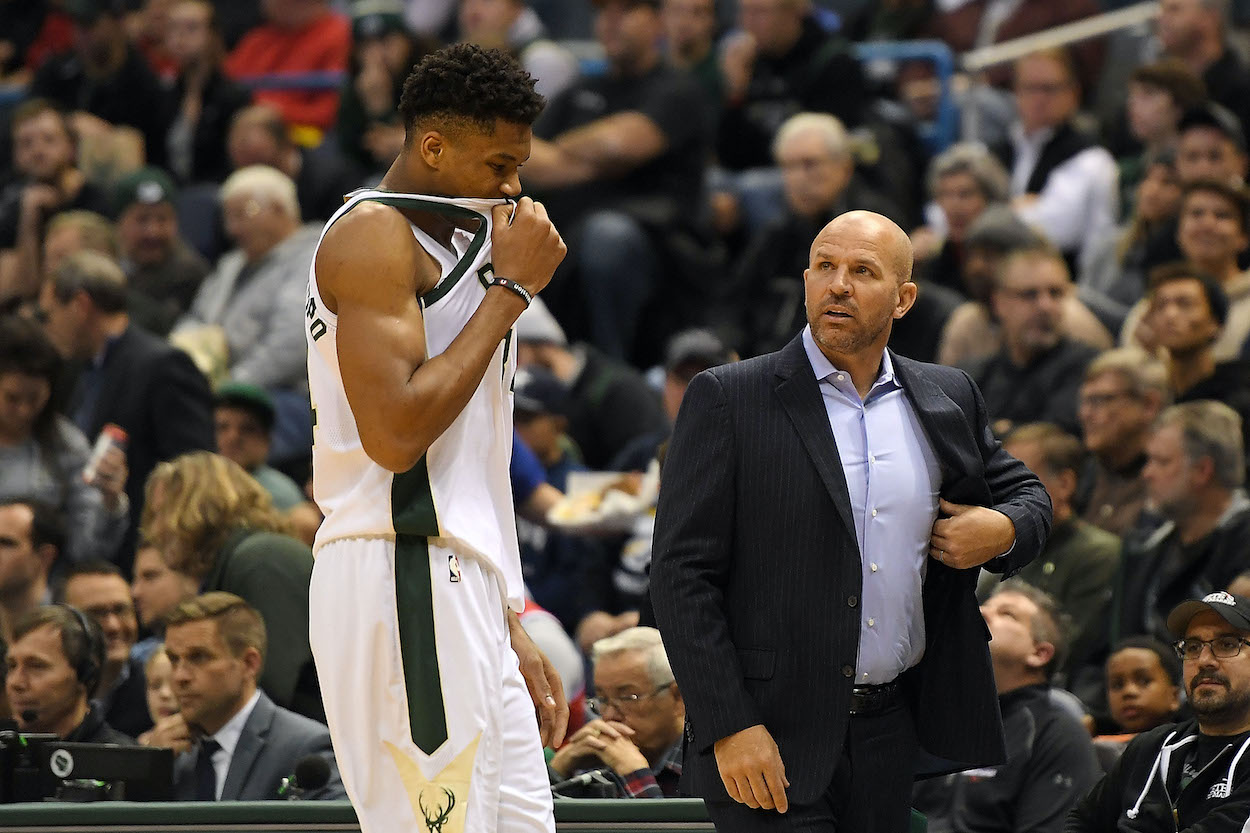 Kidd showed plenty of promise in his first season as an NBA head coach. He led the Brooklyn Nets to the playoffs during the 2013-14 season and even won a first-round playoff series against the Toronto Raptors.
The following season, Milwaukee hired Kidd to be its head coach and lead Giannis Antetokounmpo to a championship. That's not exactly how it went down.
In four seasons as the Bucks head coach, Kidd led the team to just two playoff appearances, and they never made it out of the first round with him at the helm. But it wasn't just the disappointing results on the court that got him fired in 2018. Kidd alienated the locker room with questionable leadership decisions in Milwaukee, and it eventually cost him his job.
Kidd once forced his players to cancel their holiday flights and come to practice on Christmas Eve
The worst example of Kidd's questionable coaching skills comes from Mirin Fader's new book, Giannis: The Improbable Rise of an NBA MVP. In the book, she details a story from the 2014 season in which Kidd cruelly forced the team to stay in town on Christmas Eve and run sprints after a poor performance the day before.
Here's the damning exerpt from the newly published book, which describes Kidd's coaching style as "psychological warfare":
But the Bucks were struggling, dropping a game to Charlotte on December 23, right before Christmas. Players returned to the locker room dejected, silent. Everyone was ready for the next two days off with their families.
"Zaza," Kidd said, turning to Pachulia but addressing the group, "do you think this was a winnable game?"
"Yes it was a winnable game," Pachulia said.
"And do you think we deserve the next two days off?"
Pachulia couldn't believe Kidd had put him in that situation, threatening to ruin Christmas. Pachulia tried to strike a diplomatic tone: "You know what, Coach–I understand the frustration. We're all frustrated because this was a game we were supposed to win. We didn't give enough effort. But at the same time, this is a holiday. Christmas is important to our families. It's not about us; it's about our families. Guys have made plans."
Kidd then turned to [Jared] Dudley. "What do you think? Should we take these next two days off?"
Dudley, too, gave a diplomatic answer.
But Kidd wasn't satisfied. "See you guys tomorrow at 9:00 a.m."
"Whoa, whoa, whoa," players said. "What do you mean?"
"We're going to have practice tomorrow."
"We booked flights to different places!"
"I don't care. You guys get paid to do a job, so you're doing your job tomorrow. Things change."
Practice the next morning was ugly. Kidd went at [Larry] Sanders. Called him a "piece of s—," a "terrible player." The team ran and ran and ran and ran, like a college team would. "I don't think I've done that since I left J-Kidd," [Brandon] Knight says. "It was not normal."
Players had to finish a fast-break drill in twenty-two seconds, but twenty-seven was the team's best record. They did it over and over until they made it. Some were bent over, panting, cramping. Practice lasted three hours, and then Kidd made players lift weights and do pool exercises. Half the team didn't know how to swim, but Kidd made everyone run in the pool"
"Everybody was so tired that nobody was thinking about Christmas," Pachulia says. "We didn't have energy left to open gifts."
Who knew Kidd was really just the Grinch disguised as an NBA head coach?
The Mavericks better hope Kidd is a changed man
The coaching skills exhibited by Kidd in Milwaukee are simply not conducive to winning basketball or a healthy locker room. Dallas is in a position to become an NBA title contender with Luka Doncic leading the way, but the Mavericks won't even get close to reaching that level if Kidd is still on his perpetual power trip.
Hopefully, he's learned from his mistakes. If not, expect the Mavs to be stuck in NBA purgatory for years to come.