JaVale McGee Gets Real on How Much 'Shaqtin' a Fool' Hurt His Career
Early in his career, JaVale McGee spent so much time on Shaquille O'Neal's blooper reel Shaqtin' a Fool that he should have gotten cast regular pay. The weekly segment of NBA players in their less-than-finest moments on TNT's Inside the NBA leaned heavily on young McGee's mistakes. It was enough of an issue that McGee, now a 33-year-old veteran heading into his 14th NBA season, believes it hurt his career.
McGee signed a one-year, $4.2 million contract in August 2021 to join his eighth franchise, the Phoenix Suns. He brings three championship rings to a group that played in the NBA Finals last season and should provide Phoenix with the big body to back up young Deandre Ayton. The lack of size proved fatal to the Suns against the Milwaukee Bucks in the Finals.
JaVale McGee was talented but raw coming out of Nevada
In four years, JaVale McGee bounced between three high schools, playing at Detroit Country Day School (alma mater of Chris Webber and Shane Battier) and Providence Christian in rural Fremont, Michigan, before finishing at Chicago's Hales Franciscan.
He played two seasons at the University of Nevada before declaring for the 2008 NBA Draft. Taken 18th overall by the Washington Wizards, McGee was far from a finished product when he arrived in D.C. But by his third season, he was their full-time starter before a trade sent him to the Denver Nuggets in 2012.
A stress fracture in his left tibia threatened his career in 2014, but he's bounced back with a pair of championship runs with the Golden State Warriors and a third ring with the Los Angeles Lakers in 2020. He split last season between the Cleveland Cavaliers and a second stint with the Nuggets.
McGee knew he was often low-hanging fruit for the crew at Shaqtin'. He didn't realize until later how much being in Shaquille O'Neal's crosshairs it was impacting his career.
McGee found out after a trade he had a tarnished reputation, thanks to Shaquille O'Neal
On a recent appearance with his mother, former USC basketball star Pamela McGee, on Shannon Sharpe's Club Shay Shay podcast, JaVale McGee opened up about the damage his frequent appearances on Shaqtin' A Fool did to his career:
"The thing about that whole Shaqtin' a Fool era of when I was on there is I didn't realize what it was doing to my career until I got started to move on to other teams. And I would talk to other coaches, and middle of the year, they'd be like, 'I've always seen that Shaqtin' a Fool stuff and had a different mental review, and I never knew like you're a smart kid. You're extremely vocal; you're a great basketball player.

"It was slowly chipping away at my reputation. As a young 24-year-old athletic basketball player, young, excited, it was just slowly chipping away."

JaVale McGee
He engaged Shaquille O'Neal in a Twitter beef during his first season with the Warriors in 2017. He found allies in superstar Kevin Durant and coach Steve Kerr. Kerr later admitted he had a "preconceived notion" about McGee and was proven wrong.
JaVale McGee joined his mom as an Olympic gold medalist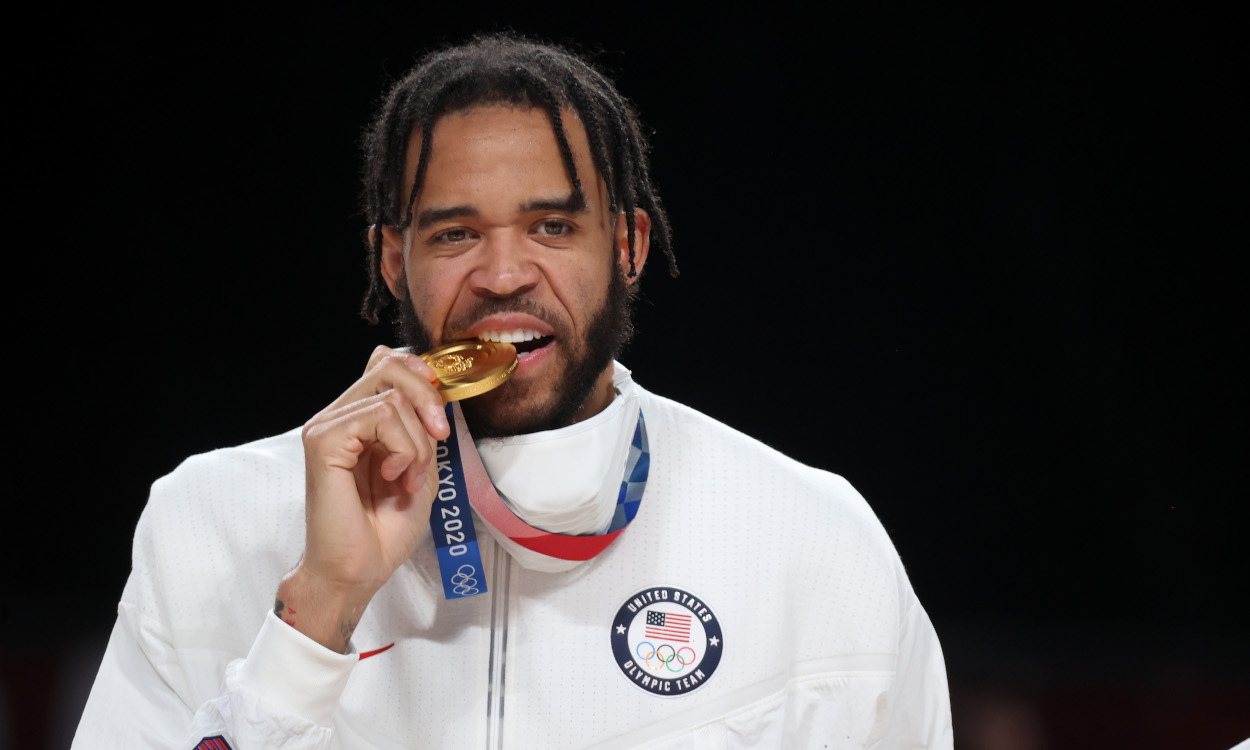 After winning two national championships at USC, Pamela McGee is a member of the Women's Basketball Hall of Fame. She was also a member of the gold-medal U.S. Olympic women's basketball team in 1984.
JaVale McGee followed in his mother's footsteps in 2021, earning a gold medal as a reserve with the U.S. men's team in Tokyo. The McGees are the first mother-son tandem to win Olympic gold.
He's also put the youthful mistakes behind him and build a solid, if not spectacular, NBA career. That despite being the butt of so many Shaquille O'Neal jokes. With earnings of $65.6 million (and counting), JaVale McGee has done just fine for himself. So much so he's now in the "savvy veteran leader" phase of his career.
Statistics courtesy of Basketball Reference. Contract information courtesy of Spotrac.