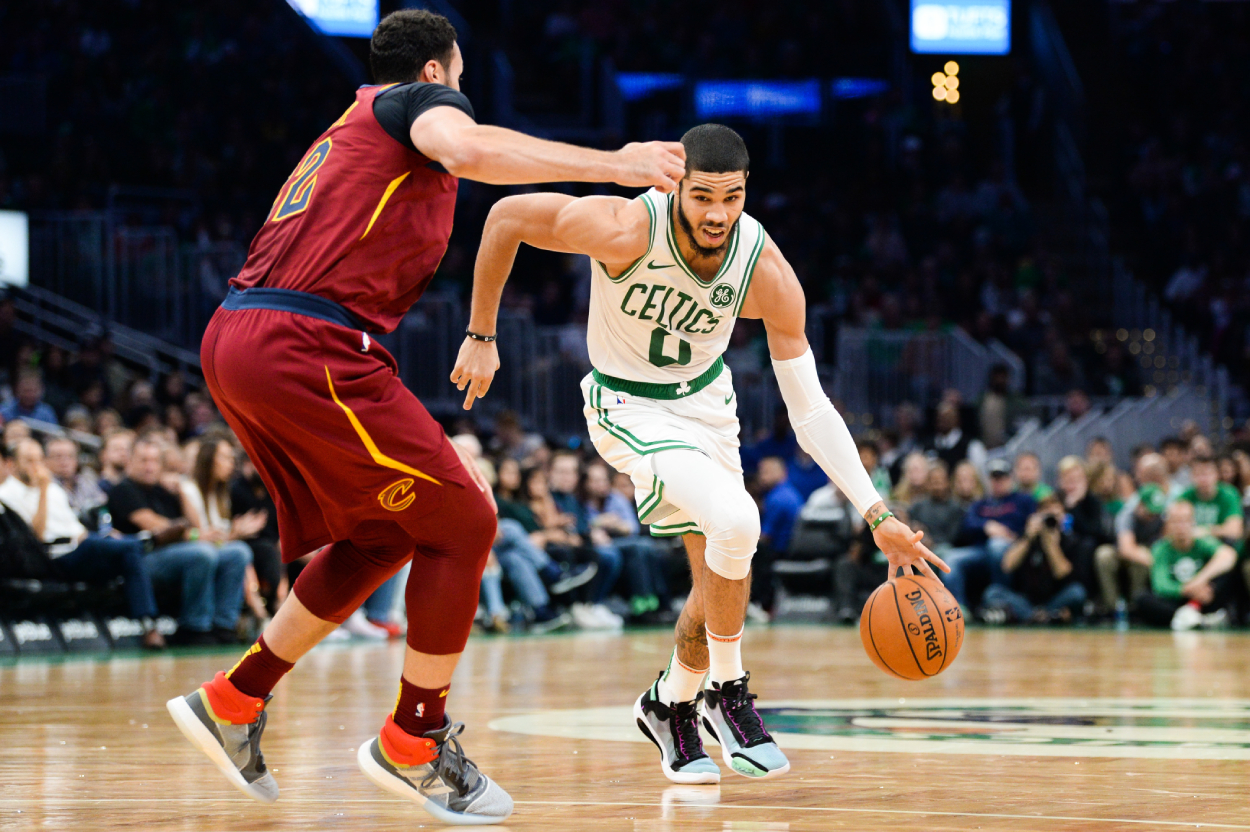 Jayson Tatum Is No Larry Bird, but He'll Earn $4 Million More This Year Alone Than Bird Made in His Entire Career
Jayson Tatum will earn $4 million more this season alone than Larry Bird made in his entire NBA career.
Jayson Tatum is no Larry Bird, but don't tell that to his bank account. Tatum is one heck of a young player and the leader of the Boston Celtics at 23 years old. He's been an NBA All-Star the last two seasons and has shown improvement in each of his four years in the league. Tatum will make $4 million more this season than Bird made in his entire 13-year career. He has Bird to thank for that.
Jayson Tatum is a rising star with the Boston Celtics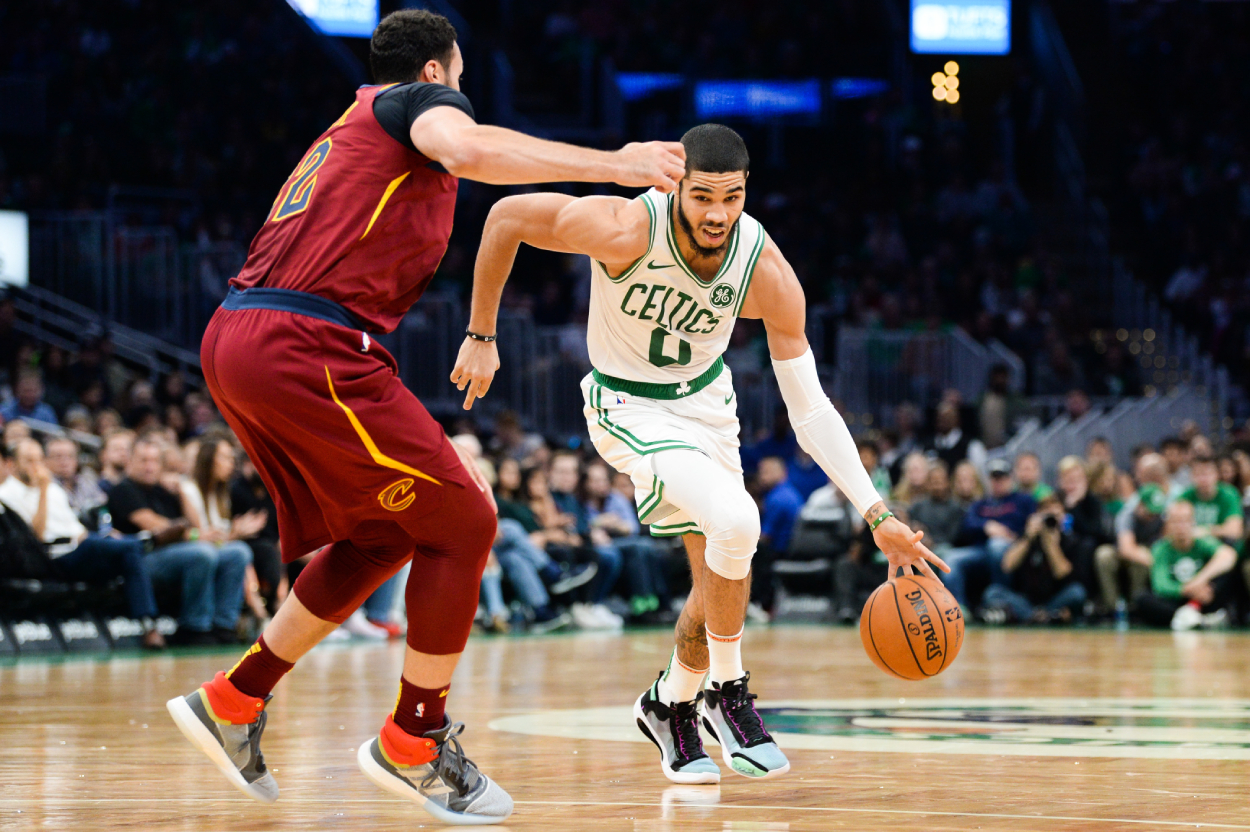 The Celtics found a way to swindle the Philadelphia 76ers in 2017. Boston was armed with the first pick in the 2017 NBA Draft, and most draft boards had guard Markelle Fultz out of Washington as the top pick. The Sixers had the third pick, and Danny Ainge, then the team's president of basketball operations, had his eyes on Tatum. Tatum was seen by many as the third-best player in the draft behind Fultz and Lonzo Ball.
Ainge swung a deal with the Sixers, sending the top pick in exchange for the third pick and a future first-rounder.
"We are very pleased with the outcome of this trade, which puts us in the enviable position of selecting first overall in consecutive draft years," 76ers president of basketball operations Bryan Colangelo said then, according to NBA.com. "History suggests that No. 1 has the greatest odds of producing franchise-level talent, and we are confident that this year's draft class has that very potential."
History and Colangelo were wrong.
Tatum has clearly been the better player. He averaged 13.9 points per game in his rookie year and bumped that number up to 26.4 last season. In two seasons with the Sixers, Fultz was hampered by injuries and played a total of 33 games. He spent the last two seasons with the Orlando Magic, appearing in eight games last year.
Jayson Tatum will make $4 million more this season alone than Bird earned in his career
To say Tatum is no Bird isn't putting down the current Celtics player. There aren't many who can claim to be like the Hall of Famer.
Bird won three NBA titles and claimed three straight MVPs. He's a 12-time NBA All-Star and was named All-NBA 10 times. He was a winner and made his teammates better.
Tatum had his best statistical season last year, putting up 26.4 points and 7.4 rebounds. He teamed with Jaylen Brown to give Boston two all-stars, yet the team finished 36-36. He's been to the Eastern Conference Finals but hasn't managed to get over the hump. Bird took his team to the NBA Finals in his second year.
The Celtics rewarded Tatum with a five-year max extension. According to Spotrac, Tatum will earn $28,103,500 this season alone. In the final year of his current deal, he'll pocket $37,096,620 during that 2025-26 season.
To put that in perspective, Bird made $24,070,000 total in his 13 years in pro basketball, according to Spotrac.
Tatum can thank Bird for his massive contract
Tatum can't be faulted for his enormous contract. Players today are raking in the cash and it's all because of those players who came before them.
Bird and Magic Johnson are credited with saving the NBA when they came into the league. Not only did they carry with them their personal rivalry from the 1979 NCAA title game into the NBA, but they helped spark one of the greatest team rivalries in sports history.
The Celtics vs. Lakers battle was rekindled. Either Bird's Celtics or Magic's Lakers made an NBA Finals appearance each year in the 1980s. They faced each other in the championship round three times.
The two, along with Michael Jordan, made the NBA a global game, helping the league bring in more revenue, which led to bigger salaries for players.
Today, players are getting paid more on potential than actual results. Tatum has a long way to go to be compared to Bird, but he owes the Celtics legend a big thank you for his financial security.