Jealous Jerry Jones Erroneously Claims the Eagles Sold Their Future Away for a Super Bowl Run
The Philadelphia Eagles have reached three Super Bowls and six NFC Championships since the last time the Dallas Cowboys made it past the Divisional Round, and Jerry Jones is starting to feel a bit salty.
In an effort to diminish Philadelphia's second Super Bowl run in five years, the longtime Cowboys owner and general manager claimed the Eagles jeopardized their future to go all-in on a championship this year. In reality, Howie Roseman's team-building strategy to reach this point was nothing like what the Los Angeles Rams did to win Super Bowl 56. The Eagles actually have a more promising future than the Cowboys, but I'm sure Jones' "long game" will pay off eventually, right?
Careful Jerry, your jealousy is showing.
Jerry Jones shows his jealousy with erroneous Eagles comments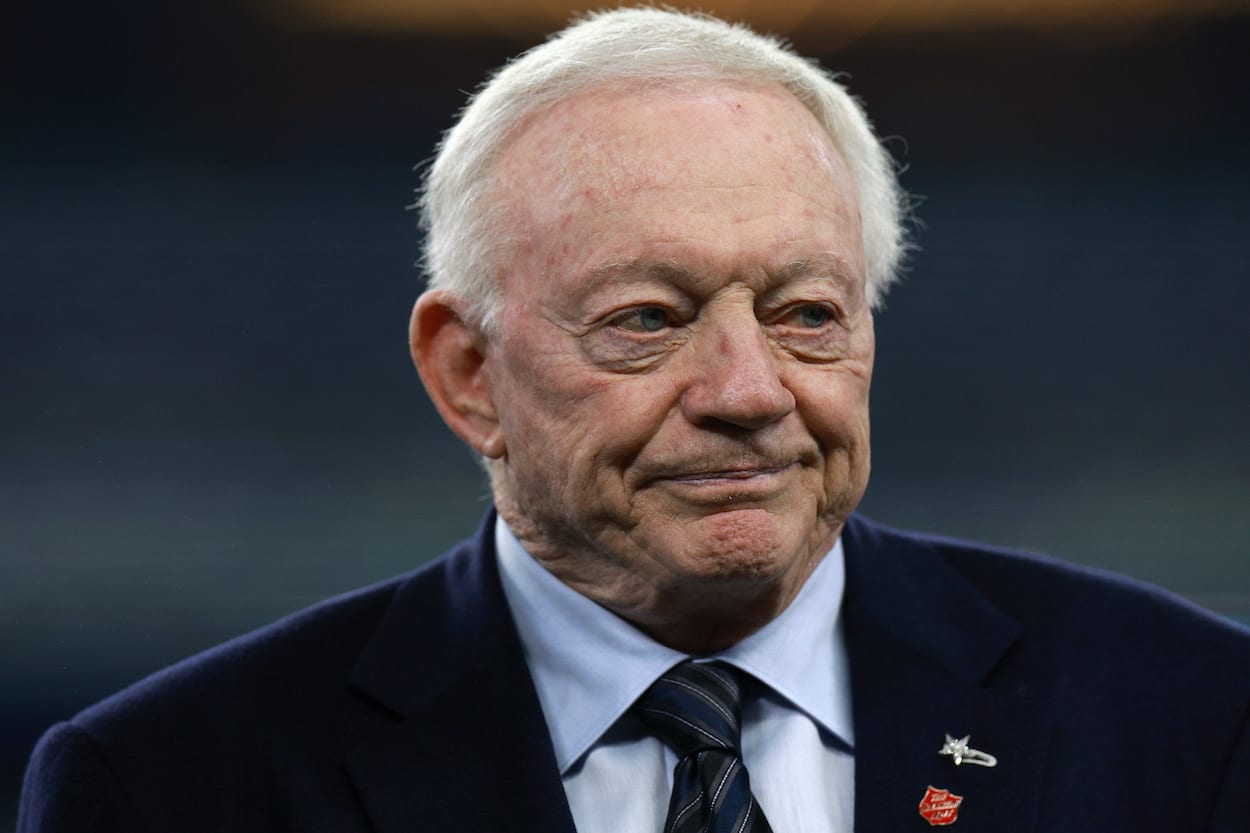 Rams GM Les Snead had a clear vision when building LA's Super Bowl 56 roster. He sold off as many draft picks as he could to put together a team of veteran stars that can win right away, and he would deal with the consequences later. Those consequences have already arrived, as the Rams went 5-12 this season and won't make a first-round draft pick for the seventh straight year.
Cowboys owner Jerry Jones evidently thinks the Eagles are headed for the same fate, and he doesn't want to risk putting his franchise in that position.
"Anybody who thinks I won't take a chance has misread the tea leaves. But I do think longer term," Jones said this week, per Pro Football Talk. "And I'm real hesitant to bet it all for a year. There's a lot of things that can happen for that year. In essence, we're seeing a couple of teams that have had some real success putting it all out there and paying for it later, in Philadelphia and Los Angeles.
"That's pretty impressive to have two teams in the last two years empty the bucket and get to the Super Bowl," he continued. "But if you miss, it is a long go."
Sure, Jones is right about the Rams, and we're seeing the repercussions of that strategy already. But the Eagles are building toward the future more effectively than the Cowboys, and Jones failing to realize that just proves how far he's fallen.
Jerry Jones is dead wrong about the Eagles
Howie Roseman did a masterful job crafting this 2022 Eagles team He put together the most talented top-to-bottom roster in the NFL, and he did so without jeopardizing the future one bit.
Because the Eagles got rid of Carson Wentz's contract and have Jalen Hurts on his rookie deal, they were able to bring in and pay A.J. Brown, Haason Reddick, James Bradberry, and other crucial pieces of this Super Bowl run. Philadelphia gave up only one first-round pick to trade for Brown, and thanks to some expert draft pick shuffling, the team owns two first-round picks in 2023. The Eagles have drafted in the first round every year but one dating back to 2017. The Rams, on the other hand, haven't made a single first-round selection since then.
Oh, and the Eagles will have more cap space than the Cowboys this offseason because Jones decided to pay Dak Prescott and Ezekiel Elliott a combined $250 million. How is that thinking long-term again?
Jones can claim he's playing the long game all he wants, but the Cowboys haven't reached a single NFC Championship since 1995. The fact of the matter is Roseman has been running laps around Jones for years because he knows it's possible to build aggressively in the short term while building toward the future at the same time.
Rationalize it however you want, Jerry.