Dak Prescott vs. Mike McCarthy: Who Should Jerry Jones Blame More for the Cowboys' Latest Playoff Letdown?
Jerry Jones has desperately tried to turn the Dallas Cowboys into champions again, but it's been decades since his beloved team experienced the thrill of winning the Super Bowl. Although this year's squad looked like a viable contender, the oft-criticized duo of Dak Prescott and Mike McCarthy once again failed to deliver in the postseason. 
Both the highly-paid quarterback and the highly-scrutinized head coach have come under fire for the Cowboys' inability to advance past the divisional round. 
But who deserves more blame for the fact Dallas will have to watch the rest of the playoffs from home? Depending on who you ask, it might be Prescott. For others, McCarthy must shoulder the lion's share of the liability. 
Let's take a closer look at how the two most prominent members of the Cowboys have fallen short of expectations.
The case against Dak Prescott
Jerry Jones didn't pay Dak Prescott to put up stats in the regular season. And he certainly didn't sign the signal-caller to a four-year, $160 million extension just to get the Cowboys into the NFL Playoffs. 
No, Jones went all-in on the former fourth-round pick to bring the Lombardi Trophy back to Dallas.
But after watching Prescott throw 13 interceptions in his final nine regular-season starts and two more in the Cowboys' 19-12 divisional-round loss to the San Francisco 49ers, it's fair to wonder whether the outspoken owner has a case of buyer's remorse. 
Prescott may have helped Dallas earn consecutive postseason berths for the first time since Tony Romo accomplished the feat in 2006-07, but does that really matter when he continues to make critical mistakes? In a game that saw Brock Purdy, the last player taken in the 2022 NFL Draft, complete 65.5% of his passes for 214 yards and zero interceptions, the Cowboys' highest-paid player hit 62.1% of his attempts for 206 yards, one touchdown, and two costly picks. 
Considering Purdy commands less than $1 million a year while Prescott's cap hit will be $49.1 million in 2023 and $52.1 million in 2024, it's clear the Cowboys should expect much more bang for their buck. 
Ultimately, Prescott's shaky divisional-round performance shouldn't have been a major surprise based on how inconsistent he looked during the regular season. Some of that falls on Jones' personnel decisions, which included banking on Michael Gallup to be a viable No. 2 receiver opposite CeeDee Lamb. 
However, as a quarterback with a top-of-the-market contract, more than enough experience, at least an above-average set of weapons, and a championship-caliber defense, Prescott's latest playoff letdown makes him look like an overpaid, underperforming entity who also comes with major durability concerns heading into his age-30 season.
The case against Mike McCarthy
Everything starts from the top, so as much blame as Dak Prescott deserves for suffering another big-game loss, Mike McCarthy could easily be considered the chief party responsible for another Dallas playoff defeat. 
And that really shouldn't be a surprise, given his history with his previous employer. 
Although he did win a Super Bowl ring with Aaron Rodgers, McCarthy routinely fumbled away potential playoff wins in the years to follow by making ill-fated game- and clock-management decisions. His reputation for getting things wrong in critical moments eventually led to his ousting in Green Bay. 
Unfortunately for Cowboys fans, McCarthy didn't seem to learn much from his time with the Packers. 
Against the 49ers, he elected to take a delay-of-game penalty and punt the ball on a 4th-and-5 play despite the fact the Cowboys had already converted a pair of fourth-down attempts. That decision backfired immediately, as Purdy drove his team down the field for what amounted to the game-winning touchdown. 
Another reason to blame McCarthy: The Cowboys' ineptitude at kicker. 
Coming off a horrific performance in the opening round of the playoffs that included four missed extra points, Brett Maher still got the nod against the 49ers. To no surprise, San Francisco blocked his first PAT attempt–a moment that surely gave McCarthy and his staff pause about turning to Maher moving forward. 
Elevating Tristan Vizcaino might have prevented that outcome from happening. But sticking with Maher certainly seems like a decision McCarthy would like to have back.
Who should Jerry Jones blame more for the Cowboys falling short of expectations?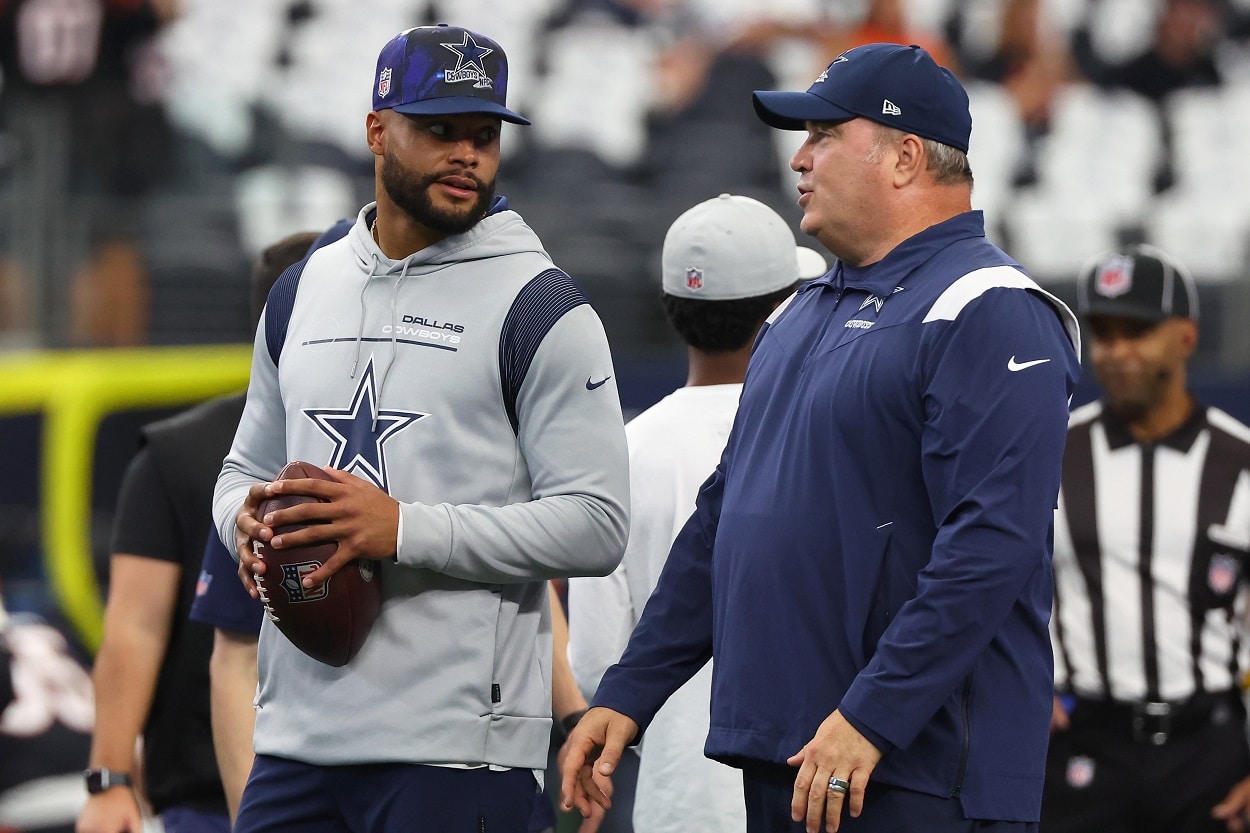 At the end of the day, the Cowboys couldn't come up with enough points to defeat a team quarterbacked by the latest Mr. Irrelevant. Plus, a defense featuring Micah Parsons, DeMarcus Lawrence, and several other high-profile players failed to come up with enough key stops and turnovers–most notably when Trevon Diggs dropped a surefire pick.
But due to their respective job titles, Prescott and McCarthy should face the most scrutiny for the Cowboys losing to a 49ers team led by a seventh-round rookie under center. 
Still, if Jerry Jones had to choose just one person to put on the chopping block, who would it be? 
McCarthy may have made a few miscalculations, but Prescott's two-pick performance puts him at the top of the culpability list. 
At this stage of his career, there are no excuses for him to turn the ball over in a game of this magnitude. He may not have an elite supporting cast, but you could do a lot worse than Lamb, dynamic running back Tony Pollard, and touchdown-producing tight end Dalton Schultz. 
Prescott has faced questions about his ability to come through in the clutch dating back to his rookie season. It's now 2023, and he's yet to silence those doubters. 
Sure, the Cowboys might be better equipped to win with a better head coach. But a better quarterback would have found a way to put up more than 12 points in the biggest game of the season. 
Unfortunately for Jerry Jones, he isn't getting what he paid for.