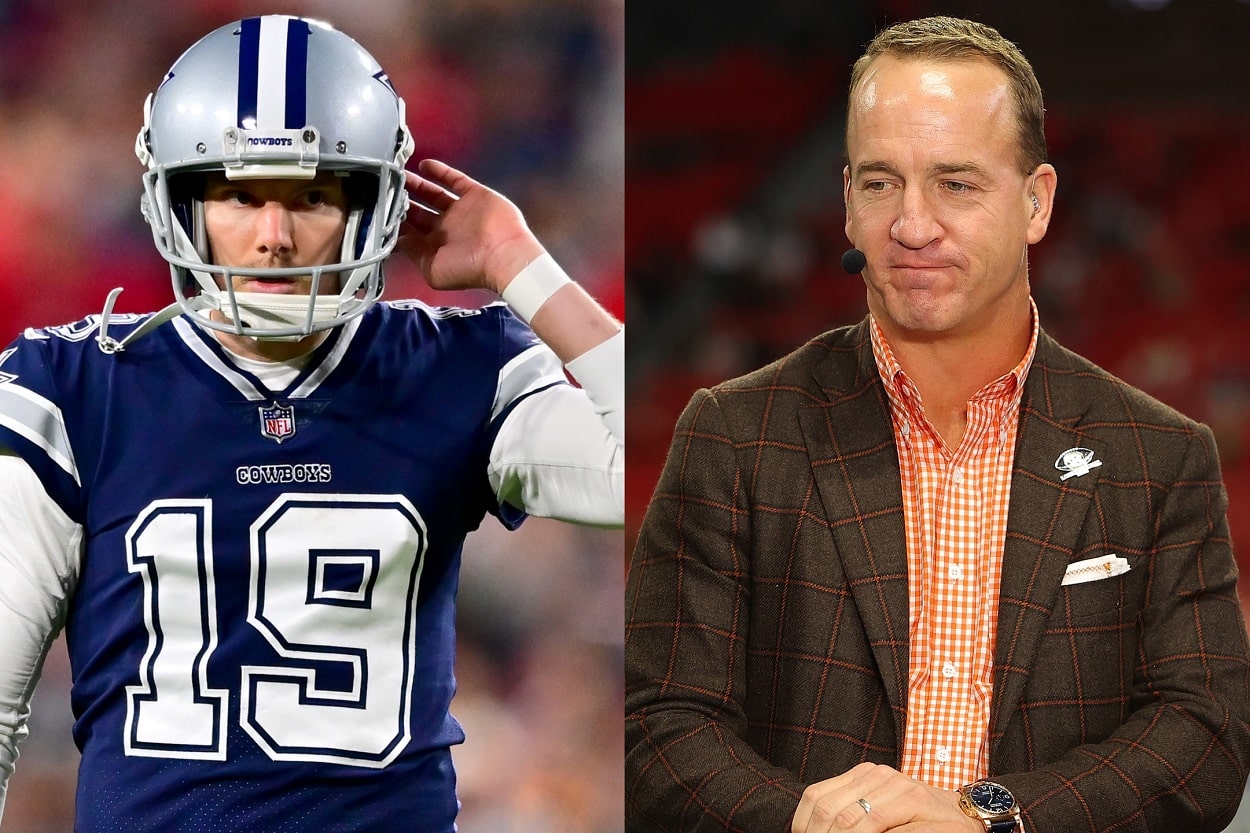 Peyton Manning's Reactions (Yes, Plural) to Brett Maher's Extra-Point Troubles Were Absolute Gold
Peyton Manning reacted accordingly to Cowboys kicker Brett Maher's dubious NFL record.
Like the rest of the football world, Peyton Manning couldn't believe what he was seeing watching Brett Maher on Monday night.
The Dallas Cowboys visited the Tampa Bay Buccaneers to close out Super Wild Card Weekend and played a near-perfect game in an easy 31-14 victory. The Dallas defense was dynamite in shutting down Tom Brady and the Tampa offense. And after a rocky start, Dak Prescott calmed himself and completed 25 of 33 passes for 305 yards with four touchdowns and zero interceptions, also adding a score on the ground.
The only real low of the night was the kicking game, as Maher came down with a case of the yips. After making 50 of 53 extra points during the regular season, the 33-year-old tied an NFL record by missing three before halftime and then set a new mark by missing a fourth in the third quarter.
Thankfully for the Cowboys, Maher's misses did nothing to affect the outcome. But as you can imagine, reactions throughout the night were plentiful. And a couple of entertaining ones came from Peyton Manning as he and his brother Eli were doing the final ManningCast of the season for ESPN.
Peyton Manning reacting to Brett Maher's missed extra points was glorious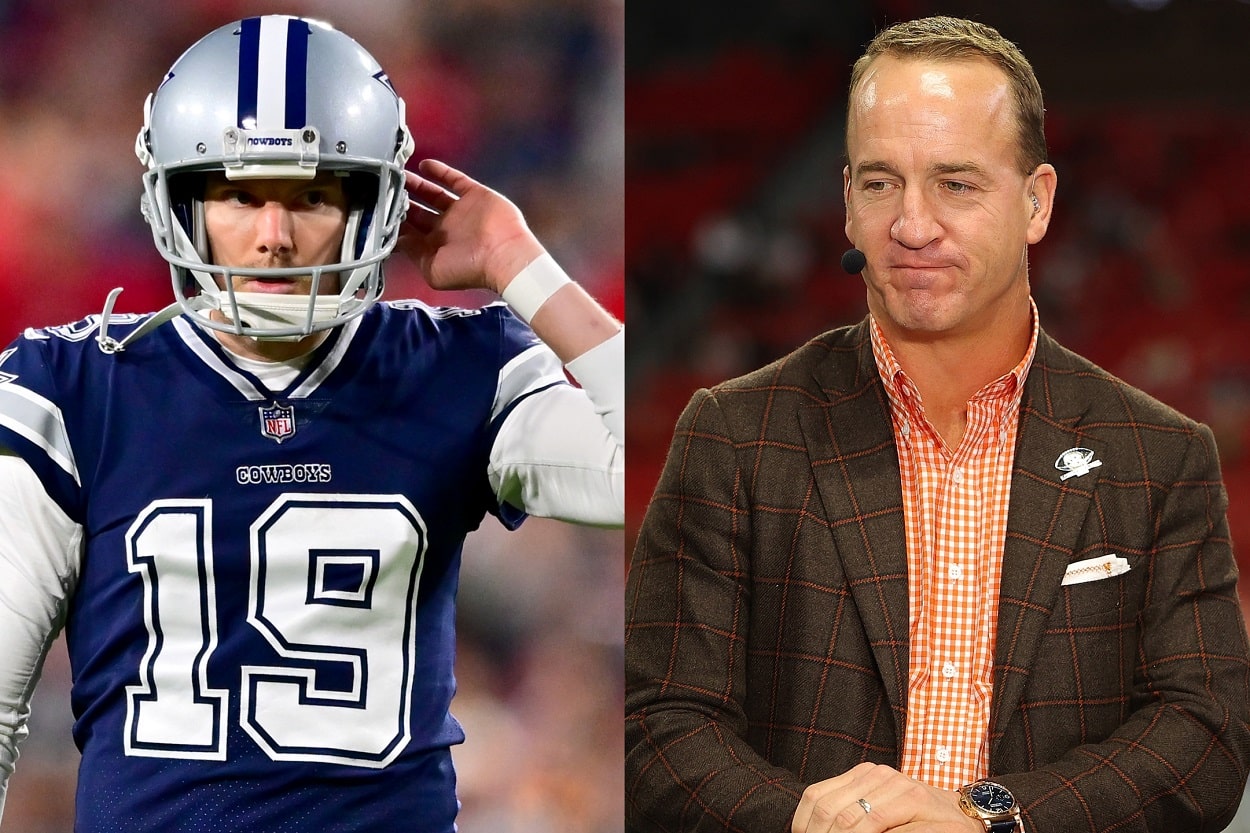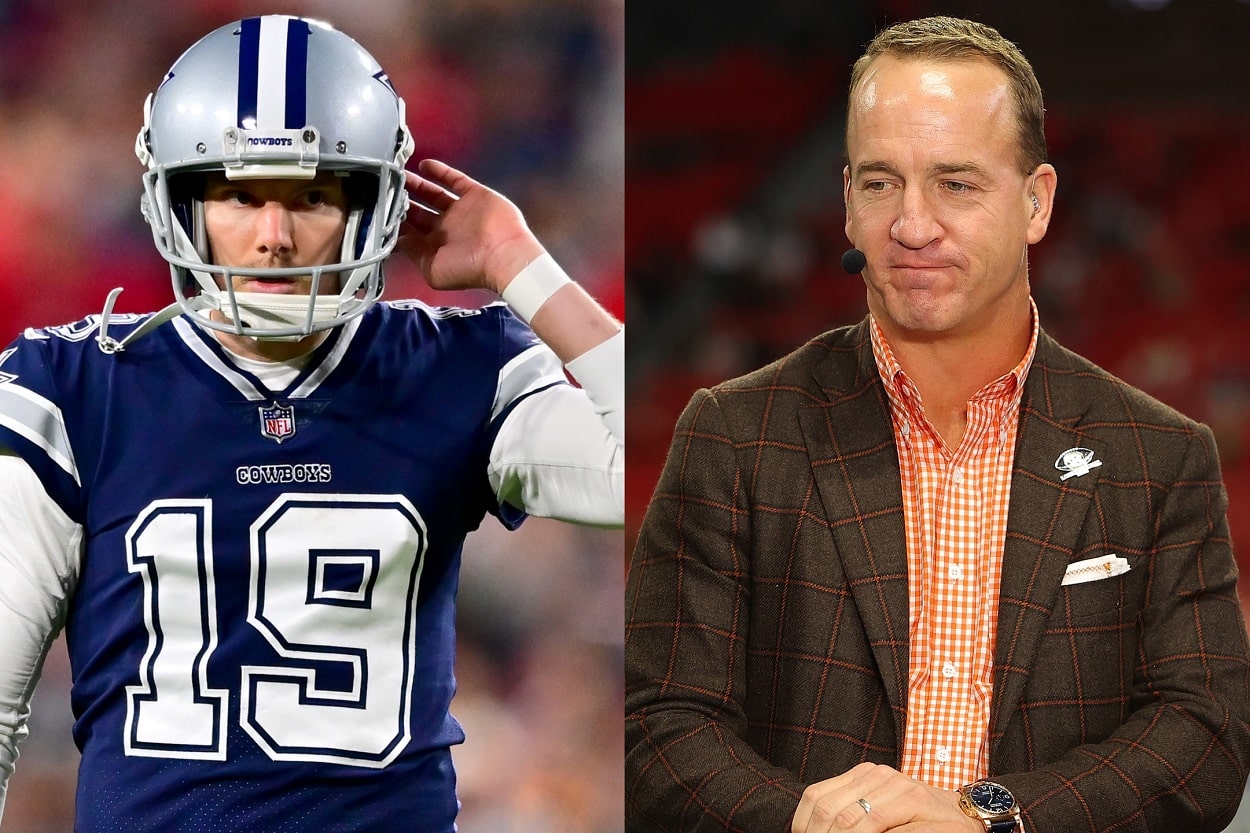 Let's jump into the action with Maher's third miss.
Having missed his first two extra points to the right, the Nebraska native clearly overcompensated on his third attempt and went left. Like any regular football fan, the Mannings couldn't believe what was happening, and Peyton actually got out of his chair and started yelling at the TV, "Why are we kicking it? Why are we kicking it?"
But he certainly wasn't done. The five-time NFL MVP then followed up with, "Can you cut a guy at halftime of a playoff game?" Take a look.
Maher's fourth miss of the evening was much closer than his previous three as it hit the top of the right upright before falling to the ground. And on that one, Peyton nor Eli nor their guest, Detroit Lions head coach Dan Campbell, didn't have much to say initially as they were all in complete shock. Here's how that went down.
Maher, of course, finally did make one following the Cowboys' fifth touchdown of the night. And Peyton was thrilled, as were Eli and guest Tedy Bruschi.
Up next for Dallas is a date with the San Francisco 49ers in the Divisional Round. And for the moment, it seems Brett Maher will still be doing the kicking for America's Team. Sadly, as mentioned, that was the final ManningCast of the season, so we won't see how Peyton Manning reacts if and when Maher takes his first kick at Levi's Stadium.