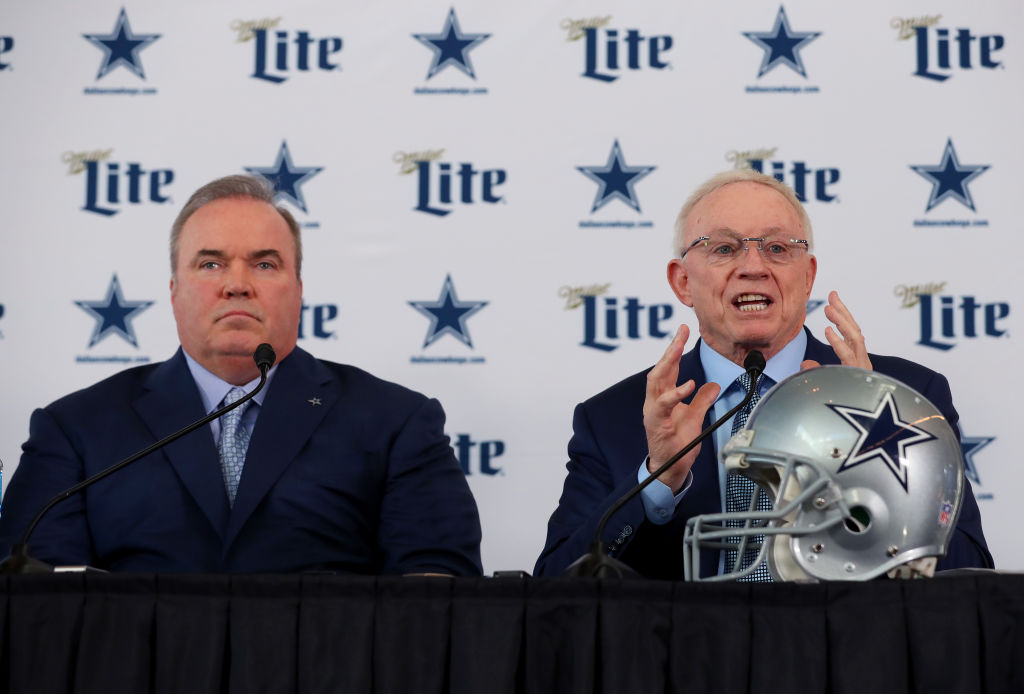 Jerry Jones Is Already Excited About Drafting With Mike McCarthy
When the 2020 NFL draft rolls around, Jerry Jones and the Dallas Cowboys will have a different strategy, thanks to head coach Mike McCarthy.
While it's difficult to measure statistically, every team wants to have good chemistry. Although we usually focus on the relationships between players, having a connection between the coaching staff and the front office is essential. While Dallas Cowboys head coach Mike McCarthy is yet to coach a game, he's already on the same page as Jerry Jones.
The Cowboys owner might want to do things his own way, but he's already excited to go into this year's NFL draft with McCarthy. The two, it seems, are prepared to target the same type of players.
Mike McCarthy's new partnership with Jerry Jones
Despite high hopes entering the 2019 NFL season, the Dallas Cowboys collapsed down the stretch. Despite Jerry Jones' deep affinity for Jason Garrett, he eventually made a change and hired Mike McCarthy.
McCarthy, of course, spent his entire head coaching career with the Green Bay Packers. While he did win a Super Bowl title in Wisconsin, his resume is far from spotless; he's been knocked for failing to adapt, and reportedly didn't see eye to eye with Aaron Rodgers. That didn't seem to concern Jones, however. The owner wanted to hire a big name with a winning record, and he did just that.
While every introductory press conference is positive, Jones and McCarthy seemed determined to get off on the right foot. The Cowboys' owner told reporters that he "heard bells," equating the hiring process to a courtship and wedding; the new head coach, in turn, praised the Dallas Cowboys' culture. McCarthy will also have more internal power regarding personnel than Jason Garrett did, but, given Jones' track record, the owner/general manager will still have the final say
Mike McCarthy changes the Cowboys' drafting philosophy
When it comes to drafting, there are two main philosophies: choosing the best available player or picking to address a specific need. Apparently, Mike McCarthy will be shaking things up in Dallas; this year, Jerry Jones will be free to seek out talent above all else.
"One thing that Mike has basically emphasized with everybody is, 'I can change what I'm doing to the skills of the player if he's a player," Jones explained at the NFL scouting combine. "So he says, 'Get me the good player, and I'll put him to work in what he does best.' This is a good feeling to do this. We're not going to make any mistakes, we're not going to compromise. So I really would emphasize the best player here."
While that might seem like a simple change, Jones sounds pretty pleased. If nothing else, the shift will make draft day easier for him.
"It has always, to me, been hard moving away from the best one that's sitting there to one that does fit," the Cowboys owner continued. "That just has always been hard. Because I'm living in the moment, I've looked at the draft, I see how they are and what they've done relative to their careers up to that time, and I just always want to get the guy that's the best football player up there. It's instinctively the best feel-good to get the best football player."
Empowering Jerry Jones, however, is a gamble
While everything seems rosy in Dallas thus far, Mike McCarthy could soon learn the primary rule of coaching the Cowboys: trust Jerry Jones at your own risk.
As any football fan can tell you, Jerry Jones, for better or worse, is the Dallas Cowboys organization. While he may act as the club's general manager, he doesn't hold any of the responsibility; no matter how many bad decisions he makes, Jones isn't going to fire himself or take a step back. When things go wrong, someone else has to pay the price.
By empowering Jones, McCarthy has made a risky gambit. If things go well, he'll end up with a talented squad capable of playing with anyone; if things fail, though, he'll end up with a mismatched roster shoehorned full of Jerry's shiny new toys.
It's hard to go wrong drafting the best player available. Jerry Jones' talent evaluation, however, might put that maxim to the test.