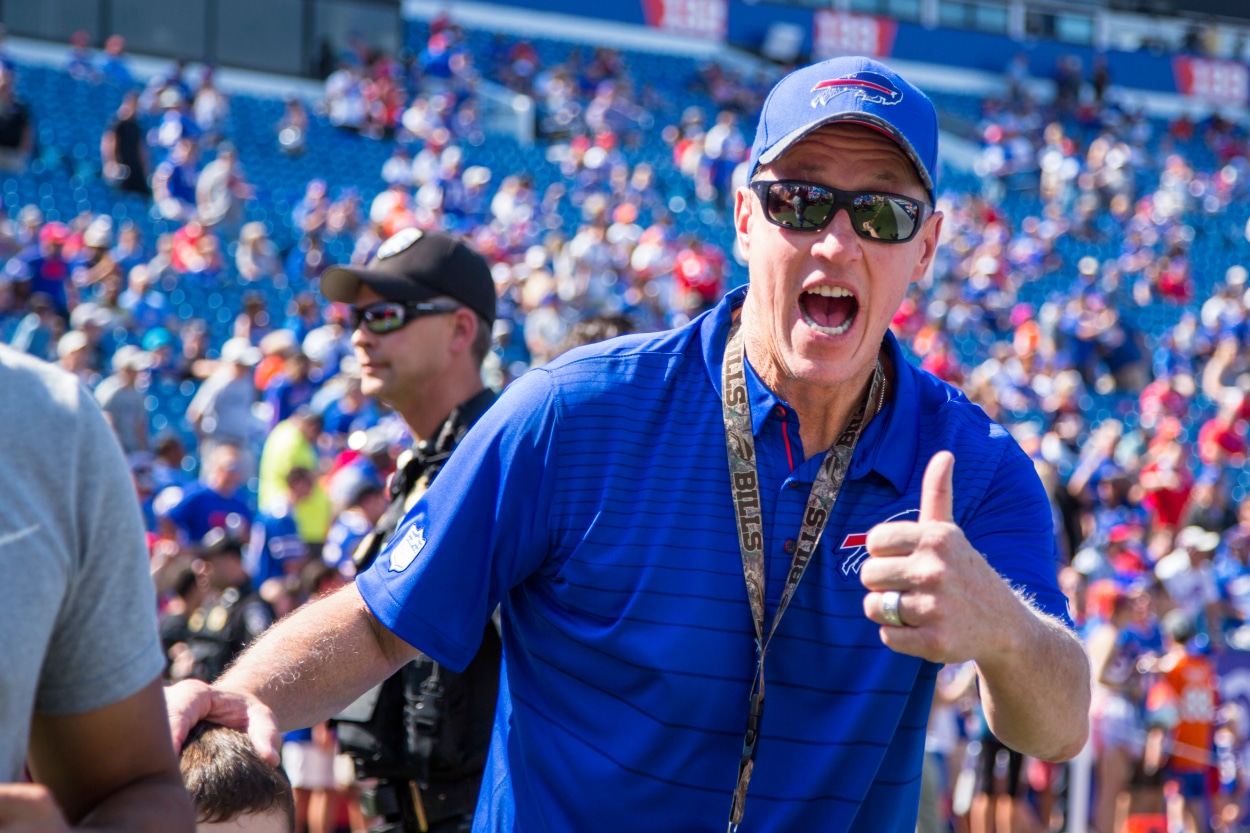 Jim Kelly Getting Blasted by LeSean McCoy Doesn't Sit Well With Bills Mafia
Jim Kelly went 0-for-4 in the Super Bowl, and former NFL running back LeSean McCoy recently made that clear.
Former Buffalo Bills quarterback Jim Kelly made a simple statement and got ripped for it. It wasn't anything controversial, but former NFL running back LeSean McCoy bashed the Hall of Fame quarterback for his thoughts.
Kelly simply suggested the Bills beef up their running game, saying quarterback Josh Allen can't do everything by himself. During an appearance on Kay Adams' Up & Adams on FanDuel TV, McCoy was asked about Kelly's comments. He claimed Kelly talks too much and then went on a rant about how Kelly lost each time he went to the Super Bowl.
Jim Kelly is beloved in Buffalo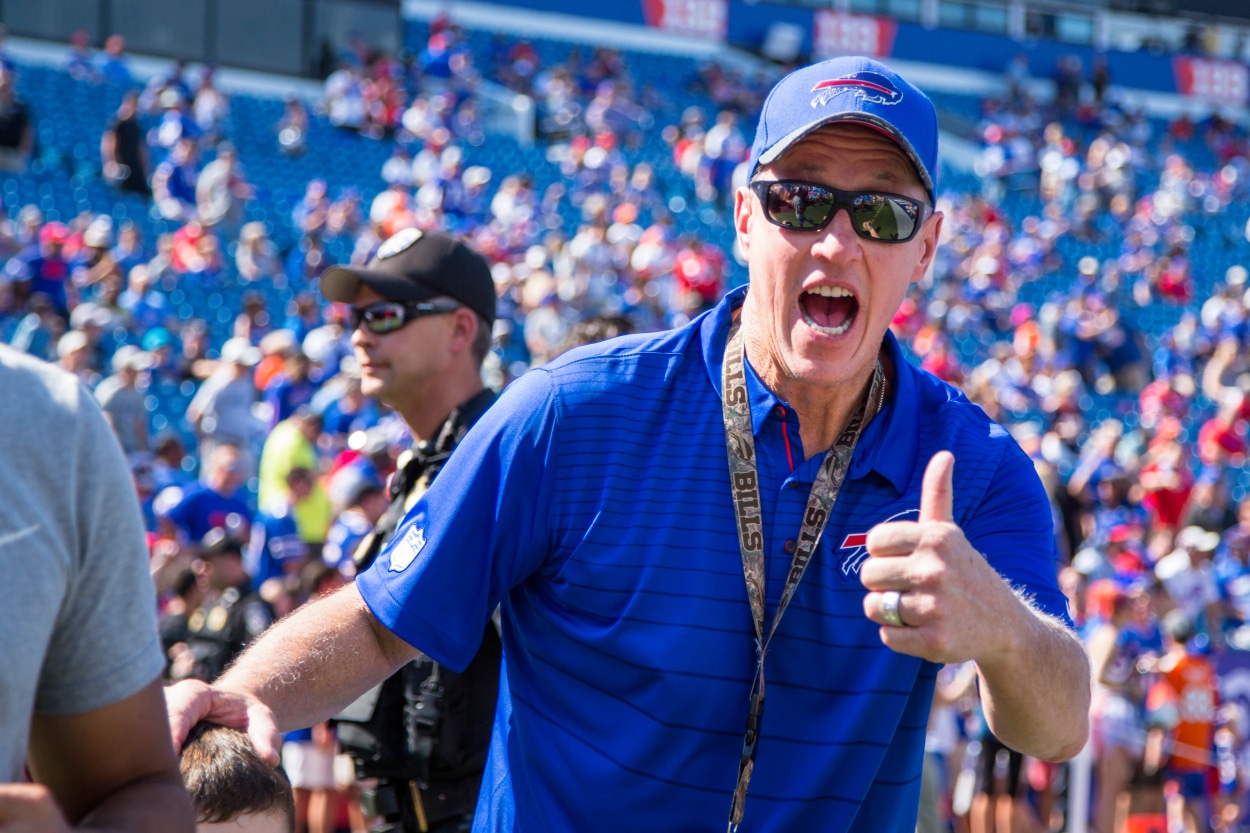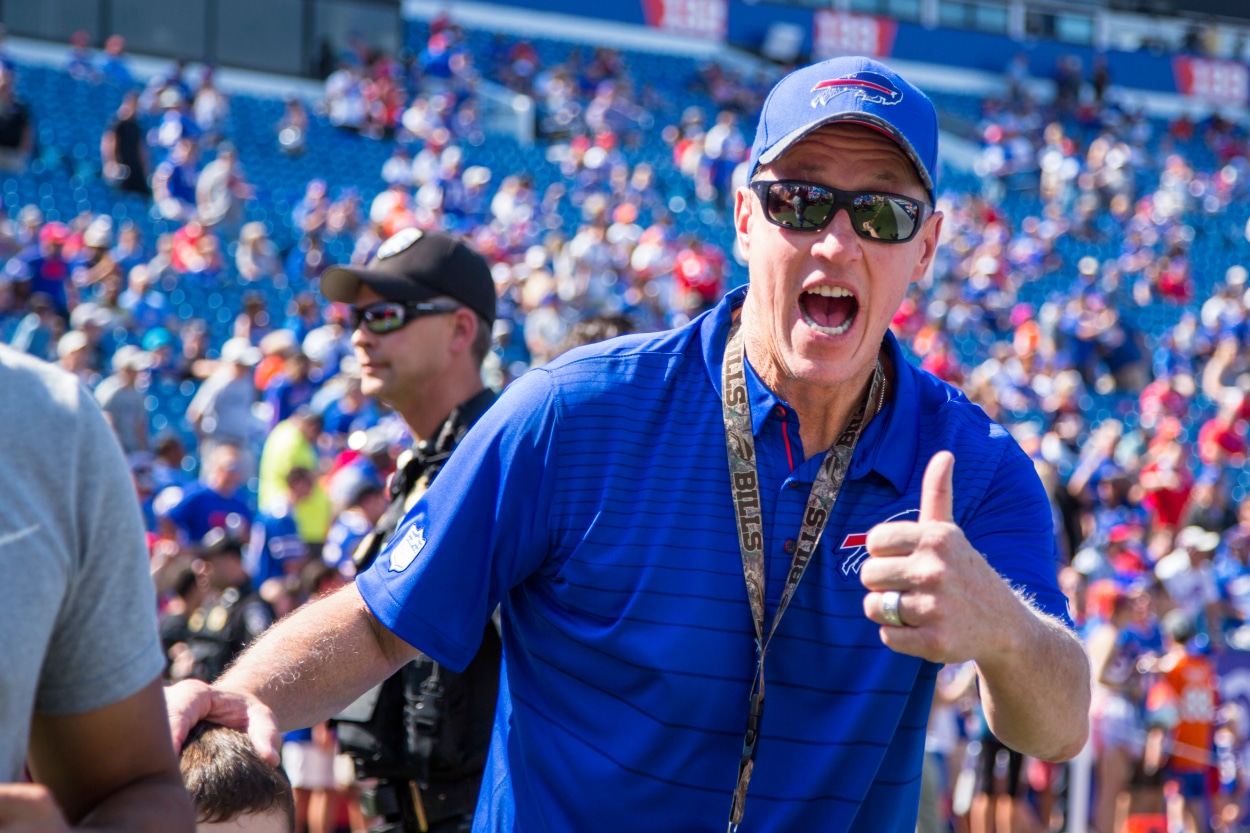 Yes, Jim Kelly is 0-for-4 in Super Bowl appearances. Getting to four Super Bowls is quite an accomplishment, and Kelly & Co. provided Bills fans with some exciting moments in the 1990s.
A five-time Pro Bowler, Kelly was the architect of Buffalo's fast-paced K-Gun offense. Kelly began his professional football career in the USFL, setting passing records with the Houston Gamblers. He started his NFL career with the Bills, a team he admitted he didn't want to play for.
In his first year with the Bills in 1986, he struggled as a starter, going 4-12. After that season, Kelly went 97-47 as a starter in Buffalo with one losing season. Even with Hall of Fame running back Thurman Thomas in the backfield, Kelly still managed to lead the league in touchdown passes in 1991 with 33.
Every year from 1990 to 1993, the Bills reached the Super Bowl. During that stretch, Kelly went 48-13 in the regular season and threw 98 touchdown passes.
Kelly was inducted into the Pro Football Hall of Fame in 2002. He's still heavily involved in the Buffalo community and beloved by Bills fans.
LeSean McCoy blasts Kelly and then gets ripped by Bills fans
McCoy made the Pro Bowl in three of his seasons in Buffalo, where he didn't win either. He has two Super Bowl rings that came in the final two years of his career when he was in a backup role. He got one with the Kansas City Chiefs and added another with the Tampa Bay Buccaneers in a year where he rushed for a whopping 31 yards.
Still, he decided to blast Kelly's lack of championships.
"First of all, Jim always talks," McCoy said. "He's always talking. He just wants to talk about the team. Nobody talks about how he came up short every year, every year, every year. He doesn't want to talk about that. Four times short. You're this great quarterback in the Super Bowl? Loss, loss, loss, loss."
McCoy's comments didn't seem to sit well with NFL fans and those true Bills fans, the Bills Mafia.
"I like Shady, but come on man," wrote one Twitter user. "Kelly's a HOFer, wide right, not his fault for losing a SB. The Bills issue is their OLine has been average on a good day. Allen is usually running for his life and they struggle to run block consistently. Its not the RB, its the blocking."
"Dang bro…dissing HOF #12 who went to 4 straight SB's," tweeted another. "Deserves some respect….as do us loyal Bills Mafia who have lived thru it all."
"Dead to Buffalo fans," added another.
McCoy didn't make too many friends in Buffalo by bashing one of the franchise's all-time greats.