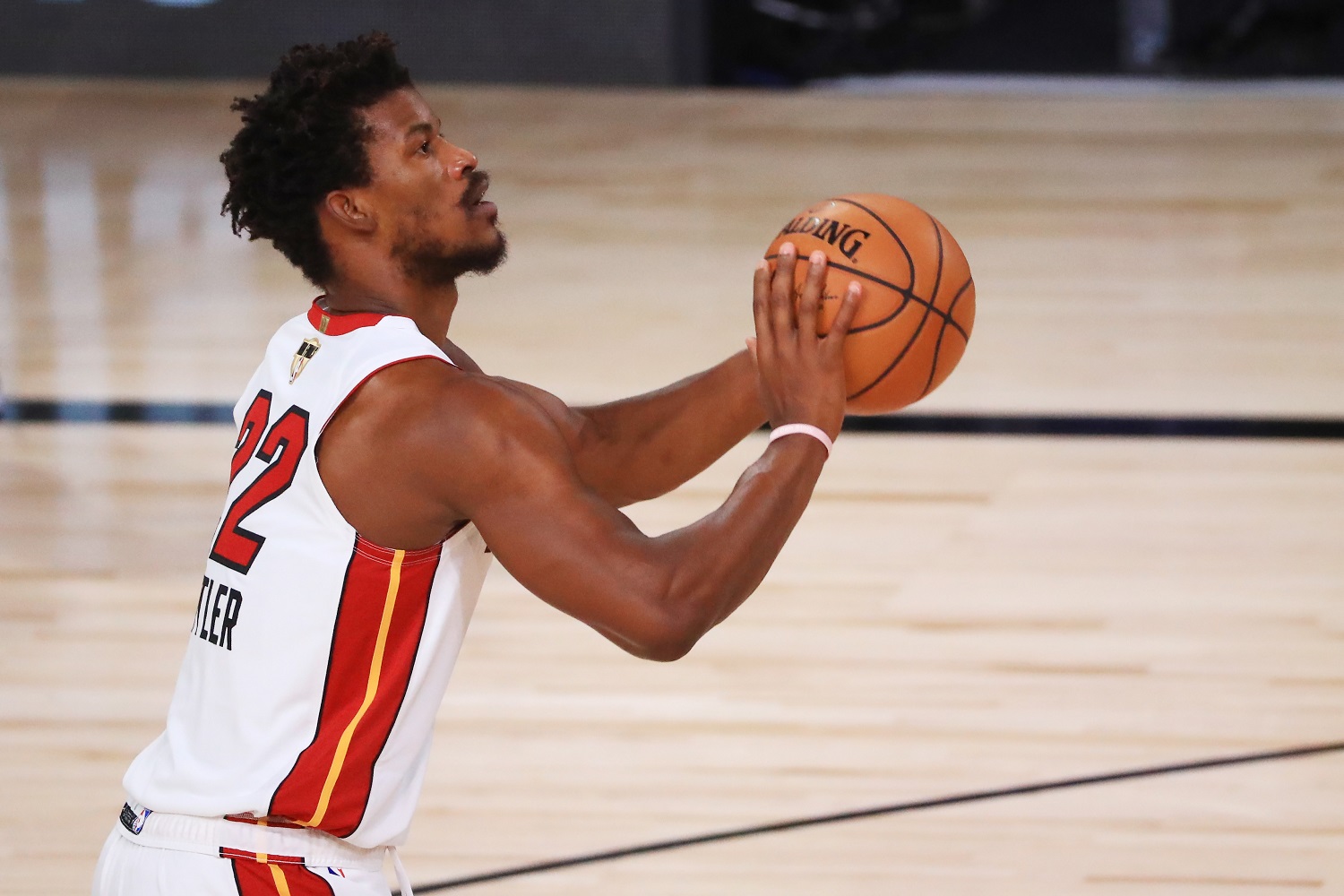 Jimmy Butler Has the Chance To Do Something That's Only Been Done Once in NBA Finals History but It Means Bad Things for the Miami Heat
Jimmy Butler has a chance to do something that's been done only once in NBA Finals history but that would mean the Miami Heat would have to lose the series.
While Jimmy Butler has been an absolute stud for the Miami Heat in the 2020 NBA Finals, the team is still down 3-2 to the Los Angeles Lakers and obviously need to win the next two games to secure the franchise's fourth NBA title. Yes, it's a very daunting task, especially with how LeBron James and Anthony Davis have been playing, but Butler and the Heat have shown a ton of heart in this series, a series many thought they'd have no chance to win when Goran Dragic and Bam Adebayo went down with injuries.
While he certainly had help this past Friday night in Game 5, Jimmy Butler put the Heat on his back in the closing minutes and carried Miami to a dramatic 111-108 victory. Butler said he left everything on the floor in Game 5 but he'll need yet another amazing performance on Sunday night if Miami wants to play a seventh game.
But even if the Heat come up short in Game 6 and the Lakers claim their 17th NBA title, there truly needs to be a serious discussion about Jimmy Butler being just the second player from a losing team to be named NBA Finals MVP.
Jimmy Butler posted his second triple-double of the 2020 NBA Finals in Game 5
When the Miami Heat found themselves in a must-win situation after losing the first two games of the 2020 NBA Finals, Jimmy Butler stepped up in Game 3 with the performance of a lifetime. While not being known as a triple-double guy (he only had seven in his career up to that point, none of them in the postseason), Butler hit 14 of 20 shots from the floor and 12 of 14 foul shots for 40 points and also added 13 assists and 11 rebounds in Miami's 115-104 victory.
With Miami's season on the line in Game 5, Jimmy Butler came through with another brilliant performance. The five-time NBA All-Star scored 35 points on 11-for-19 shooting from the floor and a perfect 12-for-12 from the foul line. He also added 12 rebounds and 11 assists to become the first player in history to record two triple-doubles in his first NBA Finals and just the second player in history with two 30-point triple-doubles in the Finals. The only other man to do that is the man that Jimmy Butler battled down the stretch in Game 5, LeBron James.
He's been on a tear throughout the NBA Finals
While his triple-doubles in Miami's two victories obviously stand out, Jimmy Butler has been incredible for the Heat throughout this entire series. With Bam Adebayo missing two games and Goran Dragic missing the last four, Butler has been forced to carry so much of the load for Miami and has stepped up beautifully.
Over the first five games, Jimmy Butler has led the Heat in scoring (29.0), assists (10.2), and rebounding (8.6), which leads to a very interesting question.
Could Jimmy Butler be named NBA Finals MVP if the Miami Heat lose?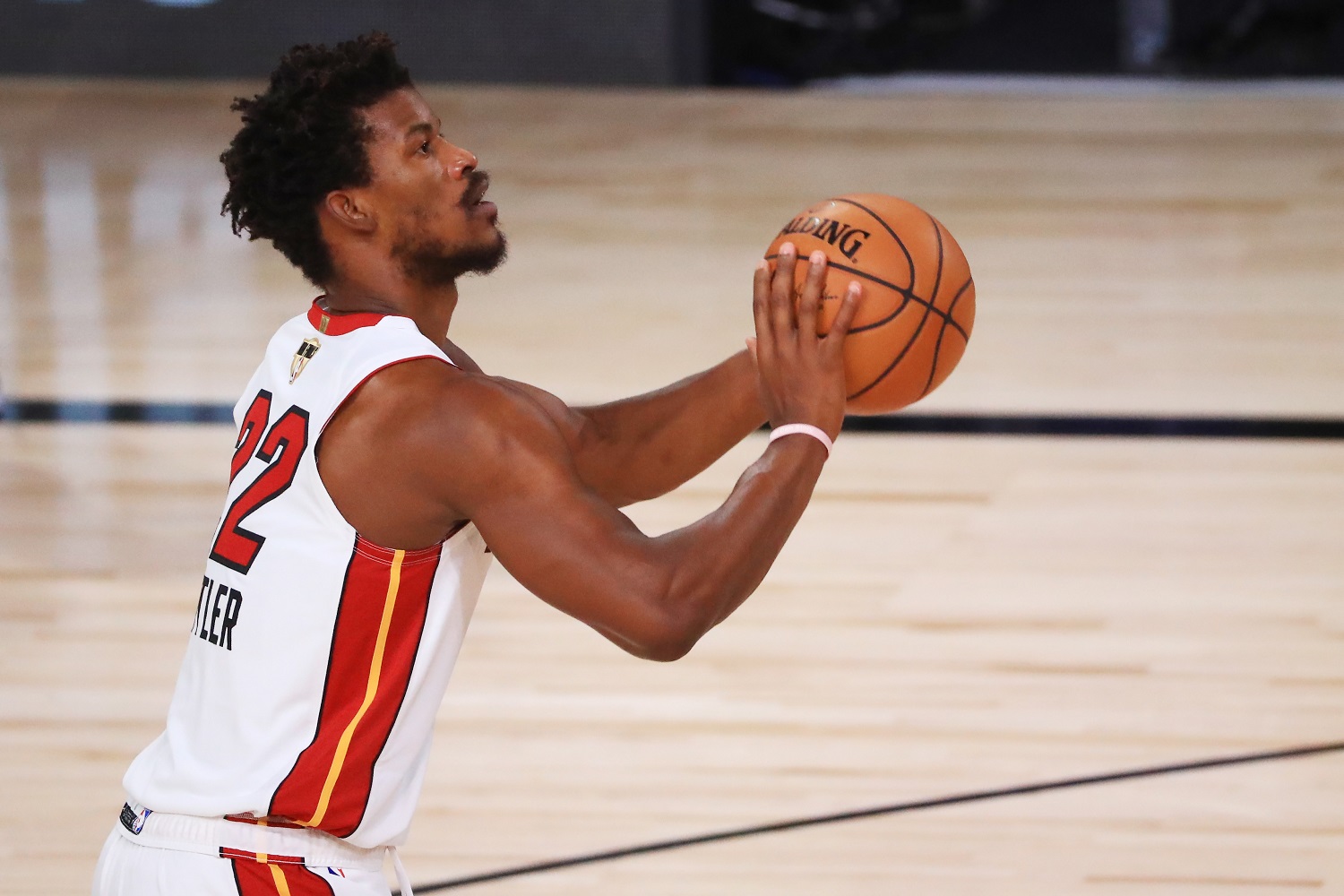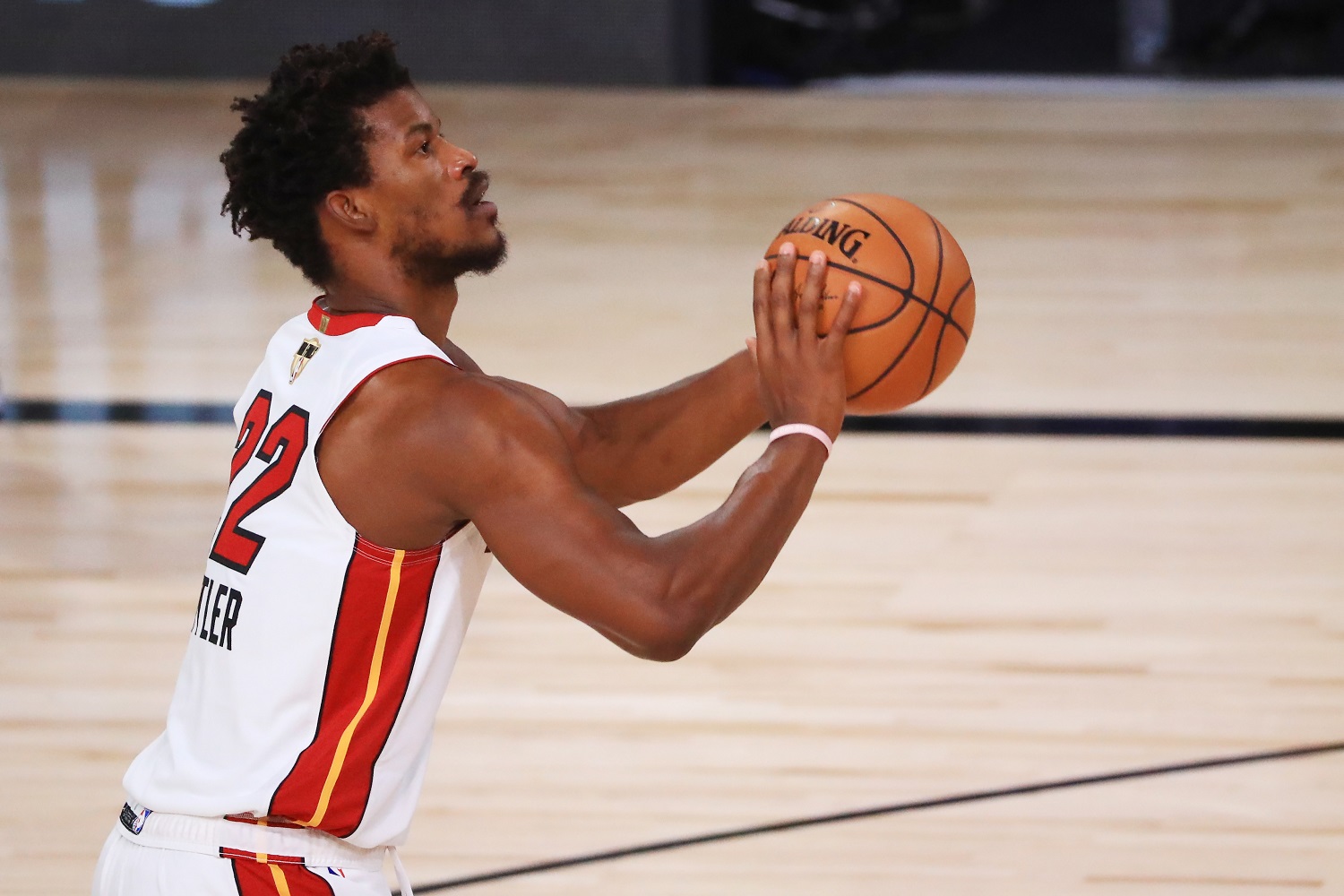 So let's say that Jimmy Butler has another incredible performance in Game 6 but the Miami Heat lose. Is there any chance that he could still be named NBA Finals MVP? History says no as that's only happened one other time in history.
In 1969, the year the Finals MVP was awarded for the very first time, Jerry West won it for the Lakers in LA's seven-game loss to the Boston Celtics. West averaged 37.9 points, 7.4 assists, and 4.7 rebounds in the series, capping things off with 42 points, 13 rebounds, and 12 assists in Game 7, which the Lakers lost 108-106.
With LeBron James having such an amazing series, averaging 30.2 points, 11.4 rebounds, and 8.2 assists, it's highly unlikely that Jimmy Butler would be awarded the NBA Finals MVP trophy if the Lakers win the series. But if there's anyone that deserves it from the losing side over the past five decades, it's him. But given how Butler has played, this may never even come up as Miami could certainly be the second team to overcome a 3-1 deficit in the Finals.
All stats courtesy of Basketball Reference