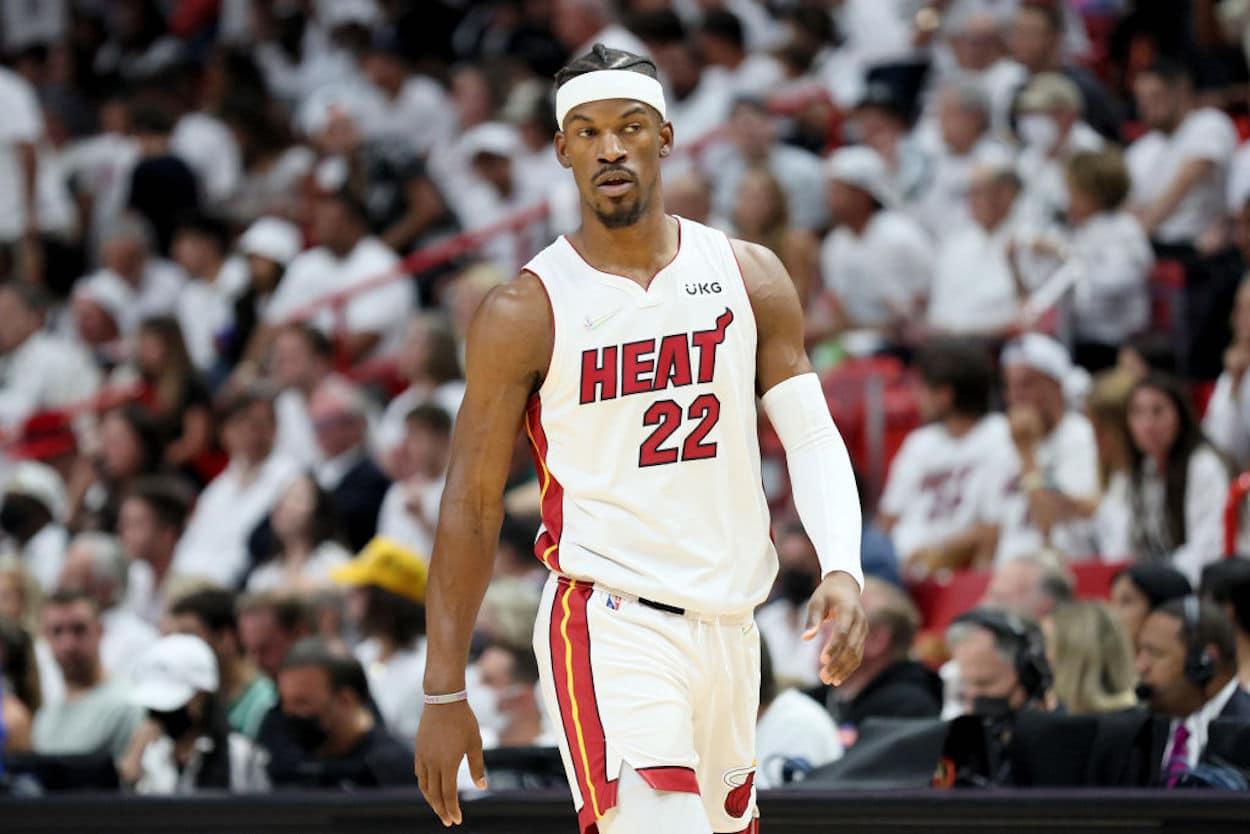 Jimmy Butler Names His 'Dream Coffee Shop Hang' and the Guests Have Nothing to Do With Basketball
While you might expect Jimmy Butler to want to have a cup of coffee with some NBA legends, the Miami Heat man has some more diverse tastes.
If you've spent any amount of time as a sports fan, you've probably heard plenty of athletes field questions about hypothetical drafts. Whether the topic is building a dream starting five or an all-time trash-talking roster, most of those discussions are fairly similar. Jimmy Butler, however, does things his own way.
During the NBA's Orlando bubble, the Miami Heat man made headlines by setting up his own impromptu coffee shop, which has turned into a legitimate business. In that vein, Butler provided the names of three guests he'd like to share a "dream coffee shop" with. Fittingly, none of the names have anything to do with basketball.
Jimmy Butler would share a cup of coffee with Barack Obama, Neymar, and Emma Raducanu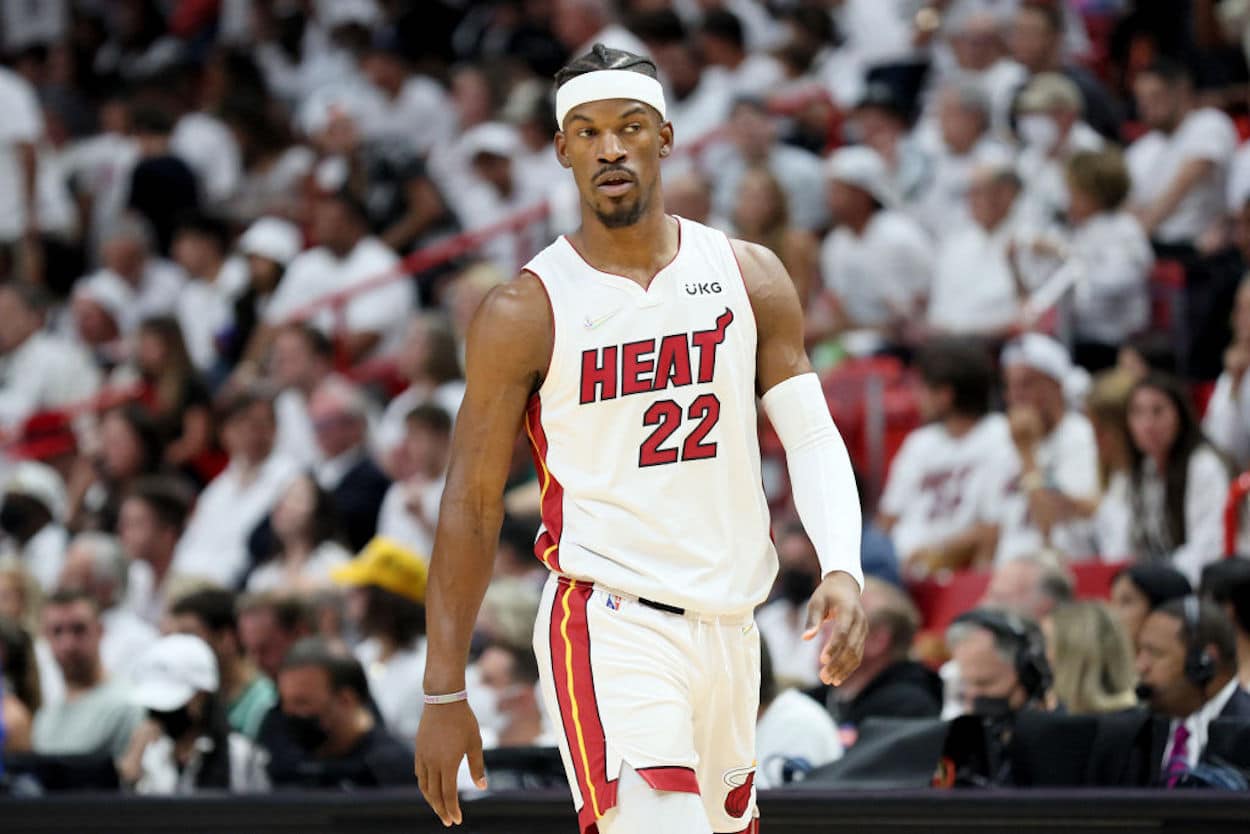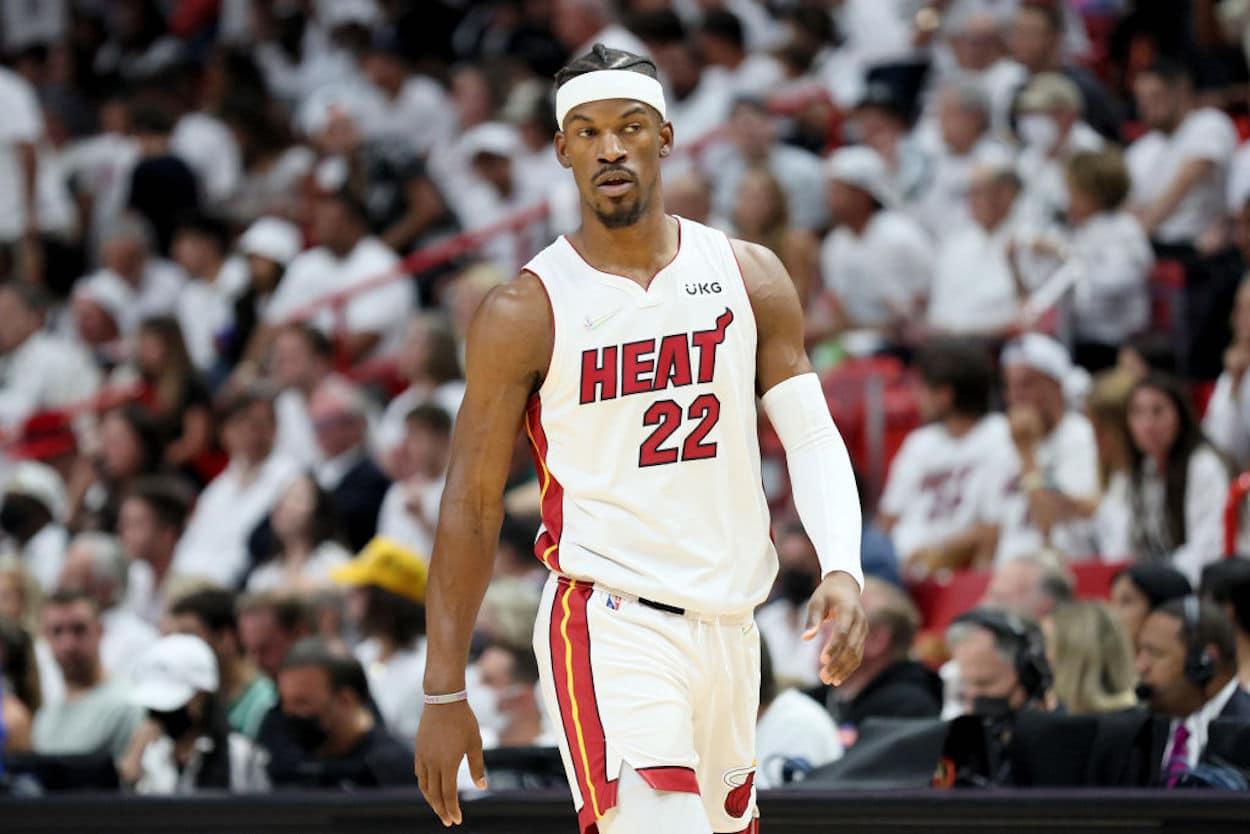 While the NBA's Orlando bubble might seem like an eternity ago, it only took place in during the late summer of 2020. In addition to concluding a season and crowning a champion, it also helped spawn a business. Jimmy Butler took advantage of his captive market and brought Big Face Coffee to the (relative) masses.
Since then, the brand has continued to grow, and the forward has continued to delve further and further into the intricacies of coffee. As explained in a Sports Illustrated column written by Rohan Nadkarni, Butler drinks roughly five coffees per day on the road; at home, his consumption is measured as "entirely too much." Despite that habit, though, he insists that his favorite part of drinking coffee is the conversations shared while enjoying a drink.
In that vein, he shared the three people he'd share a "dream coffee shop hang" with. If you're expecting him to name Michael Jordan and Larry Bird, then you'll be sorely mistaken.
Man, way to put me on the spot. I got three people, right? I would definitely pick Neymar; I'm a huge fan. I would pick Barack Obama. I want to sit down and have a cup of coffee with Obama. And then lastly, I would pick [long pause] Emma Raducanu. She's a young baller. She's a monster. If I could share a cup with those three, I think I'd be having a great time.

Jimmy Butler via Rohan Nadkarni
And there you have it, straight from the man himself.
Butler is certainly no stranger to doing things his own way
As I mentioned above, you'd probably expect most NBA stars to want to spend time with at least one historical basketball great in a dream grouping. Butler, however, isn't your average basketball player.
Beyond the obvious talent — Butler might not be as plainly dominant as some other stars, but the combination of his stat lines and defensive work speaks for itself — the forward doesn't pull punches. He clashed with teammates in Chicago, Philadelphia, and Minnesota before finding a home within the Heat's hard-working culture.
In a 2021 GQ story by Zito Madu, which calls the forward " one of the NBA's fiercest and most enigmatic stars," we can see some of his many contradictions. He wears cowboy boots and thinks of himself as a country boy but still dives into different varieties of wine and coffee. He learns from Mark Wahlberg and "is almost religious in his pursuit of self-actualization." Then, on the court, he's one of the fiercest competitors around.
Near the conclusion of that piece, Butler was asked what he wanted the world to think of him. Rather than trotting out a cliche about hoping people remember him as a hard worker, a great teammate, or anything else, the Texas native had a different perspective.
That I'm going to be me, no matter what you, they, or anybody thinks," he explained. "I don't want anyone to say that I've changed or this or that. No, I'm going to be me."
It's safe to say that picking Obama, Neymar, and Raducanu for a dream coffee date is doing just that.
Like Sportscasting on Facebook. Follow us on Twitter @sportscasting19 and subscribe to our YouTube channel.