Jimmy Garoppolo Contract: Raiders Get a Steal Even if New QB Isn't Better Than Derek Carr
The Las Vegas Raiders passed on paying Aaron Rodgers $100-plus million and giving up draft capital to do it. Instead, they inked a Jimmy Garoppolo contract for far less money and kept all their draft picks. Is Jimmy G simply Derek Carr 2.0? Possibly. But is the quarterback a steal because of the value and flexibility of the Jimmy G contract? Absolutely.
The Jimmy Garoppolo contract
In the last Derek Carr contract, the Raiders guaranteed the quarterback $24.9 million at signing. That cash got the team a 6-11 record in 2022. If the franchise decided to keep Carr past February 15, 2023, Carr's entire 2023 salary of $32,900,000 and $7,500,000 of his $41,900,000 salary in 2024 would have guaranteed as well.
For both on-field and financial reasons, the Raiders cut ties with Carr this offseason.
And while reports of several different options floated around the NFL universe, the team ultimately decided on agreeing to a three-year, $72,750,000 Jimmy Garoppolo contract. This pact includes an $11,250,000 signing bonus, $45,000,000 guaranteed, and has an average annual value (AAV) of $24,250,000, per Spotrac.
This coming season, the Jimmy G contract will have an $11,250,000 base salary, $3,750,000 in prorated signing bonus, a $1,530,000 roster bonus, and a $220,000 workout bonus. His cap hit is $16,300,000, and the dead cap number is $33,750,000.
The fundamentals of this Jimmy Garoppolo contract are excellent for the Raiders. The AAV of $24.25 million is currently the 17th-highest QB AAV in the league. By comparison, Carr's new deal with the Saints ($37.5M AAV) puts him No. 10 at the QB position, and Aaron Rodgers ($50.27M) is tops in the NFL.
In terms of cap hit ($16.3M), the Jimmy G contract puts him 15th in the league, behind Rodgers ($31.6M) but ahead of Carr ($7.2M) since the Saints had to structure his contract irresponsibly due to salary cap issues.
The other reason the Jimmy Garoppolo contract is so good is the flexibility it gives the Raiders.
In 2024, the team can get out of the deal with just an $18.75 million dead cap hit, which would save nearly $10 million on the QB's $28 million cap hit for that season. A year later, before the 2025 campaign, it will only cost Las Vegas $3.75 million in dead cap to get off the deal.
Is Jimmy Garoppolo better than Derek Carr?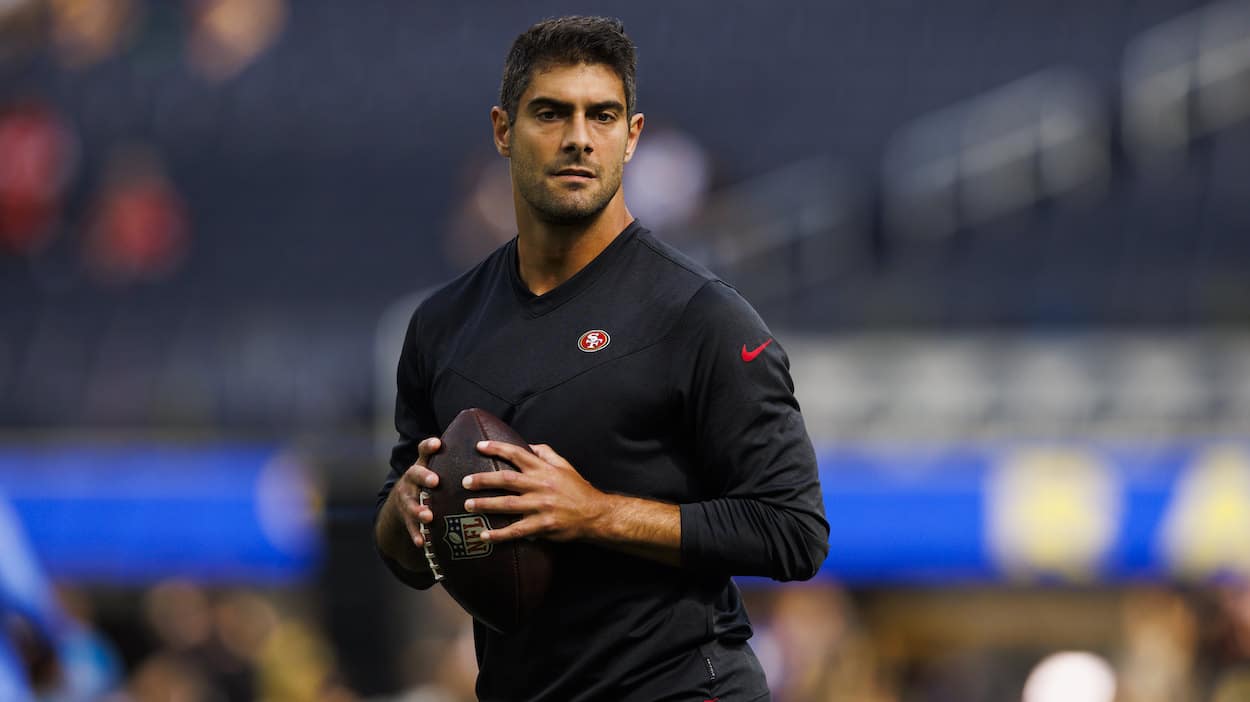 While the Jimmy Garoppolo contract is a steal, does he give the Raiders a better chance to win in 2023 than his predecessor, Derek Carr?
Let's look at the tale of the tape:
| | | | | | | | | |
| --- | --- | --- | --- | --- | --- | --- | --- | --- |
|   | Seasons as a starter | Games played | Reg. season record | Playoff record | Passing Yards | Comp. % | TDs | INTs |
| Derek Carr | 9 | 142/146 | 63-79-1 | 0-1 | 35,222 | 64.6% | 217 | 99 |
| Jimmy Garoppolo | 6 | 57/98 | 38-17 | 4-2 | 14,298 | 67.6% | 87 | 42 |
There are a few things that immediately jump out on this chart. One is that Carr is incredibly reliable. Once he's your starting QB, he answers the bell each and every week. On the other hand, Garoppolo is wildly hit or miss when it comes to suiting up.
The next thing is that while Carr is out there every week when Jimmy G plays, his teams win more. Garoppolo has an excellent record as a starter and has taken teams to an NFC Championship game and a Super Bowl. Carr has one playoff game under his belt.
Finally, when it comes to the counting stats, the two QBs are pretty similar. Garoppolo is a little more accurate, while Carr is more prolific.
In the end, the Raiders didn't make a massive upgrade with Garoppolo over Carr. However, if the team's new signal-caller can stay healthy (and that's a big "if"), it could be just enough of an upgrade to change the team's fortunes.
And frankly, with the Jimmy Garoppolo contract, it is a low-risk, high-reward proposition.