Jimmy Johnson Embarrasses Cowboys Owner Jerry Jones by Shutting Down His Delusional Eagles Take
Ahead of Super Bowl 57, Dallas Cowboys owner and general manager Jerry Jones made headlines by claiming the Philadelphia Eagles sold their future away for a championship this year, while the Cowboys are building toward the future. Of course, as I pointed out earlier this week, Jones is dead wrong about that assessment.
It turns out I'm not the only one who disagrees with him.
Jimmy Johnson, who won two Super Bowl titles with Jones and remains good friends with the owner today, also called him out for the jealous man he is.
Jerry Jones' ignorant Eagles take proves he has no idea what he's talking about
The Eagles are off to their second Super Bowl appearance in five years and their third since 2004. Meanwhile the Cowboys haven't even reached the NFC Championship since 1995, and Jones is starting to feel a bit jealous.
In a vain effort to spin Dallas' drought as a long-term play, Jones claimed the Eagles are going all-in on one season while he's building toward the future.
"Anybody who thinks I won't take a chance has misread the tea leaves. But I do think longer term," Jones said this week, per Pro Football Talk. "And I'm real hesitant to bet it all for a year. There's a lot of things that can happen for that year. In essence, we're seeing a couple of teams that have had some real success putting it all out there and paying for it later, in Philadelphia and Los Angeles.
"That's pretty impressive to have two teams in the last two years empty the bucket and get to the Super Bowl," he continued. "But if you miss, it is a long go."
Riiiiight.
So, who's going to tell Jones that the Eagles have more first-round draft picks in 2023, more cap space this offseason, and a younger, better quarterback (still on his rookie deal) than the Cowboys? Maybe we'll just let him find that out for himself.
Jimmy Johnson shuts down Jerry Jones' delusional take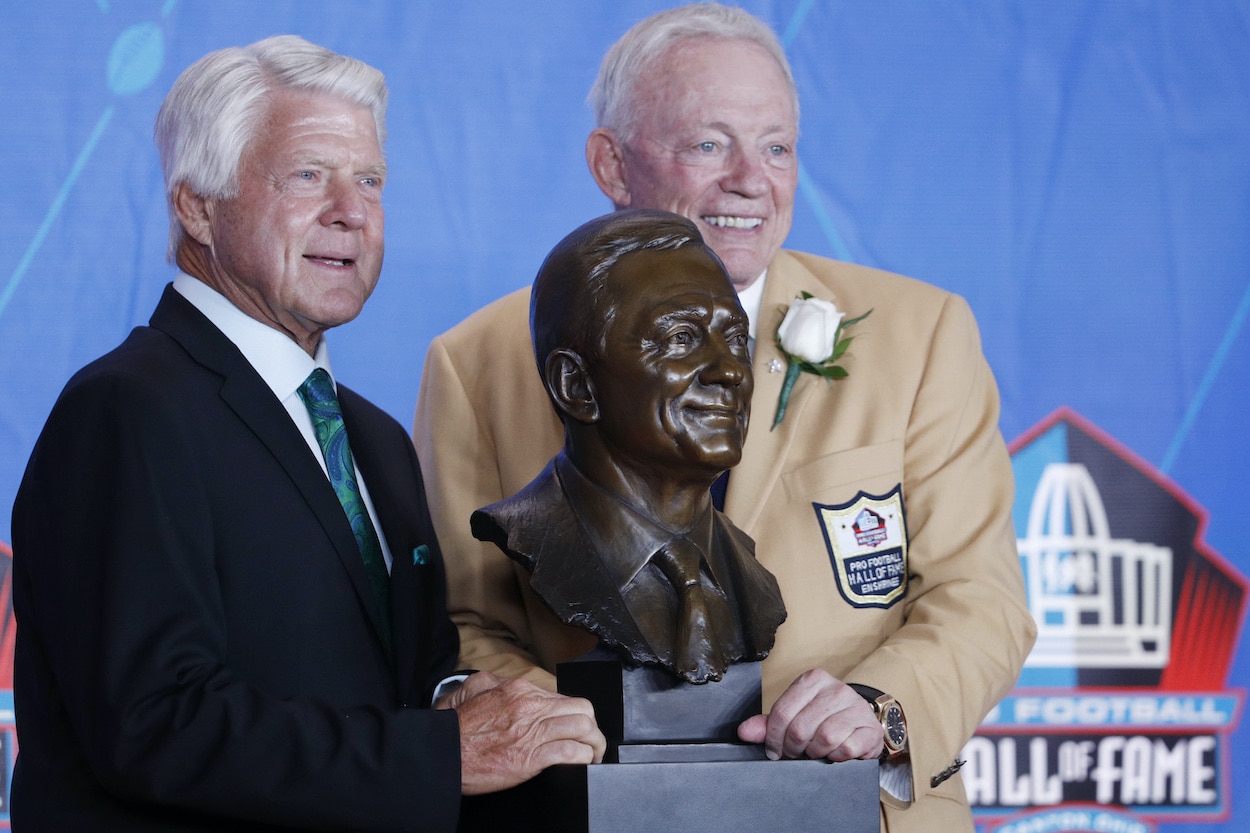 Jones won't listen to me when I tell him his Eagles comments are ignorant and plainly false, but maybe he'll listen to a close friend.
According to The Philadelphia Inquirer, Eagles owner Jeffrey Lurie reached out to Jimmy Johnson to ask what in the world Jones was talking about.
"I said, 'I have no idea,'" Johnson said. "Philadelphia has a couple of first-round picks in the [2023] NFL draft. They've got extra picks down the road. They've got some very talented players. They've got some talented young players.
"I think the Philadelphia Eagles are gonna be good for a long time."
You can deny it all you want, Jerry, but he's right.