WATCH: JJ Redick's 8-Year-Old Son Beats an NBA Player in a 3-Point Contest
JJ Redick was a great 3-point shooter, and his son Knox might follow in his footsteps after beating the Knicks' Josh Hart in a shooting contest.
JJ Redick is an all-time great 3-point shooter. From his years at Duke to his 19-year NBA career, he was always great at shooting the long ball. Now, in retirement, Redick might be training the next great 3-point sniper, his eight-year-old son, Knox. Despite his young age, Knox is already quite a deadeye from deep, and he showed that off recently by beating New York Knicks guard Josh Hart in a 3-point contest.
JJ Redick's son, Knox Redick, beat Josh Hart in a 3-Point contest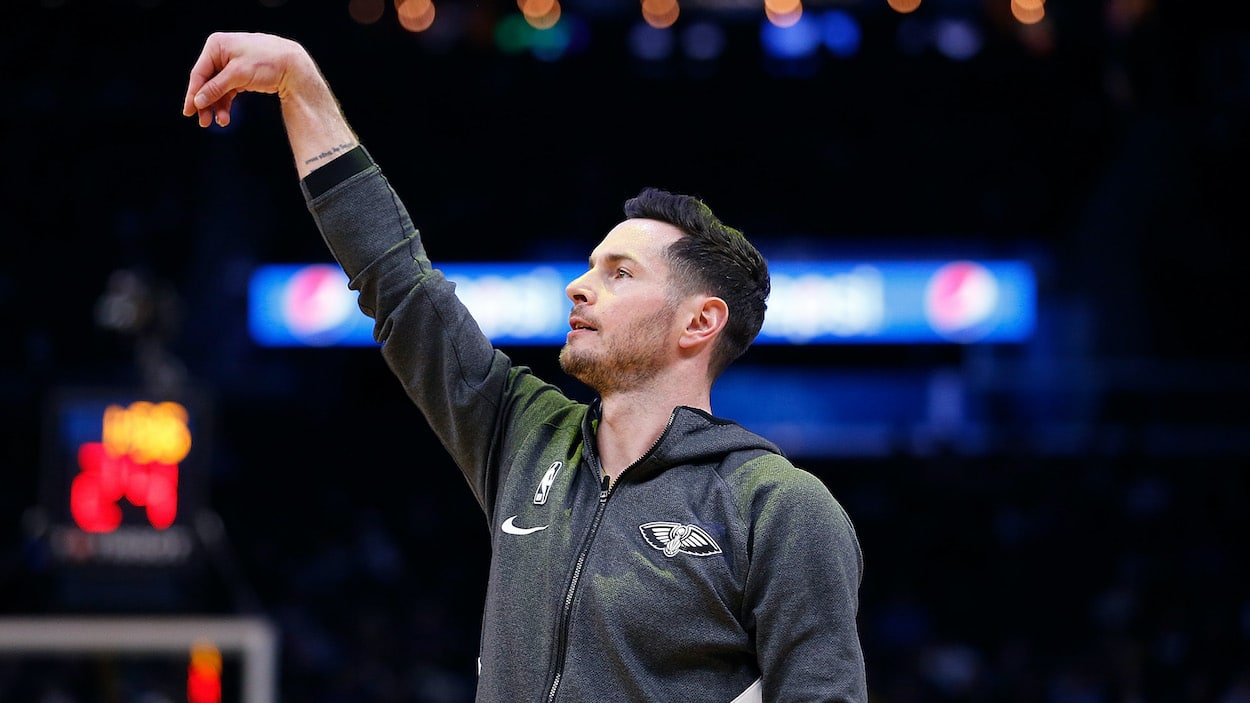 Longtime NBA sharpshooter JJ Redick is one of the best 3-point shooters of all time. He is a career 41.5% shooter from behind the arc, which makes him 19th in NBA history, and his 1,950 3-pointers made is the 18th-most ever.
Knicks guard Josh Hart is an incredible two-way player, and his midseason acquisition is a huge part of the reason New York is up 3-1 in the first round of the 2023 NBA playoffs over the Cleveland Cavaliers. However, 3-point shooting isn't his calling card. He has a respectable 35.0% 3-point shooting percentage and has knocked down 488 threes in his career.
Toward the end of the Knicks' regular season, Hart and his teammate, Jalen Brunson, visited JJ Redick at his Brooklyn Basketball Academy.
That's where JJ's eight-year-old son, Knox, challenged Hart to a 3-point contest.
The rules were five spots, two shots from each spot, and Hart had to shoot NBA-length threes from everywhere but the corner, where there wasn't enough room to shoot from that long.
Knox jumped out to a quick 1-0 lead before Hart evened it up from the second spot. Knox then got hot and knocked down the next three made shots to go up 4-1 on Hart. However, the NBA player quickly made it 4-2 before Knox missed his final two to leave the door open for the Knicks star.
With the game on the line, Hart bricked his first shot from the final corner, and Knox took the match 4-2.
Hart was a great sport about it and joked that he was sore from guarding the Denver Nuggets' Jamal Murray the night before and dunking "for the first time in like 40 games." The big takeaway, though, is that Knox Redick might be following in his father, JJ Redick's footsteps, so watch out, NBA.
You can watch the whole contest in the Twitter clip above.