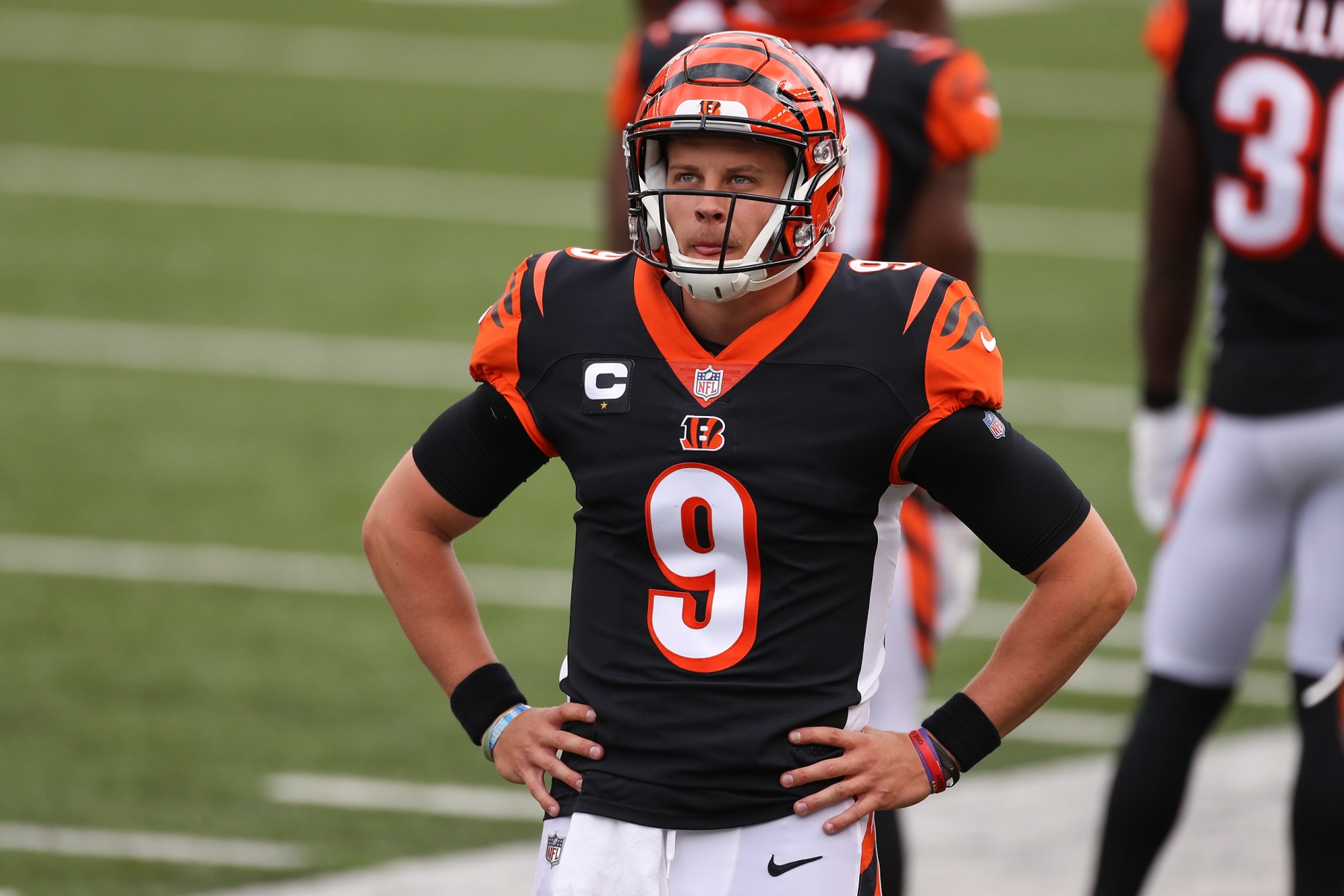 Joe Burrow Is Getting the Best Advice From an Unlikely Source
Joe Burrow took some hard hits in the first two weeks of his rookie season. The Cincinnati Bengals quarterback recently received some quality advice about self-preservation from an unexpected source.
Joe Burrow is off to a record-setting start for the Cincinnati Bengals by becoming the first rookie in NFL history to throw for 300 yards in three consecutive games. But a quarterback can't do that from the sideline. That is why the former LSU star is getting the best advice from an unlikely source on how to stay out of the injury tent and the X-ray room.
Joe Burrow has been a great addition to the Cincinnati Bengals
A 1-2-1 record isn't very good, but the Cincinnati Bengals shouldn't be worried, because their future is looking good these days. Rookie quarterback Joe Burrow is everything they could have hoped for and more when the Bengals made him the No. 1 overall selection of the 2020 NFL draft.
At the quarter post of the season, Burrow in second in the NFL in pass completions. He has completed at least 60% of his throws in every game, and Burrow's best passing statistic might be that he has thrown just two interceptions against six touchdown passes. Considering that he has thrown 177 times already, that's a very small number of mistakes.
Now, however, Burrow faces the toughest challenge of his young pro career. The Bengals' opponent this week is the Baltimore Ravens, who rank fourth in the NFL in scoring defense – a category in which they're always near the best in football.
That will be a substantial new challenge for Burrow if he is going to go over 300 yards with a passer rating of 90 or better for the fourth straight week.
One reason for concern about Joe Burrow
Besides what he showed as a passer, Joe Burrow proved to be at least adequate on his feet as a college prospect at LSU. After transferring from Ohio State, Burrow ran for 12 touchdowns over his final two college seasons, though his average per carry was only 3.2 yards a carry.
Burrow found himself scrambling more than he should have in the first two NFL games – not uncommon for a rookie, especially without the benefit of a preseason schedule – and produced 65 rushing yards and a touchdown on 15 carries.
The problem is that a 6-foot-3, 220-pound quarterback makes for a big and attractive target for defenders once he crosses the line of scrimmage, and Burrow won't be confused with Lamar Jackson when it comes to elusiveness.
You might notice, then, that Burrow dialed it back in Weeks 3 and 4. Even though the Philadelphia Eagles brought the pressure with eight sacks in a 23-23 tie, Burrow recorded only one rushing attempt. He carried four times for 11 yards while beating the Jacksonville Jaguars, 33-25.
The takeaway is that he's learning to pick his spots to run and otherwise throwing the ball away to avoid crushing hits by a defender.
The best advice came from an unlikely source
NFL Films captured a great conversation involving Joe Burrow and the topic of self-preservation during the Cincinnati Bengals' win over the Jacksonville Jaguars in Week 4.
It started with Burrow scrambling to his right and sliding safely, albeit awkwardly, to the turf for no gain to avoid being hit. As he got up, Burrow joked with Jags defensive end Dawuane Smoot, who had been in pursuit.
"Hey, I learned from last couple weeks," he said. "Y'all ain't hitting me no more."
That elicited a chuckle from Smoot, a fourth-year pro.
With a brief break in the action afterward, Burrow could be heard conversing with Alex Kemp, who is in his fourth season as an NFL referee and eighth as a game official.
"You're doing good, but remember: If you're going down, just go down," Kemp advised Burrow.
"Yeah, I'm still learning how to do that," Burrow responded.
Another member of Kemp's crew then chimed in: "Once you get blown up one time, you will get down."
Responded Burrow: "Hey, you saw the one last week. … I'm learning, I'm learning."
Added Kemp: We'd like to keep you around for a while."
Shot back Burrow: "Yeah. Me, too."
All stats courtesy of Pro Football Reference.