Joe Burrow Is Putting Himself In Position To Do Something Only 4 Quarterbacks Have Ever Done
There's always a lot of pressure to perform when you're the No. 1 overall pick in the NFL draft, especially when you're a quarterback. Cincinnati Bengals quarterback Joe Burrow certainly knows that feeling as many are seeing him as the savior of a franchise that won just two games in 2019 and hasn't been to the postseason in five years. Throw in the fact that Burrow won the Heisman Trophy with LSU last year by having one of the greatest seasons in college football history and that pressure goes up even more.
But through four games of his rookie campaign, Joe Burrow is living up to the hype. While he might not lead the Bengals to the playoffs, he's playing good football and is putting himself in a position to do something only four other quarterbacks in history have ever done.
Joe Burrow won the Heisman Trophy with one of the greatest seasons in college football history
After transferring to LSU from Ohio State ahead of the 2018 college football season, Joe Burrow was named the starting quarterback for the Tigers as a redshirt junior and had a solid season, throwing for 2,894 yards and 16 touchdowns. The team went 10-3 and won the Fiesta Bowl but, outside of maybe Ed Orgeron, nobody really saw Burrow as one of the elite quarterbacks in the nation, which is why he came into the 2019 season with 200-1 odds to win the Heisman Trophy. Well, he certainly changed a lot of minds, didn't he?
Joe Burrow had one of the greatest seasons in college football history in 2019. He led LSU to an undefeated season, a national championship, and put up video game numbers on the way to winning the Heisman. In 15 games for the Tigers last year, Burrow completed 76.3% of his passes for 5,671 yards and 60 touchdowns, including 13 combined TD passes in LSU's two playoff wins. He also rushed for 368 yards on the year and added an additional five scores, making him responsible for 65 touchdowns over the course of the season. Many have called it the greatest season of all time by a college quarterback, which is certainly hard to argue.
He's putting himself in a great position to win NFL Offensive Rookie of the Year
As soon as the Bengals took Joe Burrow with the No. 1 pick, everyone knew he would be thrust into the starting role immediately. Sometimes that works and sometimes that doesn't. Many top picks haven't been able to live up to that kind of pressure but Burrow is playing good football thus far.
After throwing for just 193 yards in his NFL debut, Joe Burrow has thrown for more than 300 yards in each of his last three starts, something that no rookie quarterback has ever done. His offensive line needs to do a better job of protecting him as he's been sacked 15 times through his first four games, the second-most in the league behind only Deshaun Watson at 16. But Burrow has been playing tough and picked up his first NFL win this past Sunday against the Jaguars. His 1,121 passing yards are good for 10th in the league right now. The 1-2-1 record might not look all that impressive but he's had the Bengals in each and every game this season and is only going to get better.
Through four weeks, Burrow and Chargers quarterback Justin Herbert seem to be the top two candidates in the running for NFL Offensive Rookie of the Year. But if Herbert goes back to the bench when Tyrod Taylor returns (we'll see if that actually happens), Joe Burrow could have an easier path to an accomplishment achieved by only four other quarterbacks in history.
Joe Burrow could become just the fifth quarterback to win the Heisman Trophy and NFL Rookie of the Year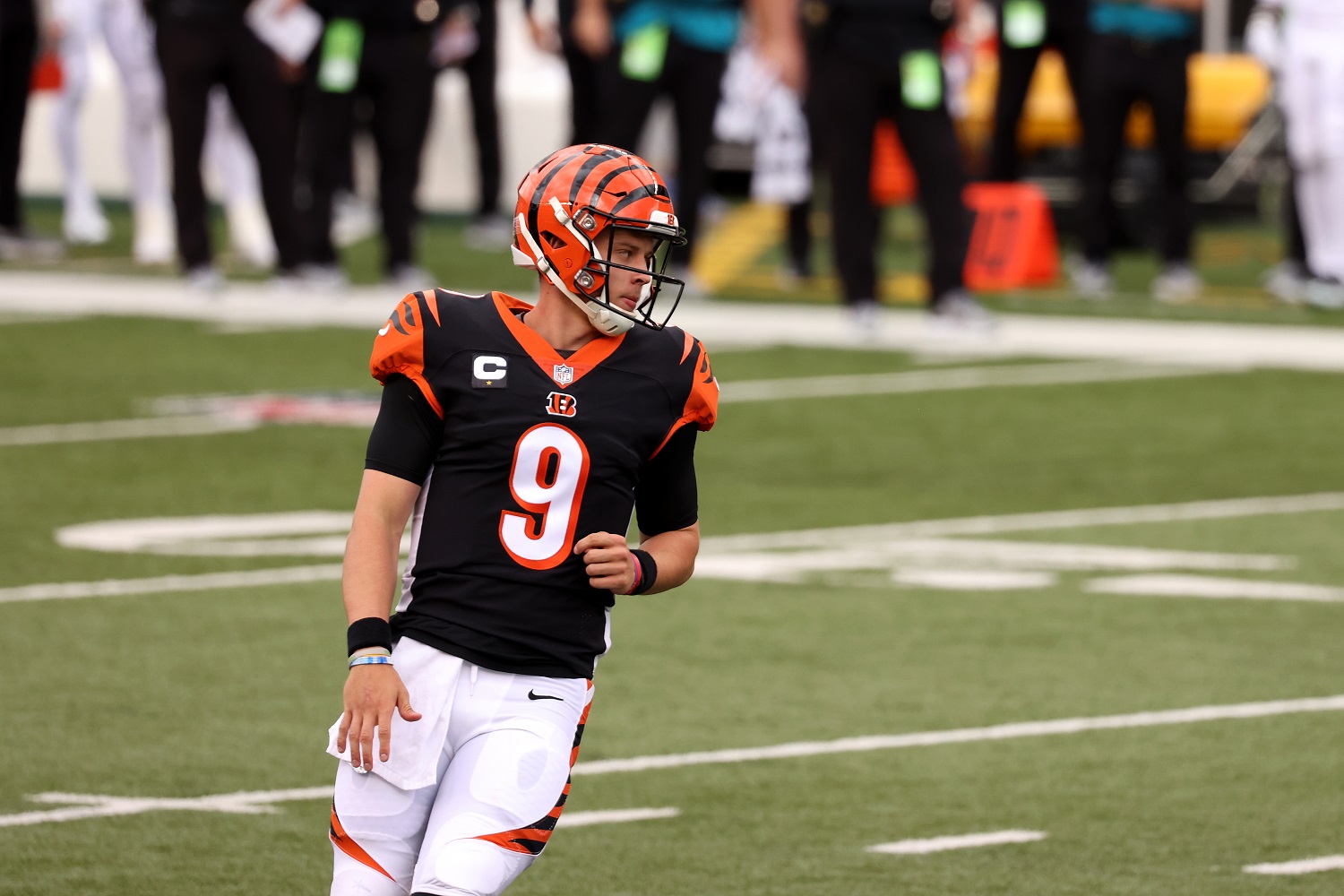 There's obviously still a long way to go (well, hopefully anyway if COVID-19 doesn't shut this thing down) in the 2020 NFL season but if Joe Burrow can continue to play well and win Offensive Rookie of the Year, he would be just the fifth quarterback in history to win both the Heisman Trophy and NFL Rookie of the Year. Sam Bradford was the first to pull it off a decade ago and he's since been joined by Cam Newton, Robert Griffin III, and Kyler Murray.
Joe Burrow continues his pursuit of history this Sunday when the Cincinnati Bengals take on the Baltimore Ravens.
All stats courtesy of Sports Reference