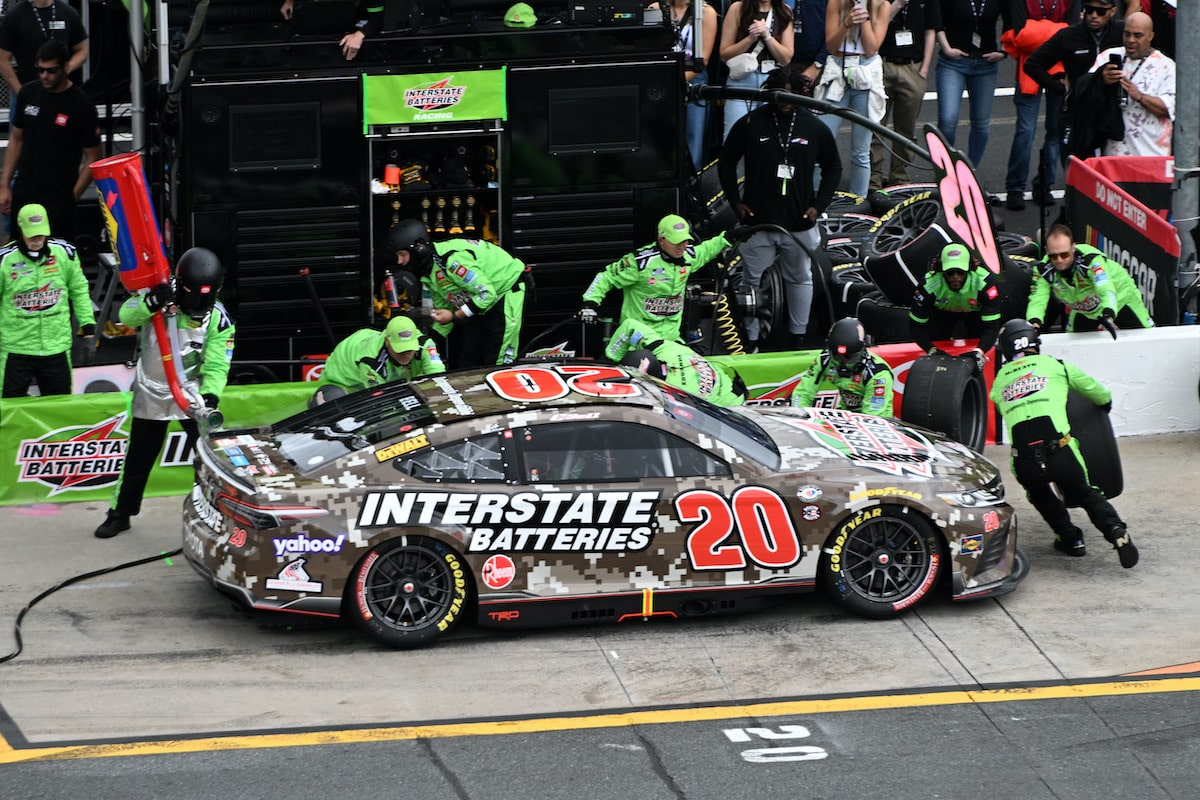 Joe Gibbs Racing Lingering Problems Are Cause for Serious Concern and Threaten a Title Run
Joe Gibbs Racing has had a lingering problem for two seasons that has continued into the 2023 playoffs and could cost the organization a championship.
At the start of the 2023 NASCAR Cup Series season, most experts forecasted three of the four Joe Gibbs Racing cars would make the playoffs. That prediction came true. 
All three are in the Round of 12, heading to the wild card race at Talladega Superspeedway this weekend. Looking back on the recent past at JGR, there's a chance one of them might make it to the Championship 4 race in Phoenix, but the possibilities of them winning the title are not good simply because the organization has a lingering problem that is likely to rear its ugly head and prevent it from happening. 
Joe Gibbs Racing hoping to add sixth title in 2023
Joe Gibbs Racing has earned five Cup Series championships. However, there have only been two in the last 18 years while working with Toyota as the manufacturer, and those came from a driver no longer with the organization, Kyle Busch.
Coming into the 2023 playoffs, many pundits suggested Martin Truex Jr. was the title favorite because of the momentum he brought with him, including six top-10 finishes in the final seven regular-season races, with a win at New Hampshire. 
Denny Hamlin was similar to Truex on momentum, scoring four top-five results of his own in the final six regular-season races, including a win at Pocono. 
Christopher Bell was the outlier and didn't come into the postseason nearly as hot as his two JGR teammates, with three top 10s in the final six races, his best a third place at Watkins Glen. However, to improve the No. 20's chances in the postseason, the organization announced it was swapping pit crews with rookie Ty Gibbs, who didn't make the playoffs but whose pit crew was considered one of the best all year, which included winning the Pit Crew Challenge at the All-Star Race. 
Joe Gibbs Racing experienced pit road problems in 2022
Unfortunately, Bell knows a little something about pit crew swaps. He experienced one last year in a partial swap with Bubba Wallace and the No. 23 team. 
Despite that switch, the newly assembled pit crew effectively ended any chance of the No. 20 car winning the title in the Championship 4 when, on the final caution, the jackman's finger got stuck between the nut and the spindle, which resulted in an almost 20-second stop. Bell fell back to 16th position. He finished 10th.
Denny Hamlin didn't qualify for the Championship 4 race, but the No. 11 team had its share of pit road problems throughout the 2022 campaign, including a crew chief suspension and loss of crew members for a loose wheel at Dover. 
Pit road issues continue this season into the playoffs
Those pit road problems have continued this season for Hamlin and the rest of the JGR teams. At Dover this year, the No. 11 pit crew lost 21 spots on pit road during the race, and the three-time Daytona 500 champion had a few choice words about it after, suggesting: "If a caution falls, there's a 90% chance we're going to lose significant spots," and "we're on the same team but ultimately the last couple of years have been atrocious and real bad. I'm missing out on wins that we should be winning."
Unfortunately, those missteps on pit road have continued in the playoffs, and Sunday at Texas provided another bad example. For the third time in four races, Bell's new crew had a problem. Moments after the race, the driver voiced his understandable disappointment.   
"That's not my department," Bell said. "My department is to produce the best lap time I can under green-flag conditions, and unfortunately, I did a bad job of that today. We were pretty slow. I'm sure that the pit crew is going to work as hard as they can to get better and I got to work as hard as I can to get better, too." 
Unsurprisingly, Bell wasn't the only JGR car to endure pit road problems in the Lone Star State. Martin Truex Jr. did as well, and the normally reserved driver was anything but that when talking about it during his post-race interview.
"It just piles on when you're back there," Truex said of being involved in an early spin that sent him back in the pack. "And on top of that, our pit stops were absolutely horrendous. Just nothing really good today at all to speak of other than not getting wrecked." 
While Hamlin didn't experience any issues at Texas and has looked solid in the last three races, the first race of the playoffs at Darlington, his pit crew ended what appeared to be a promising evening with a loose wheel on a green flag stop with less than 100 laps to go. 
There's no denying that JGR teams have had consistent problems on pit road for the last couple of years. And, as Hamlin suggested, those issues have cost them wins. With that problematic background, there's no reason to believe in the season's final six races that it won't happen again to at least one of the teams and will likely cost the organization a win and, more significantly, a championship. 
To stay up to date on the latest happenings in NASCAR, including breaking stories you can't find anywhere else, follow Kyle on YouTube and Twitter.