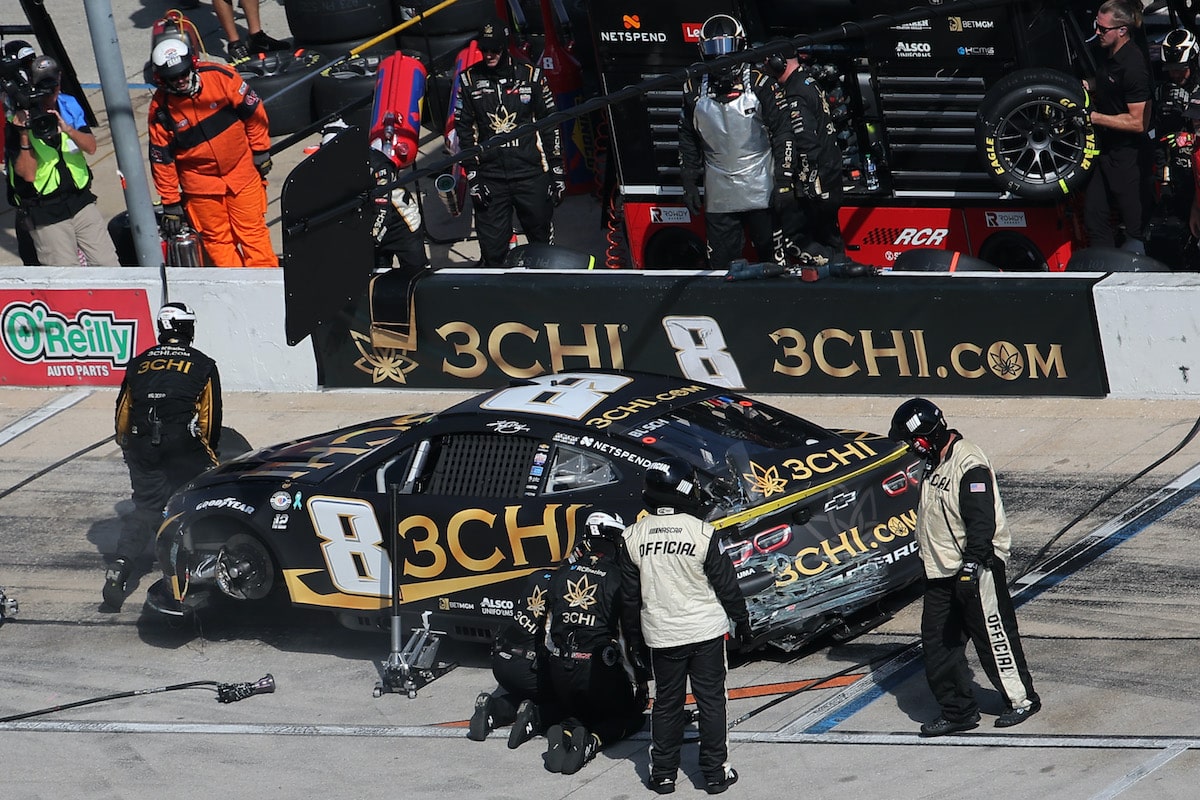 Kyle Busch Explains Reason for Bizarre Move and Driving Complete Lap in Reverse at Texas
Kyle Busch offered a detailed explanation of why he backed the No. 8 car around the entire length of Texas Motor Speedway after a crash.
Kyle Busch isn't a two-time NASCAR Cup Series champion by accident. He's already considered one of the greatest ever to sit behind the wheel. On Sunday at Texas Motor Speedway, the Richard Childress Racing driver shocked everyone watching when pulled off something he'd never done before in his illustrious career by driving around the 1.5-mile speedway in reverse.
Kyle Busch drives car in reverse around Texas
Kyle Busch didn't come into Texas with much momentum after finishing 20th the week before at Bristol, but with a reset of the second-round playoff points, he was solidly in the Round of 12 in the sixth spot. 
Starting the race seventh after a good qualifying effort, the 38-year-old encountered problems in the first stage and radioed to his team that it felt like one of his tires was vibrating. However, before the team had a chance to confirm the issue, the No. 8 car got sideways going into Turn 1 and slammed backward into the outside fence with seven laps to go in the stage. 
With the front of his car facing the wrong direction, Busch didn't attempt to try and go forward but instead kept it in reverse and drove the entire length of the racetrack backward. His crew tried to repair the severely damaged rear of the car to no avail and he ended his day early, finishing 34th. After his required visit to the infield care center, the driver spoke with reporters and explained his reverse lap.
"That's the car," Busch said. "If I back up and stop and try to get going forward, it won't roll. It gets beached. So I knew once I get going, just keep going that direction, whatever direction it is." 
Busch avoided incident like Joey Logano at Pocono
While that move by Busch looked odd and unsurprisingly produced a large number of responses on social media, including some fans suggesting he was living up to his Rowdy persona, his explanation reveals the driver's mindset and just how quick he was thinking. 
He wanted to avoid the "beaching" situation that's happened to multiple drivers in the Next Gen car, including Joey Logano at Pocono in July. Many remember the incident more for what the Team Penske driver had to say about it over the team radio while he waited for track workers. 
"What's the f****** truck doing? What's the truck? Who the f*** is that? Come here!" Logano shouted at a track worker standing nearby.
"What do you want?" the person asked.
"Push this thing out!" the Team Penske driver replied.
"We're pushing," the voice answered.
There are a few seconds of inaudible communication.
"Come here. Come here. I can't drive it," a calmer Logano said. "I need a tow truck. Tow me in. Pick it up!" 
"Lift it up," the voice repeated.
"Pick it up," Logano confirmed. 
"Goddamn it! Stupid sons of b******!" the frustrated driver said to himself.
"We're going to hook you from the rear and take you to pit road," the worker informed him. 
"Yeah, that's what I've been asking for," Logano replied. 
"God. Stupid sons of b******," the driver repeated his frustration.
Kyle Busch, who's been known to go on an expletive-laden tirade of his own a time or two in the past, completely avoided that scenario when he backed his car around TMS, and, in the process, revealed another way how he has turned over a new leaf in his first year with RCR. 
To stay up to date on the latest happenings in NASCAR, including breaking stories you can't find anywhere else, follow Kyle on YouTube and Twitter.