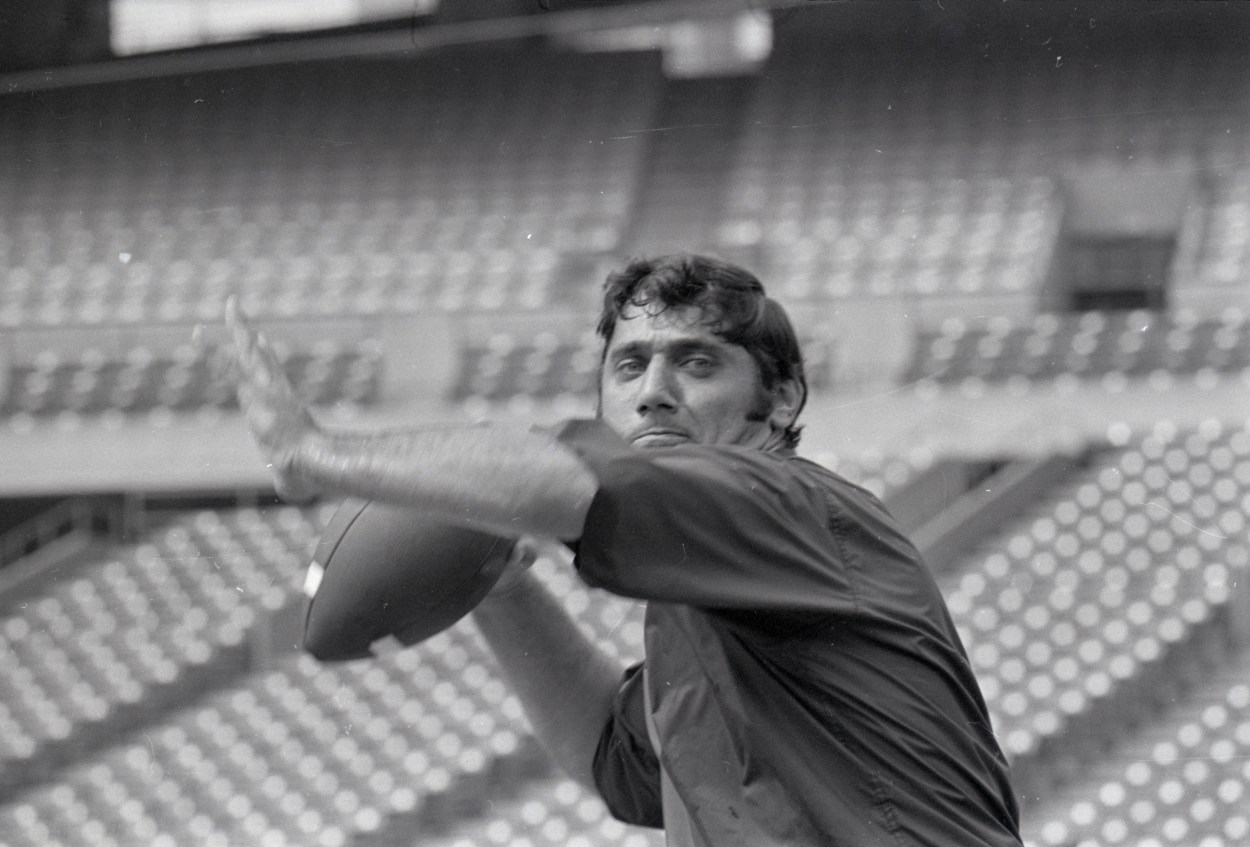 Joe Namath Briefly Retired After Winning Super Bowl 3 Over a Nightclub, Organized Crime, and Pete Rozelle
New York Jets legend Joe Namath won Super Bowl 3 in 1969, then retired a few months later. Why did Namath briefly step away from football?
You know the story by now. In January 1969, Joe Namath and the New York Jets proved the AFL could hold its own when they upset the Baltimore Colts in Super Bowl 3.
But what you may not have known is that for a brief time, it appeared that stunning victory might have been Namath's final game in the league — and trust us when we say it wasn't an example of him wanting to retire a champion the way that Peyton Manning eventually did.
Joe Namath briefly retired after Super Bowl 3 over a disagreement with Pete Rozelle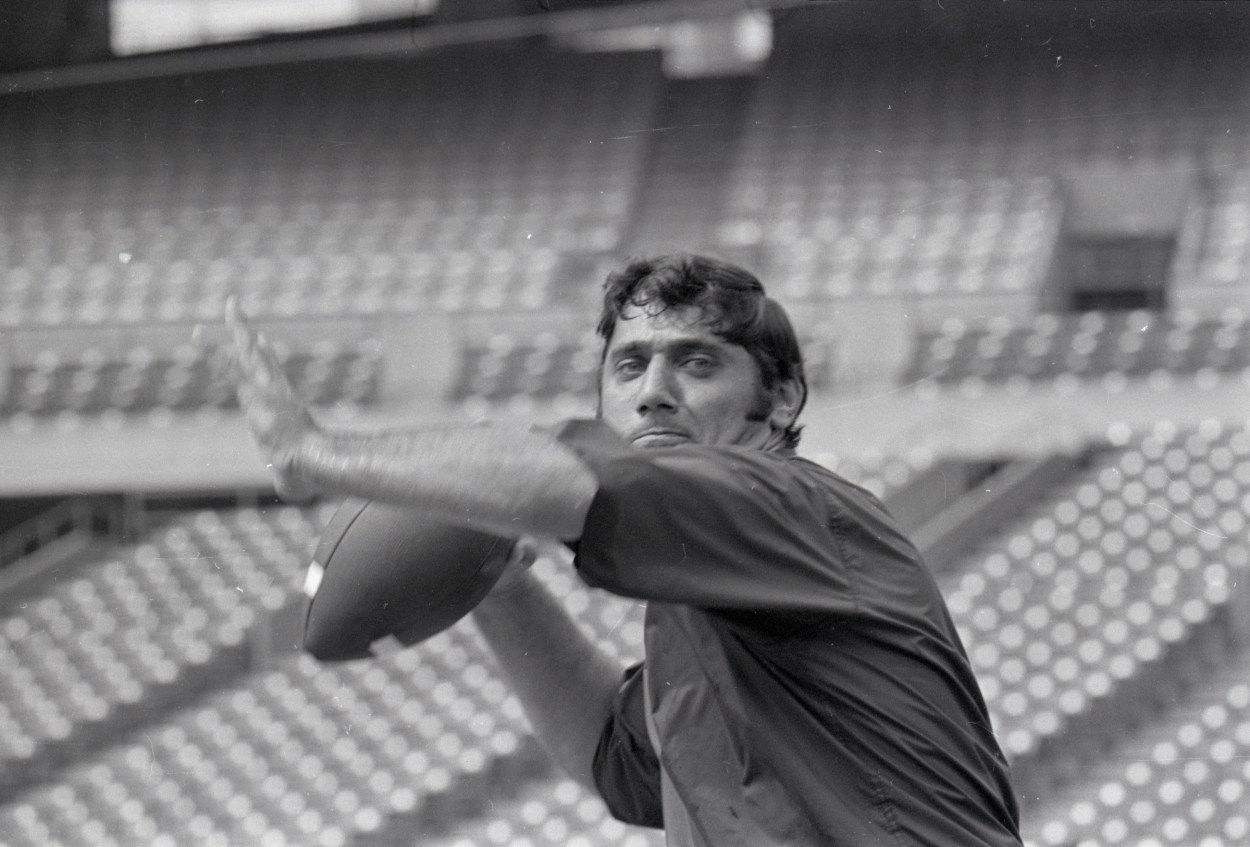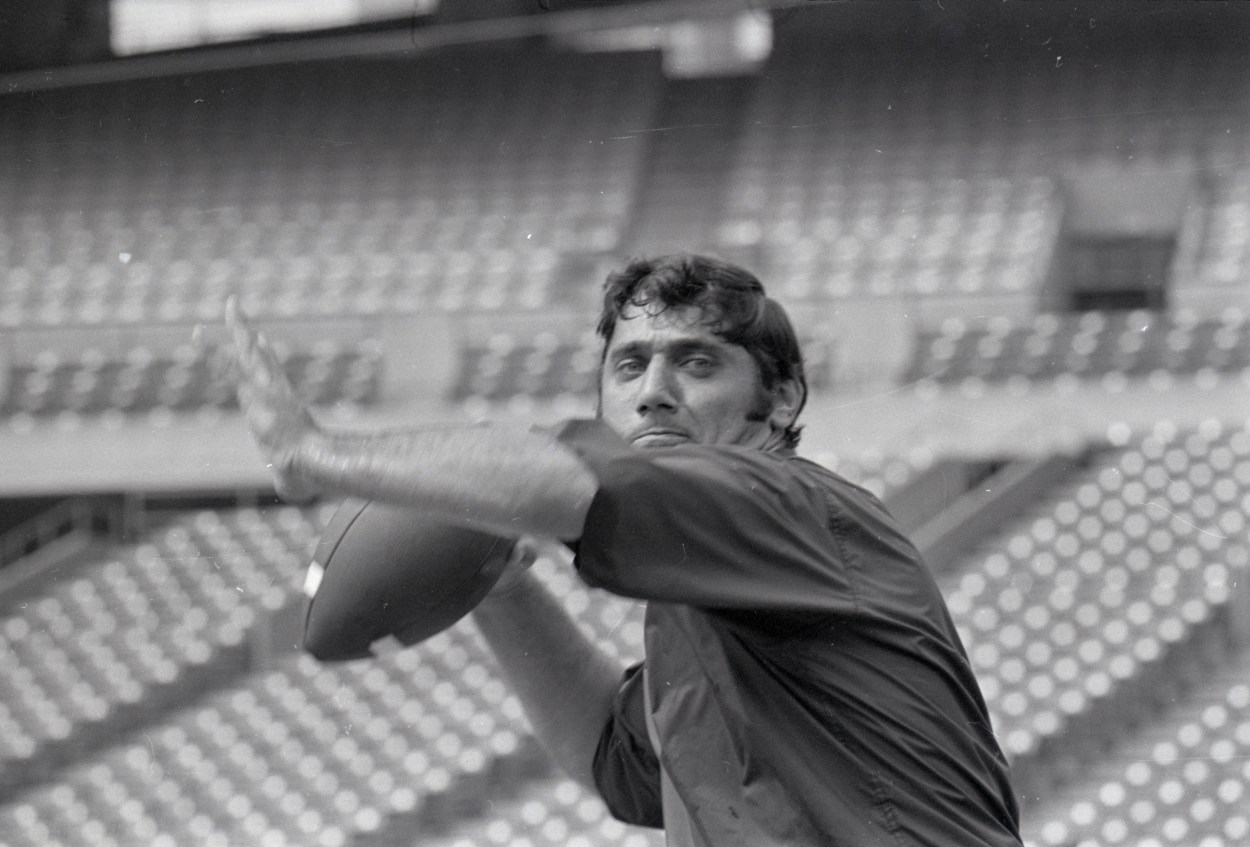 Joe Namath was everything that professional sports weren't used to in the 1960s. He had long hair and a charming attitude that made him a sex symbol during the counterculture movement.
Everyone wanted a piece of Namath, and that concerned NFL commissioner Pete Rozelle. The superstar quarterback was a part-owner in Bachelors III, a nightclub in New York City. He, Jets safety Ray Abruzzese, and singer Bobby Van all owned the club and were all bachelors, hence the name.
The bar attracted members of organized crime, who reportedly used it as a hangout. In the spring of 1969, Rozelle ordered Namath to relinquish his interest in the bar or face being suspended for being associated with "notorious persons."
Namath held his ground and insisted the bar had no crime ties until June 6, 1969, when he announced at a press conference that he was retiring from football. In an interview later that year with Playboy, the reigning Super Bowl MVP explained why he'd made such a bold decision. 
"When I retired, I did it because I felt one way about the whole thing: F–k the money and everything else. I was right, man; there was nothing wrong with Bachelors III. But finally, with the concessions and all, the point just didn't seem all that important."

Joe Namath
Namath didn't stay on the sidelines for long, and he unretired before the season began. He also sold his stake in the nightclub but asserted neither he nor the bar had any relationship with the mafia.
What would the Jets have done at quarterback if Namath stayed retired?
Professional sports always lends itself to intriguing alternate universes, and Namath's first retirement is chief among them. One has to wonder what might have happened had he walked away from football for good.
The 1970 NFL Draft featured two top quarterback prospects: Louisiana Tech's Terry Bradshaw, who the Pittsburgh Steelers selected first overall, and Purdue's Mike Phipps, who wound up going third overall to the Cleveland Browns. In order to select Phipps, the Browns traded Paul Warfield, a future Pro Football Hall of Fame receiver, to the Miami Dolphins for that pick.
The Jets went 10-4 in 1969, while the Dolphins finished the year with a 3-10-1 record. Maybe without Namath, the Jets would have fallen apart and finished with a worse record than the Dolphins. Then, the Super Bowl 3 champions could have drafted Phipps in the first round.
Alternatively, the Jets could have waited until 1971 to select their next franchise quarterback. The New Orleans Saints used the second overall pick that year on Ole Miss quarterback Archie Manning. The father of Peyton and Eli, Archie made two Pro Bowls and is in the Saints' Hall of Fame.
But with the Jets' luck, they'd have selected a quarterback in the middle rounds who never would have played a meaningful snap for them. Sometimes, things are just that simple.
Would Namath have faced a lifetime ban had he not sold his ownership stake?
It remains unknown if Rozelle ever threatened to ban Namath for life. The Jets legend never mentioned such a punishment when he spoke with Playboy.
Professional sports leagues in North America have largely abandoned the "lifetime ban" in recent decades. Those who are banned, usually for legal incidents or drug usage, are typically allowed to apply for reinstatement at a certain point.
Major League Baseball famously banned then-Cincinnati Reds manager Pete Rose in 1989 for betting on baseball. Since then, the league only issued that punishment to former St. Louis Cardinals scouting director Chris Correa and ex-Atlanta Braves general manager John Coppolella.
Correa hacked the Houston Astros' scouting database and later received a 46-month prison sentence after pleading guilty to five counts of unauthorized access to a protected computer. He reportedly was released from prison in 2018 after serving over two years of the sentence. Coppolella circumvented league rules while signing international free agents. Both received their bans in 2017.
The NBA banned then-Los Angeles Clippers governor Donald Sterling for life in 2014 for his racist commentary in leaked audiotapes. Meanwhile, the NFL has not issued a lifetime ban since punishing New York Giants teammates Frank Filchock and Merle Hapes over fixing the 1946 NFL Championship Game. That list might include a far more recent name had Namath not sold his stake in Bachelors III.
Like Sportscasting on Facebook. Follow us on Twitter @sportscasting19.