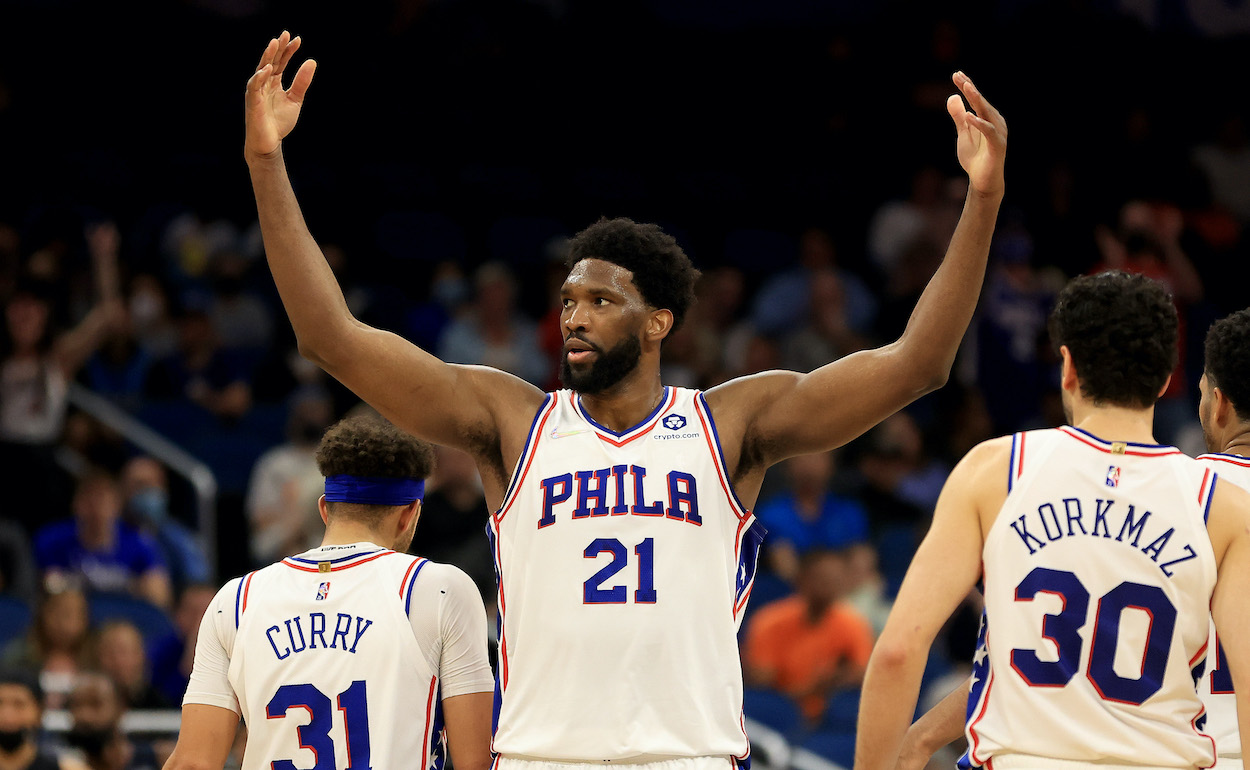 Joel Embiid Brazenly Compares Himself to Michael Jordan After Exploding Onto the MVP Scene With 50-Point Masterpiece
Joel Embiid gave himself a bold comparison after tying his career-high of 50 points in the 76ers' win against the Magic.
Stephen Curry, Kevin Durant, and Nikola Jokic have dominated the NBA MVP conversation for the first few months of the season, but Philadelphia 76ers big man Joel Embiid just sent a deafening message to voters that should put him right in the thick of the race.
On Wednesday night, Embiid tied his career-high with 50 points in just 27 minutes of action against the Orlando Magic. The superstar center must've been feeling pretty good about his dominant performance after the fact, because he decided to compare himself to Michael Jordan and a few other NBA greats in his postgame press conference.
Joel Embiid leaps into the MVP race with 50-point masterpiece
It's time to start talking about Embiid's MVP case.
The four-time All-Star is averaging 28.0 points, 10.6 rebounds, 1.4 blocks, and a career-high 4.2 assists per game this season, and that doesn't even tell the full story.
Over his last 15 games, Embiid is scoring 33.1 points per contest and has only two 20-point games during that stretch. He's also shot better than 50% from the field in all but four of those games, and the 76ers are 11-4 since December 16.
Embiid kept his dominant tear rolling on Wednesday night with arguably the best performance of his career. The center put up 50 points on 17-for-23 shooting and 12 rebounds in the comeback win against the Magic, and he did it in just 27 minutes. According to ESPN Stats and Info, that's the fewest minutes played in a 50-point, 10-rebound performance in the shot-clock era (since 1954-55). Embiid's masterpiece was also the eighth-most points per minute in a game in NBA history, per Jimmy McCormick of ESPN.
Despite the absence of Ben Simmons and a variety of COVID-19 and injury setbacks this season, the 76ers are 26-18 and just 2.5 games back of the No. 1 seed in the Eastern Conference.
And they have Embiid to thank.
Embiid brazenly compares himself to Michael Jordan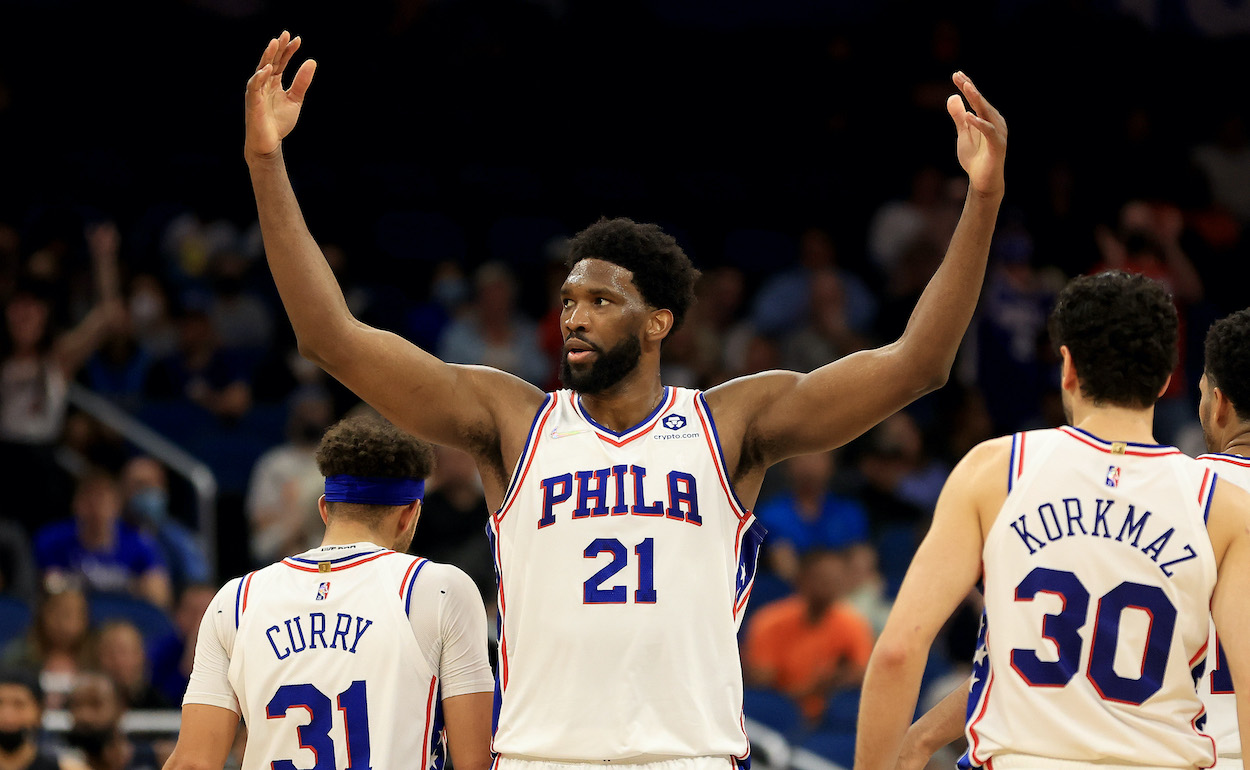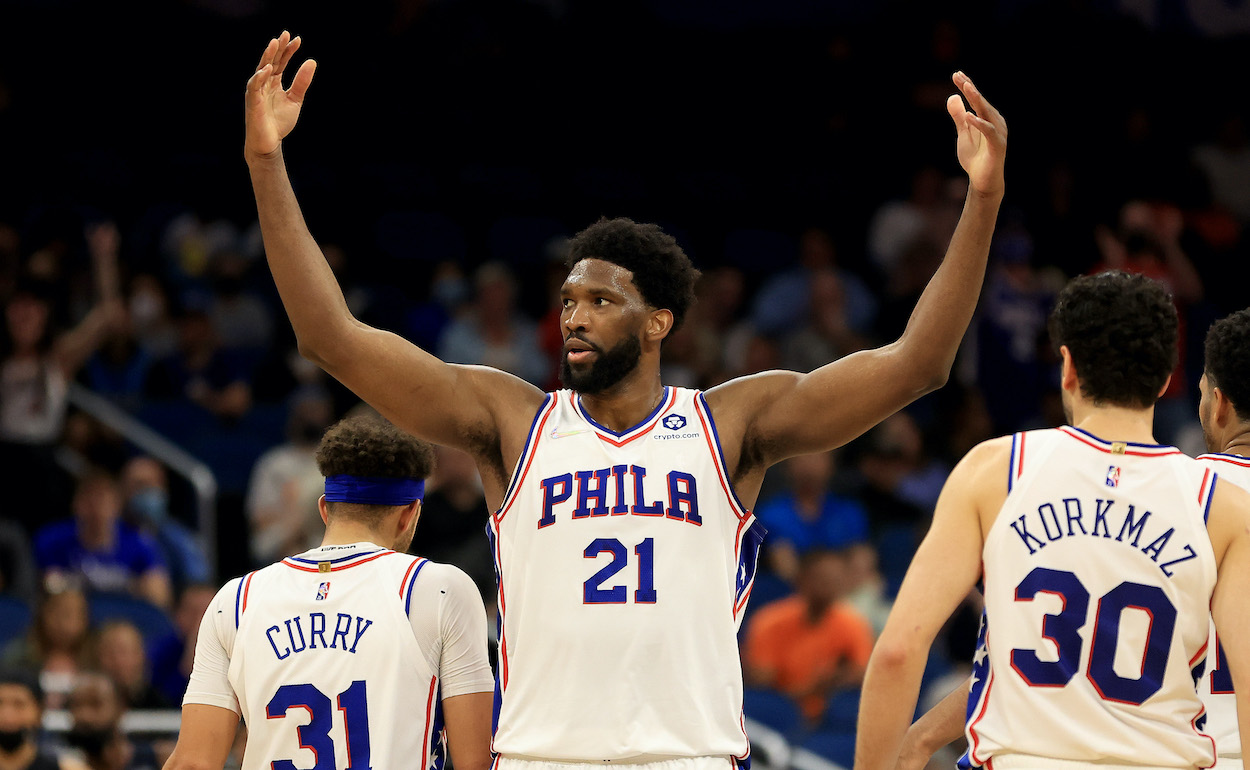 Embiid has never been afraid to speak his mind after a monster performance. He'll call out an opposing center on Twitter after dropping 40 on his head, and he's never been shy to call himself the best player in the NBA.
But on Wednesday night, he took his brazen attitude to another level by comparing himself to Michael Jordan and Kobe Bryant, among others.
"At times, whenever I want, I'm able to be Shaq, and whenever I want, I'm also able to be Dirk or Kobe (Bryant) or MJ (Michael Jordan) or any guards, really. Shooting off the dribble or pull-ups or ball-handling, just a combination of everything offensively, so I was OK tonight."

Joel Embiid
OK? A 50-point, 12-rebound game in which he shot 74% from the field is just… OK?
Well, there's a reason for that comment.
Winning has "always been my goal"
Embiid always has fun with his dominant individual performances, but he also knows they mean nothing if he can't bring the city of Philadelphia a championship. That's the only way he'll feel comfortable mentioning his name alongside Jordan and Bryant by the end of his career.
"You gotta win," he told reporters after Wednesday's game. "Obviously, talent-wise, there's no question, but it always goes back to winning if you wanna be considered one of the best. You gotta show something. You gotta win championships, MVPs, Defensive Player of the Year, that's always been my goal.
"I'm always gonna try to do everything possible to try to win. If it doesn't happen, at least I tried, but every single day, my focus is always on winning, and to be in that conversation, I've gotta win."
He's right about that. Before putting his name in the Jordan tier, he'll have to at least get the 76ers out of the second round of the playoffs.
All stats courtesy of Pro Basketball Reference.
Like Sportscasting on Facebook. Follow us on Twitter @sportscasting19.