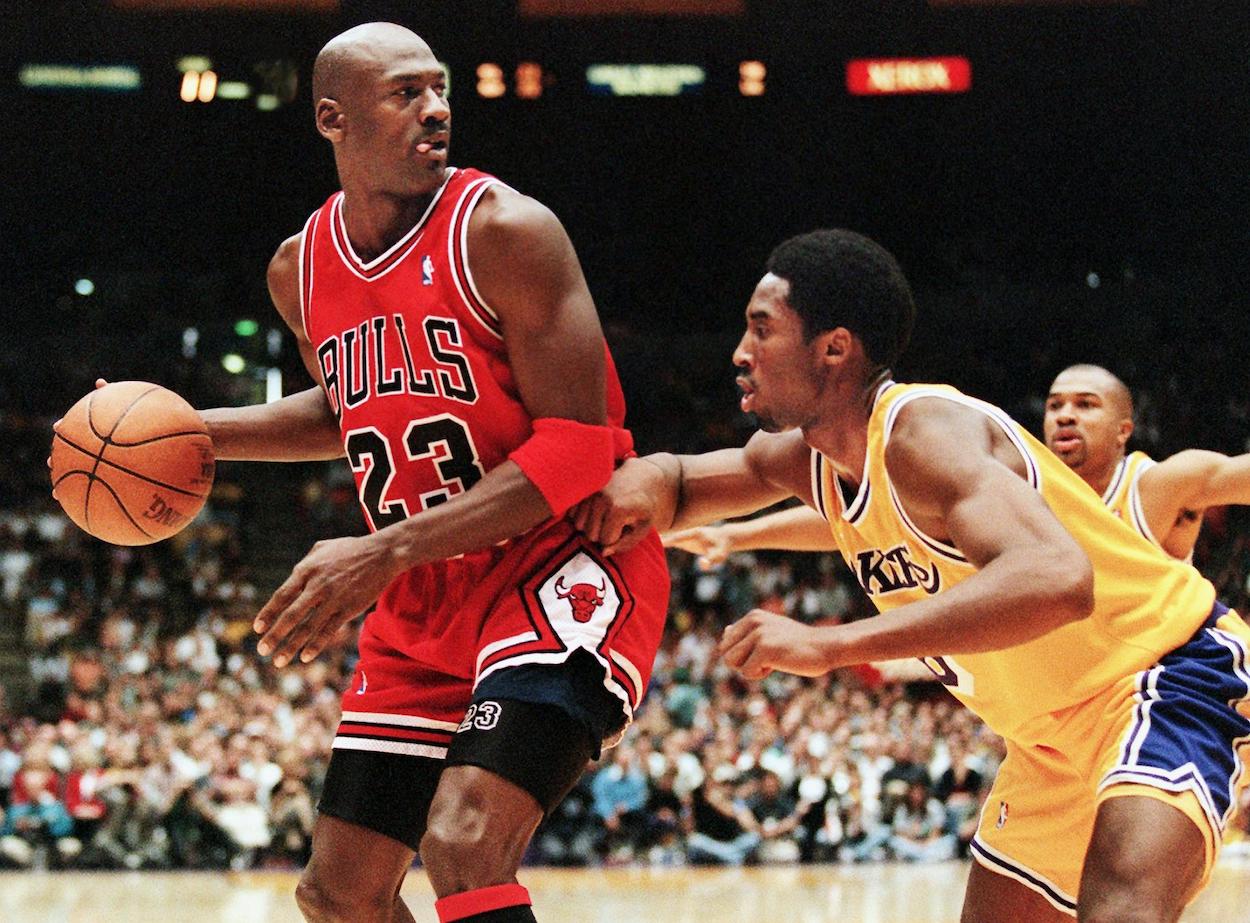 Michael Jordan and Kobe Bryant Were Both Surprisingly 'Underrated' in 1 Aspect of the Game, According to Ray Allen
Michael Jordan and Kobe Bryant were never known for their 3-point shooting, but Ray Allen believes they were both underrated in that regard.
It was almost impossible to find a single flaw in both Michael Jordan's and Kobe Bryant's games at the peak of their powers. The Hall of Famers are considered two of the most lethal and most versatile scorers in NBA history, and they could both lock down the opponent's best player on any given night.
If you had to nitpick what might've been their biggest weakness on the court, it would've likely been their 3-point shooting. Both Jordan and Bryant shot worse than 33% from deep, but former 3-point king Ray Allen believes the two legends were underrated in that regard.
Michael Jordan and Kobe Bryant were average 3-point shooters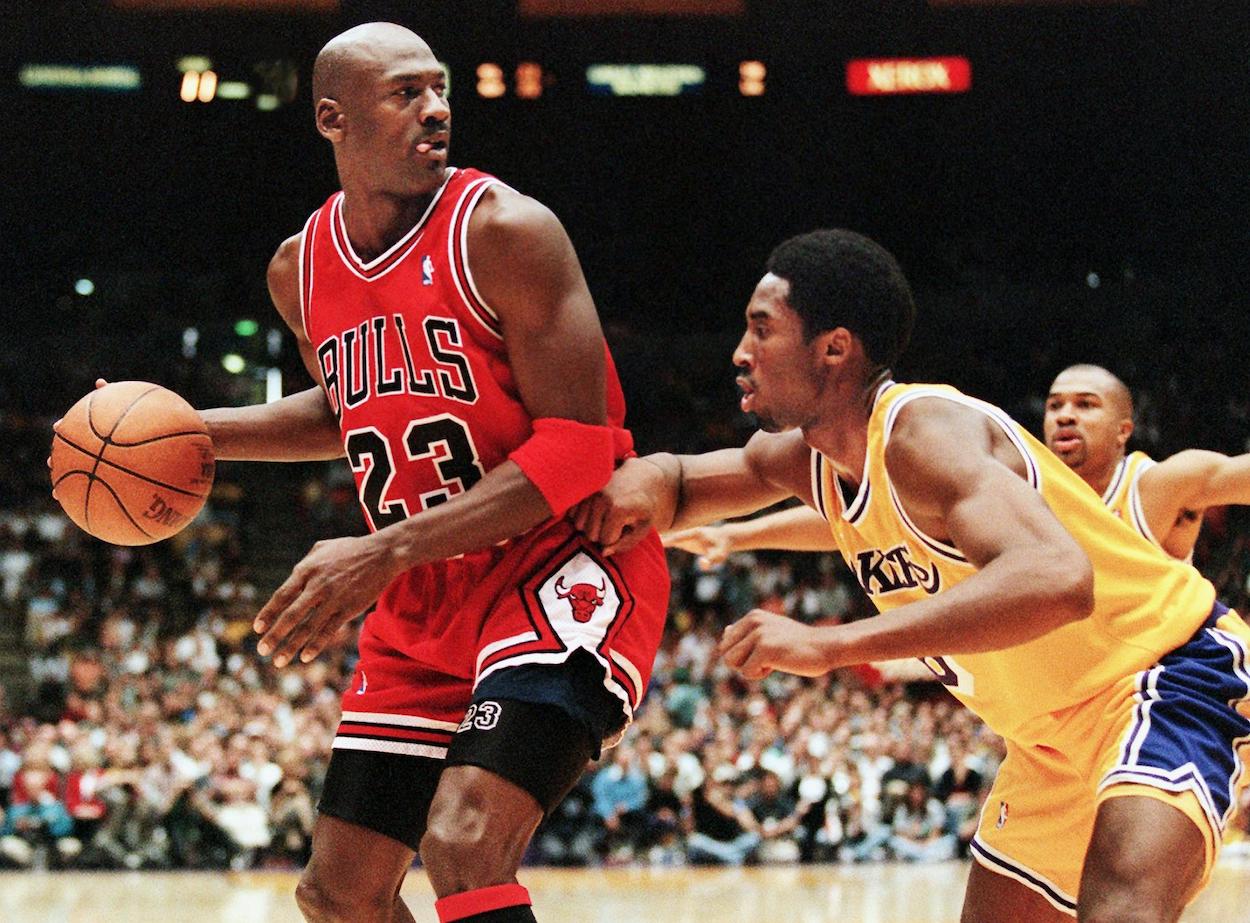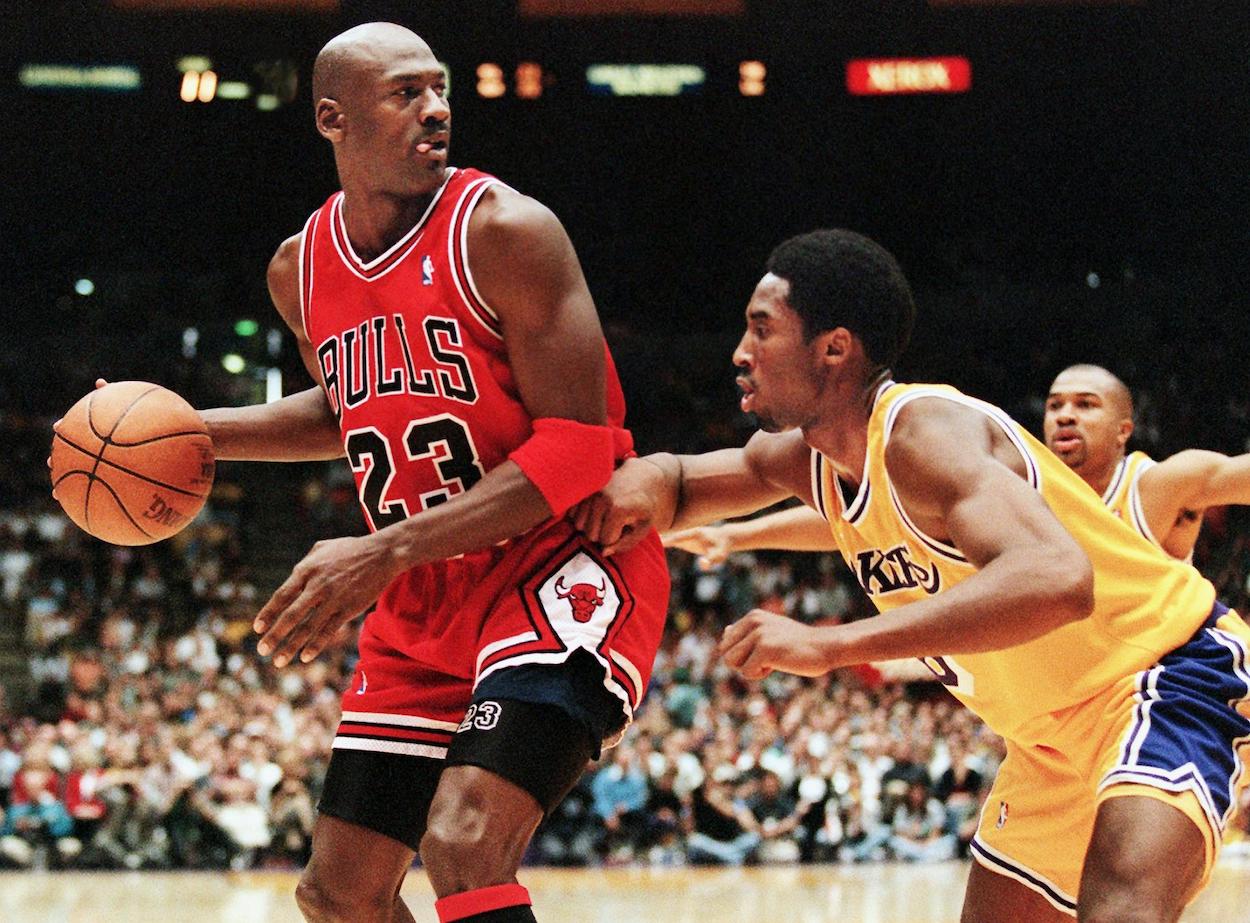 Jordan and Bryant were elite at more than a few things on the basketball court, but they were both average at best shooting from behind the 3-point line.
Over the first few seasons of Jordan's NBA career, he was actually one of the worst deep shooters in the entire league. He wasn't firing up many threes as a young player, but the Chicago Bulls legend shot worse than 18.3% from deep in each of his first four seasons as a pro. Jordan didn't shoot better than 30% from three in a season until his sixth year in the league.
MJ started shooting (and making) more threes in the mid-1990s, but he still finished his career as just a 32.7% 3-point shooter.
Bryant made threes at an eerily similar clip to Jordan throughout his career (32.9%). The Los Angeles Lakers legend was much more consistent with his 3-point shooting than Jordan, as he never shot worse than 25% or better than 39% from deep over a full season.
At the end of the day, though, Jordan and Bryant were both mediocre 3-point shooters in the NBA.
Ray Allen says MJ and Kobe were underrated 3-point shooters
Allen lost his 3-point crown to Stephen Curry last week when the Golden State Warriors superstar broke his record of 2,973 career threes. But instead of sulking at home about losing a piece of NBA history, Allen was one of the first to congratulate Curry on his accomplishment.
A few days before attending the record-breaking night, Allen appeared on the Dan Patrick Show and spoke about how much different the pro game is today in regards to 3-point shooting. When asked whether Jordan or Kobe would've fared better in today's game, the Hall of Famer said they were both better deep shooters than they got credit for.
I think they both were underrated 3-point shooters.

If you could do one thing great or a couple things great, then some of the other things get overshadowed. Mike just never really had to shoot threes because he was so good inside the paint. Kobe was so good just scoring in general. So, if I had to say between both of them, it's hard because they both played with their back to the basket. They both were slashers at the rim. I just don't think that their games were designed to just sit out there and wait behind the 3-point line.

Ray Allen
But which one had the better shooting stroke?
"Jordan, for sure," Allen said without hesitation.
Allen thinks the GOAT shooter is still up for debate
Curry just broke Allen's 3-point record despite playing 511 fewer games than the retired superstar. There's simply no questioning his new title as the greatest shooter to ever live.
But Allen tried to do just that.
"That's certainly subjective," Allen told Patrick when asked about who holds the GOAT shooter title. "When we talk about who we think the greatest of all time is, when you're talking about, whatever, quarterbacks to the best basketball players, I think it's important to understand we all have a different perspective.
"The game has certainly changed over the years."
That it has.
Even still, Curry is going to shatter Allen's record by the end of his career. Making 4,000 threes isn't out of the realm of possibility for the 33-year-old, and he's already made more than Jordan and Bryant combined.
He's the GOAT, and it's no longer up for debate.
All stats courtesy of Basketball Reference.
Like Sportscasting on Facebook. Follow us on Twitter @sportscasting19.