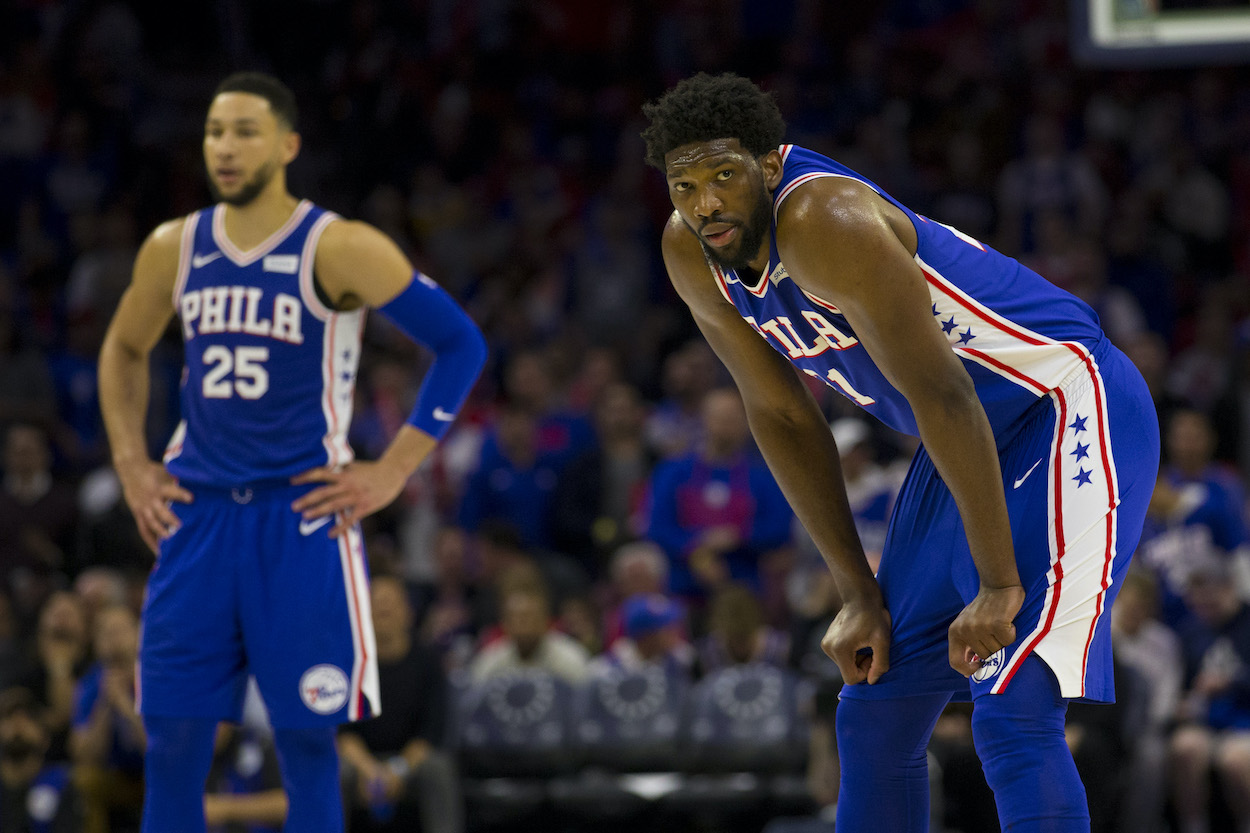 Joel Embiid's Not-so-Subtle Jab at Ben Simmons Is Only Pushing the Disgruntled PG Further Out the Door: 'We Just All Gotta Grow Up'
Joel Embiid isn't helping the Ben Simmons situation with his recent comments.
Ben Simmons is the talk of the town in Philadelphia these days. The disgruntled 76ers point guard doesn't plan on playing another game for the team, and he reportedly won't be showing his face until a trade is finalized.
During the 76ers' media day earlier this week, reporters bombarded Joel Embiid with a litany of questions about Simmons, and the All-Star center decided to send a not-so-subtle jab at his missing teammate that will only push him further away.
Ben Simmons is reportedly done playing with Joel Embiid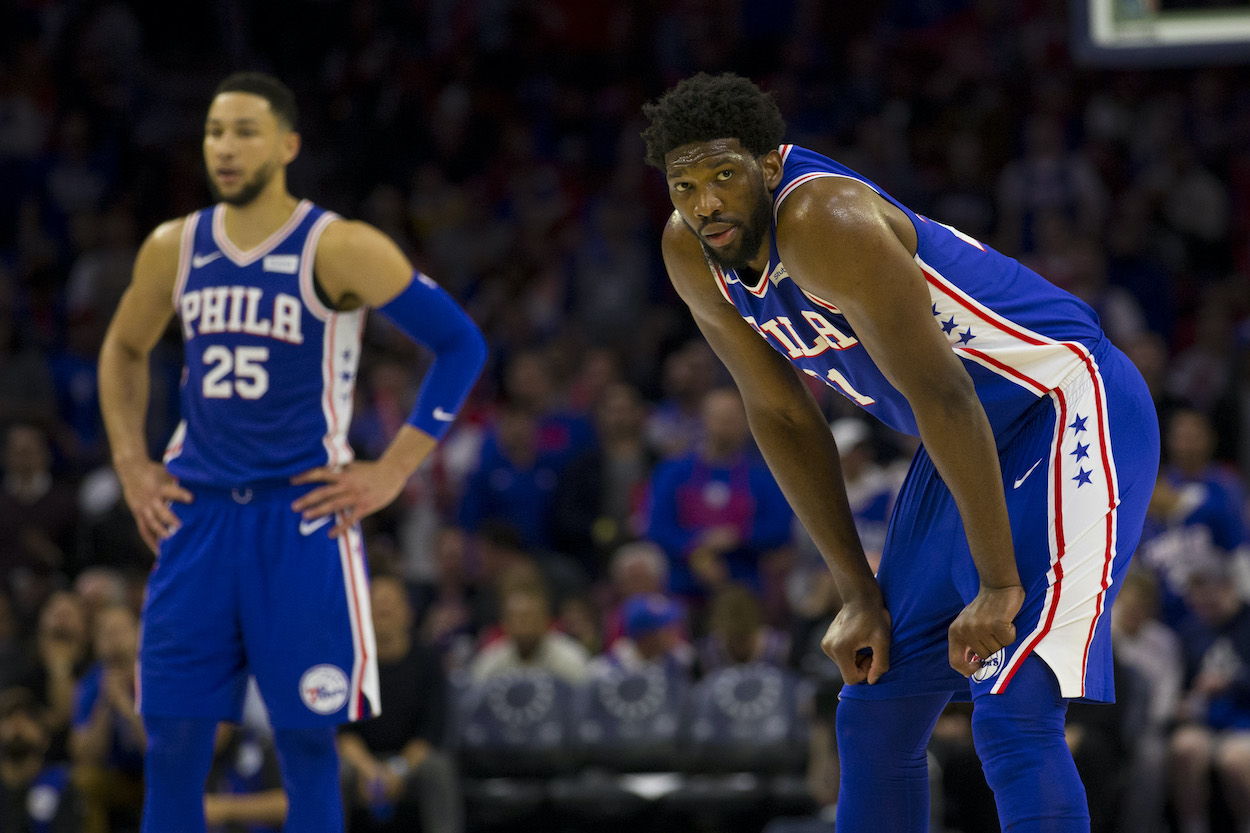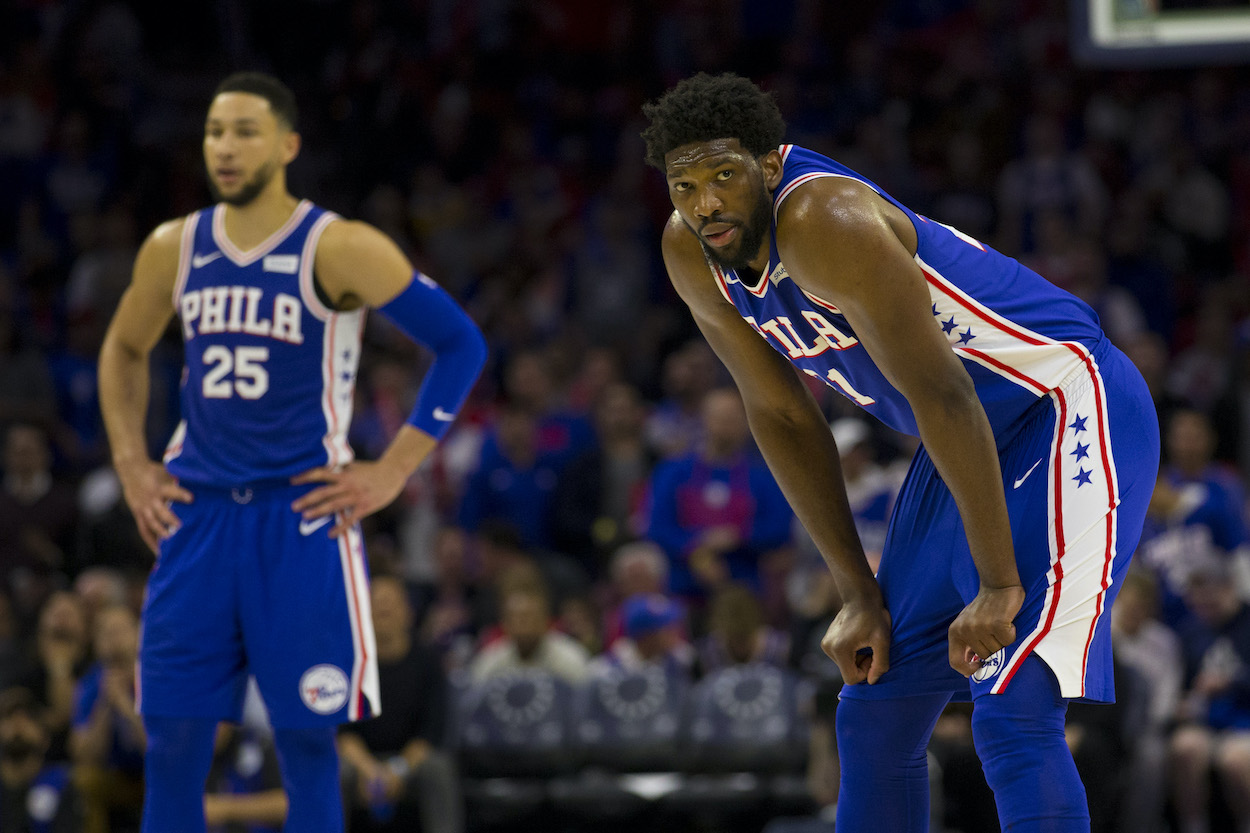 The rift between Simmons and the 76ers has gone from bad to worse in the last few weeks. After an entire offseason of little to no communication between the two sides, Simmons recently decided that he doesn't intend to ever play a game with the Sixers again, per an ESPN report.
A week later, Sam Amick of The Athletic reported that Simmons' partnership with Embiid has "run its course."
"People who have intimate knowledge of how he sees this situation continue to insist that he's done playing with Embiid," Amick wrote. "There's nothing personal about this choice, it seems, but the 25-year-old Simmons has clearly decided that his career is better off without Embiid blocking the runways in the paint that he so badly needs to succeed.
"As he sees it, sources say, the organization's choice to build its basketball ecosystem around Embiid's style simply isn't conducive to the way he needs to play."
It just gets more and more embarrassing for Simmons with each new report, and now his trade value is so deep in the sewers that it might be impossible to move him before the season gets underway next month.
Joel Embiid takes a not-so-subtle jab at Ben Simmons
Embiid finally got the chance to speak on the Simmons saga during the 76ers' media day on Monday. While Embiid did say he wants his teammate back on the roster and that he loves playing with Simmons, he took the opportunity to throw a not-so-subtle jab his teammate's way.
Honestly, we just all gotta grow up.

I look at in the way that — for example, I understand being in trade rumors and all that, but that's just part of the business. If Golden State comes and offers Steph [Curry] and Klay [Thompson] for me, you think the Sixers would say no to that?

They gotta say yes. I would say yes to that because, I mean, how do you say no to that? That's what they do. They're always gonna find ways to get better. So you can't get mad at that. That's just the way it is. I look at it in the way that you just got to move on and you just got to be yourself and do the best job you can.

Joel Embiid
Embiid never called out Simmons by name for being immature, but it's pretty clear who he's referencing in this analogy. Evidently, the big man is just as fed up as the rest of the Sixers fan base, and his words will only push Simmons further out the door.
76ers face an uncertain future
The disagreement between Simmons and the 76ers organization has turned into a staring contest between two equally lifeless statues. Neither side is willing to give an inch, but one will have to soon if they want to avoid disaster.
Simmons has been clear that he would rather sit out the start of the season than put on a 76ers jersey ever again. It's a fine plan on the surface, but the Sixers won't be shipping an All-Star point guard off to another city for a bag of balls and a few practice cones. That's pretty much the going rate for Simmons at this point because of his childish demands.
Embiid would like to see Simmons back in Philadelphia next year, but judging by the slight jab at his teammate gone AWOL, he won't be too worked up if Simmons gets sent packing.