Joey Chestnut Responds to Shocking Study That Says Each Consumed Hot Dog Shaves 35 Minutes Off Life
Joey Chestnut doesn't appear to be too concerned. A new nutrition study released this week didn't offer pleasant news for hot dog lovers. The study, conducted by researchers from the University of Michigan School of Public Health, Department of Environmental Health Sciences, said each consumed hot dog on a bun results in roughly 35 minutes lost on one's life.
Chestnut, the reigning champion of the annual Nathan's Hot Dog Eating Contest and the world's best and most famous hot dog eater, responded to the findings on Monday.
Joey Chestnut broke his own hot dog record July 4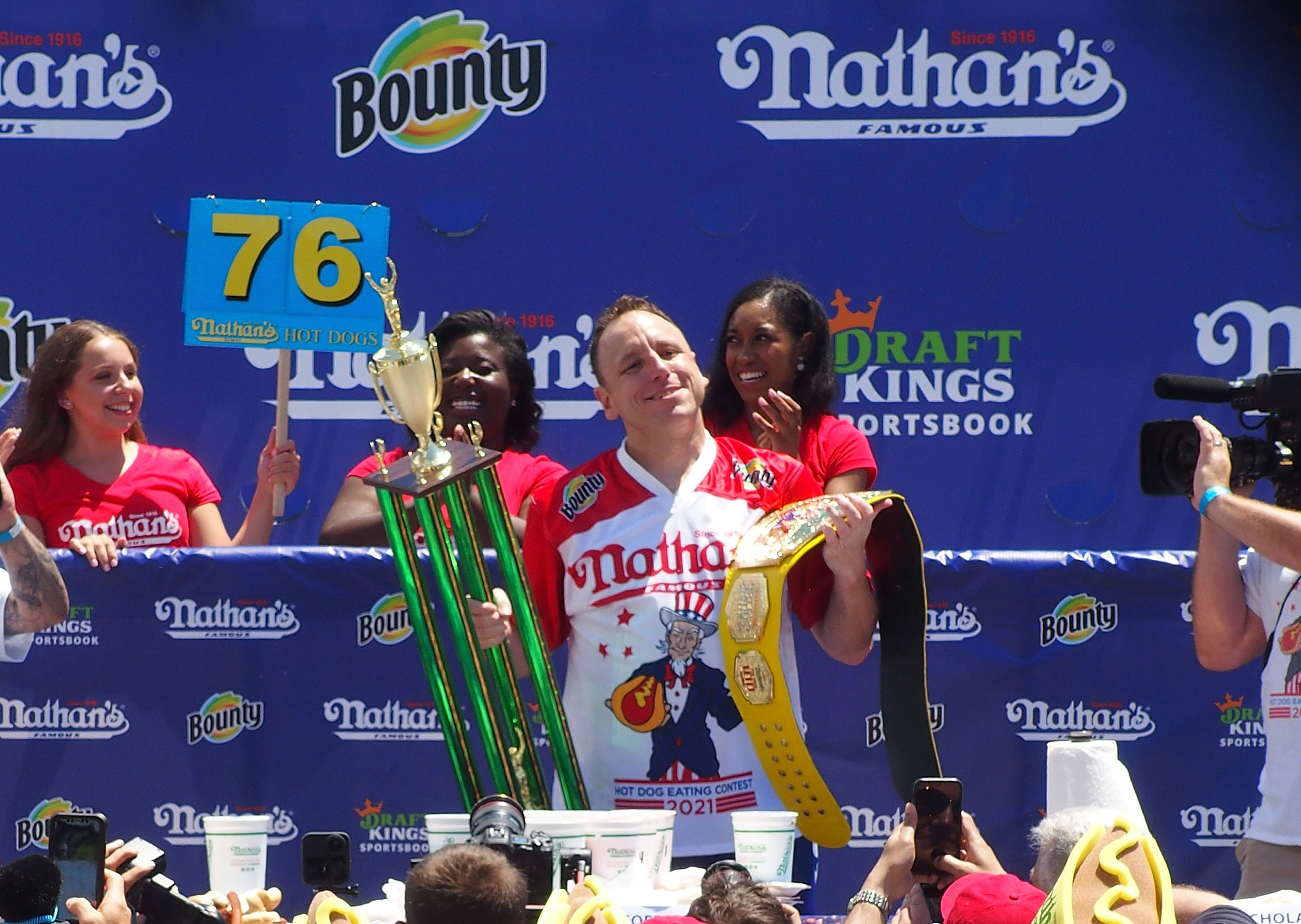 Chestnut is no stranger to hot dog championships. Since 2007, he has won 14 Nathan's titles. He's captured six straight belts, including last year's world record 76 hot dogs in 10 minutes. In 2015, Matt Stonie shocked the competition by defeating Chestnut, who had won the previous eight events.
In July, Chestnut beat his own record of 75, which he set last in 2020 during an indoor setting in front of no fans because of the pandemic. This year, the event was held at Maimonides Park, a minor league ballpark in New York. There were 5,000 cheering spectators, and Chestnut used the crowd as fuel to help reach his record-setting mark.
"It just felt good," Chestnut, of Westfield, Indiana, told ESPN after his win. "Even if I was uncomfortable, having everybody cheer me and push me, it made me feel good. I've been looking forward to this all year."
Joey Chestnut responds to recent study that says each hot dog eaten results in roughly 35 minutes off life
If the study is correct, Chestnut is shaving days off his life with each hot dog contest. Researchers in the study released a nutritional index to inform Americans of healthy diet choices and help them with their diets. The index ranked foods by minutes gained or lost off healthy life per serving, according to The New York Post. Processed meats and sugary drinks were the most damaging.
According to The Post, the authors of the study found a beef hot dog on a bun resulted in some 36 minutes lost "largely due to the detrimental effect of processed meat." On the other hand, salted peanuts, baked salmon, and rice with beans had the opposite result, gaining between 10 and 15 minutes.
According to The Sporting News, Chestnut has eaten a combined 1,094 hot dogs since his Nathan's debut. That doesn't include other contests, training, or qualifying events. Those 1,094 hot dogs translate into more than 27 days shaved off his life.
None of this appears concerning to Chestnut, who responded to the study via Twitter on Monday.
"Interesting, I might need to eat more nuts to get time back," he wrote. "Or… Researchers at University of Michigan could be working for Russia."
Twitter has a field day with Chestnut and the hot dog study
While Chestnut responded to the study via Twitter, many others did as well. Several offered humorous takes on the research. One Twitter user exaggerated the math and said Chestnut is a ghost competing in the Nathan's contest. "By this math Joey Chestnut is a Civil War Ghost that haunts eating competitions," SportzStew wrote.
Others followed suit with some saying Chestnut died 75 years ago and others writing about their own upcoming deaths.
If the study holds any water, there should be one obvious change to the eating contest. Make the switch from hot dogs to peanut butter and jelly sandwiches. "Peanut butter and jelly sandwiches were associated with an increase of 33 minutes," according to The Post.
If Chestnut wants to restore some of that lost time off his life, peanut butter and jelly would be the way to go.