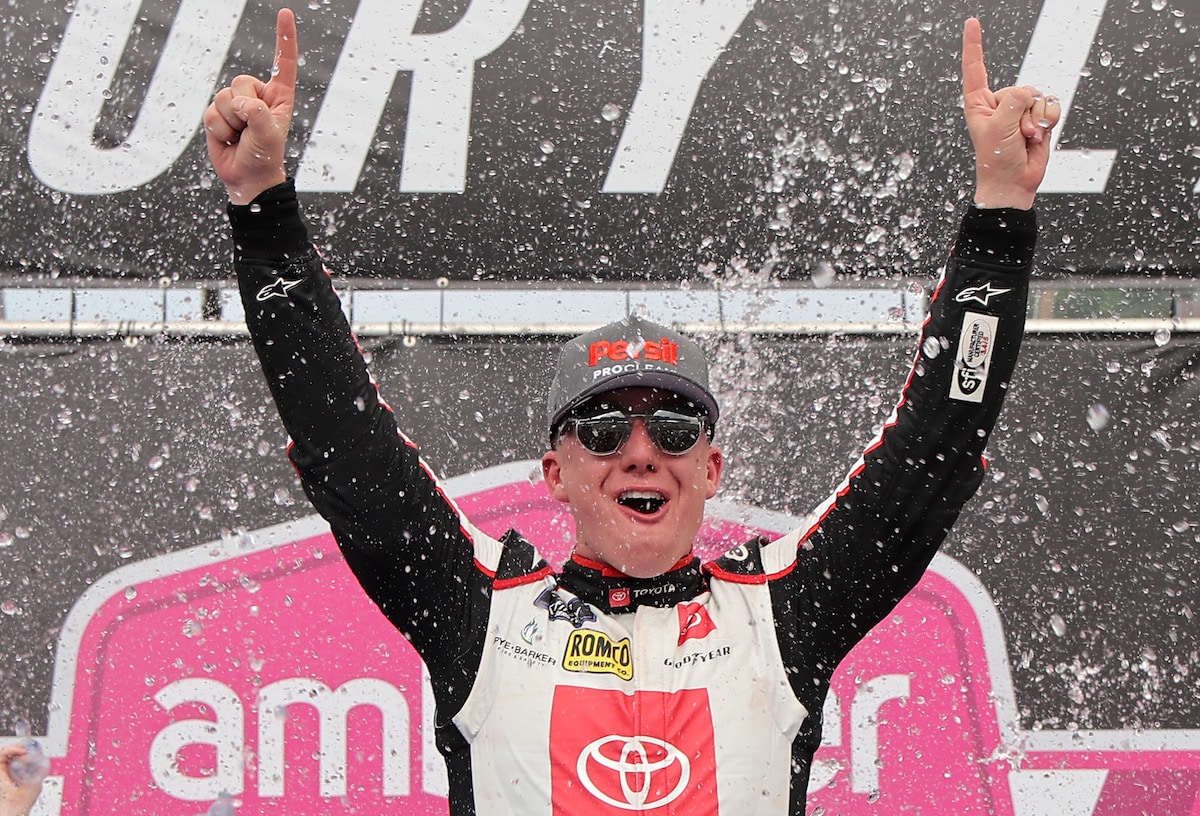 John Hunter Nemechek Is Complicating Martin Truex Jr.'s Future with Joe Gibbs Racing
Martin Truex Jr. has been noncommittal about his NASCAR future, and John Hunter Nemechek is making the situation more complicated.
John Hunter Nemechek has won two straight NASCAR Xfinity Series races and leads the series in both wins and points, which could be one of the reasons Joe Gibbs Racing Cup Series driver Martin Truex Jr. has yet to divulge his plans for the 2024 season.
Nemechek triumphed at New Hampshire Motor Speedway for his fourth win of the season on Saturday, which likely sets him up to be one of the top seeds in the Xfinity Series playoffs when the seven-race, 12-driver postseason begins at Bristol Motor Speedway on Sept. 15.
John Hunter Nemechek has been a premier Xfinity Series driver this season
John Hunter Nemechek has been this season's most dominant driver in the Xfinity Series.
By far.
He leads the field with 15 top-10 finishes through the first 18 races. He has posted a 6.1 average starting position, a 7.4 average finish, and 597 laps led — a staggering 303 more than Chandler Smith's second-place total of 294.
Nemechek is in the midst of his second full-time Xfinity Series campaign but his first since 2019, as his career has taken an unusual arc through NASCAR's three national series.
In 2013, he debuted in the Craftsman Truck Series at age 16 as a driver for a team owned by his father, former Cup Series driver Joe Nemechek. The younger Nemechek won his first truck race two years later, and he earned a full-time ride with GMS Racing in the Xfinity Series by 2019.
Despite posting no victories, Nemechek finished seventh in the 2019 Xfinity Series points standings, but that was good enough for Front Row Motorsports to hire the then-23-year-old driver to a full-time ride in its No. 38 car for the 2020 season.
That year did not go particularly well. Nemechek tallied three top-10s, but he failed to finish five races, finished on the lead lap in only 15 of 36 points-paying events, and ended the season 27th in the points standings.
He then made the uncommon move to drop back two levels to drive for Kyle Busch Motorsports in the Truck Series. 
"It definitely was a tougher decision, for sure, trying to weigh out the pros and cons of each one of them," Nemechek said when, per NASCAR.com, KBM announced his signing in November 2020. "But when it comes down to it, I'm a competitive guy. I want to show up to the race track every single weekend and have a shot to win. Definitely, I learned a lot and gained a lot of knowledge. … I'm looking forward to kind of coming back, even though it is somewhat taking a step back, but at the same time you have to look at the positives. We're here to win races."
Nemechek won seven races across two seasons for KBM and finished inside the top five in the points standings for both seasons. That led him to his current ride with JGR in the Xfinity Series, and he has flourished in the No. 20 car.
Now 26 years old, Nemechek's success makes him a prime candidate to return to the Cup Series, but his logical next step will largely be determined by Martin Truex Jr.'s desire to remain in the No. 19 car past this season.
Martin Truex Jr. has yet to announce his intentions to return or retire after the season
Martin Truex Jr., 43, publicly contemplated retirement in 2022 but decided to return for at least one more season despite a winless and playoff-less campaign for the first time since 2014, back when he was in his first year with Furniture Row Racing. 
Truex has rebounded nicely in 2023. He won February's season-opening exhibition race at the Los Angeles Memorial Coliseum and has gone on to win three points-paying races, including Monday's race at New Hampshire. He currently leads the overall points standings and would be the top seed in the playoffs if the regular season ended today.
The veteran driver has again been non-committal about his plans beyond the current season, although Toyota Racing Development president David Wilson, per Racer.com, said in June he is "optimistic" Truex will stay with JGR for another full season in 2024.
Sponsorship is always a large part of the equation when organizations put together their driver lineups, and JGR has several big sponsors that will be affected by Truex's decision.
Nemechek, though, has had Mobil 1 as his sponsor for most of his Xfinity Series races this season, and the company stuck with him in his move from the Truck Series this season. So perhaps JGR would have a company to plug into its schedule for the No. 19 car if one of Truex's current sponsors chose to leave along with him at the end of the season.
JGR might also feel pressure to move Nemechek back up to the Cup Series, given his domination of the sport's second-tier series this year.
A year after JGR went through silly-season drama with Kyle Busch, the organization might again be the main player in the driver-movement cycle in 2023.
All stats courtesy of DriverAverages.com and Racing Reference.