John Kuhn Gives Aaron Rodgers a 70-75% Chance of Returning to Packers
Just when Green Bay Packers fans were losing hope of seeing Aaron Rodgers play home games at Lambeau Field, John Kuhn came to the rescue. Kuhn, a friend and a former teammate of Rodgers, said he's recently spoken to the quarterback. He doesn't believe all is lost in Green Bay. In fact, when pressed, Kuhn gave Rodgers returning to the Packers a 70-75% chance of happening.
Aaron Rodgers rumors are swirling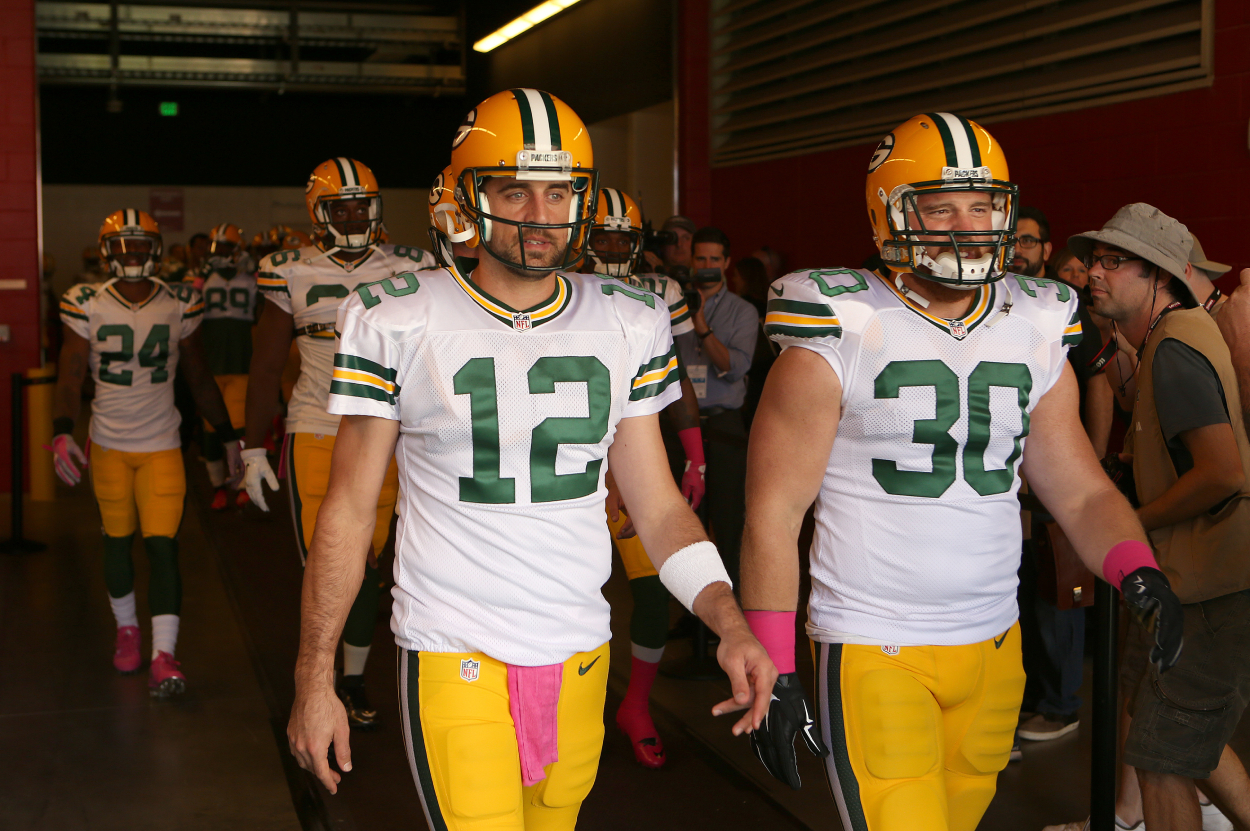 Ever since ESPN's Adam Schefter reported a rift between Rodgers and the Packers, rumors have taken off. Since Rodgers hasn't spoken publicly on the matter, one can only speculate the issue stems from the 2020 NFL draft. The Packers' draft was bizarre, one in which the team traded up in the first round to select Rodgers' eventual replacement, Jordan Love.
Since then, speculation has run rampant. It was reported that Rodgers believed he was being traded to the San Francisco 49ers on draft night. There have been reports that the MVP has three teams – the 49ers, Las Vegas Raiders, and Denver Broncos – on his trade wish list.
Word has also spread that Rodgers won't return to the team unless GM Brian Gutekunst is fired. The Packers have reportedly said there will not be trading their prized quarterback. Until the quarterback speaks and addresses the truth, rumors will continue to fly.
John Kuhn giving some Packers fans hope
While Rodgers and the Packers aren't saying anything publicly on the situation, John Kuhn is. Kuhn is a former fullback who played nine of his 12 NFL seasons in Green Bay. He's also a friend of Rodgers and said he recently spoke to him.
Kuhn was a recent guest on The Zach Gelb Show on Wednesday and offered his thoughts on the situation. He was asked to put a percentage on the chances of Rodgers returning to Green Bay. While Packers beat writer Rob Demovsky said he believed there was less than a 5% chance of Rodgers returning, Kuhn offered much more hope when asked what he believed the percentage was.
"That's a tough thing to put a number on," Kuhn said. "If I used my gut and I used everything that I said that I hear from the Packers organization, it makes me feel really, really good. If I use the football business acumen, I can see the tough spot the Packers are in with that first-round pick that they used last year on Jordan Love. That's what makes me pull back a little bit. I still think it's somewhere around 70-75 percent that Aaron Rodgers is the starting quarterback for the Packers this year."
Kuhn believes the issue is a 'lame-duck contract'
Rodgers has three years remaining on his contract and is coming off an MVP season. It sounds like an ideal situation, but the issue is that he has no more guaranteed money, and he has a quarterback they traded up for in the first round looking over his shoulder. The problem seems to be the business side of things.
Kuhn believes Rodgers wants to remain with the Packers, but realizes the team could cut him at any point and bring in a guy they like on a rookie salary. I truly believe Aaron wants to come back to Green Bay, but he doesn't want to do it on a lame-duck contract," Kuhn said.
Kuhn said Rodgers is "conflicted." "I've talked with Aaron Rodgers," Kuhn said on The Zach Gelb Show. "He's conflicted because this man loves to play the game of football and this man loves to be a Green Bay Packer. He watched Brett Favre's career toward the end. He's watched all these things play out in front of his eyes. He's seen some situations that weren't finished the way they could or should have, and he's trying to take his own destiny into his own hands."