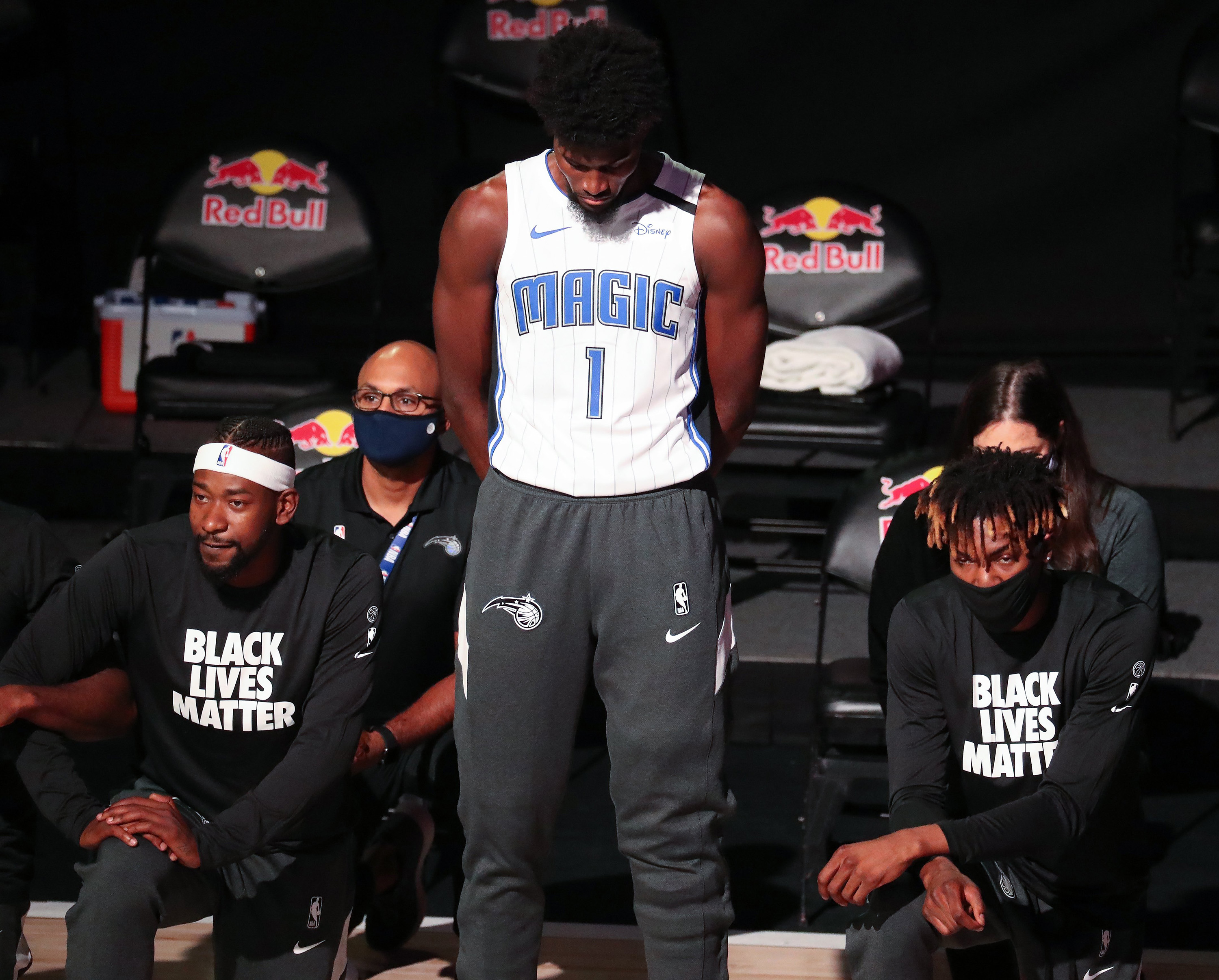 Jonathan Isaac Stood up for His Beliefs and Never Gave In
Jonathan Isaac was the lone NBA player to stand for the national anthem. He explained his decision and didn't cave in to pressure.
During Friday's opening night NBA game between the Orlando Magic and the Brooklyn Nets, Jonathan Issac stood out. The Magic's 6-foot-11 forward put up some good numbers off the bench, but it was what he did near the bench that's making people talk. He was the lone NBA player to stand for the national anthem. He knew there would be some controversy, but he stood for what he believed in.
Who is Jonathan Isaac?
Jonathan Isaac is a 6-foot-11, 210-pound forward who played his college basketball at Florida State. Isaac was a first-round pick of the Orlando Magic in the 2017 NBA draft. The Magic selected him with the sixth overall pick.
After averaging 19.9 minutes in 27 games in his rookie year, Isaac is playing nearly 30 minutes per game this season. He has started 32 of the 33 games he's played this season. Friday night, he came off the bench for the Magic and scored 16 points in 16 minutes on 6-for-7 shooting from the floor.
This year, Isaac is averaging double digits in scoring for the first time in his NBA career at 12.1 points per game. He is also averaging a career-high 6.9 rebounds per contest. Isaac has been very impressive on the defensive end as well and is putting up more than two blocks per game.
Isaac the lone NBA player to stand for the national anthem
When the NBA restarted its season this week after a four-month hiatus, there was much talk about how the league was going to handle the social justice issue. Since the death of George Floyd, players have been very vocal about police brutality and the issue of racial injustice. In the first game back, members of the Utah Jazz and the New Orleans Pelicans took a knee in unity during the anthem.
The NBA, which has has a policy since 1981 that states that all "players, coaches, and trainers are to stand and line up in a dignified posture along the sidelines or on the foul line." NBA Commissioner Adam Silver said he won't be enforcing that policy because these are changing times and he respects peaceful protests.
While every player took a knee during the national anthem, Jonathan Isaac, a Black player, stood. As players for his Orlando Magic and their opponent, the Brooklyn Nets, took a knee, Isaac stood. Like everything else, his stance sparked controversy wit some applauding him and others saying he wasn't unified.
Issac explains his reason for standing
While all players on his team were on a knee sporting Black Lives Matter shirts during the national anthem, Jonathan Isaac was standing in his Orlando Magic jersey. He wasn't trying to prove a point. He wasn't being disruptive. While others were peacefully kneeling for what they believe in, Isaac was standing up and doing the same.
Isaac, who recently became an ordained minister, was asked if he believed Black lives matter. "I believe that Black lives matter," he said to ESPN. "A lot went into my decision and part of it is my thought that kneeling while wearing a Black Lives Matter T-shirt don't go hand in hand with supporting Black lives. And so I felt like, just me personally and what it is that I believe in, standing on a stance that I do believe that Black lives matter. I just felt like it was a decision that I had to make and I didn't feel like putting that shirt on went hand in hand with supporting Black lives."
He continued by saying his faith played a role in his decision. "I don't think that kneeling or putting on a T-shirt for me, personally, is the answer," he said. "I feel like for me Black lives are supported through the Gospel. All lives are supported through the Gospel." Isaac said he discussed his stance with his teammates and he felt zero pressure from them. He knew, however, he'd be grilled by others, but he was adamant about standing for what he believed in.