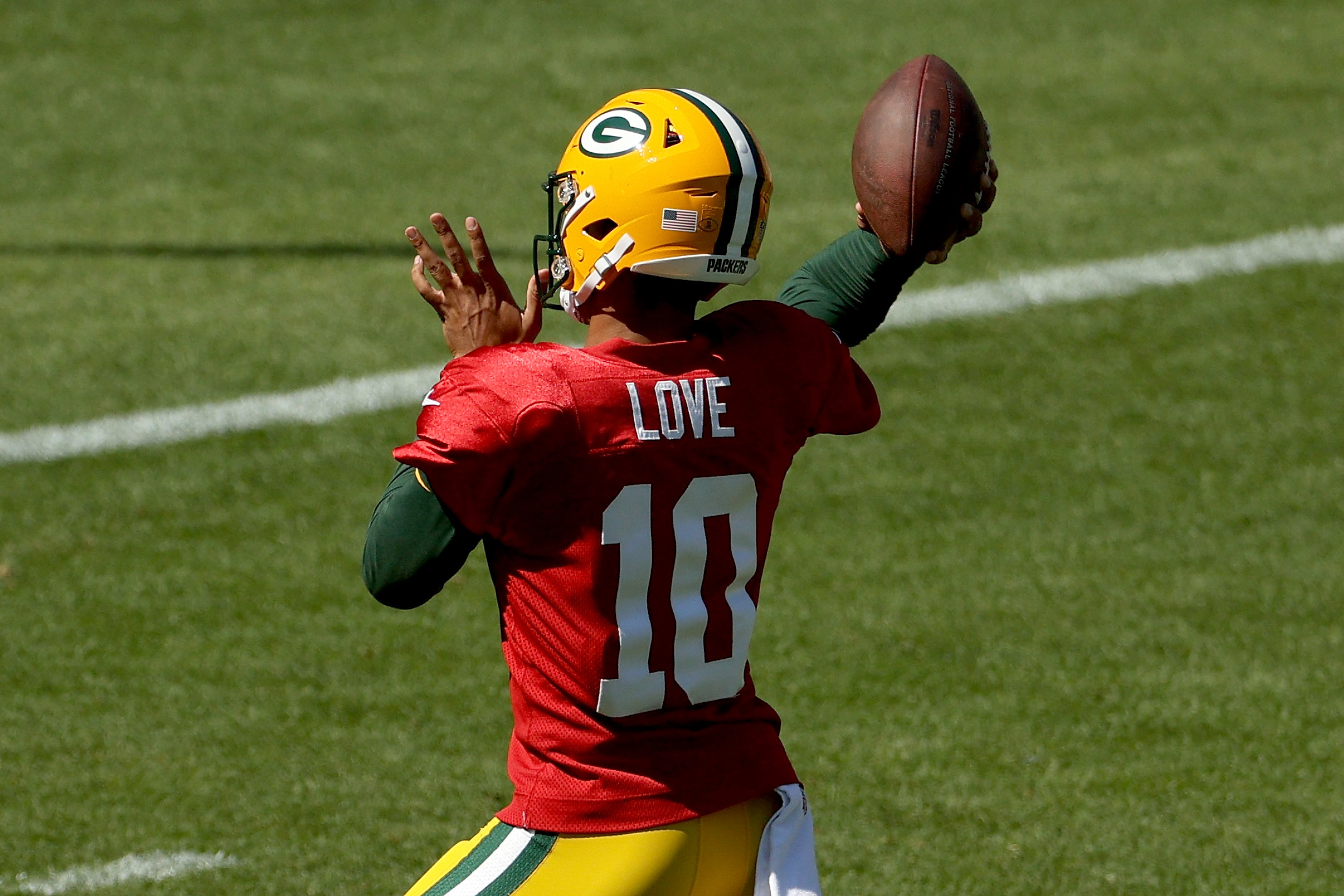 Jordan Love Isn't Talking During the Packers Drama, but His Coach Is: 'I Believe They're Going to Work Things Out With Aaron'
Jordan Love's longtime personal coach believes he can lead the team, although he thinks the Packers will work things out with Aaron Rodgers.
Jordan Love isn't saying anything as the Green Bay Packers become the drama kings of the NFL. Although he's not the focus of everything going on in Packers camp, all eyes are on him. With Aaron Rodgers reportedly telling some within the organization he no longer wants to play for the team, Love is the next man up at quarterback. While he's remaining quiet, there is someone in his corner doing some talking.
The Packers have to plan as if Jordan Love will be their starter in 2021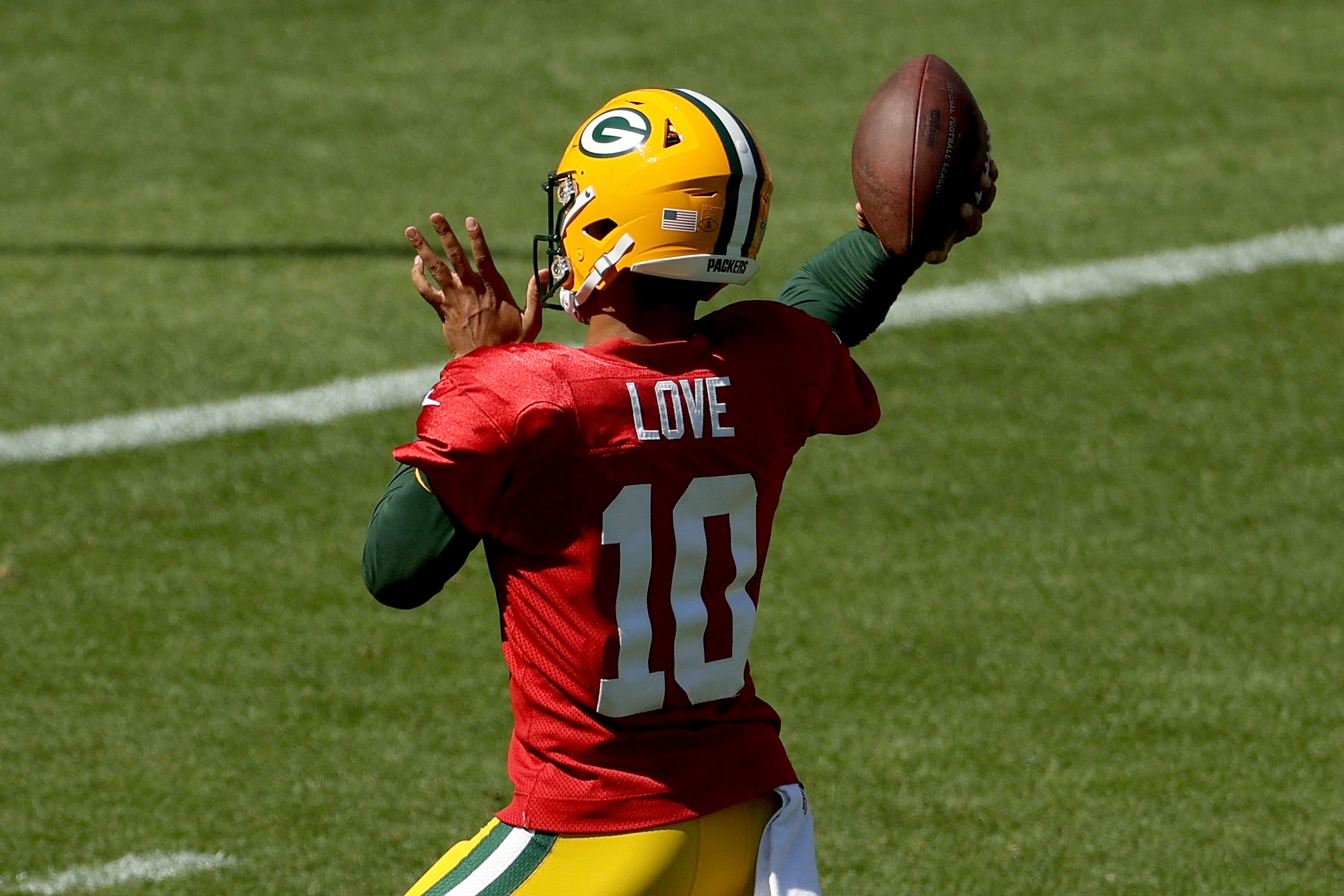 Rodgers is one unhappy camper. It's tough to pinpoint exactly what the problem is, but it likely all goes back to the 2020 NFL draft. The Packers shocked nearly everyone in the football world when they traded up in the first round to select Love. Rodgers wasn't happy then, and he doesn't appear happy now.
Adam Schefter reported on draft day that Rodgers told people within the Packers organization he no longer wanted to play for the team. He stayed away from voluntary OTAs, although he had participated in them for the last 16 years. He still has three years remaining on his contract, though there is no guaranteed money left.
With Rodgers the center of the Green Bay drama, the Packers have to play it as if Love is their guy in 2021. They clearly think highly of him even though he never saw the field last year. He wasn't even the backup to Rodgers, who went on to win his third MVP.
Jordan Love can lead the Packers, according to his longtime coach
Steve Calhoun, the founder of Armed & Dangerous Football Camps, has been mentoring Love since the quarterback was in the eighth grade. He's gotten an up-close look at the athletic signal-caller and believes he has a promising future in the NFL. "It's exciting to see his progression of how far he's come and how hard he's worked," Calhoun said during an interview with WISN 12 News.
Calhoun was asked if he felt confident Love could thrive after not playing an entire season. "He's put a lot of time in even though he didn't suit up last year," he said. "He was taking those scout-team reps, and he's going against the first-team defense, so he has an understanding of how fast the game's going to be.
"I think he's going to do fine. He's been preparing himself for this situation and for this opportunity. i know he's ready to seize it if that opportunity comes."
Calhoun said when Schefter announced Rodgers didn't want to return to Green Bay, his phone blew up. "They're like, 'how's Jordan? I know you've been working with him every day. Is he ready to go? He's probably going to be QB1.' It was a roller-coaster," he said.
Steve Calhoun said Love is tuning out the noise
Although none of the drama in Green Bay is Love's fault, he's stuck in the middle of it. Calhoun said it was all beyond Love's control, and the quarterback is doing a great job of tuning out the chaos.
"He's doing a great job of being able to keep all the noise out," he said.
Calhoun said he doesn't believe Rodgers feels any pressure at all with Love being drafted in the first round. "I don't think Aaron feels threatened by a rookie quarterback, especially with everything Aaron has accomplished. Some of the conversations I did have with Jordan, he was like, 'Aaron really helped me out. Anytime I struggled, he was always open. If I had questions, he would answer anything.'
Calhoun was asked about Love's ceiling. "I think he has the potential to be a perennial Pro Bowler," he said. "He has an unbelievable skillset. He has the ability to escape the pocket and extend plays. Arm strength, you know, can make different throws. I think he has a chance to be a Pro Bowler, just like all the other quarterbacks in Green Bay over the years."
Although Calhoun is clearly in Love's corner, he believes the Packers will work things out with Rodgers. "I really believe they're going to work things out with Aaron. He's a Packer for life and I think he's going to play at a high level."