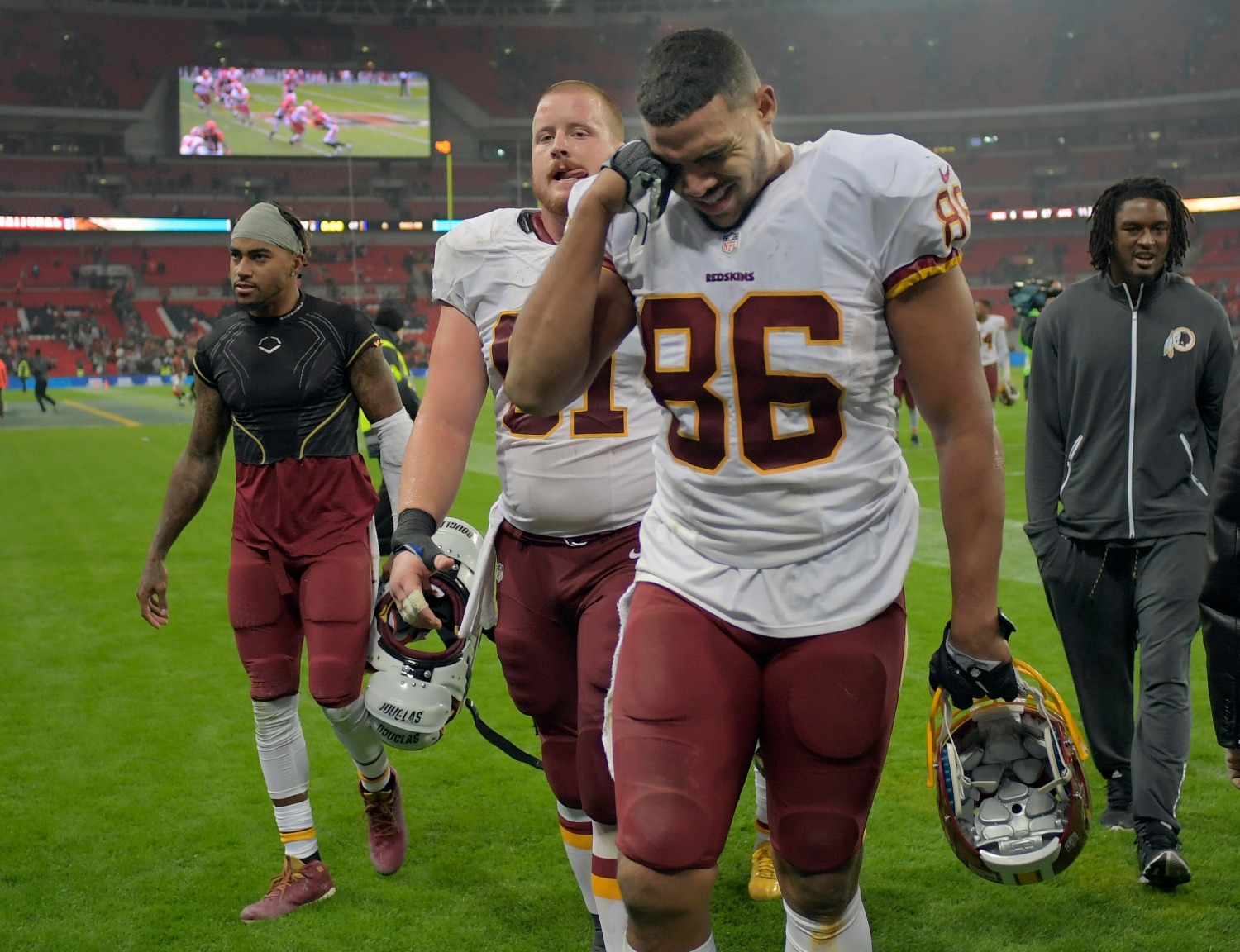 Jordan Reed Will Leave 49ers Fans Disappointed if History Repeats Itself
Jordan Reed was once viewed as one of the NFL's best tight ends. But 49ers fans will be disappointed with Reed if history repeats itself.
For a brief stretch, Jordan Reed ranked as one of the NFL's top tight ends. The dynamic pass-catcher developed into a star for the franchise formerly known as the Washington Redskins before injuries derailed his career. By signing with the San Fransisco 49ers, Reed gets a chance at a fresh start with an organization that already boasts the best tight end in football.
But here's a warning, 49ers fans. You're bound to be disappointed by Jordan Reed if history repeats itself.
Jordan Reed developed into a star in Washington
Surprisingly, Jordan Reed actually started his college career off as a quarterback. However, the University of Florida coaching staff smartly switched the athletically-gifted Connecticut native to tight end. The move paid dividends, as Reed proved a major mismatch given his combination of size and speed.
The Washington Football Team selected the dynamic offensive weapon with the 85th pick in the 2013 NFL draft. The rookie wasted no time showcasing why he earned second-team All-SEC honors in 2012. Reed racked up 45 catches for 499 yards and three touchdowns. However, he played just nine games after suffering a concussion in November.
Reed never became the team's full-time starting tight end, but he still managed to become one of Washington's most impactful players. He broke out with an 87/952/11 line in 2015. It certainly seemed as though Jordan Reed had ascended to elite status.
Injuries have kept the talented tight end sidelined
The Washington Football Team rewarded their breakout star with a five-year, $50 million extension in May 2016. Reed responded with 66 catches, yet he played just 12 games after sustaining both a concussion and an AC joint separation during the season.
It only got worse in 2017. Following his first Pro Bowl campaign, Reed played just six games. Hamstring and toe injuries resulted in career-low numbers and questions about his future in the nation's capital.
The arrow appeared to be pointing up in 2018. Reed stayed healthy for most of the season and put up a solid line of 54/558/2. However, he sustained another season-ending injury.
Jordan Reed never played another down for Washington. He sustained a concussion during the preseason last summer. After waiting for months for Reed to pass the NFL concussion protocol, the team placed him on injured reserve.
Reed will leave 49ers fans disappointed if history repeats itself
Earlier this offseason, the Washington Football Team officially moved on from Jordan Reed. Released after spending the entire 2019 season on the sidelines, that resulted in a quiet market for the one-time Pro Bowler.
On Monday, Adam Schefter reported via Twitter that Reed signed a one-year, incentive-laden contract with the 49ers. The 30-year-old tight end who once ranked as one of the NFL's brightest young stars will move across the country to try to resurrect his career.
But while 49ers fans salivate over the idea of a two tight-end set centered around Reed and George Kittle, it's time to put a damper on those dreams. Kittle will surely put up fantastic numbers this season. After all, he wants to score a monster payday that will completely shatter the tight end market.
However, Reed contemplated retirement after suffering his last concussion. Perhaps no other current player outside of Luke Kuechly (who abruptly retired in January) has such a lengthy concussion history as Reed. At this point, it's fair to wonder if he should even play football again.
Plus, his injury history also includes plenty of lower-body ailments. With the wear and tear on his body and his advancing age, Reed has likely lost at least a step or two. In his seven-year NFL career, he has finished the season on injured reserve four times, including the last three years.
Perhaps a change of scenery and a year off from football will rejuvenate Reed's career. But if history repeats itself, 49ers fans will be disappointed. At this point, Jordan Reed is more name than game.