Josh Allen Has Tread Marks From Being Thrown Under the Bus by an Ex-Buffalo Bills Teammate
John Brown is likely 100% healthy, but the wide receiver is suffering from COVID-19 in a whole different way than the tens of millions of Americans diagnosed with the virus. Interestingly – and unfairly — Brown thinks his patient zero is Buffalo Bills quarterback Josh Allen.
Allen may very well be the reason that Brown is temporarily unemployed, but it's highly unlikely that it's for the reason the receiver suggests.
Buffalo Bills WR John Brown is a salary-cut casualty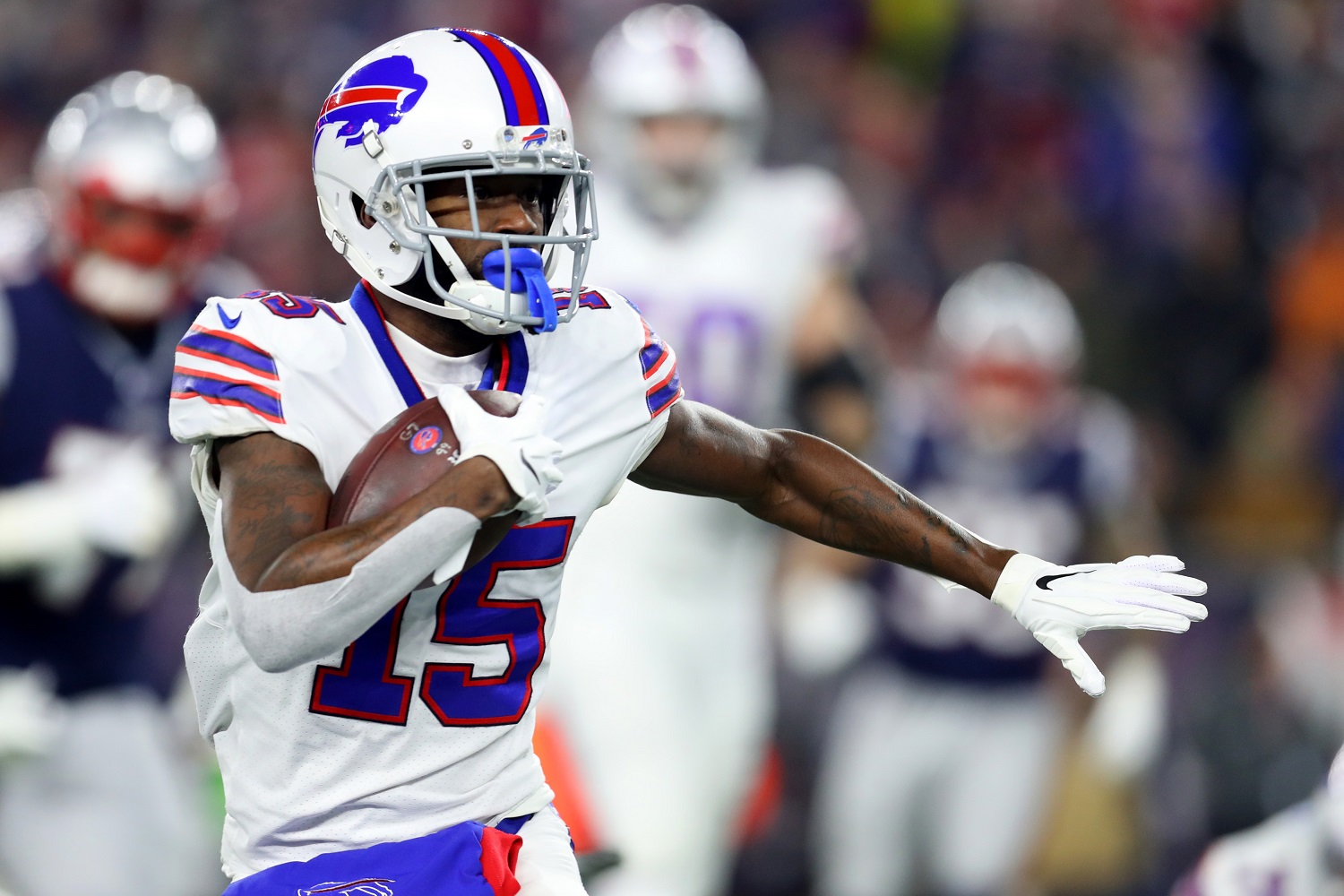 The second week of March is not a good time for NFL players to answer calls from their general manager. Too often, the call is to tell the player that he's being cut or that he needs to accept a lower salary if he wants to stick around.
Among notable cuts in recent days are Minnesota Vikings tight end Kyle Rudolph, New York Giants receiver Golden Tate, and Washington Football Team quarterback Alex Smith.  Buffalo Bills receiver John Brown joined the list almost two years to the day that he signed a three-year, $27 million contract as a free agent from the Baltimore Ravens. Brown collected $18.63 million before being cut, a move saving the AFC runners-up $7.93 million in cap space.
Such transactions are a fact of life, but money is tighter than usual heading into the 2021 NFL business year. The league has set its salary cap at $182.5 million, down from the $198.2 million a year ago. The culprit is the COVID-19 pandemic, which led to the 32 teams playing in empty stadiums or with drastic attendance restrictions.
Josh Allen has been thrown under the bus, unfairly
Receiver John Brown did not take it well after being cut by the Buffalo Bills this week. Brown, who entered the league in 2014 as a third-round draft pick of the Arizona Cardinals, was enjoying the Bills' ascent to AFC contenders and understandably wanted to stay in Western New York at a handsome salary.
Appearing on SiriusXM NFL Radio, Brown was upset on two fronts, beginning with the fact that he felt blindsided by general manager Brandon Beane's decision to release him.
"You know, honesty, we didn't know nothing, we weren't even given a heads-up," Brown said.
That grievance is somewhat understandable, but the Bills might have been expecting the cap number to come in higher. When the NFL set the figure at $182.5 million, plenty of teams found themselves scrambling to save money.
However, Brown's frustration didn't end there. He wondered out loud whether quarterback Josh Allen had a say in the matter.
"Like, I don't know if they gave Josh Allen input on it," Brown said. "He should have had input. Or, if he did have input, I thought he would want me to stay."
John Brown was a hit-or-miss Buffalo Bills receiver
According to USA Today, the Buffalo Bills were operating with about $3 million in cap space before adding John Brown's $7.9 million to the ledger. An unbiased observer would probably concur with the Bills that the money could be better spent elsewhere – and that might include making a down payment on quarterback Josh Allen's future. The Bills obviously will pick up his fifth-year option, but they might be better served locking their emerging star into a four- or five-year extension.
Brown, who'll turn 31 before the 2021 NFL draft, made 72 catches for 1,060 yards and six touchdowns in 2019. Injuries limited him to nine games in 2020, and Brown made just 33 receptions for 458 yards and three TDs. In two years, he only caught 62.9% of the balls thrown his way.
Stefon Diggs (127 catches, eight touchdowns) was superb in his first season for the Bills, and Cole Beasley made 82 catches in his second season after coming over from the Dallas Cowboys. The Bills like Gabriel Davis, a big-play rookie who averaged 17.1 yards a catch.
If Isaiah McKenzie also sticks, then the Bills have four competent pass-catchers next season without having to make any additional moves. Therefore, Brown was expendable.
All stats courtesy of Pro Football Reference.