JuJu Smith-Schuster and the 4 Best NFL Players From the Snoop Dogg Youth Football League
Sure, Jay-Z has a nightclub, Kanye West has a fashion line, and Dr. Dre has a record label. Do any of them have their own youth football league, though? Snoop Dogg does. For nearly two decades now, the Snoop Youth Football League has provided kids in the Southern California area the opportunity to better their lives through football. And not only is Snoop D-O-Double G's youth football league good for the community, but it's loaded with talent, too. In fact, several NFL players, including star Kansas City Chiefs wide receiver JuJu Smith-Schuster, have come from the SYFL. Here are the best NFL players to come out of the Snoop Youth Football League.
Snoop Dogg and the Snoop Youth Football League
For the few people who don't know, Snoop Dogg is a now-51-year-old rap legend born Calvin Broadus in Long Beach, California. He grew up loving football but also getting in trouble with the law due to his affiliations with local gangs.
His talent as a rapper is what made him a star, though. In 1992, he hooked up with former N.W.A. member Dr. Dre and subsequently became one of the biggest, best-selling, and most famous hip-hop artists of all time.
In 2005, Snoop Dogg combined his money, celebrity status, and love of football to give back to his local community by establishing the Snoop Youth Football League. The SYFL is a certified "501c3 non-profit organization founded to provide the opportunity for inner-city children to participate in youth football and cheer. The SYFL serves children between the ages of five and thirteen, teaching them the values of teamwork, good sportsmanship, discipline, and self-respect, while also stressing the importance of academics."
The league has provided football and cheer opportunities for over 1,300 kids a year from the Greater Los Angeles area and has even produced several NFL players. Here are the best players to come from the Snoop Youth Football League.
JuJu Smith-Schuster and the four best players from the SYFL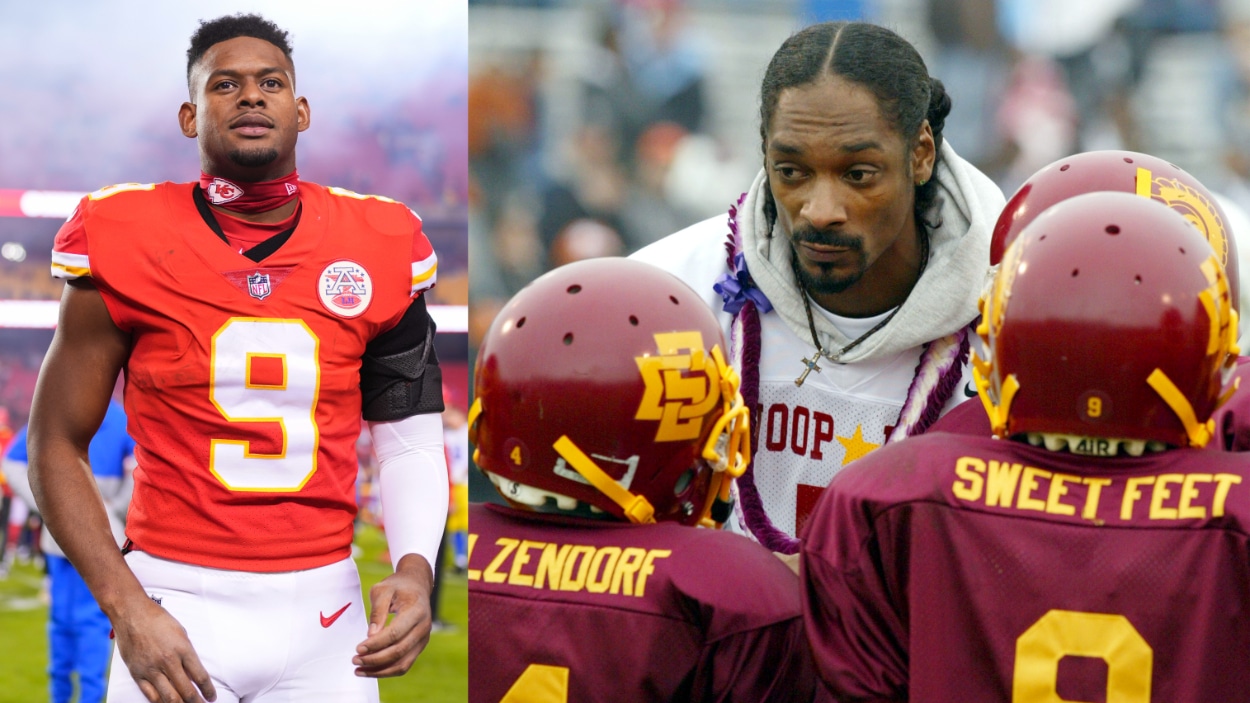 Ronnie Hillman, 2012-16
Former San Diego State running back Ronnie Hillman was the first player to make it from the Snoop Dogg Youth Football League to the National Football League. Back in 2012, he was a third-round pick (No. 67 overall) of the Denver Broncos.
Hillman spent four seasons with the Broncos before splitting time in his final season between the San Diego Chargers and Minnesota Vikings. All told, he had 494 NFL carries for 1,976 yards and 13 total touchdowns.
De'Anthony Thomas, 2014-19
At 5-foot-8, 176 pounds, De'Anthony Thomas was a star at Oregon before the Kansas City Chiefs drafted him in the fourth round (No. 124 overall) of the 2017 NFL Draft.
The diminutive WR/RB didn't have a true position at the next level but did end up playing six NFL seasons — five-plus for the Chiefs and eight games for the Baltimore Ravens. He ended his career with 65 receptions for 509 yards and 31 carries for 191 yards, with six total offensive touchdowns.
Thomas did most of his damage as a kick returner. He returned 69 punts and 68 kickoffs for 844 and 1,588 yards, respectively. The former Duck also took a punt back for a TD.
John Ross, 2017-present
Wide receiver John Ross is one of two Snoop Youth Football League alums, along with JuJu Smith-Schuster, to still be playing in the NFL.
After a successful career for the Washington Huskies, the Cincinnati Bengals made the 5-foot-11 speedster the highest-drafted SYFL player of all time, taking him No. 9 overall in 2017. Ross underperformed his draft spot in Cincinnati, catching just 51 balls in four seasons for 957 yards. However, he did score 10 touchdowns.
In 2021, he was on the New York Giants, where he has 11 catches for 224 yards and a score. And in early 2023, he became Smith-Schuster's teammate, signing a reserve/futures deal with the Chiefs, also joining the player picked one spot behind him in 2017, Patrick Mahomes.
JuJu Smith-Schuster, 2017-present
Chiefs WR JuJu Smith-Schuster is, by far, the most successful product of Snoop Dogg's youth football league. The second-round (No. 62) pick out of USC is the only Pro Bowl player of the bunch (2018) and has 401 receptions for 4,788 yards with 29 TDs.
After five excellent years with the Pittsburgh Steelers, Smith-Schuster signed a one-year pact with the Chiefs and will likely be the most coveted wideout on the free-agent market in 2023.