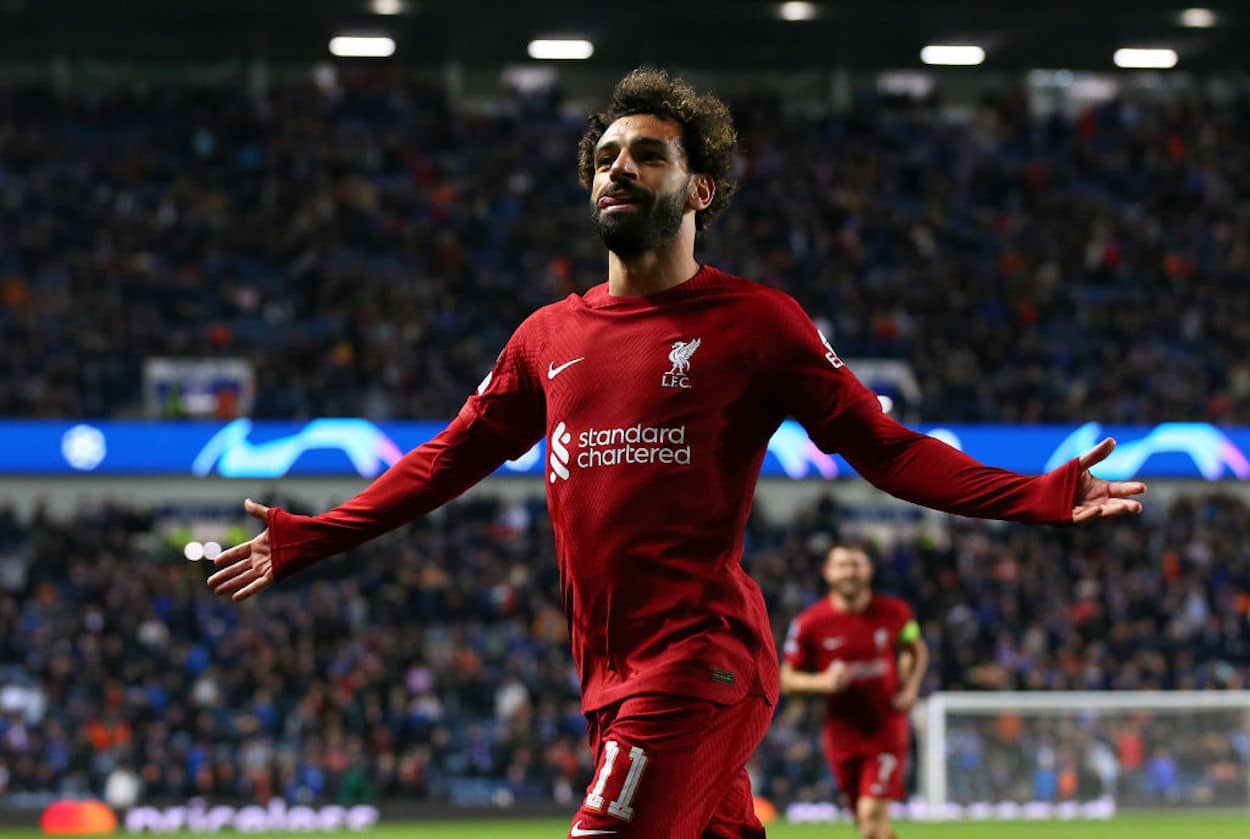 Jurgen Klopp Might Have Revealed the Key to Liverpool's Future With 2 Simple Words
Mohamed Salah has looked short of his best this season. Could a slight tweak to his positioning get the Egyptian scoring again.
Thus far, Liverpool's 2022-23 campaign hasn't gone according to plan. While there have been some brief flashes of brilliance, the soccer hasn't been what we've come to expect from Jurgen Klopp's squad. The intensity is lacking, the defense looks porous, and everything just seems a bit off. Wednesday's Champions League victory over Rangers, however, was a rare bright spot.
The 7-1 scoreline will grab the headlines, but two simple words from the manager's post-match interview could be the most telling part of the evening. If a slight tactical tweak can get Mohamed Salah firing again, Liverpool's season could take a turn for the better.
Mohamed Salah put in a headline-worthy performance from a 'more inside' position
During Liverpool's recent climb to the top of the European football ladder, Mohamed Salah has been a key contributor. The Egyptian winger has been a consistent source of goals, capable of terrifying opposing defenders and fans alike. This season, though, he's looked different and has been somewhat emblematic of the club's overall struggles.
Salah only has two goals in the Premier League, and when you look beyond the counting numbers, things get even more concerning. As laid out by Jason Burt of the Telegraph, the winger's touches in the opposition's penalty box have decreased. He's also been playing closer to the touchline — which a potential shift to a 4-2-4 formation will only reinforce — and seems largely isolated without anyone to play off of. Whether you want to blame that last reality on the departure of Saido Mane, the struggles of Trent Alexander-Arnold, or the squad's overall struggles, things aren't ideal.
Against Rangers, however, things were different. Salah came off the bench and slotted in as a striker within a 4-4-2. He notched a rapid-fire hat trick and posted some of his best shooting numbers (both in terms of shots taken and expected goals generated) of the campaign, despite playing 23 minutes.
While the highlights don't look notably different — the Egyptian was still working from the right side and striking the ball with his left foot — Klopp confirmed that things were slightly tweaked on the pitch.
"Different position," he said during a post-match interview. "More inside. We have to force him a bit."
While the manager did make those comments with a laugh, two particular words are telling: more inside.
Let's push a little further on that idea.
Getting Salah more central could answer Liverpool's problems, but it's not without some potential problems, too
The anecdotal case for moving Salah more centrally or, at least, getting him tighter to his teammates goes beyond the match with Rangers. If we jump back to Liverpool's opening match of the season, the winger combined with striker Darwin Nunez for both goals. While the first was a fairly standard cross, albeit from inside the box rather than on the touchline — Nunez does most of the work and proves an obvious target — the second goal, which Salah scored, is the more telling contribution.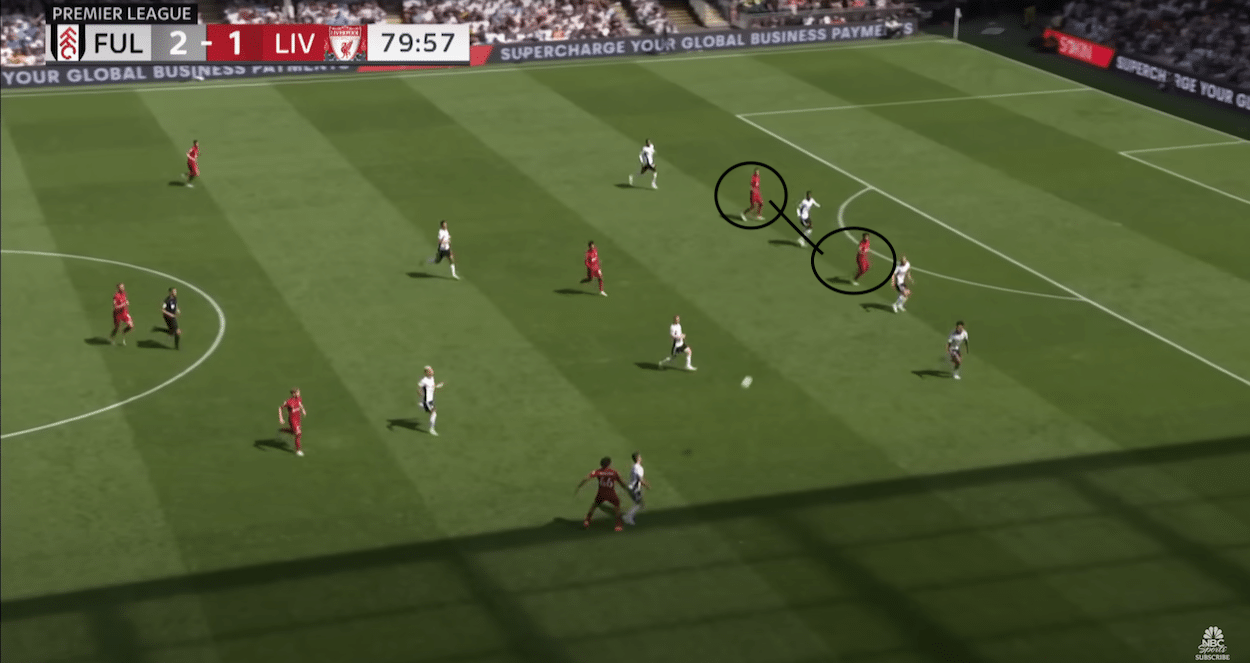 Let's return to the NBC Sports highlight package and consider where the winger is when Trent Alexander-Arnold lofts a ball forward. He's both inside the width of the six-yard box and within touching distance of Nunez. That positioning pays dividends as the Uruguayan (the left circle) fails to control the ball cleanly but knocks it into Salah's (the right circle) path for a goal. That chain of events wouldn't happen if the Egyptian was getting chalk on his boots on the right-hand side.
Granted, a few instances against a newly promoted (if solid) Premier League team and some weaker Champions League opposition don't provide a bulletproof case for a tactical switch. When you consider Salah's issues, though, getting him closer to someone, whether it's Roberto Firmino, Diogo Jota, or Nunez, does seem to mitigate the challenges. In addition to somewhat forcing the Egyptian into more dangerous areas, having teammates to play off of will help stop the ball from sticking. Even if he just plays a simple pass, the winger can break out of the 'beat a man or end the move' binary.
With that being said, though, it's not as easy as simply shifting Salah's position. Any tweaks will rattle the proverbial house of cards.
For the past several years, Liverpool have been playing a 4-3-3. To mitigate some of their defensive issues, though, the Reds have been playing something of a 4-4-2, 4-2-3-1, or 4-2-4, depending on your perspective. Salah has remained on the right side of the front line until starting Wednesday's Champions League game on the bench and coming on as a substitute.
You might be saying, 'Play a 4-4-2 and let Salah play striker every match,' but that's not a perfect answer. Beyond the attacking depth and rotation — the Reds weren't built with the formation in mind, meaning their wide options other than Salah and the injured Luis Diaz aren't perfect fits, like Harvey Elliot and Fabio Carvalho — there are still looming defensive issues. As Jamie Carragher explained while breaking down Liverpool's loss to Arsenal, 4-4-2 doesn't match up well against teams attacking with a five-man front line. For a team that's lacking confidence and struggling to keep the back door closed, those challenges probably aren't ideal.
The other formations raise similar issues. In a default 4-2-4 or 4-2-3-1, Salah will either be playing wide right, hugging the touchline and taking on some defensive responsibilities, or forcing one of the more central trio (Nunez, Jota, and Firmino) out of position. Can one of them survive on the left wing? Probably, but then you're creating other compromises to accommodate Salah.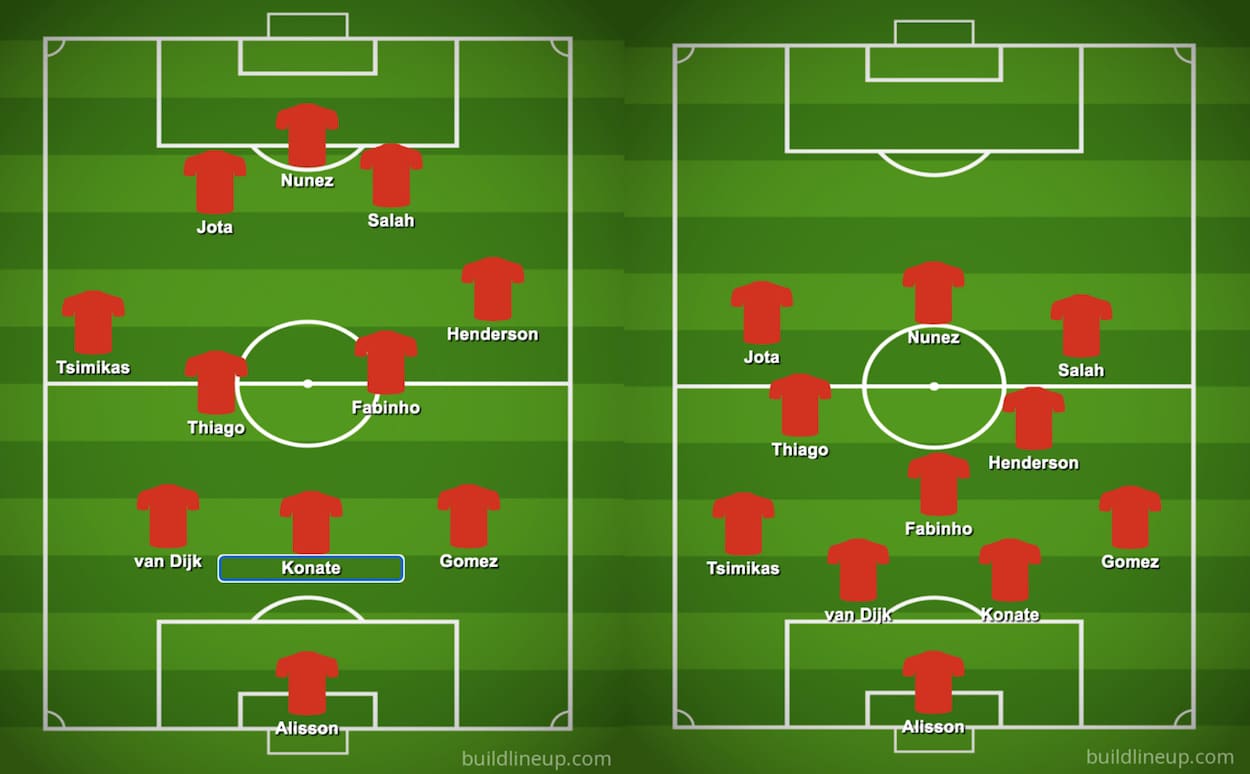 The best solution, it seems, is something of a hybrid building on both Liverpool's previous success and the innovations that have started to roll out this season. The above line-up resembles a 4-3-3 on paper but, in practice, shifts into something of a 3-4-3. That may seem foreign for Klopp, but he's been pulling Trent Alexander-Arnold into a back-three in possession as of late; having Joe Gomez back there would only make the transition even more natural.
With all of that being said, though, I don't get paid the big bucks to solve Liverpool's problems. Jurgen Klopp does. And while there's plenty of work on his plate, "more inside" could be the spark that gets the formula working again.
Like Sportscasting on Facebook. Follow us on Twitter @sportscasting19 and subscribe to our YouTube channel.