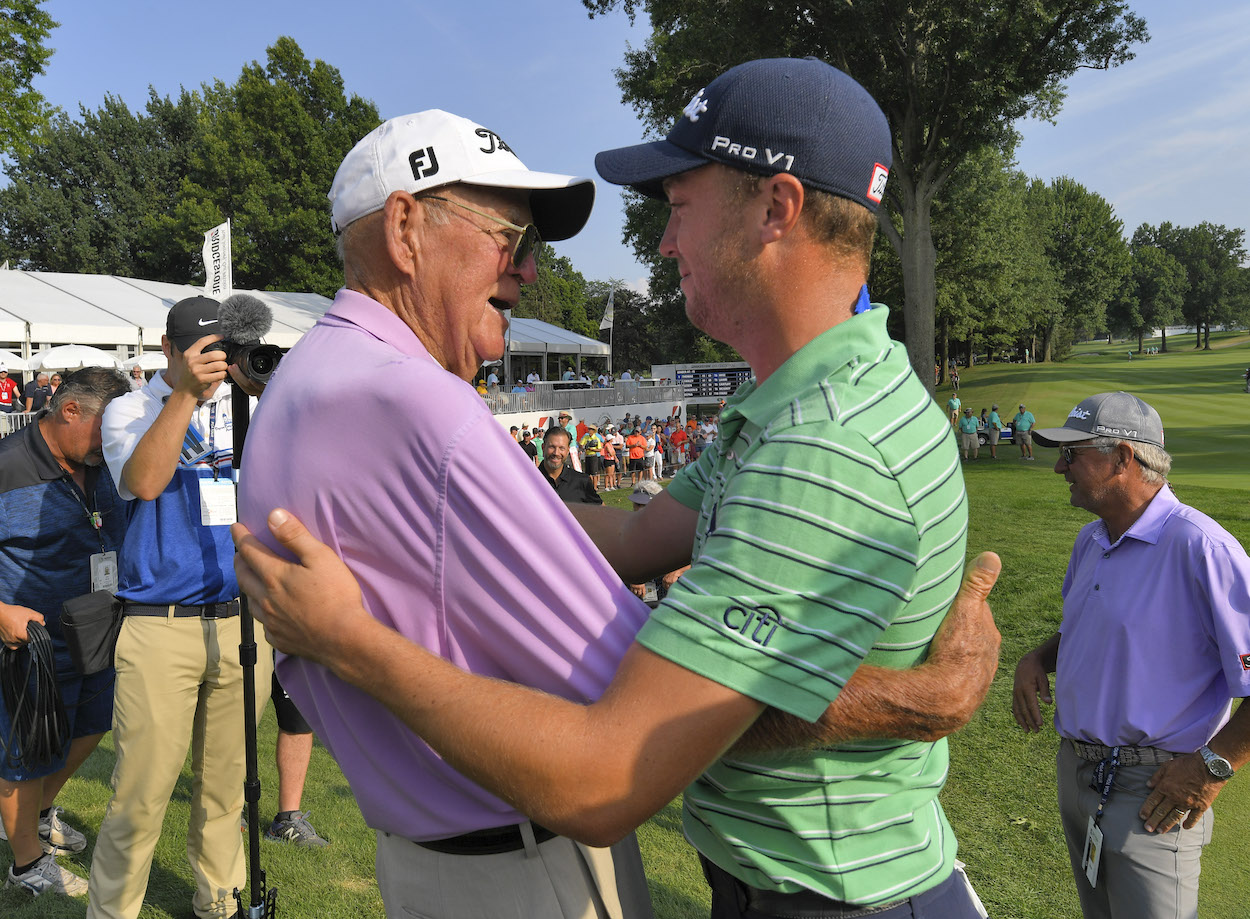 Justin Thomas Has Had a Rough Start to 2021 and It Got Heartbreakingly Worse This Weekend
While Justin Thomas has played well to start 2021, he's also made headlines for the wrong reasons. It happened again this weekend in a much more personal and heartbreaking way.
Justin Thomas had to deal with the challenges of the 2020 PGA Tour season like all the other players, concerned about getting COVID-19 while playing in front of little to no fans. As bad as 2020 was, just over a month into 2021 and Thomas has already had a year he would like to forget. Unfortunately, it got heartbreakingly worse this weekend. 
Justin Thomas started 2021 well on the course
Justin Thomas started the 2021 PGA Tour season in good form. He opened with an eighth-place finish at the U.S. Open back in September. A month later, the 27-year-old finished second behind Patrick Cantlay at The Zozo Championship.
A couple of weeks later, in another major, The Masters, Thomas elevated his game at Augusta. He finished in fourth with a final score of 12-under par.
Since the turning of the calendar, Justin Thomas has played in a couple of events, including the Sentry Tournament of Champions, where he finished third, and this weekend's Phoenix Open, where he finished in 13th.
For the 2021 season, Thomas has earned $2.52 million and sits ins sixth place in the FedEx Cup standings. 
Makes anti-gay comment and loses main sponsor
Justin Thomas stepped on to the first tee at the Sentry Tournament of Champions last month in Hawaii with fond memories and a ton of confidence. The Sentry is where he won his first PGA Tour event on U.S. soil back in 2017. He then replicated his winning effort there again in 2020. 
Thomas will forever remember the 2021 Sentry tournament, but it won't be for the right reasons. That's because during Saturday's round, after Thomas missed a par putt on the fourth hole, he walked up to tap in his bogey putt and uttered a homophobic slur at the same time, which was picked up on live TV. 
After the round, Thomas learned his offensive comment had been broadcast on the air and addressed his remarks.
"There's no excuse. I'm an adult. I'm a grown man," Thomas acknowledged to the Golf Channel. "There's absolutely no reason for me to say anything like that. It's terrible. I'm extremely embarrassed…I deeply apologize to everybody and anybody who I offended and I'll be better because of it." 
Days later, Ralph Lauren announced it was cutting ties with Thomas. 
Justin Thomas' grandfather dies
Justin Thomas' offensive comments and the resulting loss of sponsorship was definitely not the way he wanted to start 2021. This weekend at the Waste Management Phoenix Open, the 2017 PGA Championship winner's year got a whole lot worse when his grandfather passed away. 
Paul Thomas was the reason Justin played golf. Paul turned pro as a teenager back in the 1950s and became a lifelong club pro. In his career, he competed against the likes of Arnold Palmer, Jack Nicklaus, and Ben Hogan. He passed his love for the game down to his son Mike, who also became a club pro, and subsequently passed it down to Justin.
An understandably emotional Thomas didn't play his best round on Sunday at the Phoenix Open, shooting a 72 and finishing in 13th place. On Monday, Thomas posted to Instagram about his grandfather's passing.
"Heaven got a good one yesterday," Thomas wrote on Instagram. "Wish you were still here to tell me how many putts I missed on days like yesterday! Nobody's voice would make me happier when I would hear it over the phone. Will love and miss you, G Pa." 
Paul Thomas was 89.