Justin Thomas Has Made the First Bold Move of the 2022 PGA Season
Justin Thomas has parted ways with his longtime caddie, but the PGA Tour veteran has landed a well-known replacement in Jim 'Bones' Mackay.
If you're not moving forward, then you're falling behind. That seems to be the mindset of PGA Tour star Justin Thomas. Coming off a so-so personal season but riding high after helping the United States to a shocking Ryder Cup romp, Thomas already is executing a plan for the 2022 season.
Only one tournament victory, but a solid finish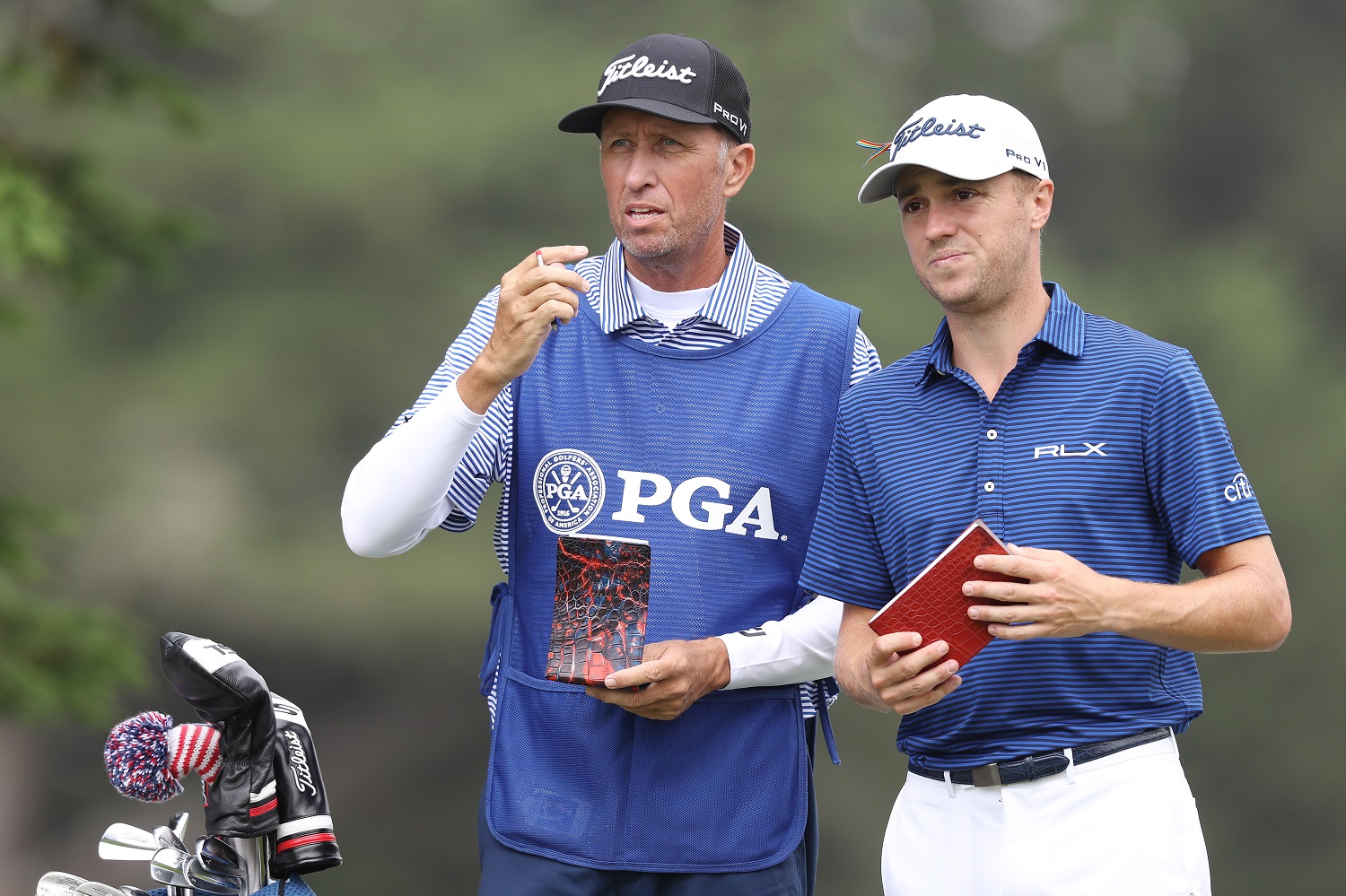 Justin Thomas traditionally hops into a couple of October PGA tournaments that are technically part of the following year's season, but those stops constitute more of a victory lap following a success campaign.
Whether he follows that routine or opts to extend a two-month hiatus into three remains to be seen, but Thomas could certainly be excused for kicking back. He is fresh off going 2-1-1 in his matches while helping the United States to its 19-9 rout of Europe in the Ryder Cup at Whistling Straits in Wisconsin.
Before that, Thomas endured a difficult individual season. Though he only one once, that triumph came at The Players Championship, as close to a major as a tournament can be without actually being a major. It marked his 14th PGA Tour victory, all in the past six seasons.
After winning The Players, Thomas went into a funk with 11 straight finishes outside the top 10. But he did finish up with fourth-place finishes in The Northern Trust and the Tour Championship, lifting Thomas to fifth on the season's official money list at $6,537,153.
Justin Thomas has made the first bold move of the 2022 PGA season
Jimmy Johnson as out as Justin Thomas' caddie after six years on the bag for the world's sixth-ranked golfer. Thomas went on Instagram to say the two had decided to go their separate ways.
Johnson, a recent inductee into the Caddie Hall of Fame, had caddied for Thomas since 2013, according to Golf Digest.
"I 100% did not fire him, as Jimmy came to me after the Ryder Cup and told me he has decided to pursue other opportunities," Thomas wrote on social media.
While that explanation plausible, it bears remembering that Thomas endured the long string of uncharacteristically sub-par results after winning The Players Championship in March.
Thomas didn't waste time in replacing Johnson. In fact, he already has a history with his new caddie, who is coming out of retirement after toting clubs full-time for one of the biggest names in PGA Tour history.
Jim 'Bones' Mackay figures to be an asset for Justin Thomas
After working for four years at NBC and Golf Channel as an on-course reporter, Jim "Bones" Mackay accepted Justin Thomas' offer to resume his career as a caddie, Golf Channel reported on Thursday.
"It came out of left field very recently. I have just tremendous respect for (Thomas) as a person and a player," Mackay said. "It was an incredible phone call to get, and I said yes."
Mackay is best-known for caddying for Phil Mickelson for 25 years before leaving for the network jobs. However, he answered the call twice when Thomas needed substitutes for Johnson, first at the 2018 Sony Open and then a stretch beginning with the 2020 WGC-FedEx St. Jude Invitational, which Thomas won by three strokes.
"'Bones' knows my game well enough not only from when he caddied for Phil, but just watching me play a lot of rounds when he's commentating to where if I do ask him a question, you know, he's not just saying something to make me happy," Thomas said at the time, according to Golf.com. "He actually has input and feels like he knows enough about my game to where he can contribute and be a help, and he was."
Mackay will continue his TV work as time allows.
"I love to caddie, and I loved my role with NBC/Golf Channel," he said, "but it's Justin Thomas."
Like Sportscasting on Facebook. Follow us on Twitter @sportscasting19.