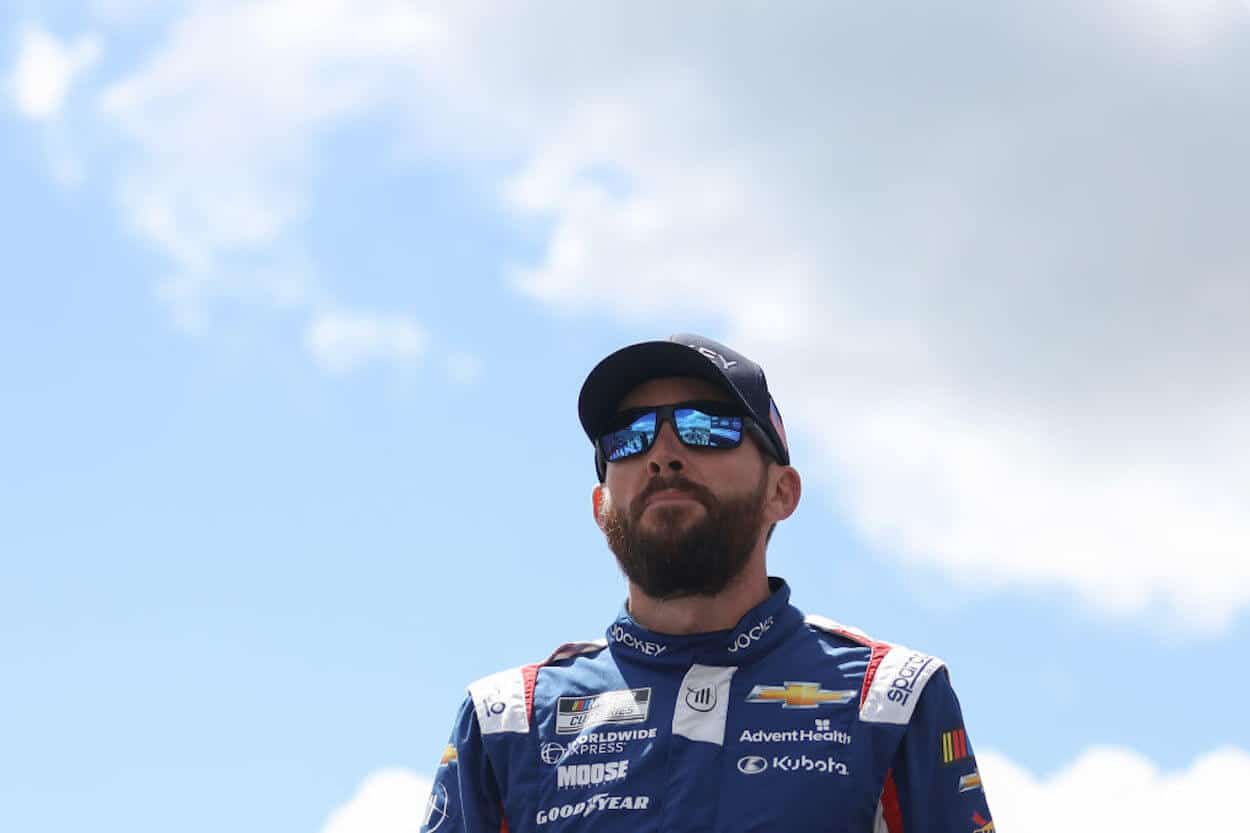 'There's No Place Like Home': Kansas Speedway Plays Favorably to These 5 Cup Series Drivers
When the NASCAR Cup Series heads to Kansas, which drivers will be over the rainbow? And who will be left saying, "There's no place like home"?
It's off to America's Heartland for the NASCAR Cup Series, which this weekend is making the first of two annual visits to Kansas Speedway.
Concluding with the driver who has the absolute best chance of going to Victory Lane, here are the five drivers most likely to be covered in confetti at the conclusion of Sunday's AdventHealth 400 at the 1.5-mile track in Kansas City, Kansas.
5. Brad Keselowski
It's been 73 races and more than two years since Brad Keselowski last showed up in the Winner's Circle, but the 2012 Cup Series champion is on the upward swing after a miserable first season as a driver/co-owner for the organization now known as Roush Fenway Keselowski Racing.
With five top-10s in the first 11 races of 2023, Keselowski is just one top-10 finish away from equaling his total number of top-10s from last year. Not only this, but two of Keselowski's top-10s have been top-fives — doubling his number of top-fives from a season ago.
Keselowski, who sits ninth in the standings, should have a good opportunity to deliver another strong result, and potentially a win, at Kansas — where he has one pole, two victories (2011, 2019), seven top-fives, and 13 top-10s in 24 career Cup Series starts.
4. Denny Hamlin
No former NASCAR Cup Series winner at Kansas Speedway has been absent from Victory Lane longer than Denny Hamlin, whose drought stretches back 33 races to last year's Coca-Cola 600 at Charlotte Motor Speedway.
The good news for Hamlin is that he's a three-time Kansas winner, with two victories coming here since 2019.
The Joe Gibbs Racing driver also has a pair of top-five finishes in his last three overall starts, including a top-five on Monday at Dover, despite dealing with some issues on pit road that left him none too pleased with his pit crew.
3. Martin Truex Jr.
With a 54-race drought placed on ice by virtue of his huge victory on Monday at Dover, Martin Truex Jr. is now locked into the playoffs and feeling incredibly upbeat about the speed in his No. 19 Joe Gibbs Racing Toyotas and the performance of his team.
"I feel like we put a huge effort together this offseason to be prepared for this year, to really put in an effort and talk about the things that we needed to do better from last year," Truex, who last season went winless for the first time since 2014, said in a team news release ahead of this weekend's race. "I think our whole team was really motivated to get better and to do whatever we needed to do, and we really communicated a lot about the things we needed to work on. I feel really good about where we're at, and I feel like we're ready to break loose and get on a run. We have some really good tracks coming up the next several weeks."
One of those tracks is Kansas Speedway, where he swept the two NASCAR Cup Series races in 2017 and has posted 16 top-10 finishes — including 10 top-fives — in 29 starts.
2. Bubba Wallace
The most recent NASCAR Cup Series race winner at Kansas Speedway, Bubba Wallace put on quite a show at the 1.5-mile track last fall when he played the role of playoff spoiler in capturing the second win of his Cup career — and first win in a race that went the full distance.
In that event, Wallace led 58 of 267 laps and took the checkered flag exactly one second ahead of team owner Denny Hamlin.
Although 2023 has been somewhat of a disappointment for the 23XI Racing driver, who owns just two top-10s in 11 outings, last year's Kansas triumph alone puts him on the shortlist of contenders to go to Victory Lane on Sunday.
1. Ross Chastain
Despite drawing widespread criticism for his all-too-familiar recklessness that continued earlier this week at Dover, Ross Chastain is enjoying a terrific 2023.
With a second-place finish on Monday at the Monster Mile, where he led 98 laps, Chastain now sits atop the Cup Series standings — mainly by virtue of having finished worse than 13th just three times this season.
Chastain came home seventh in both Kansas races last year, his first season with Trackhouse Racing. He's the favorite this weekend because he's overdue for a win — it's been more than a year since he prevailed at Talladega last spring — but is running well enough to have finished P1 multiple times this season.
"It's good to be the points leader, but we still have a long way to go until we get to the playoffs," Chastain said via Team Chevy PR. "So much can change between now and then. My guys are focused, and that's what I really like about them. They are very steady and don't get rattled.
"They're very calm, and us leading the points doesn't change them. They still always have a solid plan and focus on executing. It would be awesome to get a win this weekend, though, for many reasons."